---
Sports Stories
For the week of June 22, 2005
---
Bulldogs win state Class AA title...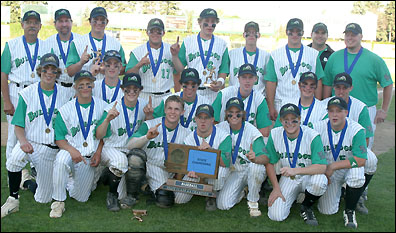 The Paynesville Bulldogs baseball team won the Class AA state title
last week at Dick Putz Field in St. Cloud, beating Albany 12-6,
Hermantown 10-1, and Pipestone 8-3 for their first state title.
Pictured with their championship trophy are: (front) Alex Naujokas,
Trent Hansen, John Hemingson, manager Matt Bayer, Jamie Paul,
Mark Andrie, and Chuck Mackedanz; (middle) Ryan Hess, Derek Stanger,
Mitch Mueller, Ben Moser, Derek Looman, and Cory Nietfeld;
(back) assistant coach Dick Realdsen, head coach Brad Skoglund, Justin Butkofski,
Mitch Callenius, Chris Beier, Brandon Berg, Mike Mueller,
assistant coach Darin Carstens, and assistant coach Tom Ludwig.

05 State Baseball Pictures:
Celebrations
Pipestone
Hermantown
Albany
---

Return to Archives • Return to Sports
---
[ Home | News | Marketplace | Community ]

---
Comments regarding this web page can be
addressed to paypress@paynesvillepress.com

Comments regarding the stories can be
addressed to editor@paynesvillepress.com

© 2005, Paynesville Press, Inc. All rights reserved.
---