Hermantown - making its fifth straight state appearance and being ranked #1 in Class AA at the end of the season - might have been the pre-tournament favorite, but the Dogs treated their vaunted pitching staff like more batting practice.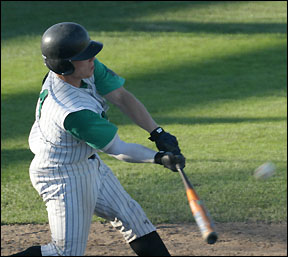 The Hawks had a team ERA of 1.29 and had posted 11 shutouts this season. They had six shutouts in April alone - not allowing a run until their sixth game - and allowed only seven runs in eight games that month. Hermantown went undefeated (18-0) in the regular season before losing once in the section tournament.
Junior catcher John Hemingson went 2-2 with an RBI triple and a two-run double against Hermantown. He was named to the all-tournament team for going 6-7 in three games with six runs and five RBIs.
The Dogs, however, used their offensive firepower (12 hits), solid pitching from senior Justin Butkofski (a complete-game four-hitter), and great defense, including some highlight plays from junior centerfielder Trent Hansen, to beat the Hawks 10-1 in the state semifinal on Thursday evening.
The Dogs broke a 1-1 tie with back-to-back triples by senior Chris Beier and junior John Hemingson in the top of the fourth inning. After senior Mike Mueller had singled to lead off the inning, Beier lined a triple to the rightfield corner to score Mueller. Hemingson followed with a triple to rightcenter.
The Dogs would score four runs that inning to take the lead for good.
Later in the inning, with sophomore Alex Naujokas running as a courtesy runner for Hemingson, coach Brad Skoglund called for a suicide-squeeze bunt from junior Mark Andrie. Skoglund said Andrie is the team's best bunter, but he missed the sign. Instead, with Naujokas running down the baseline, Andrie lined a double to score Naujokas.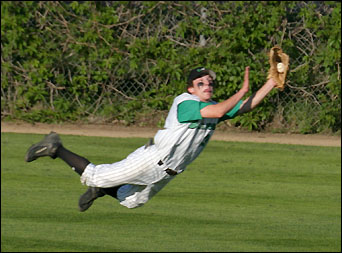 When your batter misses the sign for the suicide squeeze and hits a double instead, "you know things are going well," said Skoglund. "We've got to come up with a sign for that next year," he added in jest.
Junior centerfielder Trent Hansen ranged into the right-center gap and launched himself to make this diving catch in the fourth inning against Hermantown on Thursdy. This web gem helped keep the momentum on Paynesville's side as the Dogs defeated the #1-ranked Hawks 10-1.
Andrie later scored on a groundout to give the Dogs a 5-1 lead.
The Dogs kept the momentum thanks to a highlight-reel catch by Hansen in the bottom of the fourth. Hermantown's leadoff batter hit a long drive to rightcenter in the bottom of the fourth, and Hansen ran on a dead sprint, launched himself airborne, and caught it fully extended.
"I didn't think he had caught it," said Butkofski of Hansen's catch, which he called the team's Web Gem of the Year. "I didn't think he'd get there. I didn't think he'd caught it until I heard it in his glove."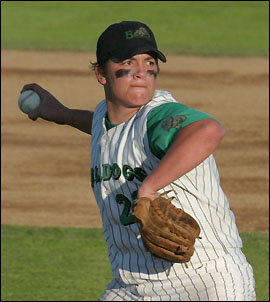 "I've coached a lot of years, and I don't know if I've seen a better catch than that," said assistant coach Dick Realdsen, who has coached high school baseball for 32 years.
Senior Justin Butkofski threw a complete-game four-hitter on Thursday against Hermantown, limiting the #1-ranked Hawks to one run. He was named to the all-tournament team for that and for going 4-12 at the plate.
It was the kind of catch, added Realdsen, where you wanted to hit the rewind button and see it again.
It was a key play to keep the momentum on Paynesville's side, said Skoglund. Hermantown wasn't used to being hit so hard, and when Hansen stole that extra-base hit, "you could see Hermantown's heads go down," explained Skoglund.
The Dogs' defense against Hermantown - the only game where they played errorless defense - also included another great catch by Hansen in the sixth inning, Butkofski snaring a liner, also in the sixth, and two double plays, including a game-ending 4-6-3 double play.
"You've got to grab three outs. You can't give them extra outs," said Skoglund on the importance of defense. "Our defense was outstanding. To beat good teams, you've got to play defense."
Even with the great defense, Butkofski said he was nervous until the final inning, it being the state tourney and all. "I'll be honest: I wasn't comfortable until the last inning and we had a nine-run lead," he said.
Junior Derek Stanger had hit a two-strike, two-out single - a grounder off the shortstop's glove and into leftfield - in the top of the fifth to make the score 6-1.
And the Dogs scored four more runs in the top of the sixth. Junior Jamie Paul singled with one out, advanced to second on a sacrifice, and scored on a single by Butkofski. Senior Mike Mueller singled to left, which the Hermantown outfield bobbled, allowing a run to score. After Beier walked, Hemingson hit a two-run double down the leftfield line to make it 10-1.
After neither team scored in the first inning, the Dogs had taken an early lead against Hermantown with a run in the second inning. Hemingson walked and Naujokas (a courtesy runner again) stole second and scored on a two-out single by Andrie, who had two RBIs in the game. (Hemingson led the team that game with three.)
Hermantown scored their only run on a pair of walks and two-out single in the bottom of the third, but the Dogs immediately retook the lead with four runs in the top of the fourth and never trailed again.
"They took it to us," Hermantown coach Mike Zagelmeyer told the Star Tribune about the game. "Nobody's done that to us all year. We got beat by a better team."
| | | | | | | |
| --- | --- | --- | --- | --- | --- | --- |
| Paynesville-- | 010 | 414 | 0 | - 10 | 12 | 0 |
| Hermantown-- | 001 | 000 | 0 | - 1 | 4 | 2 |
Paynesville - Batting: John Hemingson 2-2 2B 3B RBI-3 R-2 BB-2; Mark Andrie 2-3 2B RBI-2 R; Mike Mueller 2-4 R-2; Chris Beier 1-2 3B R-3 RBI BB-2; Trent Hansen 1-3; Brandon Berg 1-3; Jamie Paul 1-4 R RBI; Justin Butkofski 1-4 R RBI; Derek Stanger 1-4 RBI; Pitching: (ip-h-r-er-bb-k) Butkofski (W) (7-4-1-1-5-2).
Hermantown - Batting: Travis Taran 1-3 RBI; Codie Chesney 1-3; Ryan Bolander 1-3; Justin Baker 1-1; Pitching: (ip-h-r-er-bb-k) Chesney (6-12-10-10-4-3); Adam Johnson (1-0-0-0-1-0).
---
Contact the author at editor@paynesvillepress.com • Return to Sports
Home | Marketplace | Community
---