Going into the state tournament last week, coach Brad Skoglund felt his team had a chance to win the Class AA title if they played well.

Indeed, the Dogs continued their torrid playoff run and played some of their best baseball of the year in pounding the Class AA field into submission on Thursday and Friday at Dick Putz Field in St. Cloud.

The Dogs hit .354 in three games at the state tourney, knocking 33 hits and scoring 30 runs to sweep three games. They beat Albany 12-6 and #1-rated Hermantown 10-1 on Thursday to advance to the final and then topped Pipestone 8-3 on Friday to secure the Class AA title.

"What a day for Bulldog baseball!" said head coach Brad Skoglund at the welcome-home celebration at the PAHS ballpark on Friday night, following the Dogs' 8-3 victory over Pipestone in St. Cloud that clinched the team's first state title.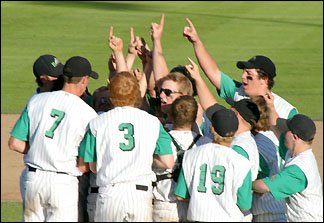 "What can you say?" asked junior catcher John Hemingson at the welcome-home celebration on Friday night at the PAHS ballpark. "We whupped some butt the last couple weeks."
The Bulldogs baseball team celebrated on Dick Putz Field after beating Pipestone 8-3 on Friday and winning the Class AA state title.
The Dogs ended their season by winning 13 of their last 14 games. Their only loss during this stretch was the meaningless regular-season finale, where they lost 3-1 at Minnewaska.
The Dogs beat St. Cloud Cathedral - then ranked #1 in state - 5-4 on Tuesday, May 10, in St. Cloud, which started a four-game sweep to finish their conference season. The Dogs tied the Crusaders for the conference title in the WCC North at 7-3 thanks to that late push.
They also beat ACGC 9-3 in May to secure the top seed in subsections and then, when the playoffs started, swept through the subsection tournament without allowing a run. They also played error-free defense in winning their fourth straight subsection title.
Starting in the subsection final - where the Dogs clobbered New London-Spicer 11-0, needing only four at bats to plate 11 runs - their offense has been red hot. They scored 64 runs in their final six playoff games, including their sweep at state last week, averaging more than 10 runs per game.
"Wow, we've really been hitting. We just pounded the ball," said Skoglund.
In going 8-0 in the playoffs, the Dogs outscored their opponents by a combined margin of 72-20, averaging nine runs per game while yielding only two and a half.
"You just can't say enough about this team," said junior Jamie Paul, the team's starting shortstop and the winning pitcher in the state final on Friday. "Every time (the opponent) scored, we scored right back. Our defense was outstanding, and our hitting was even better."
"It was impressive," said assistant coach Dick Realdsen. "It was some great baseball. The fans got their money's worth, and they loved every minute of it."
The Dogs won the school's sixth state team title and the first in baseball. Paynesville also has four state titles in wrestling (1987, 1990, 1991, and 2000) and one in boys' cross country (2000).
The Dogs (21-6) were making their second appearance at state baseball, having taken the consolation title in Class AA in 2002.
Many of the team members have enjoyed success in baseball before, including a number who played on the American Legion baseball team that won the Division II state title in August 2003.
Winning a state title now felt even better than that title, said Paul, in part due to the great fan support that cheered the team to victory. (The Dogs won their Legion title in Ely.)
Winning a state title was "unbelievable," said senior pitcher and first baseman Justin Butkofski.
"It was just a fun year," added Hemingson. "At the beginning of the season, we knew it was possible to be here. But to actually be here is a special feeling."
"You know the best part of it?" said Skoglund at the welcome home. "We've got a great bunch of kids. "Parents, you've got to be proud of them."
---
Contact the author at editor@paynesvillepress.com • Return to Sports
Home | Marketplace | Community
---