The Pipestone Arrows - coached by Rick Zollner, a 1982 PAHS grad - reached the Class AA baseball finals with dominant pitching.

On Thursday, the Arrows played 13 innings before allowing their first run, including a no-hitter in their first game, a 7-0 victory over Warroad. (They beat Kasson-Mantorville 4-1 in the semifinal.)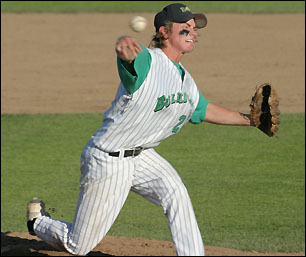 But, the Paynesville Bulldogs made the Arrows' pitching look mortal, continuing their hot hitting by pounding 11 hits and scoring eight runs in winning 8-3 to secure the state title at Dick Putz Field in St. Cloud.
Junior Jamie Paul pitched a complete game against Pipestone in the Class AA final, yielding only three runs, two earned, and walking none.
Anytime you can have 33 hits and score 30 runs in three games - as the Bulldogs did at state - "you're going to fare well," said Zollner, who led Pipestone to their fourth state appearance - their first since 1977 - and to their highest state finish.
The Dogs hit the ball hard in the first inning, but the Arrows turned a hard-hit linedrive into a double play to erase an opening error.
The Dogs - who never trailed in the state tournament and were tied for only two and a half innings - broke into the scoring column in the top of the second. Senior Chris Beier's hard-hit ball was booted for an error, and he scored on junior John Hemingson's double down the leftfield line. Hemingson scored on another Pipestone error to make the score 2-0, and the Dogs had scored more runs against Pipestone, while making only three outs, than Warroad and Kasson-Mantorville had in two full games.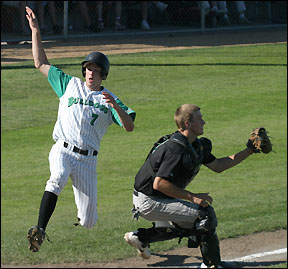 Then the Dogs loaded the bases in the second, still with no one out, on a bunt single by junior Mark Andrie and a walk to senior Brandon Berg. A third run scored on a groundout, and junior Trent Hansen walked to load the bases again, but the Arrows were able to escape the jam without allowing anymore runs.
Sophomore Cory Nietfeld soars into home, scoring a run as a courtesy runner in the third inning against Pipestone at Dick Putz Field on Friday.
Pipestone scored a run in the bottom of the second when their leadoff hitter reached on an error and came around to score. The Dogs had two outs when junior Jamie Paul induced a fly ball to center that was lost in the sun for a run-scoring triple.
But the Dogs answered in the top of the third, with the sun helping them this time. Hemingson had walked (with sophomore Cory Nietfeld as a courtesy runner for the catcher), and he scored when Andrie's drive to center was lost in the sun for an RBI double, giving the Dogs a three-run lead again at 4-1.
Paul, who pitched a complete game for the victory in the final, said his philosophy was simple: "Throw strikes. Get runs. Let the defense work."
Pitching with the support of outstanding hitting and great defense is like knowing you have a cushion, according to Paul. "I had faith in them. Everyone on our team is hot. I knew that they would come through," he added.
Paul helped his cause by leading off the top of the fourth with a single through the hole to left. Hansen followed with a bunt that he beat out for an infield hit, putting runners on first and second, prompting a Pipestone pitching change.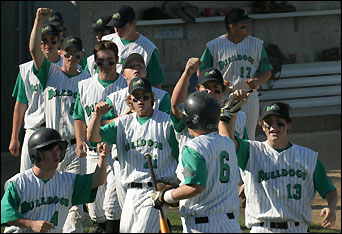 Junior Jared Thies, who had thrown a no-hitter against Warroad on Thursday, came on in relief. But after inducing a fielder's choice, senior Mike Mueller ripped a liner to left for an RBI single. Thies then got the second out in the inning, but walked Hemingson and junior Derek Stanger followed with a two-out single to center on an 0-2 count. His hit scored two runs to make the score 7-1.
Teammates congratulated senior Chris Beier (6) after he scored the Dogs' first run in the second inning against Pipestone on Friday. The Dogs took a 3-0 lead with three runs in the inning and won 8-3. The Dogs never trailed at the state tournament, scoring 30 runs on 33 hits.
Thies - who left the game before the top of the fifth after apparently tweaking a muscle while warming up - pitched seven innings without allowing a hit or run on Thursday, but the Dogs tagged him for two hits and two runs in an inning on Friday.
(The decision to have Thies pitch was difficult, said Zollner, since the junior right-hander had thrown 94 pitches the day before. But Thies wanted the ball with the state title on the line, said Zollner. Initial indications were that his injury was not serious, he added on Friday.)
The Dogs scored their final run in the top of the fifth with good baserunning. Paul singled, and Nietfeld (running again as a courtesy runner) advanced to second on a wild pitch and to third on a groundout. Senior Justin Butkofski was hit by a pitch, putting runners on the corner.
With two strikes on Mueller, Butkofski intentionally left first base and got in a hot box, staying in the rundown until Nietfeld could score. Butkofski was tagged out, but not until the Dogs had plated their eighth run.
Playing with the lead always helps, said coach Brad Skoglund. Not only is it always easier to hit when you are ahead, but it allows the team to be more aggressive on the bases, which is how it scored its last run against Pipestone.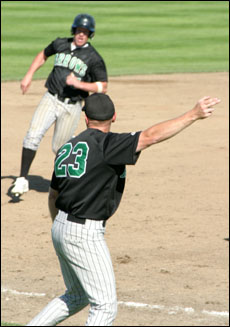 Pipestone (20-7) scored two runs in the bottom of the sixth on a two-out, two-run double and put two runners on base in the bottom of the seventh. By then, though, the Dogs' fans were cheering every strike and every out.
Pipestone coach Rick Zollner - a 1982 PHS grad - waving a runner home during the 4-1 semifinal win on Thursday - guided the Arrows to the state final in baseball for the first time.
Paul induced a grounder to Stanger at third, who fired to first for the final out and the Dogs' first state title in baseball.
The players mobbed each other in a pile by the pitcher's mound after the final out before taking countless pictures and hugging parents and fans on the field.
Assistant coach Dick Realdsen was Zollner's varsity baseball coach in high school, and ironically they met last December and speculated about meeting at the state tourney. (Pipestone lost to Jackson County Central - the eventual Class AA state titlist - last year in the Section 3AA final, while the Dogs lost in the Section 5AA tournament.)
"It didn't quite end the way we wanted," said Zollner, who has led his team to back-to-back conference titles, "but there can only be one winner. "I'm real happy for Brad, Dick, and for Paynesville."
| | | | | | | |
| --- | --- | --- | --- | --- | --- | --- |
| Paynesville-- | 031 | 310 | 0 | - 8 | 11 | 3 |
| Pipestone-- | 010 | 002 | 0 | - 3 | 8 | 4 |
Paynesville - Batting: John Hemingson 2-2 2B R-2 RBI BB-2; Jamie Paul 2-4 R-2 RBI; Mark Andrie 2-4 2B RBI; Mike Mueller 2-4 RBI R SB; Derek Stanger 1-4 RBI-2; Justin Butkofski 1-3 HBP; Trent Hansen 1-4 BB; Pitching: (ip-h-r-er-bb-k) Paul (W) (7-8-3-2-0-3).
Pipestone - Batting: Ryan Viland 3-3 2B 3B RBI-3; Nick Schneider 2-4; Tony Sievert 1-3 2B R; Pitching: (ip-h-r-er-bb-k) Ryan Meulebroeck (L) (3-6-6-3-3-0); Jared Thies (1-2-2-2-1-0); Bryant Henderson (3-3-1-1-0-0).
---
Contact the author at editor@paynesvillepress.com • Return to Sports
Home | Marketplace | Community
---