The Bulldogs scored five runs in the first inning and built a 12-1 lead in beating conference-rival Albany 12-6 in their opening game at state on Thursday afternoon.

The Dogs set the tone for their offensive fireworks in the tourney with six hits in their first at bat against Albany, batting around and scoring five runs.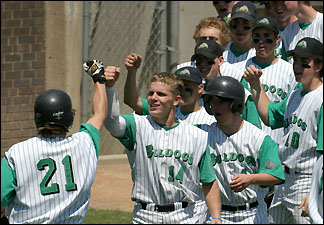 Albany senior Nick Locknikar had shut down the Dogs in his only appearance against Paynesville in the regular season, making it look easy, according to coach Brad Skoglund. But the Dogs greeted him with a flourish of hits in the first inning.
Junior Jamie Paul (21) shares high-fives with his teammates after scoring in the first inning against Albany on Thursday. The Dogs scored five runs in the inning, on their way to scoring 30 runs in three games at state. The Dogs took the lead against Albany and never trailed in that game or in the tournament, winning the school's first state title in baseball.
Junior Jamie Paul singled to start the game and stole second. Junior Trent Hansen walked, and senior Justin Butkofski doubled to right-center (off the centerfielder's glove) to score Paul for a 1-0 lead.
Albany appeared to be on the verge of escaping the jam thanks to an unusual 5-2-3 double play, tagging out a runner at home and then throwing behind the batter rounding first. But senior Chris Beier hit an RBI double to right-center to make it 2-0. Hemingson followed with a triple to right-center, scoring Beier to make it 3-0. Junior Derek Stanger hit an RBI single up the middle to make it 4-0.
Senior Mitch Callenius singled, and senior Brandon Berg was hit by a pitch to load the bases. Then Paul, in his second at bat in the inning, drew a bases-loaded walk to score a fifth run.
"We almost ran ourselves out of the inning," said Skoglund, who was pleased that the Dogs came back to score four runs with two outs, turning a 1-0 lead into a 5-0 advantage.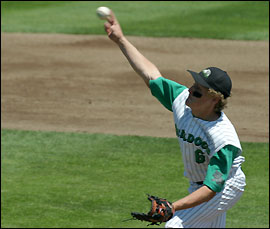 The Dogs struck again in the third inning, scoring three runs on one hit, thanks to a walk, a batter hit by a pitch, a bunt that was botched by Albany, and a wild pitch. Butkofski had the only hit, a run-scoring single, in the rally, which chased Locknikar.
Senior Chris Beier pitched a complete game against Albany on Thursday. He was named to the all-tournament team for his pitching and for going 3-10 with two walks at the plate.
After Albany scored an unearned run in the bottom of the third - leaving the bases loaded - Locknikar's replacement walked four straight batters to start the fourth inning, throwing two strikes and 16 balls, including a bases-loaded walk to Berg that plated another run. Paul added an RBI single, and another run scored on a double play to make it 11-1, enough to invoke the ten-run rule but not until five innings were played.
The Dogs scored another run in the fifth to make it 12-1, and it appeared that they would invoke the ten-run rule. But the Huskies six hits in the bottom of the fifth, including a two-out RBI double and a two-out two-run single to score four runs, making the score 12-5.
Albany - which actually ended up outhitting the Dogs in the game 11-10 - had two runners reach base on hits in the sixth inning, but Beier was able to induce an inning-ending grounder. The Huskies scored their last run in the bottom of the seventh on a two-out double, but Beier pitched a complete game for his team-leading tenth pitching win.
"Knowing Albany and how they swing the bats, I wasn't comfortable until the last out," said Skoglund.
"Getting by Albany, that first one, was the key one. Things fell into place after that," he added.
The Dogs advanced to the state semifinals with the 12-6 win, and they also claimed their season series with the Huskies. The Dogs had beaten Albany 9-6 in April in Paynesville, and the Huskies had beaten the Dogs 7-4 in May.
The Dogs went 7-3 in the WCC North this year, tying Cathedral for the conference title. Albany went 5-5 in the conference, tying for third, but beat Cathedral twice to win the Section 6AA title and to advance to state for the first time since 1970. In their only previous state appearance that year, Albany had won a state title in a one-class tournament, beating New Ulm 1-0 in 12 innings in the final.
This year, Albany followed their loss to the Dogs with a 5-4 consolation loss to Holy Family Catholic on Thursday and were eliminated from the tourney.
| | | | | | | |
| --- | --- | --- | --- | --- | --- | --- |
| Paynesville-- | 503 | 310 | 0 | - 12 | 10 | 2 |
| Albany-- | 001 | 040 | 1 | - 6 | 11 | 3 |
Paynesville - Batting: Jamie Paul 2-3 RBI-2 R-2 BB SB; John Hemingson 2-3 3B R-2 RBI BB; Chris Beier 2-4 2B R RBI; Justin Butkofski 2-5 2B RBI-2 R; Derek Stanger 1-2 R-3 RBI BB-2; Mitch Callenius 1-2 R BB; Pitching: (ip-h-r-er-bb-k) Beier (W) (7-11-6-5-3-7).
Albany - Batting: Randy Lockridge 2-4 R; Scott Schlangen 2-4; Ryan Mareck 2-5 2B RBI; Aaron Schiffler 1-3 2B RBI R; Jordan Bredeck 1-3 RBI-2; Charlie Lockridge 1-3 R-2; Ben Douvier 1-4 R; Kurt Schlangen 1-4; Pitching: (ip-h-r-er-bb-k) Nick Locknikar (L) (2.2-8-8-8-3-0); Kevin Spohn (0.1-0-3-3-5-0); Jake Harrison (4-2-1-0-0-5).
---
Contact the author at editor@paynesvillepress.com • Return to Sports
Home | Marketplace | Community
---