Notes from the Paynesville Historical Society. . .
By Connie Williams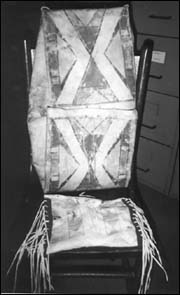 People are interested in collecting Indian pottery, rugs, jewelry, and baskets, but you hardly ever hear of anyone collecting parfleches. I have only seen a couple of them in my life. I find them very intriguing. People have not come to understand and appreciate this fascinating article used by the Plains Indians.
The parfleche is a leather container much like today's suitcase. It is like a large leather envelope. Painted with bold, bright, geometric patterns, the parfleche was an integral part of the world of Plains Indians. They were nomadic people. The parfleche held precious belongings and attached easily to horse saddles, dog travois, or a woman's belt.
Parfleches symbolized the spirit of the Sioux, Arapaho, Cheyenne, and other Plains tribes.
The patterns were like abstract art and reflected their freedom and their love of light and motion.
The Great Plains stretches from the Rio Grande, on the border of Mexico and the United States, in the south to the Mackenzie River Delta on the Arctic Ocean in the north. It stretches east to the Central Lowlands and the Canadian Shield and west to the Rocky mountains. Parts of 10 states, three Canadian Provinces, and parts of the Northwest Territories of Canada are included in its range.
These Indians were big game hunters. They hunted mainly the buffalo. It supplied their food, clothing, shelter, and tools. The game was completely used, not a piece of the animal was wasted. The parfleche was made from the tanned hide also used for clothing and teepees. They lived in Teepees that could be moved easily whenever the game moved or the weather became a hardship.
The earliest paints used on the leather envelopes were pigments of red and yellow ochre, charcoal, vegetable dyes, and limonite and copper sulphate. Later, the Indians used commercial paints supplied by the white man. Used by all the Plains tribes from the 1840s until about 1940, the parfleche was often used as intertribal trade or offered as gifts.
Our museum has one of these beautiful items made by an early culture. It was donated by Bill Kellogg, now in the Twin Cities. He started the hockey team in Paynesville and was a Boy Scout leader.