Notes from the Paynesville Historical Society. . .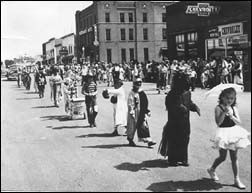 By Kari Brady
To complement the article "50 Years of Town and Country Days" written by Michael Jacobson, the summer months remind our community of a time for celebration. The celebration of freedom, heritage, and for some of us, a nice school break.
During this time, Paynesville honors numerous events that bind our town together, such as: Town and Country Days, Father's Day, Independence Day, street dances, car shows, parades, and pet shows.
The most prominent of these celebrations is Town and Country Days. You know it is here when:
•The air fills with the smell of cotton candy, hot dogs, and mini donuts;
•You are forced to find alternate routes to the post office and bank;
•You see scared pets running away from the judging table;
•You see the marching of hundreds of kids in the kiddie parade;
•The carnival game tables seem to all be calling your name louder than the mini donuts;
•You just can't resist to have one more Lion's Club hamburger; or
•You just stop to chat with an old friend.
Like other times of the year, summer allows time for great celebration. This year will be the last Town and Country days of the 20th century. So go out and celebrate and have a little ice cream! From the rising sun in the east to the setting sun in the west.
The Paynesville Historical Museum has documented history of the great celebrations of our town from 1949 to the present. If you have any questions about our history, call the curator Bertha Zniewski at 243-4433.