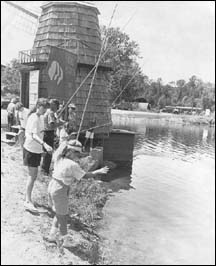 By Kari Brady
Yesterday, I dug through my mother's closet to find my old Girl Scout uniforms and middle school volleyball jacket.
We just completed the new Girl Scout and Paynesville Area High School sports exhibits at the museum. Carefully arranging and displaying the uniforms prompted me to try to find a piece of my own past.
Girl Scouting was first introduced by Juliette Gordon Low to the United States from England on March 12, 1912. Her niece, Daisy Gordon, became the first Girl Scout registered in the United States.
The following year, the first Girl Scout handbook, How Girls Can Help Their Country, was adapted by W.S. Hoxie.
By 1914, over 1,000 girls were listed as members. Increasing popularity in Girl Scouts has had a positive impact on young girls.
Girl Scouts has allowed girls to discover their own individuality as well as confidence through teaching them leadership and survival skills, prevention of harmful influences, responsibility, and respect of nature.
Girl Scouts has also been exposed to great role models and leaders. Over the years, several first ladies have been national honorary presidents of Girl Scouts.
Girl Scout uniforms are decorated with various badges and pins.To obtain a badge, a certain number of selected activities must be completed by the Girl Scout.
The badges are trimmed in five different colors representing different worlds of learning. Red is the world of well-being; blue is the world of people; orange is the world of today and tomorrow; purple is the world of arts; and yellow is the world of the out of doors.
Each badge or pin earned commem-orates the discovery of a part of our culture. Each Girl Scout wears her badges on a sash or vest as a symbol of acquired knowledge and skills they can share with others.
The interest of Girl Scouting has held national appeal since it first arrived. Girl Scouts celebrates its 87th year in the United States and total membership has been over three million.
The museum recently completed the telephone communications, post office, and bank exhibits. However, working on these displays has not tempted me to search for my old telephone bills, hunt for old high school letters from friends written during study hall, or rummage through my bank account. Well, maybe it did.
If you have questions about our history, come and visit the historical society or call Bertha Zniewski, curator, at 320-243-4433.