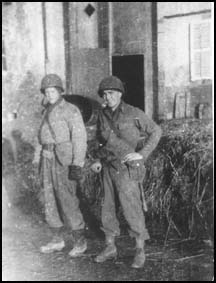 By Kari Brady
Last week my grandmother visited from Anoka and found the time to tour the museum.
I found it astounding to listen to her stories of growing up on a farm in Oslo, Minn. Almost every precious artifact prompted her to recall her days as a young girl observing her mother do farm and housework.
During the tour the exhibit that struck us the most was the military exhibit. Lying on the display case was a blue hardcover book on the history of the 42nd Rainbow Infantry Division and its role in WWII.
As my mother and grandmother paged through the book, they pointed out certain graphic photos of German, French, and Austrian cities leveled by bombs, destroyer tanks, and bulldozers.
I had been previously aware that my grandfather was part of the 242nd Anti-tank Regiment under the Rainbow Division during WWII.
I toured Germany and Austria three years ago when I was in high school. Certain photos brought recognition of places I had been.
Before I left for Germany, my mother had informed me that our scheduled route was almost concurrent with the route my grandfather had taken with the 242nd infantry division.
The Bavarian cities of Wurzburg, Frankfurt, Rottenburg, and Munich were among the cities both my grandfather and I have viewed under different circumstances. The Dachau Concen- tration Camp and Salzburg, Austria, were also places we have visited. All the places my grandmother pointed out in the book are places my grandfather and I had been.
I admire my grandmother for not only her grace, patience, love, and wisdom but for her stories that allow me to come closer to picturing and understanding the past. She brings a kind of magical insight into what was part of her life and memories.
My grandfather passed away a couple years ago. I never got the chance to actually sit down and talk to him about his experiences as part of the anti-tank regiment.
I encourage people to come and visit the museum with their grandparents and great-grandparents and listen to their words describing lives and history we cherish.
If you have any questions, call Bertha Zniewski at 320-243-4433.
In addition, the Paynesville Jaycees have been doing a wonderful job painting the museum's main building.
This spot will soon provide information about the museum's 30-year celebration coming Sunday, Aug. 8.