By Connie Williams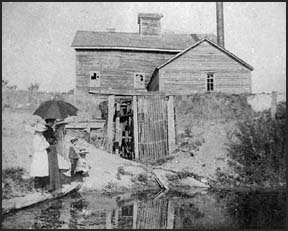 This area was a large grain field before the coming of the railroad. Farmers hauled their wheat to neighboring towns. It meant a round trip of 50 miles or more; for some it was an all day journey. This was done in the winter after the other farm work was done. Snow was always welcome because the sled runners, gliding over the snow, was a great improvement over the rough-riding wagons.
Almost immediately after the railroads came through, a depot and grain elevator were built. Four elevators were built in North Town alone: Cargill and a Duluth owned elevator. One was owned by Ivan Swanson and another by Sunball Company.
Wheat was the number one crop. This crop brought in the money. The Applegren Mill (pictured at right) at Old Town (Paynesville) was world famous. John Peter Applegren purchased the mill in 1869. It had been a grist mill, but was converted of the grinding of flour by Applegren. He produced Paynesville Rolled Flour which was a favorite with housewives.
John's Flour Mill, as it was affectionately called in Paynesville, also produced a very special flour called Golden Drop Flour. In 1893, he took 50 pounds of it in a pure silk bag to the Chicago World's Fair. He won a gold medal and a scroll.We are fortunate enough to have this scroll. We also have one of two mill stones used for grinding wheat into flour from that mill. Jon Applegren was loved by the local children who swam in his mill pond in the summer and skated on it in the winter. Unfortunately, his career was cut short by a stroke.
John J. Johnson constructed another mill in 1897. He sold it to Ferdinand and Henry who ran it for many years and then sold it to Oscar Gilbertson. Gilbertson sold stock in the corporation and produced Korona Flour. This mill and elevator was destroyed by fire on Oct. 25, 1925.