---
Headline Stories
For the week of March 16, 2005
---
Boy Scouts camp on icy Lake Koronis...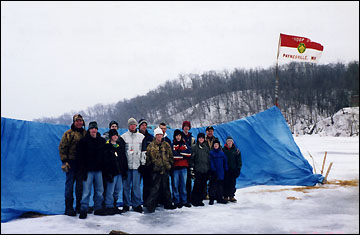 Fourteen Boy Scouts from Troop #34 held a winter camp out
in February on Lake Koronis for their annual Court of Honor.
The scouts built a camp on the ice and stayed overnight
on the frozen lake on Saturday, Feb. 12. Pictured above
at the camp are, from left, scout master Jim O'Fallon,
Keegan Meagher, Devon Koerner, Donald Neu, Nathan Friedrich,
Brad Hemmesch, Jake Deadrick, Brad Torborg, Sam Rittenhouse,
Russell O'Fallon, Zach Friedrich, adult leader Pat Meagher,
Luke Puppe, and Tanner Wendroth.
---
Return to Archives • Return to the News Page.
---
[ Home | News | Marketplace | Community ]

---
Comments regarding this web page can be
addressed to paypress@paynesvillepress.com

Comments regarding the stories can be
addressed to editor@paynesvillepress.com

© 2005, Paynesville Press, Inc. All rights reserved.
---