---
Sports Stories
For the week of May 18, 2005
---
Girls' track team advances to state again...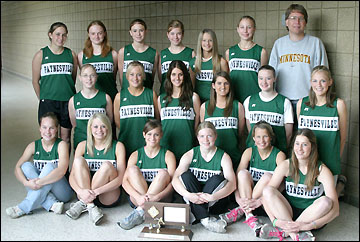 The PAHS girls' track team won the Section 5A true-team meet
last week at ACGC High School and has qualified to compete
at the state true-team meet on Saturday, May 21, in Blaine.
This is the second year in a row the team has advanced to state
and the third time in school history.

Pictured with their first-place trophy are: (front) Kacie Wander,
Rachael Wendlandt, Kendra Johnson,Tara Schmidt, Kacy Nehowig,
and Tanis Beireis; (middle) Tina Liestman, Natalie Leadem,
Leah Felling, Kally Felling, Andrea McCorquodale, and Kaitlyn Frenchick;
(back) Kirsten Miller, Randi Schaefer, Anna Kotten,
Melanie Koerner, Bri Jaeger, Erin Guzy, and head coach Dave Randgaard.
---

Return to Archives • Return to Sports
---
[ Home | News | Marketplace | Community ]

---
Comments regarding this web page can be
addressed to paypress@paynesvillepress.com

Comments regarding the stories can be
addressed to editor@paynesvillepress.com

© 2005, Paynesville Press, Inc. All rights reserved.
---