---
Headline Stories
For the week of Nov. 9, 2005
---
High school choirs present musical...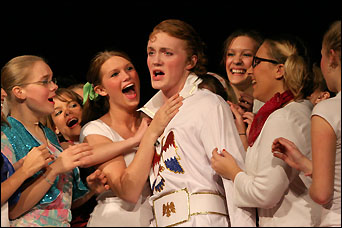 Over 40 members of the choirs at Paynesville Area High School
staged the musical comedy, "Bye Bye Birdie," over the weekend.
Bryce Fishbach as rock star Conrad Birdie is mobbed
by teenage admirers - including, from left, Ashley Mullen,
Danielle Binsfeld, Lindsey Wyffels, Meredith Schaumann,
Jayna Flanders, and Emily Lindeman - upon arriving in Sweet Apple, Ohio.
Photos of "Bye Bye Birdie"
---
Return to Archives • Return to the News Page.
---
[ Home | News | Marketplace | Community ]

---
Comments regarding this web page can be
addressed to paypress@paynesvillepress.com

Comments regarding the stories can be
addressed to editor@paynesvillepress.com

© 2005, Paynesville Press, Inc. All rights reserved.
---