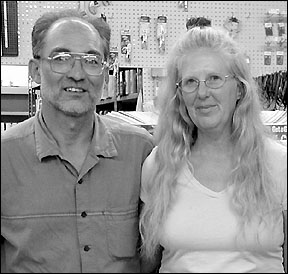 Chuck and Rae Pospisil purchased the Napa auto parts store in Paynesville in September and have renamed it Paynesville Napa.

Chuck has 24 years of experience in parts at dealerships in the Twin Cities, and Rae has more than ten years of experience in accounts payable/receivable.

Chuck and Rae Pospisil purchased and renamed Paynesville Napa in September. Chuck has 24 years of experience in parts, and Rae has ten years of experience in accounts receivable.

They learned that the Napa store in Paynesville was for sale in November 2004 and decided that it was time to "try something on our own," said Chuck.

Paynesville Napa sells after-market parts with customers ranging from independent mechanics, do-it-yourselfer mechanics, industrial businesses, and farmers. Chuck said they are glad to be meeting old clients at the store, as well as generating new customers. In October, walk-in business increased by 20 percent, he said.

The Pospisils have increased their inventory by 10 percent so far and want to continue to add to their stock, Chuck said. They want to have the parts that customers need right on their shelves, he said.

Other changes since the ownership change have been minimal, they said. Dennis Van Eps, who has been with the store for four years, remains as the store manager, and the Pospisils call him the "foundation" of the business since he knows all the customers and all their products. Having two owners working at the store has made deliveries, mostly by Rae, more regular, they said.

Store hours are 8 a.m. to 5 p.m. on weekdays and 8 a.m. to 1 p.m. on Saturdays, though the business is open whenever the lights are on.

The Pospisils, who grew up in Coon Rapids and have been married for 31 years, said owning a business is very time consuming. They commute to Paynesville from St. Michael, exchanging their hour-long drive to the Twin Cities (28 miles) for an hour-long drive each day to Paynesville (65 miles).

On Sundays, Rae is a die-hard Vikings fan, including season tickets and taking an annual trip (to North Carolina this year) while Chuck likes to "play in the garage." They have one grown son and a daughter-in-law.
---
Contact the author at editor@paynesvillepress.com • Return to News Menu
Home | Marketplace | Community
---