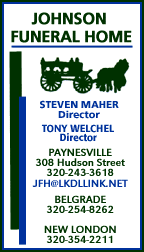 September 2022
August 2022
July 2022
June 2022
May 2022
April 2022
March 2022
February 2022
January 2022
December 2021
November 2021
October 2021
September 2021
August 2021
July 2021
June 2021
May 2021
April 2021
March 2021
February 2021
January 2021
December 2020
November 2020
October 2020
September 2020
August 2020
July 2020
June 2020
May 2020
April 2020
March 2020
February 2020
January 2020
December 2019
November 2019
October 2019
September 2019
August 2019
July 2019
June 2019
May 2019
April 2019
March 2019
February 2019
January 2019
December 2018
November 2018
October 2018
September 2018
August 2018
July 2018
June 2018
May 2018
April 2018
March 2018
February 2018
January 2018

LeRoy Sandgren, 84, Fairfax
LeRoy Sandgren, 84, of Fairfax, formerly Paynesville, passed away on Sunday, Sept. 25, 2022, at South View Living Center in Gibbon. A memorial service was held on Friday, Sept. 30, 2022, at Swedlanda Lutheran Church, Palmyra Township, Renville County, Minn., with interment in the church cemetery. LeRoy Oscar Sandgren was born on May 2, 1938, in Bandon Township, Renville County, . He was the son of Ernest and Gladys (Hable) Sandgren. LeRoy was baptized as an infant on June 12, 1938, and was later confirmed in his faith as a youth on Oct. 5, 1952, both at Swedlanda Lutheran Church. He received his education at country school in Bandon Township for five years and then went to Fairfax Public School. He was a graduate of the Fairfax High School Class of 1956. On May 28, 1960, LeRoy was united in marriage to Diane Kvam at Central Lutheran Church in Camp Township, Renville County. To this union four children were born: Julie, Cindy, Mike and Tim. LeRoy lived in the Fairfax area until 1989. He then moved to Waterville and then Beards Resort on Long Lake by Hawick. He was employed at ADC Telecommunications in engineering for 24.5 years until Jan. 24, 1992. On Jan. 26, 1991, LeRoy was united in marriage to Judy Dover at Green Lake Lutheran Church. They purchased Beards Resort on Long Lake near New London, Minn., on Aug. 1, 1992. LeRoy retired on Oct. 1, 2015. They shared 28 years of marriage when Judy passed away on April 20, 2019. LeRoy enjoyed the lake, especially putting the dock in in the spring and taking it out in the fall as it was a family event. LeRoy was a poor swimmer – but still enjoyed giving boat rides. He was very proud of the resort. He enjoyed watching the birds, fixing and repairing clocks, horses, unique vehicles, making Swedish pancakes for his family, mowing road ditches, vacationing, especially to Pikes Peak, Luther League trips, visits from family, and having Christmas with family. He cherished the time he spent with his children, especially his grandchildren and great-grandchildren. When he needed assistance with his care, LeRoy became a resident of the Countryside Retirement Community in Sleepy Eye, Minn., and on Friday, Sept. 2, 2022, he moved to South View Living Center in Gibbon and passed away there on Sunday, Sept. 25, 2022, at the age 84 years. Blessed be his memory. LeRoy is survived by his children, Cindy Thorp and her husband Rick of Brooklyn Park, Minn.; Mike Sandgren and his wife Kari of Franklin, Minn., and Tim Sandgren and his wife Angela of Franklin, Minn.; step-son, Jason Dover and his wife Tiffani of Rochester, Minn.; grandchildren, Becky Eisenbraun, Travis (Tracy) Eisenbraun, Ricky Thorp, Kevin (Danielle) Thorp, Kristine Thorp (Justin Wolff), Luke, Tyler, and Dylan Sandgren, and Megan, Nathan and Zachary Sandgren; step-grandchildren, Courtney Eisenbraun and Creed Dover; great-grandchildren, Lyric Engen, Dirk Thorp, Killian Thorp, Lauralee Thorp, Jep Thorp, Jackson Thorp, Maci Thorp, and Madison Eisenbraun; siblings, Floyd Sandgren and his wife Martha of Redwood Falls, Minn., Doug Sandgren and his wife, Darlene of Hector, Minn., and Harold Sandgren of Hutchinson, Minn.; sister-in-law, Joyce Sandgren of Belle Plaine, Minn; and nieces, nephews, other relatives, and friends. LeRoy was preceded in death by his wife, Judy Sandgren; parents, Ernest and Gladys Sandgren; daughter, Julie Eisenbraun; son-in-law, Pat Eisenbraun; sister-in-law, Karen Sandgren; and brother, Robert Sandgren. Arrangements were by Hauser-Hantge Funeral Chapel in Fairfax, Minn. Online obituaries and guest book available at www.hantge.com.


Kaitlyn Husted, 24, Eden Valley


A celebration of life will be at a later date for Kaitlyn M. Husted, 24, of Eden Valley who passed away on Wednesday, Sept. 28, 2022, in Cold Spring. Kaitlyn was born on July 7, 1998, in Cadillac, Mich., to Scott Leeuw and Nicole Husted. She graduated from Eden Valley-Watkins High School. She loved all types of music, especially rock. She also enjoyed Japanese culture, cats, and doing make-up, hair, and nails, just like her mom. Kaitlyn was very artistic, and her friends and family meant the world to her. Her mom was her best friend, and her family finds peace in knowing that they are together in heaven. Survivors include her father, Scott (Holli) Leeuw; step-father, Pat McCarney; sons, Joseph and Jameson; brother, Christopher Martin Jr; half-brother, Brandon Leeuw; grandmother, Sue Hopkins; aunts, Jessica (Cory) Vadner, Heather Husted, Linda Varner, and Tracy Duske; uncles, Lance Husted, and Scott (Alicia) Varner; and cousins, Madison, Mackenzie, Bridgit, Autumn, Deric, and Brett. She was preceded in death by her mom, Nicole McCarney; and her grandparents. Obituary, guest book, and video tribute available online: www.williamsdingmann.com.


Sharon Lunz, 77, Paynesville


Sharon K. Lunz, 77, of Paynesville died on Saturday, Oct. 1, 2022, at the Paynesville Care Center in Paynesville. Her funeral service will be held at 11 a.m. on Thursday, Oct. 6, at Paynesville Lutheran Church in Paynesville. Visitation will be for one hour prior to the service at church. Arrangements are with the Johnson Funeral Home in Paynesville: www.hafh.org. Sharon Kay Lunz was born on May 21, 1945, in St. Paul, the daughter of Carl and Myra (Laabs) Borgwardt. She grew up in Bertha and later North Mankato, where she attended Mankato High School, graduating in 1963. On Aug. 28, 1965, Sharon was united in marriage to Ronald Lunz. This union was blessed with one son. They made their home in LeHillier, Minn., until 1977, when they moved to Paynesville. They later divorced. Sharon worked in bookkeeping and accounting for numerous businesses in the area. She returned to school and received a degree in accounting from Ridgewater College in 2000. She retired in 2020. Sharon was an active member of Paynesville Lutheran Church. She enjoyed golfing, fishing, gardening, sewing, reading, spending time in her sunroom, visiting with friends, and spending time with her family, especially her grandchildren. Sharon is survived by son, Richard (Kim) Lunz of Farmington; two grandchildren, Erin and Zachary Lunz; brother, Carl (Yolanda) Borgwardt; special cat, Dixie; and numerous loving friends and family. She was preceded in death by her parents.


Kathrine Gruber, 93, Melrose


Kathrine I. "Kitty" Gruber of Melrose passed away after a wonderful life of 93 years on Sunday, Oct. 2, 2022, at the CentraCare Care Center in Melrose, Minn. A Memorial Mass of Christian Burial will be held at 11 a.m. on Friday, Oct. 7, 2022, at St. Mary's Catholic Church in Melrose with Rev. Marvin Enneking officiating. Inurnment will be in the parish cemetery. Visitation will be held from 10 to 11 a.m. on Friday at the church. Kathrine Isabelle Van Beck was born Jan. 23, 1929, near Greenwald, Minn., to Albert and Mary (Kolb) Van Beck. Kathrine attended school in Greenwald and graduated from Melrose High School. She would help her brothers do chores on the farm after school. On June 26, 1950, Kathrine was united in marriage to Reinold J. Gruber at St. Mary's Catholic Church. The couple lived near Spring Hill, where they farmed until 1960. They owned and operated Reinie's Bar and Grocery for eight years. They then resided at Birch Lake, Millwood Township, Stearns County, until moving to Melrose in 1986. Kathrine worked as a nurse at the Melrose Hospital and was a Shaklee distributor for many years. She felt strongly about saving the environment and staying healthy. She had a beautiful voice and loved to sing and dance. She sang in the choir and was a soloist at church. She also joined many choral groups around town. Kathrine always gave to others, volunteered at the local hospital in her later years, and loved her children, grandchildren, and great-grandchildren with all her heart. She was a member of St. Mary's Catholic Church, Christian Mothers, Daughters of Isabella, and Elrosa Senior Citizens. Survivors include her children, Thomas Gruber of Freeport, Gail (Duane) Olmscheid of Melrose, Sister Mary Katherine Gruber of Footville, Wis., Richard (Irene) Gruber of Melrose, Margaret (Barton) Knutson of Belgrade, Peter (Diane) Gruber of Melrose, Albert (Mona) Gruber of Sartell, Amy (Larry) Lamusga of Grey Eagle, Wanda (Michael) of Freeport, Reinold R. (Brenda) Gruber of Clear Lake, and Chad (Kelly) Gruber of Bartlett, Ill.; and many grandchildren and great-grandchildren. Kathrine was preceded in death by her parents, Albert and Mary Van Beck; husband, Reinold J. Gruber; infant children, Mary Gruber and Baby Boy Gruber; brothers, Adam, Edwin, and Reuben Van Beck; and sisters, Monica Ehlert, Ermalinda Walz, and Beata Brang. Arrangements were made with Patton-Schad Funeral and Cremation Services of Melrose.