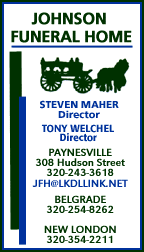 April 2022
March 2022
February 2022
January 2022
December 2021
November 2021
October 2021
September 2021
August 2021
July 2021
June 2021
May 2021
April 2021
March 2021
February 2021
January 2021
December 2020
November 2020
October 2020
September 2020
August 2020
July 2020
June 2020
May 2020
April 2020
March 2020
February 2020
January 2020
December 2019
November 2019
October 2019
September 2019
August 2019
July 2019
June 2019
May 2019
April 2019
March 2019
February 2019
January 2019
December 2018
November 2018
October 2018
September 2018
August 2018
July 2018
June 2018
May 2018
April 2018
March 2018
February 2018
January 2018

Evelyn Carlson, 95, Eden Prairie
Evelyn (Wahl) Carlson, 95, of Eden Prairie, Minn., died on Thursday, April 21, 2022. She was the first of three daughters born to Harvey and Ethel Wahl of Paynesville and was the first Ice Cream Days queen in Paynesville in 1949. She studied music at Hamline University, met her husband Dick in her freshman English class, and became a school librarian until her four boys – Dave, Doug, Ken, and Jeff – came along. She moved to assisted living in 2013 and to a memory care facility in 2017. A celebration of life is anticipated at a later time.


Bob Cushman, 86, Paynesville


A Celebration of Life will be held on Sunday, May 22, from 1 to 3 p.m. for Robert "Bob" Allen Cushman, 86, of Paynesville at Bug-Bee Hive Resort (29659 Queen Bee Lane, Paynesville). Bob passed away peacefully, surrounded by his family, on Thursday, Nov. 18, 2021. After a series of health issues, he had been placed in hospice in Rogers, Minn. Bob always considered Paynesville his home and enjoyed writing for the Paynesville Press. His first job was dispatching cab for his dad's cab company in Minot, N.D. From there, Bob had several jobs including: deejay at his local radio station, history teacher, foreman of a sugar beet crew, high school guidance counselor, Sunday school teacher, drug and alcohol counselor, hotel desk clerk, group facilitator, and the one he was most proud of – actor. Bob and two of his best friends wrote and performed "Frank and Nat: Their Way," a tribute to Frank Sinatra and Nat King Cole. Bob was young at heart and loved supporting kids of all ages. He loved laughter and used comedy for much of his teaching, coaching, and healing others. He also enjoyed all sports but was an avid fan of the St. Louis Cardinals, not as much when they left St. Louis, but he would still catch as many of their games as possible. He also loved to play golf especially at Koronis Hills. This was an all-time, favorite happy place for him. His wife, Mary (Quarfot) Cushman, 79, also passed away on Jan. 26, 2022. Bob was proceeded in death by his parents, Jack and Lucille Cushman; and his brother Jack Cushman, Jr. (Jeannie). He is survived by sister: Joy Soltis (Robert "Bob"); children: Jodi Cushman-Purcell (Bruce), Mark Cushman (Becky), Troy Boyle (Laurie), and Rebecca Cushman; grandchildren: Megan Pingry, Jordan Beecham, Brice Boyle, and Kelly Boyle; great-grandchildren: Rylan Pingry, Kyrie Beecham, and Amarie Beecham; and numerous nieces and nephews. A big thank you to all of Bob's friends and fans, he enjoyed writing and telling stories right up to the end.


Matthew Billo, 65, St. Cloud


Matthew Joseph Billo of Detroit, Mich., died after a long battle with cancer on Sunday, April 10, 2022, at his home in St. Cloud, Minn. Matt was born on Oct. 28, 1956, the son of Thomas and Patricia (Burns) Billo. He joins them in his passing, as well as brothers Daniel and Patrick Billo, sisters Chris Brown, Noreen Judson, and Bridget Dobrowski. He is survived by sisters K.C. Smith and Ellen Doyle. Matt was married for 49 years to Patricia (Lareau) Billo. They raised four wonderful children: Thomas (Taften) Bilbaugh, Catherine (Jason) Hoff, Bridget, and John Billo. Matt had one grandson, Tavean Twedt-Coulter. He was an exchange student father to Marlene Holderle (nee Kopke) of Berlin, Germany. Born in Detroit, he grew up in Walled Lake and attended Walled Lake Western High School. He served in the U.S. Navy as an electronics technician in 1976 and achieved a rank of E3 before his honorable discharge. Post military service, he began a long, passionate career as a computer engineer. He could often be found in front of his CNC machine, computer, or soldering iron working on multiple projects. He frequently invited guests to look at what he was working on. He was an avid boatsman and snowmobiler. A true extrovert, Matt made friends wherever he went. He enjoyed discussing topics such as technology, science fiction, psychology, religion, and conspiracy theories. Matt loved movies, music, the stage, and television. He had an especial love for a beautiful lake, a snowy forest, and thorough technical documentation. A cocktail party and memorial service in his honor will be held in August (more details to follow). Arrangements are made through Benson Funeral Home in St. Cloud, Minn.


Anthony Eickhoff, 88, Paynesville


Mass of Christian Burial was held on Friday, April 29, 2022, at St. Louis Catholic Church in Paynesville for Anthony W. "Tony" Eickhoff, 88, of Paynesville. Tony passed away peacefully on Tuesday, April 26, surrounded by family at the Paynesville Care Center. Reverend Glenn Krystosek officiated. Burial was in the St. Louis Parish Cemetery in Paynesville. Tony was born May 16, 1933, in Belgrade, Minn., to William and Augusta (Hoppe) Eickhoff. He married Laura Hopfer on May 17, 1954, at St. Margaret's Catholic Church in Lake Henry, Minn. Together they raised four daughters and farmed near Eden Valley for many years. Tony also worked at A&C Farm Service as a mechanic and did lawn care. They retired to Paynesville in 2008. He was a member of the St. Louis Catholic Church and the Knights of Columbus. Tony enjoyed time fishing, snowmobiling, casino trips, dancing with his wife Laura, and spending time caring for his animals on their hobby farm. He loved spending time with his wife, children, grandchildren, and great-grandchildren. Tony is survived by his daughters, Karen Brutger of Albertville, Linda (Gary) Nordmann of St. Joseph, Diane (Tom) Utsch of Paynesville, and Joan (Wayne) Schmitz of Rice; nine grandchildren; 18 great-grandchildren; one great-great-grandson; sisters-in-law Mary Jane Eickhoff and Sandy Eickhoff; and brothers-in-law Art Hopfer and Larry Allmaras. Preceding Tony in death were his parents; wife of 66 years Laura (2020); son-in-law Larry Bauer, great-granddaughter, Madilyn Marie Utsch; great-grandson William Anthony Schmitz; an infant great-granddaughter; brothers Bonnie (Agnes), Jerome (Delores), Ervin, and Dick; sisters Martha (Helge) Nelson and Betty (Norman) Nelson; and in-laws Bill (Martha) Hopfer, Rosie Hopfer, and Billy Langner. Tony was a very gentle and kind man who will be missed by many. His family would like to extend a special thank you to all the family and friends who visited and all the staff at the Paynesville Care Center for their kindness.


Merlin Krupke, 87, Paynesville


Funeral services were held on Sunday, May 1, 2022 at Grace United Methodist Church in Paynesville for Merlin W. Krupke, 87, of Paynesville, who passed away on Thursday, April 28, 2022, at Savanna Prairie Assisted Living in Kimball. Rev. Ric Koehn officiated the service. Burial was in Grove Cemetery in Roseville Township. Merlin was born on July 8, 1934, to Walter and Mary (Brauchler) Krupke on the farm east of Regal, Minn. He attended elementary school in Regal and graduated from Paynesville High School in 1952. He was united in marriage to Elda Mae Rosenow on Dec. 3, 1955, at St. Matthew's Evangelical and Reformed Church in Forest City. He enjoyed bowling, playing cards, deer and pheasant hunting, riding his Honda motorcycle, going on family trips, and watching his grandsons wrestle and the Paynesville wrestling team with his wife and friends Hub, Wes, and Jack. He also enjoyed watching his daughters and granddaughters in their school sports. He was proud to be the first FFA state delegate in 1952 from Paynesville. He was the proud father of one son and five daughters. He was a proud and happy farmer all of his life. Merlin and Elda Mae were in partnership with Kristi and Ken Wendlandt, called K Korner Farms, since 1982. He is survived by his wife, Elda Mae; his daughters, Lori (Kenny) Rohe of Hawick, Kristi (Ken) Wendlandt of Paynesville, Kari (Ozzy) Osendorf of St. Martin, Cindi (Randy) Schoenberg of Spring Hill, and Tami (Aaron) Swanson of New London; 23 grandchildren and 41 great-grandchildren, with one on the way; brother, Stan (Carol) of Cedar; nephews (like second sons), Scott (Tara) and Brad (Tanya) Krupke; niece, Cara (Russell) Goebel; and many other relatives and friends. He is preceded in death by his parents; son, Randall; two infant grandchildren; sister, Lois; and nieces, Shannon Gode and Lindsay Krupke. In lieu of flowers, memorials are preferred. A special thank you to the staff of Moments Hospice and Savanna Prairie Assisted Living for their loving and compassionate care of Merlin. God bless the memory of Merlin Krupke. Please visit Merlin's obituary at www.danielfuneralhome.com.


Jeanne Ent, 80, College Station


Jeanne (Peterson) Ent (formerly of the New London-Spicer area) passed away on Nov. 4, 2019, at College Station, Texas, as a result of pancreatic cancer. A Celebration of Life and burial will be at Nordland Lutheran Church, rural Paynesville, at 2 p.m. on Saturday, May 7, 2022 with visitation one hour before the service. In lieu of flowers, memorials are preferred and may be directed to Nordland or to any charity that benefits children or animals. Jeanne Ardis Peterson was born on her grandmother's farm west of Spicer, Minn., on Aug. 12, 1939, to Walter and Julia (Anderson) Peterson. She was baptized and confirmed at Nordland and graduated from New London High School in 1957. Jeanie was a secretary for almost 25 years at Pillsbury, Ralston Purina, and other companies in Minneapolis, Denver, and Houston. In 1983, she began a 10-year career in outside sales – selling, installing, and conducting training sessions on fax machines all over southeast Texas. In 1987, she married Larry Ent, and they enjoyed 32 years together until her death in November 2019. She is survived by her beloved husband, Larry; stepsons Gregory (Barbie) Ent and Tedrick (Karla) Ent, and Timothy (Heather) Ent; her younger sister and forever friend, Shirley (Robert) Fletcher; a nephew, nieces, many cousins, and many very close friends.