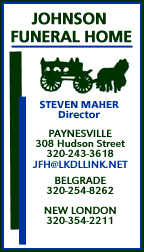 August 2023
July 2023
June 2023
May 2023
April 2023
March 2023
February 2023
January 2023
December 2022
November 2022
October 2022
September 2022
August 2022
July 2022
June 2022
May 2022
April 2022
March 2022
February 2022
January 2022
December 2021
November 2021
October 2021
September 2021
August 2021
July 2021
June 2021
May 2021
April 2021
March 2021
February 2021
January 2021
December 2020
November 2020
October 2020
September 2020
August 2020
July 2020
June 2020
May 2020
April 2020
March 2020
February 2020
January 2020

Roger Mehr, 81, Twin Falls, Idaho
Roger Michael Mehr passed away at his home in Twin Falls, Idaho, on Wednesday, Aug. 23, 2023. Roger was born Oct. 4, 1941, in St. Martin, Minn., to John Mehr and Leona (Miller) Mehr. Roger grew up on his family's dairy farm near St. Martin. After graduating from Crosier's Seminary High School in Onamia, Minn., in 1959, he completed training to repair electronic office equipment, working for IBM and other electronics firms in California and Wisconsin. Roger returned to Minnesota to farm, then was general manager of a large grain farm in North Dakota. Later, he spent several years with Gulf Oil, training and working as an exploratory drill rig supervisor in Texas, Oklahoma, Utah, Wyoming, and North Dakota. Roger finished his work career as a long-haul truck driver, retiring in 2012. He would return to his first love, farming, in retirement, happily working spring and fall seasons for several years on a grain farm near Columbus, N.D., where he enjoyed making new friendships. Roger is survived by his wife of 59 years, Veneel (Klassen) Mehr, who he married on Dec. 18, 1963, in Glendale, Calif., his three sons, Theron (Kelly), Darrin (Michelle), and Jon (Marja); and his eight grandchildren, Hunter, Holden, Blake, Sam, Hannah Katherine, Ryan, Aiden and Brady. Roger is also survived by his siblings Betty (Harvey) Toenies, Janice (Bill) Schoenberg, Ralph (Ann) Mehr, Ruth Heitke, Karen (Gene) Thul, Louise Mehr, and Joyce Strodtman. Roger was a curious and intelligent man, seemingly able to repair most any electronic or mechanical device. He was plainspoken and generous and appreciated a good joke. He enjoyed time with family and friends, was a voracious reader, and a sharp card player. Roger was a loving husband, father, grandfather, son, brother, uncle, and friend who will be deeply missed. Mass of Christian Burial will be held at 11 a.m. on Saturday, Sept. 30, 2023, at the St. Martin Catholic Church in St. Martin, Minn. Visitation will begin after 9:30 a.m. on Saturday at the church. Entombment of his cremated remains will be in the St. Martin Parish Columbarium at a later date. In lieu of flowers, memorial contributions may be made to the St. Jude Children's Research Hospital at https://www.stjude.org/donate/donate-to-st-jude.html.


Mary Johnson, 88, Paynesville


Mary Lucille (Moore) Johnson, 88, of Paynesville, Minn., passed away on Thursday, Sept. 14, 2023. She was born on Aug. 20, 1935, in Boise, Idaho, to Ray and Zelda Moore. Mary met Eugene Allen Johnson in Junction City, Ore., and they got married on Aug. 22, 1953, in Olympia, Wash. This union was blessed with two daughters and three sons. Mary was an avid seamstress, and loved to crochet, needle point, and cross stitch. She also enjoyed gardening, crafting, and spending time with the grandchildren. When Mary lost her hearing, her cat, Lucy, was her constant companion and best friend. Most of all, Mary loved her Lord and Savior, Jesus Christ. Mary is survived by her husband Eugene; children, Marilyn (Larry) Herem of Paynesville, Robert (Cyndi) Johnson of Litchfield, Minn., Richard (Deb) Johnson of Oregon, Elizabeth (Duane) Rooney of Willmar, Minn., and Earl (Sharon) Johnson of Hawick, Minn., 16 grandchildren, 32 great-grandchildren, and three great-great-grandchildren. She was proceeded in death by a grandson. There will be a private burial and memorial service for the family.


Thomas Wuertz, 68, New London


Thomas H. Wuertz, 68, of rural New London, died on Sunday, Sept. 3, 2023, at his home following a five-year illness. A private family service will be held. Arrangements are with Johnson Funeral Home in New London. Thomas was born Oct. 15, 1954, in St. Cloud, Minn., the son of Norbert and Irene (Uphus) Wuertz. He grew up near Lake Henry and attended country school and later Paynesville schools, graduating from Paynesville High School in 1972. On April 21, 1979, he married Theodora "Teddie" Johnson in Lake Henry. They lived in the Minneapolis suburbs: Rogers for 24 years and St. Michael for two years. Thomas owned and operated his own trim carpentry business for 34 years. He retired in 2019, and they moved to the New London area. He enjoyed golfing and was a member of the Minnesota Public Golf Association. Thomas also loved hunting with his sons and grandsons. He is survived by his wife of 44 years, Teddie, of New London; his three children, Adam Wuertz of Albertville, Amy (Nick) Hagen of Chanhassen, and Jeremy (Michelle) Wuertz of Rogers; and six grandchildren. Also surviving him are his siblings: Mary Lou Williams of Otsego, Ken (Jane) Wuertz of Otsego, and Anna (Stewart) Erickson of New London; and other relatives and friends. He was preceded in death by his parents Norbert and Irene; and brother Daniel Wuertz.


Victoria Hartmann, 92, Paynesville


Mass of Christian Burial celebrating the life of Victoria B. Hartmann, 92, of Paynesville will be held at 11 a.m. on Thursday, Sept. 14, 2023, at St. Louis Catholic Church in Paynesville. Vicky passed away peacefully, with family by her side, on Saturday, Sept. 9, 2023, at the Belgrade Nursing Home. Reverend Glenn Krystosek will officiate. The burial will be in the parish cemetery. Visitation will be from 4-8 p.m. on Wednesday, Sept. 13, at the Daniel-Anderson Funeral Home in Paynesville and after 10 a.m. on Thursday, Sept. 14, at the church. Vicky was born on Feb. 21, 1931, the oldest of 12, in Zion Township to Berthold and Arcella (Lenz) Lieser. She attended District #63 country school and then Paynesville High School, graduating in 1949. She worked at Haines Drug. On June 26, 1951, she married Alvin "Bub" Hartmann. They had been married for 60 years. She was a member of St. Louis Parish and Christian Women, Catholic United Financial, and was a lifetime member of the VFW Auxiliary. They owned and operated "Hartmann Ice" for many years selling lake ice, then bagged ice cubes to customers that came from 28 states and several Canadian provinces. She enjoyed her trip to Alaska and several vacations in Hawaii. Playing cards, gardening, bird watching, fishing, and going to the casino were a few of her favorite things. She especially enjoyed watching sports when her children and grandchildren were participating. She was an avid sports fan who followed all the Minnesota teams. Spending time with family and friends brought her great joy. She cherished the times she was able to get together with her sisters. Christmas cookies, apple bars, tea rings, and her wonderful holiday meals are great memories. She was preceded in death by her parents; husband, Bub in 2011; son, Gary, in 1969; brothers, Elvin "Smiley", Ronald, and Joey Lieser; brothers-in-law, Stanley Olmscheid, Junior Welle, Duane Bertram, Leroy Patrick, and Jim Hartmann; and sisters-in-law, Pat Carstens, Bernice Wood, and Lorraine Hartmann. She is survived by children, Dave (Shirley) Hartmann of Alexandria, Wayne (Debra) Hartmann of Hill City, S.D., Mike Hartmann of Paynesville, Susan (John) Teicher of Paynesville, and Paul (Jeri) Hartmann of Bismark, N.D.; grandchildren, Ryan (Abby) Hartmann, Lindsay (Ryan) Hample, Jamie (Ryan) Krieger, Michelle (Brian) Anderson, Josh (Gena) Teicher, and Eric (Maggie) Hartmann; great-grandchildren, Felicity Hartmann; Emmett, Ethan, and Emerson Hample; Brayden and Hailey Krieger; Lauren and Aubrey Anderson; Alton and Syrana Teicher; and Miles, Jack, and Melia Hartmann; sisters, Marian Olmscheid, Ann Partrick, Verna Kalthoff, Sister Jeanne Lieser, O.S.F., Dorothy Welle, and Irene Bertram; sisters-in-law, Eleanora Lieser, Norine Lieser, Sylvia Lieser, Deanna Lieser, and Marge Hartmann; brothers, Ralph Lieser and Willie Lieser; brother-in-law, Norb Kalthoff; and many nieces and nephews.


Robert Torborg, 92, Perry, Kan.


Robert B. "Bob" Torborg, 92, of Perry, Kan., formerly of Burlington, Kan., and Paynesville, Minn., died on Sunday, Sept. 10, 2023, at Lawrence Memorial Hospital in Lawrence, Kan. He had lived 17 years in Burlington before moving to Perry. He was born June 19, 1931, at Loretto, Minn., the son of Bernard and Hilda Blonigan Torborg. He was a 1948 graduate of Paynesville High School and attended college in St. Cloud, Minn. He was a U.S. Air Force veteran, serving four years as a teletype operator. Mr. Torborg worked many years as a purchasing agent of building construction materials and windows, most recently working for Oldach Window Company in Colorado Springs, Colo., before he retired. He was currently attending St. Theresa Catholic Church in Perry, Kan. He married Janette Ann Ridler on Jan. 19, 1958, at Paynesville. She survives at their home in Perry, Kan. He is also survived by one son, Michael (Kim) Torborg of Clarks-ville, Tenn., two daughters, Carey (Scott) Henry of Oskaloosa, Kan., and Mary Jo (Steve) Brunhaver of Gilbert, Ariz.; one brother, Jerry (Maureen) Torborg of White Bear Lake, Minn., one sister, Beverly Torborg; eight grandchildren; and six great-grandchildren. He was preceded in death by two brothers, James Torborg and Benno Torborg; and a sister, Theresa Becker. A Memorial Mass of Christian Burial will be held at 11 a.m. on Saturday, Sept. 16, at St. Theresa Catholic Church in Perry. Private family inurnment will be at a later date. Memorial contributions may be made to the organization of the donor's choice in care of Barnett Family Funeral Home, P.O. Box 602, Oskaloosa, KS 66066.


t Betty Olson, 87, Paynesville


Betty Eileen Olson passed away peacefully on Tuesday, Aug. 15, 2023, at Paynesville Nursing Home at the age of 87. Memorial services will be at 2 p.m. on Friday, Oct. 13, 2023, at Johnson Funeral Home in Paynesville. Visitation will be one hour prior to the service. Family burial will take place at a later date. Arrangements are with the Johnson Funeral Home in Paynesville. Betty Eileen Akre was born on Aug. 28, 1935, at home in Yellow Medicine County, the daughter of George and Anna (Reckadahl) Akre. She graduated from Echo High School. After school, she moved to Minneapolis for a short time and worked for Northwestern Bank. On Sept. 22, 1956, Betty was united in marriage to Philip Olson at the Assembly of God Church in Clarkfield. The couple moved to a farm outside Paynesville, where they farmed together during their 66 years of marriage…the farm still being owned by family today. Betty worked as a store clerk in Paynesville at Bolstads, but as her family grew she decided her best place was at home with her four children and helping on the family farm. Later in life she earned her CNA certification and worked for many years before retiring from the Koronis Manor as a nursing assistant. She enjoyed teaching Sunday school at her church, especially helping with Vacation Bible School each summer. A true "farm girl" her entire life, she loved all animals and was a very accomplished gardener. She also enjoyed feeding her family any chance she could, her specialties being big Sunday dinners after church and baking delicious treats for her grandchildren's visits. Her proudest title in life was "Grandma." She was incredibly proud of her grandkids and thrilled when the great-grandkids started to arrive. Betty is survived by her husband, Philip of Paynesville; her children, Valerie (Scott) Tollefson of Spring Lake Park, Allen (Jennifer) Olson of Paynesville, Michael (Laurie) Olson of Colorado, and Phil (Kathy) Olson of Paynesville; and their families that include many grandchildren and great-grandchildren; and brother, George Akre Jr. of Massachusetts. She was preceded in death by her parents; brothers, Rueben, Peter, and James; and sisters, Rosalie and Ione. Betty's family would like to give a special thank you for the wonderful care that Betty received when living at the Paynesville Nursing Home.


Tony Stalboerger, 77, Lake Henry


Mass of Christian Burial will be held at 11 a.m. on Monday, Sept. 11, 2023, at St. Margaret's Catholic Church in Lake Henry for Anthony J. Stalboerger, 77, of Lake Henry, who passed away on Friday, Sept. 1, 2023, at the St. Cloud Hospital. Reverend Glenn Krystosek will officiate. Burial, with full military honors, will be in the St. Margaret's Parish Cemetery in Lake Henry. Visitation will be held from 4 until 7:30 p.m. on Sunday, Sept. 10, 2023, and from 10 a.m. until the time of the service on Monday, Sept. 11, all at St. Margaret's Catholic Church in Lake Henry. Anthony John Stalboerger was born in Melrose on Dec. 1, 1945 to Quirin and Rita (Eibensteiner) Stalboerger, and grew up on the family farm near Spring Hill. He attended school in Spring Hill and Melrose before he left to help on the family farm. He served his country in the Army Reserves from 1966-1971. On Sept. 14, 1968, he married Patricia Clara Lieser at St. Margaret's Church, and the two started their lives together in Cold Spring. They moved to Patty's home farm near Lake Henry on April 1, 1974, where they built the life they loved, raising seven children. On Feb. 18, 2012, they moved to Lake Henry, having sold the farm to their son, Nicholas, but Tony never quit farming, being out in the hay field just four days before his death. Tony's first visit to his nephrologist for his rare "luck of the draw" medical condition, amyloidosis, was in August 2005. This started his forever job of doctor visits. He received a kidney transplant on Sept. 12, 2012, donated by his son Michael. All went well for many years, so Tony and Patty could enjoy many good years together. In June 2022, his amyloidosis resurfaced and things became a struggle until his body said no more. He passed away, peacefully and beautifully, on Friday, Sept. 1, 2023, at the St. Cloud Hospital, surrounded by Patty and their seven children. Over the years Tony actively served his community on the Paynesville School Board, St. Joseph's Society, Lake Henry Lions Club, and Lake Henry American Legion. He was a member of St. Margaret's Church, where he served as trustee, eucharistic minister, parish council member, cemetery board member, and janitor. Those who knew Tony knew him to be wise, fiercely hard working, with the best sense of humor, and the kindest heart. He loved dancing on Sunday afternoons with Patty and their "dancing group," traveling with Patty (usually on the backroads), being with his grandkids, supporting his family in every way possible, enjoying the company of friends, and connecting with anyone that happened upon his path. We all know of his love for cards, the hours of shuffling having little effect on his callused hands. Tony's greatest and proudest joy was his family. He was so proud of his children, adored his 17 grandchildren, and thrilled that he was a great-grandpa. His only regret was that he would not be able to spend more time with the youngest ones, to make more memories. Tony is survived by his loving wife of 13 days shy of 55 years, Patty; their seven children, Steve (Jacki) of Eagan, Laura (Joel) Schmitz of St. Martin, Angela of St. Paul, Jennifer (Cyle) Paumen of Clear Lake, Michael (Mandy) of Cold Spring, Nicholas (Annie) of Lake Henry, and Ann (Teddy) Fleming of Sartell; 17 grandchildren; and one great-grandchild. He is also survived by his siblings, John (Alice) Stalboerger of St. Cloud, Jane (Dave) Johnson of Brooklyn Center, Bonnie (Rich) Meyer of Milaca, Doreen (Jim) Meyer of St. Cloud, Doris of Austin, Glen (Pat) of Cold Spring, and Deb (Tom) Hertzog of Alexandria; in-laws Cyrilla (Dave) Michael of Freeport, Larry Brunner of Belgrade, Mary Ann Meyer of Paynesville; as well as nume-rous nieces and nephews. Tony was preceded in death by his parents; brother, Jim; and in-laws, Marilyn Stalboerger, Cecil Brunner, Marion Brunner, and Alvin Meyer. Tony's family wishes to thank all of the great doctors and wonderful nurses that cared for us over the years. Tony's nephrologist, Dr. Shakeel Anjum, saw him for the first visit in August 2005 and all the way through until his last visit on Sept. 1, 2023. On that final day, Dr. Anjum noted that he never saw Tony attend a single appointment alone, a testament to the love and support made possible by Patty and their children.


Joseph Winter, 83, South St. Paul


Joseph N. Winter, 83, of South St. Paul, passed away peacefully on Saturday, Aug. 26, 2023. He is survived by his loving wife, Mary (Drimel); daughter, Kathy Winter (Mike); grandchildren, Jake and Nicole; brothers, Julian (Louise) Winter, Peter (Laura) Winter, MaryLee (Steve) Price, and Lee (Darcy) Winter; brother-in-law Bill (Dorine) Drimel; and also many nieces, nephews, and friends. He was preceded in death by his beloved grandson, Tony Burger; his parents; brothers Roman, Harold, DuWayne, Sylvester, and Eugene; sister Claudette; brother-in-law Jim Drimel and his wife Alyce; sister-in-law Karen and her husband Ray Kurr; and nephews Tommy and Cole. Joe had the personality and natural charisma to make friends wherever he went. Never at a loss for words, he enjoyed meeting with friends at local coffee shops and restaurants to reminisce about farm life and his years working at Koch Refinery (now Flint Hills Resources). He also enjoyed spending time with family at their cabin on Lake Koronis in Paynesville and going to Lake Henry for "the best burger in Stearns County." Joe was active in the community, having volunteered for several years at the VFW Post #295 and other local charities. Joe was a selfless man whose passing will leave an unfillable void in the hearts of his loved ones. His ability to sacrifice, provide, support, forgive, and love will be forever engrained in all he knew. The family wishes to send a special thank you to the staff at United Hospital in St. Paul for their care and compassion over the last several months. A funeral mass was held on Thursday, Aug. 31, at the Church of Holy Trinity in South St. Paul. A private burial was held at Oak Hill Cemetery in South St. Paul.


Anne Lund, 80, Spicer


Anne M. Lund, 80, of Spicer Minn., died on Thursday, Aug. 31, at her home, on the day of her 55th wedding anniversary. A Mass of Christian Burial will be held at 11 a.m. on Thursday, Sept. 7, at Our Lady of the Lakes Catholic Church, rural Spicer. Interment will be in the church cemetery. Visitation will be from 5-7 p.m. on Wednesday, Sept. 6, at Johnson Funeral Home in New London and continue one hour prior to the mass at the church. Funeral arrangements are with Johnson Funeral Home in New London: www.hafh.org. Anne was born Dec. 11, 1942, in Waverly, Minn., the daughter of Leonard and Rose Lillian (Pendy) Galvin. She grew up in Waverly, attending St. Mary's Catholic High School and later Winona State University. On Aug. 31, 1968, she was united in marriage to Richard Lund in Waverly. Following their marriage, they lived in Buffalo, Minn., before moving to Colorado in 1981, where they resided until retiring and moving to their lake home on Nest Lake in 2006. While living in Colorado, Anne worked as a child protection caseworker for Larimer County Social Services, retiring in 2005. She enjoyed playing cards, fishing off the dock, Tuesday's Table, and more importantly spending time with her grandchildren. Surviving are her husband, Richard, of 55 years; children, Lt. Col Patricia (Col. RJ) Levin of Burke, Va.; Sara (Hai) Nguyen of Mesa, Ariz.; and John (Stephanie) Lund of Boulder, Wyo.; and six grandchildren, Hunter and Hailey Nguyen, Robbie and Jimmy Levin, and Garrett and Wyatt Lund. Also surviving are her sisters, Joan Munsterteiger of Buffalo and Agnes (Dale) Lorentz of Waverly. She was preceded in death by her parents and siblings, Mary (Marty) Coyne, Sister Rose Leonard CST, John (Susan) Galvin, and Helen Flynn, and brother-in-law, Francis Munsterteiger. The family would like to express a debt of gratitude to Nichole, Beverly, Laura, and the entire team at CarrisHealth, Rice Hospice, for their kindness and compassion.


Home | Community | Marketplace