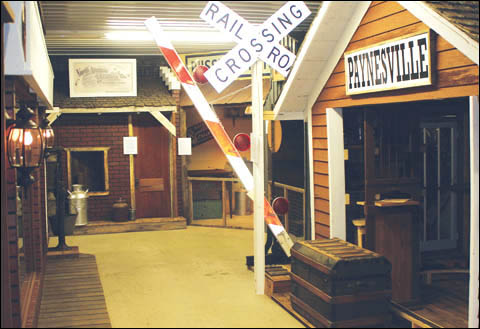 Pictured above: The new Village of Paynesville.
The Paynesville Historical Society is open June 1 - Labor Day.
Hours are 10 a.m. to 4 p.m. Tuesdays - Saturdays
Closed on Sundays and Mondays

There are four buildings on the grounds - an old country school, Ebenzer Church and two with displays.
The main buildings have a new "Village of Paynesville" featuring a turn of the century village with Paynesville businesses and a "150 Years in Paynesville" timeline of events in Paynesville, the USA and the world.
Ebenezer Church is being renovated and should be open summer of 2014.
If you have a donation, want a special tour, need information, call the museum at 320-243-7547.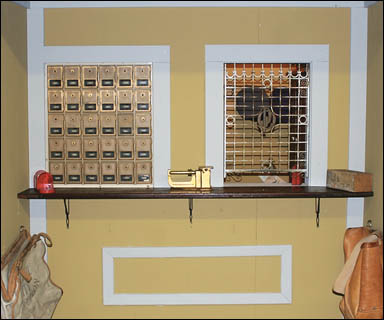 Pictured above: The post office in the new "Village of Paynesville."
Historical Society Columns
Lamps provide sunshine • Civil War monument still stands

Antique collection on display • Fort existed in Paynesville

History of summertime fun • Small towns have history

Quilting: A Work of Art • Museum open for the season

Hair pictures used as keepsakes 9.1.04 • Fire departments date back to 1736 8.18.04

A brief history of photography 8.11.04

Wool used to make yarn 8.4.04 • Beads and beadwork have long histories 7.28.04

Schools go back to 1800s 7.14.04 • Paynesville had community band 6.23.04

Lake ice used for cooling 6.23.04 • Windmills used as power source 6.9.04

Sunshine Lamps provided natural light 9.3.03 • Indian life - good and bad 7.30.03

Battle of the railroads 7.23.03 • Booklovers started public library 7.9.03

Kitchens 8.28.02 • Dairy Cattle 8.21.02

Post Offices 8.14.02 • Paynesville Museum 8.7.02 • Clothing Styles 7.31.02

Military Exhibit 7.17.02 • Indian Mounds 7.17.02 • Area history 7.10.02

Woodworking 7.3.02 • Wash day 6.26.02 • Photography 6.19.02

Phone service 6.12.02 • Sowing seeds 4.3.02

Sewing 8.29.01 • Flower club 8.22.01

French 8.15.01 • English 8.8.01 • Scandinavians 8.01.01

German settlers 7.25.01 • Indians 7.18.01 • Shoe Making 7.4.01 • Fishing 6.20.01

Blacksmith 6.9.99 • Festivals 6.16.99 • Children's Museum 6.23.99

Buffalo 6.14.00 • Schools 6.28.00 • Dolls 7.5.00

Paynesville Firsts 7.12.00 • Early Cars 7.19.00 • Indians 7.26.00

Mail Carrier 8.2.00 • First 50 years 8.9.00 • Zion Township 8.23.00

Girl Scouts 6.30.99 • Moonshine 7.7.99 • Museum History 7.14.99

Old Fire Truck 7.21.99 • WWII Vets 7.28.99 • Merchants Hotel 8.4.99

Radios 8.11.99 • Odd Fellows 8.18.99 • Farewell 8.25.99

Flour Mills 9.1.99 • Blind Bill 9.15.99 • Parfleches 9.22.99


Voices of the Past Series
Interviews of Paynesville residents from the 1930s
James Haines • Herbert Haines • Clarence Chisholm

William Schmiginsky • Gustave Lobitz • William Hoeft

Samuel Nehring • Herman Knebel • Isac Johnson