---
Headline Stories
For the week of December 27, 2006
---
Presents for Washburne Court ...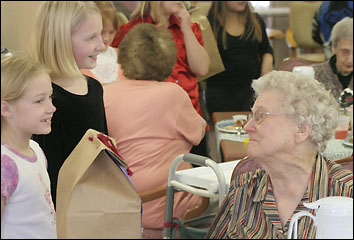 In the spirit of giving - not just receiving - gifts,
the third grades from Paynesville Area Elementary School
presented each of the 23 residents of Washburne Court,
an assisted-living facility, with a Christmas gift on Friday.
Above, Lucille Hummel gratefully accepted her present
from Jenna Remmele (far left) and Tess Mergen.
Instead of doing a gift exchange among themselves,
the third graders pooled their money and bought gifts
for the residents. They also sang Christmas carols
at Washburne Court to spread some holiday cheer.
---
Return to Archives
---
[ Home | Marketplace | Community ]

---
Comments regarding the stories can be
addressed to editor@paynesvillepress.com

© 2006, Paynesville Press, Inc. All rights reserved.
---