Bernice Dittman, who has worked for Farmers and Merchants State Bank since May 1968, is being honored this week for her more than 38 years of work.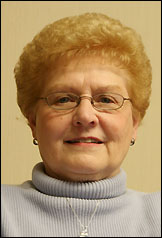 Dittman, who will be honored by the bank on Friday, plans to stop working full time this month. Starting in January, she will be working only a couple days per week.
What she has enjoyed most over the years at her job is "my customers," she said immediately. "You get to know the people, and they get to know you. You get to know their routines," explained Dittman. "Your customersŠ become like family."
Dittman and her husband Loren both grew up on dairy farms in the Eagan/Rosemount area. (Her husband's family farm became a housing development, and her family farm became a golf course.) After graduating from Rosemount High School, she worked in a bank in West St. Paul for five years.
She and her husband bought a farm in Eden Lake Township, four miles northwest of Eden Valley, in 1963. Once their three children were old enough, Dittman went back to work at F&M State Bank.
She started as the bookkeeper, using a large machine, sort of a numerical typewriter, to post the general ledger, checks, loans, and savings at the bank. After 15 years or so, she moved to being a teller at the bank.
Computers, when they work properly, she said, were the biggest change in banking during her career, replacing much hand work.
After turning 73 in November, she said her children wanted her to retire. She still will be working on Tuesdays and Thursdays at the bank, with longer weekends to either visit her three children and five grandchildren, who all live in Minnesota, or to accompany Loren, who now works as an over-the-road trucker. (They sold their farm and moved into Eden Valley in 1982.)
As long as her health is good, Dittman said she wants to enjoy her semi-retirement, taking it "one day at a time."
---
Contact the author at editor@paynesvillepress.com • Return to News Menu
Home | Marketplace | Community
---