---
Headline Stories
For the week of May 4, 2005
---
Mock accident held at PAHS...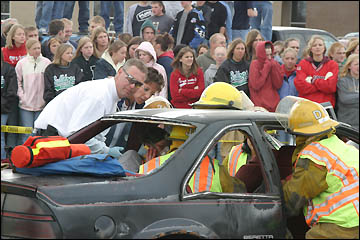 The Paynesville Area Ambulance, the Paynesville Fire Department,
and the Paynesville Police Department staged a mock accident
at Paynesville Area High School on Friday. The car crash provided
training for emergency responders and served as a reminder to students
to be careful. The school groups SADD and SAVE helped organize
the mock crash. Above: organizer Jamie Soine, EMT Bernie Stang and
several firefighters work to get students out of a car.
---
Return to Archives • Return to the News Page.
---
[ Home | News | Marketplace | Community ]

---
Comments regarding this web page can be
addressed to paypress@paynesvillepress.com

Comments regarding the stories can be
addressed to editor@paynesvillepress.com

© 2005, Paynesville Press, Inc. All rights reserved.
---