When Julie Waldorf attended the Daughters of Isabella state convention this year, she never expected to be the recipient of the organization's highest state award. Not only was she shocked and honored when her name was announced, she was also thrilled by another surprise: her family was on hand to help bestow the honor upon her.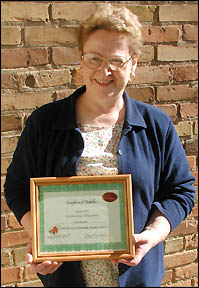 Last month, Waldorf was named the Outstanding Daughter by the Minnesota Daughters of Isabella, an honor given each year to a woman dedicated to service to God, to the Daughters of Isabella, and to her community.
A member of the Joan of Arc Chapter in Melrose, Waldorf has dedicated more than 33 years to the Catholic women's organization. She has held various offices on the state and local level, including the office of state chancellor, which she currently holds, all while working on her family's Spring Hill farm with her husband Norbert and raising six children.
In Minnesota, the Daughters of Isabella are dedicated to raising money for the hearing impaired, according to Waldorf. The tradition began several years when the group was looking for a mission and learned of a congregation in St. Cloud that needed a sign language interpreter so some of their children could understand the service. Last year, the Melrose group gave more then $2,400 to the hearing impaired and to congregations that need interpreters.
"Daughters of Isabella is a passion of mine," said Waldorf. She enjoys helping others and the camaraderie of women at conferences. "I like making new friends and meeting old ones," she said.
She also likes the spiritual aspect of the group, which makes the feeling at meetings and conferences "something special," she said.
This year's annual state conference in Little Falls was even more special, though. While she was preparing to attend the conference as "just another member," other people were scheming to make the weekend one she will never forget.
State regent Mary Kunstleben of Paynesville, who is also a good friend of Waldorf, knew for months that Waldorf would receive the award this year. Kunstleben arranged for some of Waldorf's family, which includes seven grandchildren, to attend to surprise her.
And Waldorf was certainly surprised when her two-year-old grandson emerged from the crowd, followed by Norbert and other family members, to present her with flowers when her name was announced. "I was so happy for them to share in the joy of it," she said, noting that it must have been difficult for Kunstleben and her family to keep the award a secret for so long.
Now Waldorf hopes to carry the excitement she felt that evening while she continues to work for the Daughters of Isabella.
In recent years, two other local women have been named the Outstanding Daughter of Isabella: Kunsteleben in 2001 and Marcella Lieser in 2003.
---
Contact the author at editor@paynesvillepress.com • Return to News Menu
Home | Marketplace | Community
---