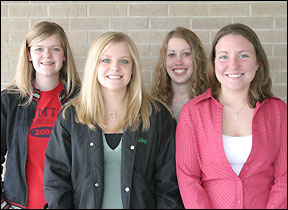 Girl Staters have been chosen at PAHS to represent both the Lake Henry American Legion Auxiliary and the Paynesville American Legion Auxiliary.

Representing Paynesville is Katie Schlick with Breana Kochmann serving as alternate. Representing Lake Henry is Ashley Lieser with Lindsey Pelton serving as alternate. All are juniors at PAHS this year.

Girl staters are (front) Ashley Lieser (Lake Henry) and Katie Schlick (Paynesville) and (back) Lindsey Pelton (Lake Henry alternate) and Breana Kochmann (Paynesville alternate).

Lieser and Schlick will attend Girls State Camp at Bethel College in Arden Hills, Minn., from June 12-18 this year. The camp focuses on learning about government with students running mock city governments and mock legislative sessions.

Schlick said the camp sounded like fun and hopes it will provide her with good memories. Lieser said her grandmother urged her to apply

. Kochmann said she applied to be Girl Stater because it sounded like a good opportunity, and Pelton said a former stater told her that the camp was fun, which is why she applied.

All four also will have duties at PAHS, such as raising and lowering the American flag, giving announcements, leading the senior class at baccalaureate and graduation, and participating in Memorial Day and Veteran's Day services.

After a meeting for interested candidates was held, 11 juniors at PAHS applied to be a Girl Stater this year. The lone requirement was a grade point average of at least 3.0, according to counselor Jackie Campbell, who helps the auxiliary with the Girl Stater selection. A staff vote was then used to pick the Girl Staters and alternates.

Lieser is the daughter of Deanna and Willie Lieser and plans to attend college after graduation but has not decided where. Schlick is the daughter of Mary Jo and Joe Schlick and is thinking about attending the College of St. Benedict after high school to pursue a nursing degree.

Kochman, the daughter of Brenda and George Kochmann, is thinking about attending SCSU to study business or accounting. Pelton, the daugher of Colleen and Ian Pelton, is planning to study art in college but has not decided on a school yet.
---
Contact the author at editor@paynesvillepress.com • Return to News Menu
Home | Marketplace | Community
---