Bringing our communities and families together


320-243-3186 • jeffmarb@lakedalelink.net

The Joint Powers Board* is:
Chair Jeff Bertram, Council Member, City of Paynesville
Vice Chair Don Pietsch, Supervisor, Paynesville Township
Secretary Renee Eckerly, City Administrator, City of Paynesville
Don Wiese, Clerk, Paynesville Township
Mike Jensen, Public Works Director, Paynesville Township
Ron Mergen, Public Works Director, City of Paynesville
Jeff Thompson, Mayor, City of Paynesville

*Meets second Monday of each month
Paynesville City Hall at noon
Public is welcome.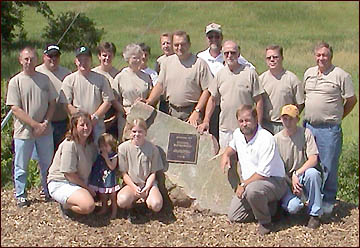 The trail committee at the dedication of Phase 1 of the trail on July 13, 2002. Front (left to right): Karlin Jacoby and her daughter, Tara Schmidt, engineer Andy Sanders, and trail intern Lance Bernard; (back) Jeff Thompson. Todd Burlingame, Pat Meagher, Marlene Bertram, Phyllis Conlin, Mary Hahn (partially hidden), Paul Osborne, Jeff Bertram, Randy Thoreson, Dwaine Lindberg, Lonnie Gleitz, and Johnnie Olson.