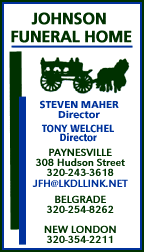 August 2017
July 2017
June 2017
May 2017
April 2017
March 2017
February 2017
January 2017
December 2016
November 2016
October 2016
September 2016
August 2016
July 2016
June 2016
May 2016
April 2016
March 2016
February 2016
January 2016
December 2015
November 2015
October 2015
September 2015
August 2015
July 2015
June 2015
May 2015
April 2015
March 2015
February 2015
January 2015
December 2014
November 2014
October 2014

Kenneth Hammer, 89, Richmond
Kenneth Hammer, 89, of Richmond, died on Tuesday, Sept. 19, 2017, at Cherrywood Assisted Living Center. Mass of Christian Burial was held on Saturday, Sept. 23, Saints Peter & Paul Catholic Church in Richmond. Burial was at St. Margaret's Cemetery in Lake Henry. Kenneth was born in Lake Henry to Alois and Margaret (Stockard) Hammer. He married Florentine Wenker on July 26, 1969, at St. Margaret's Church in Lake Henry. Kenneth served as a corporal in the U.S. Army from Jan. 7, 1953, to Jan. 6, 1955. He was a dairy and grain farmer in Lake Henry. Kenneth enjoyed fishing, carpentry, remodeling, building, watching baseball, and especially enjoyed spending time with his grandchildren and family. Survivors include his wife, Florentine; children: David (Kathleen), Jeffrey (Amy), and Michael (Heather); brother, Robert (Mary); and seven grandchildren. He was preceded in death by his parents; sister, Eileen (William) Norton; nephews, Rick and Billy; and nieces, Sandy and Karen. Arrangements are with Wenner Funeral Home in Richmond.


Lenora Schmitt, 82, Roscoe


Lenora E. Schmitt, 82, of Roscoe, died on Saturday, Sept. 23, 2017, at the St. Cloud Hospital. Mass of Christian Burial will be at 11 a.m., on Saturday, Sept. 30, at St. Agnes Catholic Church in Roscoe. Burial will be in the parish cemetery. Relatives and friends may call from 4 to 8 p.m. on Friday at the Wenner Funeral Home in Richmond. St. Agnes Christian Women and Catholic United Financial will pray a rosary at 4 p.m. Visitation will continue Saturday morning from 9 to 10 a.m. at the funeral home. Lenora was born in Richmond to Leo and Antonette (Heying) Utecht. She married Celestine Schmitt on May 21, 1957, at Sts. Peter & Paul Catholic Church in Richmond. Lenora was a homemaker and a farm wife. She loved gardening, quilting, and taking care of her grandchildren. Lenora volunteered at Koronis Manor and was a member of the St. Agnes Christian Women, St. Agnes Choir, St. Agnes Mission Group, Catholic United Financial, and a lifetime member of the Albany Pioneer Club. Survivors include her husband, Celestine; children: Ralph Schmitt (Lou), Carol Hemmesch (Allen), Doris Doll (Bob), Cathy Schmitt (Vern), Paul Schmitt, and Lloyd (Bonnie) Schmitt; siblings: Florence Heim, Mildred (Merle) Mueller, and Rich (Sue) Utecht; in-laws: Rich Schmitt, Theresa Schreifels, Doreen (Urban) Schreifels, Norbert (Rosie) Schmitt, and Betty (Melvin) Torborg; 18 grandchildren; and eight great-grandchildren. She was preceded in death by her parents; parent-in-laws, Frank and Crecentia Schmitt; infant daughter, Mary; son, LeRoy; sister, Bernice Heim; granddaughter, Kayla Doll; in-laws: Gerald Heim, Clarence Heim, Rich Feldhege, Sylvester (Lucille) Schmitt, RoseMary (Leonard) Court, Peter (Verna) Schmitt, Laverne Schmitt, Ray (MaryAnn) Schmitt, Andrew Schreifels, and Francis Schmitt. Arrangements are with Wenner Funeral Home in Richmond.


John Spanier, 86, Lake Henry


John A. Spanier Jr., 86, of Lake Henry, passed away peacefully with family by his side on Wednesday, Sept. 13, 2017, at Koronis Manor Care Center in Paynesville. Mass of Christian Burial will be at 11 a.m. on Thursday, Sept. 21, at St. Margaret's Catholic Church in Lake Henry. Burial with military honors will take place in the parish cemetery. Visitation will be from 4 to 8 p.m. on Wednesday and after 10 a.m. on Thursday at St. Margaret's Catholic Church in Lake Henry. Catholic United Financial, St. Joseph's Mens Society, St. Margaret's Rosary Society, and the Knights of Columbus will pray a rosary at 4 p.m. on Wednesday at the church. John was born on Sept. 5, 1931, in Lake Henry to John and Helena (Meyer) Spanier. Per his request, he took the seventh and eighth grade exams together and graduated at the age of 12. He farmed with his dad and later worked at the Cold Spring Granite sheds. He purchased the old Helmstetter place and farmed until being drafted in the US Army in 1956. He served two years, being stationed most of the time as a radar operator on Taboga Island, Panama. While there, he reported learning a little Spanish and how to "really" drink beer. He married Armella Braegelmann on May 12, 1959, at Sts. Peter and Paul Catholic Church in Richmond. They made their home on the old Helmstetter place where they farmed and raised six children. They enjoyed 50 years of marriage and spent many hours enjoying their children and grandchildren. John was active in the Othmar Braun American Legion Post #612 as a member of the drill team and resident piano player. He was also active with St. Margaret's Parish, serving in the choir and as Eucharistic Minister, Rosary Society, Catholic United Financial, St. Josephs Men's Society, and the Knights of Columbus Council #3820. John was a charter member of the Lake Henry Lions and a stalwart member of AA, attending meetings faithfully and providing mentorship and support. John had a love for music at an early age and began playing piano by ear at the age of six. Music was important all of his life, and much of his retired life was spent playing the piano and bringing joy to others. He belonged to the Toot'n Tappers in Belgrade for many years, and later had a monthly four gig circuit providing musical entertainment for assisted living and manor care facilities. Once a resident of Washburne Court and later of Koronis Manor, he continued to play piano whenever asked or "not asked" up until a few days before his death. John is survived by his children: Jonelle (Roger) Heinen of New London, Julie (Dale) Schlangen of Lake Henry, Jane (Robert) Bertram of Spring Hill, James (Cindy) Spanier of Lake Henry, Joyce (Wayne) Borash of Sobieski, and Jeri Ann (Steve) Mathison of Willmar; 21 grandchildren; eight great-grandchildren; and siblings: Rosetta Olmscheid of San Diego, Calif.; Hubert Spanier of Lakota, N.D., and Carol (Mark) Zaczkowski of Pine River; and brother-in-law, Mel Hagen of San Antonio, Texas. He was preceded in death by his wife, Armella in 2009; granddaughter, Rebecca Borash in 1998; parents; and siblings: Joe Spanier, Marie Olmscheid, Julietta Fuchs, Dorothy Olmscheid, Adelbert Spanier, and Odelia Hagen. A heartfelt thank you to the staffs of Washburne Court and Koronis Manor for their loving, compassionate, and creative caregiving.


Anna Malmquist, Shakopee, 34


Anna Elizabeth Malmquist, of Shakopee, passed away much too soon at the age of 34. A gathering of family and friends was held on Wednesday, Sept. 6, at Ballard-Sunder Funeral & Cremation in Shakopee. A Celebration of Life Service was held on Thursday, Sept. 7, at Hosanna! Church in Shakopee. Pallbearers were David Gummert, Mark Weatherman, Duane Judge, and Erik Malmquist. On Jan. 4, 1983, Jim and Becky celebrated the birth of their beautiful daughter, Anna Elizabeth Hoepner. Anna was the middle of three children and loved growing up with her siblings, Justin and Sarah, in Echo, Minn. Throughout school, Anna acted in plays, played saxophone in the marching band, and was a pianist. Growing up in a small town gave Anna a strong sense of community that served her well throughout her life. After graduating from Yellow Medicine East High School, Anna attended NDSU where she studied recreation management. During college, she worked at the YMCA. They loved her there and had a full-time position waiting for her when she graduated. She managed the skate park, rock climbing and was instrumental in coordinating Camp Koda. Anna loved her work and loved the people she met through work. Anna was very active during college. She spent a lot of time at the gym and played on volleyball and softball leagues. It was through softball that she met the love of her life, Ryan Malmquist. Anna and Ryan hit it off immediately. Anna always had high standards and knew just what she wanted out of life and a partner, and she found that in Ryan. After three years of dating, Ryan and Anna exchanged wedding vows at Hope Lutheran Church in Fargo on Sept. 5, 2009. After their wedding, they settled in Shakopee, Minn. Ryan and Anna were the first couple to move into their neighborhood. Anna made certain the neighborhood was a great place for families. She coordinated Ladies Night Out, Neighborhood Bootcamp, and countless other activities. It quickly became a neighborhood of friends. During their marriage, Ryan and Anna were blessed with three wonderful children, Kensington (6), Ayla (3), and Jace (5 months). They were the light of Anna's life. She was the best mom and would do anything for her kids. She instilled in them a strong faith, a love of the outdoors, and showed them the importance of family. Anna was always planning special events for the kids and truly provided them a happy home full of love. Anna always lived life to the fullest. Anna loved to travel. She and Ryan took the kids on a family trip to Arizona every year. They also managed to travel together as a couple with their favorite destination being the Caribbean. Anna loved being outside, and enjoyed gardening with her mom. She liked biking, swimming, and just spending time with her kids. Anna was always the one organizing get-togethers and keeping in touch with old friends. Everyone could count on Anna to keep the group together. Memorial Day weekend, Anna was diagnosed with Acute Myeloid Leukemia. She never once asked, "Why me?" Instead she continued living life to the fullest. She coordinated blood drives, encouraged others, and shared her strong faith with friends and family. Even through her illness, Anna was an inspiration to others. On Saturday, Sept. 2, 2017, Anna passed away peacefully with her husband by her side. She will be remembered always for her genuine love of others and her strong sense of community. Anna is survived by her husband, Ryan; children: Kensington, Ayla, and Jace; parents, James (Carey) Hoepner and Rebecca (Dale) Feist; brother, Justin (Karen) Hoepner; sister, Sarah Arneson; step-brother, AC (Ashley) Magnuson; grandmother, Mabel Hoepner; and other loving relatives, neighbors and friends. Anna was greeted in Heaven by her grandparents: Harold Hopener; and Don and Alice Hunt. Ballard-Sunder Funeral & Cremation proudly serves the Malmquist family. www.BallardSunderFuneral.com.


Greg Brown, 48, Paynesville


Greg Darrel Brown, 48, of Paynesville, entered into the presence of his Lord and Savior on Wednesday, Aug. 30, 2017, due to injuries suffered from a motorcycle accident. His memorial service will be at 11 a.m. on Wednesday, Sept. 6, at River of Life Church in rural Cold Spring. A visitation will be held one hour prior to the service at the church. The Lord tells us in Romans Chapter 8, Verse 38: And I am convinced that nothing can ever separate us from God's love. Neither death nor life, neither angels nor demons, neither our fears for today nor our worries about tomorrow—not even the powers of hell can separate us from God's love. On Jan. 3, 1969, Greg was born in Paynesville. He graduated from Rocori High School in 1987, and moved to Eau Claire, Wis. He developed many lifelong friendships through his church community at Tabernacle of Praise. He earned a bachelor of science degree in environmental science and relocated back to Paynesville. Greg had a desire to serve others and a love for Jesus Christ. He enjoyed collecting colorful bottles and spending time in his kayak enjoying God's creation.  Greg is survived by his parents, Earl Brown and Judy (late Lawrence) Samuelson. Greg is further survived by his brother, Lee (Margie) and their child, Ryan; brother, Lowell (Sherri); sister, Kay (Gus Schill) and their children: Elizabeth (Brandon Parkinson), Michael, David, and Jonathan; brother, Dana (Tracy) and their children: Landen, Morgan and Gracie; brother, Tim (Julie) and their children: Ethan and Seth; brother, Shane (Pam); and step brothers: Lance Samuelson, Steve Samuelson, and Lee Samuelson.


Return to Top • Return to Paynesville Area