Rhonda Hunt, 53, Paynesville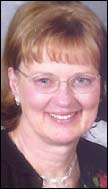 Rhonda Kay Hunt, 53, of Paynesville, died on Sunday, Sept. 25, 2005, at the Fairview Southdale Hospital in Edina after a 10-year battle with cancer.

The funeral service will be held at 10 a.m. on Thursday, Sept. 29, at Paynesville Lutheran Church. Rev. Dave Nelson and Rev. Jeff Bergman will officiate. Interment will be at 2:30 p.m. on Thursday at the Gethsemane Cemetery in New Hope.

Visitaion will be from 5 to 8 p.m. today (Wednesday, Sept. 28) at Johnson Funeral Home in Paynesville and one hour prior to the service at the church.

Rhonda was born Oct. 17, 1951, in Pipestone, Minn., the daughter of Marvin and Lois (Marxen) Voss. She was baptized in Woodstock and confirmed in Robbinsdale. In 1952, Rhonda moved with her family to Minneapolis where she grew up and attended school, graduating from Robbinsdale High School in 1969. She attended the Minneapolis Business School for one year and was employed at Minnegasco and U.S. Bank.

On Aug. 28, 1976, Rhonda was married to Russell Hunt in Minneapolis. Following their marriage, Rhonda continued working at U.S. Bank in Minneapolis. In 1984, they moved to Osakis where Rhonda worked for U.S. Bank for another four years. Since 1989, they have lived in Paynesville. During this time she has worked for the Stearns County Motor Vehicle Department and for the last several years she has been the deputy registrar for the city of Paynesville.

She was a member of Paynesville Lutheran Church.

She enjoyed yardwork, gardening, traveling, camping, and playing cards.

Rhonda is survived by her husband, Russell of Paynesville; daughter, Rebecca (Brandon) Leander of Blaine; son, Ryan (Katie) of Carlsbad, Calif.; parents, Marvin and Lois Voss of Maple Grove; sister, Gayle (Philip) VanSchepen of Maple Grove; and brother, Gregory (Mary) Voss; and nieces, nephews and other relatives.

Julius Mayer, 87, Paynesville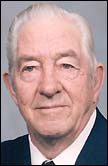 Julius J. Mayer, 87, of Paynesville, died on Saturday, Sept. 24, 2005, at the Washburne Court in Paynesville.
Mass of Christian Burial will be at 11 a.m. today (Wednesday, Sept. 28) at St. Louis Catholic Church in Paynesville. Burial will take place in the St. Louis Parish Cemetery with full military honors.
Visitation will continue after 10 a.m. on Wednesday at the church.
Julius was born Oct. 19, 1917, in Rockville, Minn., to William and Helen (Felthaus) Mayer. He served his country in the U.S. Army during WWII in the European theater of war.
He married Veronica Jahn on Aug. 27, 1947, at St. Louis Catholic Church in Paynesville. He worked a variety of jobs in the Paynesville area which included high line installation, carpentry, appliance repair and sales, and retired from the Department of Natural Resources Fishery Division in 1979. He was an avid fisherman and gardener. He was a member of St. Louis Catholic Church.
Julius is survived by his sons, Glenn (Patricia) of Rockford, Minn., Allen of St. Paul, Thomas (Deborah) of Moreno Valley, Calif., and Randy (Debra) of Andover; eight grandchildren; six great-grandchildren; brothers, Louis (Lillian) and Bernard (Irene); and sisters, Delores Pogatchnik and Bernadette Becker.
Preceding him in death were his parents; wife Veronica (2000); brothers, Albert, Raymond, and Daniel; and sisters, Lucille Utsch, Mildred Weller and Laverne Mayer.

Wilfred Moscho, 87, St. Martin

Wilfred P. Moscho, 87, of St. Martin, died Thursday, Sept. 15, 2005, at his home.
The mass of Christian burial was held at 11 a.m. on Monday, Sept. 19, at the Church of St. Martin in St. Martin. Burial was in the parish cemetery.
Wilfred was born on Sept. 19, 1917, in St. Martin to Nicholas and Rose (Kollman) Moscho. He grew up in St. Martin.
He married Marie Meyer on Sept. 10, 1940, in Freeport. Wilfred and Marie were able to celebrate their 65th wedding anniversary with friends and family Sunday, Sept. 11.
Wilfred and Marie farmed together until they moved off the farm in 1977 when their son, Leroy took over the farm. Although retired, Wilfred continued to help run the farm until a few days ago.
He was also active in the St. Martin Township Board for many years. Wilfred was a member of the Church of St. Martin, the St. Joseph's Society, Catholic Aid, the St. Martin Lions club and was a fourth degree knight of the Albany Knights of Columbus.
Wilfred is survived by his wife, Marie, of St. Martin; children, Marilyn (Gerald) Frie of St. Paul, Leroy (Geri) Moscho of Freeport, James (Elaine) Moscho of Sauk Centre, Judy (James) Rynolds of Boston, Mass., Karne (Marvin) Skanse of Olympia, Wash., Dan (Mary Jo) Moscho of Milaca and Greg (Mary) Moscho of Rochester; brothers and sisters, Joseph (Leona) Moscho of Melrose, Nicholas (Betty) Moscho of Freeport, Irene (Ed) Schultzenburg of Sauk Centre, Rosemary (Hubert) Hinnenkamp of Brooten, Katherine (Tony) Funk of Albany, Marie Klassen of Albany, and Virginia (Virgil) Fuchs of Paynesville; 24 grandchildren; and three great-grandchildren.

Dale Lorenz, 75, Paynesville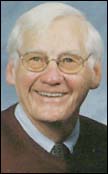 Dale Arden Lorenz, 75, of Paynesville, died on Sunday, Sept. 11, 2005.
A memorial service was held at 11 a.m. on Saturday, Sept. 17, at Nordland Lutheran Church in rural Paynesville. Rev. Keith Ainsley will officiate.
Dale was born on Feb. 4, 1930. He served in the U.S. Air Force and was educated at the University of Minnesota.
He was employed in higher education, specifically the Minnesota Community College System, beginning as registrar in Austin, Minn. He then served as dean of Willmar Community College, was the first president of North Hennepin Community College, and then served as president of Normandale Community College in Bloomington for 23 years - from its inception to his retirement.
Dale was a sports enthusiast, enjoying everything from pro sports to games with grandchildren.
He was vice president of the Koronis Lake Association, served on watershed committees, and was a member of Nordland Lutheran Church.
He is survived by his wife Lora of Paynesville, family and friends.

Eugene Wendlandt, 71, Regal


Eugene E. Wendlandt, 71, of Regal, died on Thursday, Sept. 1, 2005, at his home.
Funeral services were held on Tuesday, Sept. 6, at 11 a.m. at Grace United Methodist Church in Paynesville. Reverend Ric Koehn officiated. Burial was in the Paynesville Cemetery.
Gene was born on April 13, 1934, in Lake Henry Township, Stearns County, Minnesota, to Edward and Martha (Fischer) Wendlandt. He grew up and lived on the family farm all of his life. He was a 1952 graduate of Paynesville High School.
Gene married Darlene Block on June 15, 1954, at Grace United Methodist Church in Paynesville; eight children were born to this union.
He was employed by Younkin Transfer and Bork Lumber in Paynesville until his retirement in 1997.
He enjoyed hunting, fishing and cooking for family gatherings.
Gene is survived by his former wife, Darlene of Paynesville; sons and daughter, Kip (Judy) of Lake Henry, Jay of Lake Henry, Ken (Kristi) of Regal, Tod (Ann) of Belgrade, Lee (Kim) of New London, Tim (Lisa) of New London, and Lyn (Roy) Cromwell of Paynesville; 19 grandchildren; one great-grandson; and several nieces and nephews.
He was preceded in death by his parents; son, Guy on Sept. 5, 1977; brothers, Norbert and Earl; sisters, Geraldine Stockdill and Alice Spaulding; half brothers, Ralph and Arthur Nelson; three infant brothers; and one infant grandson.

Return to Top • Return to News