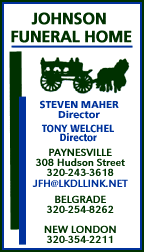 August 2020
July 2020
June 2020
May 2020
April 2020
March 2020
February 2020
January 2020
December 2019
November 2019
October 2019
September 2019
August 2019
July 2019
June 2019
May 2019
April 2019
March 2019
February 2019
January 2019
December 2018
November 2018
October 2018
September 2018
August 2018
July 2018
June 2018
May 2018
April 2018
March 2018
February 2018
January 2018
December 2017
November 2017
October 2017
September 2017
August 2017
July 2017
June 2017
May 2017
April 2017
March 2017
February 2017

Marlene Pederson, Paynesville
Marlene Ruth (Krueger) Pederson, 85, of Paynesville and formerly of Willmar, passed away peacefully on Sunday morning, Sept. 20, 2020, at the Koronis Manor in Paynesville. A private family graveside service was held at Calvary Lutheran Cemetery in Willmar. Memorials are preferred to the Gideon Chapter of Willmar. Marlene Ruth (Krueger) Pederson, thee daughter of Henry and Elsie (Siebert) Krueger, was born on Oct. 26, 1934, near Adrian, N.D. At the age of almost four years old, she moved with her parents to Paynesville, Minn. She went to country school thru the sixth grade and then attended and graduated from Paynesville High School in 1952. Marlene worked at Bergies Market for a while and later in the health care field as a nurseŐs aide. In October 1971, she married Herman Pederson at the Grace United Methodist Church in Paynesville. Marlene was a Gideon Auxiliary member. She and her husband Herman were the drivers of the Gideon float for many years in all the local area parades, even flying to attend Gideon events in several states. She enjoyed putting puzzles together, eating out, and was a member of Calvary Lutheran Church in Willmar. In her later years, Sunday afternoons were spent singing hymns along with recorded music or while one of her nieces played the piano. She became a resident of the Koronis Manor in Paynesville, to be closer to her sister, a little over four years ago. She had a strong faith in her Lord and Savior Jesus Christ. She is survived by her sister, Delores Schoenherr; four nieces, Marlys (Paul) Houk, Marilyn (Steven) Nelson, Cindy Schoenherr, and Debra (Tony) Bengtson; one nephew, Warren (Corryn) Schoenherr; and other relatives and friends. She was preceded in death by her parents; and by her husband, Herman, in 2004. Arrangements were with the Peterson Brothers Funeral Home in Willmar.


Richard Braegelman, Richmond


Mass of Christian Burial was held on Monday, Sept. 7, 2020, at Sts. Peter and Paul Catholic Church, Richmond, MN for Richard Braegelmann, 94, who died Tuesday, Sept. 1, at Assumption Home, Cold Spring, Minn. Burial was in the parish cemetery. Richard was born in Richmond, Minn., to Joseph and Frances (Ruprecht) Braegelmann. He married Helen Neumann in 1957. Helen died in 2002 after 45 years of marriage. They enjoyed fishing and traveling together. Richard worked as a shoe repairman for 45 years. He settled in Richmond in 2005. Richard loved to do volunteer work both in Northwood, Iowa, and Richmond, Minn. He made over 25,000 rosaries. He is survived by many nieces and nephews. He was preceded in death by his wife, Helen; brothers, Clemens, Andrew, and Gregory; sisters, Alvina Lahr, Agnes Donnay, Coletta Covert, and Vevena Kellner. Arrangements were with Wenner Funeral Home, Richmond.


Mary Mackendanz, 94, Paynesville


A Memorial Mass of Christian Burial will be held at 11 a.m. on Tuesday, Sept. 15, at St. Louis Catholic Church in Paynesville for Mary T. Mackedanz, 94, of Paynesville. Mary passed away on April 26, 2020, at the CentraCare Hospital in Paynesville. Burial was held in the St. Louis Parish Cemetery in Paynesville. Reverend Glenn Krystosek will officiate at the Mass. Masks will be required, and social distancing will be encouraged. Mary was born on Dec. 18, 1925, in Richmond, Minn., to Henry and Catherine (Utsch) Thomes. She married Henry Mackedanz on Sept. 15, 1947, at Sts. Peter and Paul Catholic Church in Richmond. They lived in Paynesville the rest of their married life. In addition to being a full- time wife and mother, Mary worked at several businesses in Paynesville throughout her life. She will be remembered for her strong faith and love for her friends and family. She was a 52-year survivor of breast cancer. She enjoyed baking and canning, playing cards, and following sports. She was an active member of St. Louis Catholic Church, Christian Women, and Daughters of Isabella. Mary is survived by her children Michael (Sharon) Mackedanz of Paynesville, Linda Leither of Rogers, Patti (Ron) Hinnenkamp of Long Prairie, Mark (Mary) Mackedanz of Paynesville, and Roger (Bobbi) Mackedanz of Ham Lake; 10 grandchildren Kristi Mackedanz, Ryan Mackedanz, Lonnie (Sonya) Leither, Leann (Cal) Barott, Jessica (Alex) Snegosky, Dustin (Lorena) Hinnenkamp, Mitchell (Sarah) Mackedanz, Marissa (Abram) Silbernagel, Tyler (Cailin) Mackedanz, and Adam (Kelli) Mackedanz; 10 great-grandchildren, and sisters-in-law Roie Thomes and Caroline Thomes, as well as many nieces and nephews. Mary is preceded in death by her parents; husband of 70 years Henry; son-in-law Larry Leither; and siblings Edmund, Gregor, Vern, Helen, Joe, Richard, Frances, and Norbert. MaryŐs family would like to thank the staff at Washburn Court and all who have cared for her.


Kathy Schultz, 83, Paynesville


Kathleen "Kathy" M. Schultz, 83, of Paynesville, Minn., passed away on Monday, Aug. 31, 2020, at the Quiet Oaks Hospice House in St. Augusta, Minn. A Mass of Christian Burial was held on Monday, Sept. 7, 2020, at St. Louis Catholic Church in Paynesville. Reverend Glenn Krystosek officiated. Burial took place in Ebenezer Cemetery, Eden Lake Township, rural Paynesville. Kathy was born on June 24, 1937, in Richmond, Minn., to Norbert and Lucille (Plantenberg) Straus. She graduated from St. Boniface High School in Cold Spring and St. Cloud Hospital School of Nursing in 1958. She married Bert Ruprecht, and to this union four children were born. They later divorced. She married Ellsworth Schultz in 1991. Kathy worked as a registered nurse in both Eden Valley and Paynesville clinics, Koronis Manor, Good Samaritan, and as the Eden Valley school nurse. She finally realized her dream of caring for the elderly by purchasing and renovating the Richmond Catholic Convent into Mother LucilleŐs Leisure Living Home. After over 25 happy years of care, she finally retired at the age of 78. Kathy is survived by her children, Jeff (Janie) Ruprecht of Paynesville, Cindy Ruprecht of Hudson, Wis., Randy Ruprecht of Virginia, Minn., and Steve (Julie) Ruprecht of Maple Grove; step-children, Donald (Shereen) Schultz of Laguna Beach, Calif., Janie (Jeff) Ruprecht of Paynesville, Jill (Bryan) Stout of St. Cloud, Deborah (Gary) Kawlewski of Sauk Rapids, and Diane (Jon) Taxdahl of Prior Lake; and many grandchildren and great-grandchildren. Kathy is preceded in death by her parents; husband Ellsworth M. Schultz (2019); sister Mary Alice Simmons; and grandson Jamie Christopher Hilsgen. Family and friends were her favorite hobby. Kathy was a devoted daughter, wife, and mother and will be missed by all. Memorials are preferred to Quiet Oakes Hospice or to St. Louis Catholic Church. Please visit the Daniel Funeral Home website and sign the memorial book for the family.


Jack Hoppe, 84, Maple Grove


John D. "Jack" Hoppe, 84, of Maple Grove died peacefully at home on Friday, Aug. 20, 2020, from cancer. Funeral mass will be at St. Joseph The Worker Catholic Church in Maple Grove on Tuesday, Sept. 1, at 11 a.m. with visitation one hour before. Jack was born in Paynesville, Minn., to the late Richard and Alma (Mohs) Hoppe. He was the middle child of five brothers and five sisters. He graduated from Paynesville High School in 1954 and attended the University of Minnesota. In 1957, he married Jane Desart. They moved to Fridley and raised their family, three boys and one girl. In 1969, Jack began building his American Family Insurance Agency while continuing to work his Fairmont Foods milk delivery route. Serving his insurance clientele came naturally to Jack and he soon made it his career, lasting 44 years. He made many lifelong friends in that business. While attending the U of M, Jack was a pitcher on one of Coach Dick SiebertŐs winning teams. In 1956, for the first time ever, MinnesotaŐs baseball team won the NCAA national championship. Many of those teammates remained lifelong friends, too, and together celebrated the 50th and 60th anniversaries of their College World Series win. Jack played summer baseball in the town ball league with further success. As a draftee in 1955, he pitched two games to help the Cold Spring Springers win the state championship, and Jack was awarded the Governor Freeman Cup as MVP of the tournament. In 2005, he was an inaugural inductee to the PHS sports Hall of Fame. With great pride, he watched son Denny and grandsons Wyatt and Evan succeed in baseball too. Jack was an avid golfer. He taught Linda to play. He was a charter member of the AmFam golf league and its president for many years. The league just finished its 49th year. In 1987, Jack met Linda through a mutual friend. They enjoyed life together, attending baseball games, playing golf, vacationing in Arizona, taking houseboat trips to Northern Minnesota, and spending time with their families and friends. In 2007, they were married in Sedona, Ariz. Jack is survived by his wife Linda; sons Mark (Leslie), David (Sarah), and Denny; daughter Julie (Mark) Shaw; grandchildren Wyatt and Evan Shaw and Daniel, Samantha, and Haley Hoppe; best friend Gary (Diane) Rognrud; brothers Bob (Katie) Hoppe and Dan Hoppe; sisters Mary Jane Carroll, Lovie Theis, Evie Schmidt, and Babe (Dave) Theis; brothers- and sisters-in-law Jim (Judy) Gilbert, Barbara (Charlie) Meyer, Marilyn Hofer, Lisa Gilbert, Phyllis Gilbert, and Lonnie (Mike) Mullowney; many nieces, nephews and friends. We will all miss him dearly. Jack was preceded in death by his parents; brothers Richard (Barbara), Donald, and Tom; a sister, Judy; his first wife, Jane; sister-in-law, Colleen Hoppe; brothers-in-law Dan Carroll, Don Theis, Bob Schmidt, Mike Gilbert, and Terry Hofer. Memorials preferred to Fields for Kids at www.twins communityfund.org. Arrangements are with Washburn-McReavy Funeral Chapel: www.washburn-mcreavy.com.


Kari Block, 44, Bloomington


A visitation will be held from 11 a.m. to 1 p.m. on Saturday, Sept. 5, 2020, at the Daniel-Anderson Funeral Home in Paynesville for Kari Lynn Block, 44, of Bloomington, Minn., and formerly of Paynesville. Masks will be required, and social distancing encouraged. A private graveside service will follow at the Paynesville Cemetery with Pastor Adam Butler presiding. Kari passed away on Saturday, Aug. 22, 2020 at her home in Bloomington after a year-long battle with chronic illnesses. Kari was born Feb. 14, 1976, in Paynesville to Kenny and Kathy (Eastling) Block. She was baptized and confirmed in the Paynesville Lutheran Church and graduated from Paynesville High School in 1994. She graduated from Anoka-Ramsey College and went on to graduate with honors from St. Cloud State University with a degree in environmental studies. She worked for Westwood Professional Services in Minnetonka as a GIS manager for the past 15 years and was a mentor for many. She mapped thousands of wind, solar, energy, and land projects across the United States. Kari is survived by her parents of Paynesville; brother Kevin Block of Paynesville; sister Karen Block of Avon; nephew Justin Block-Livingood of St. Cloud; her 20-year partner Jon Shern of Bloomington; and his mother Carole and his four siblings. Preceding Kari in death was her infant nephew Jordan Livingood; sister-in-law Sue Block; and JonŐs father Ray Shern. Memorials are preferred in lieu of flowers to the Tri-County Humane Society.