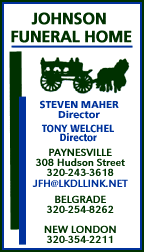 September 2020
August 2020
July 2020
June 2020
May 2020
April 2020
March 2020
February 2020
January 2020
December 2019
November 2019
October 2019
September 2019
August 2019
July 2019
June 2019
May 2019
April 2019
March 2019
February 2019
January 2019
December 2018
November 2018
October 2018
September 2018
August 2018
July 2018
June 2018
May 2018
April 2018
March 2018
February 2018
January 2018
December 2017
November 2017
October 2017
September 2017
August 2017
July 2017
June 2017
May 2017
April 2017
March 2017
February 2017

Gerald Lang, 74, Kimball
Mass of Christian Burial was held on Tuesday, Oct. 27, 2020, at St. Nicholas Catholic Church in St. Nicholas, Minn., for Gerald Lang, 74, who died peacefully at home on Friday, Oct. 23. Burial will be in the parish cemetery. Gerald was born in Paynesville, Minn., to Mathias and Anna (Van Hoorick) Lang. He married Diane Nordmann on Sept. 26, 1970, in St. Martin Catholic Church. Gerald served in the U.S. Navy from 1965-1971. He worked at Cold Spring Granite for 41 years. Gerald was a member of the Watkins Legion, Knights of Columbus, Kimball Lions Club, Lake Association, St. Nicholas Men's Society, Catholic Aid, Roscoe Sportsmen Club, and Let's Go Fishing. He is survived by his wife, Diane; children, Kevin (Amy) Lang, Pam (Kevin) Bierschbach, Sandra (Donnell) Green, Stacy (Steve) Wild, Melissa (Troy) Kapoi, and Amanda Lang; siblings, Jeanne (Jerry) Meyer, Mary Lou (Ray) Forster, Karen (Mike) Schaefer, Kevin (Bev) Lang, and Carol (Tom) Rollins; in-laws, Lorraine Nordmann, Michael Nordmann, Dennis Nordmann, Gary (Linda) Nordmann, Mary Kay (Jim) Kotschevar, Linda (Jim) Varner, and Nancy (Glen) Schellinger; 13 grandchildren; and seven great-grandchildren. He is preceded in death by his parents, Math and Anna Lang; father-in-law, Cyril Nordmann; sister-in-law, Catherine Peters; brother-in-law, Steven J. Nordmann; and great-granddaughter, Ava Rose Archambault. Services were with the Wenner Funeral Home, Cold Spring.


Julie Lemke, 40, Richmond


Mass of Christian Burial will be held at 2 p.m. on Friday, Oct. 30, 2020, at the Sts. Peter and Paul Catholic Church in Richmond, Minn., for Julie A. Lemke, 40, of Richmond, who died on Saturday, Oct. 24, at the St. Cloud Hospital. Inurnment will be in the parish cemetery. Those attending the visitation and services must wear a mask and maintain social distancing. Relatives and friends may gather from 4 to 7 p.m. on Thursday, Oct. 29, at the Wenner Funeral Home in Richmond. Visitation will continue from 12 noon to 1:30 p.m. on Friday morning, Oct. 30, at the funeral home. Julie was born on Oct. 1, 1980, in Paynesville, Minn., to Fred and JoAnn (Douvier) Lemke. She graduated from Rocori High School in 1999 and worked for various optical companies. Julie loved her dogs, Charlie and CoCo, and being with family and friends. Survivors include her parents; siblings, Wendy (Joe Osendorf) Kraemer, Dean (Perry) Lemke, and Corey (Kate) Lemke; and nine nieces and nephews. She was preceded in death by her grandparents, William and Lena Lemke and Edmund and Rose Douvier. Arrangements were with Wenner Funeral Home, Richmond.


Dan Paetznick, 83, Lake Koronis


Daniel Norman Paetznick, 83, formerly of Paynesville and Willmar, entered the presence of Jesus on Saturday, Oct. 17, 2020. He was a graduate of Willmar High School in 1955. He attended St Cloud State University and graduated in 1960 with a bachelor's degree in secondary education, biology and industrial arts. He later received a master's degree in biology from St Cloud State. Dan taught in Kamehameha Schools in Honolulu from1960-63. While in Hawaii they welcomed their son Todd (1961) and daughter Linda (1963) to the family. After three years in Hawaii, they moved back to Minnesota, and their second daughter Tami (Konold 1966) joined the family. Dan took a job teaching in the Edina Schools from 1963-1996. He taught junior high science, industrial arts, and driver's education. He was also a WSI lifeguard and taught in the swimming programs. Dan loved teaching biology and helping his students learn about science and the world God created. He was often voted "most favorite teacher" at the junior high where he taught for 33 years. He loved teaching his grandchildren to enjoy and respect nature as well. One of his grandchildren even grew up to become a biology teacher. The kids all appreciated his sense of humor and fun-loving spirit. Since 1939, Dan has enjoyed a family cabin on Lake Koronis. Dan spent almost every summer of his life at the cabin: boating, fishing, and enjoying the woods and nature with family and friends. He and his brother Noel Paetznick enjoyed summers together there as children and later brought their kids to Koronis where they spent summers there as well. Dan was a jack of all trades and enjoyed many hobbies. He loved surfing, scuba, snorkeling, sailboating, hiking, woodworking, stained-glass, gardening, marine biology, photography, and traveling. Upon retirement, Dan and Kay began wintering in Florida and spending their summers at their lake home on Koronis. Dan and Kay enjoyed traveling to many countries after retiring. He was especially interested in meeting people of different cultures and learning about their ways of life. In January 2019, medical concerns brought changes to Dan and Kay's lives, and they moved to Orchard Path Assisted Living in Apple Valley, Minn. Dan was committed to caring for Kay and wanted to make sure she was always okay even when he was failing at the end. It was here that Dan spent his last days with Kay before the Lord took him home on Saturday, Oct. 17, 2020. Dan will be remembered for his fun-loving and adventurous spirit. He loved to tease and make people smile. His faith in Jesus and service in the churches he attended was very important to him. He will be greatly missed by his wife of 61 years, Kay (Christopherson) Paetznick; his brother Noel (Barb) Paetznick of Willmar; his three children: Todd (Lisa) Paetznick, Linda (Mike) Gunderson, and Tamera (Bruce) Konold; seven grandchildren, seven great-grandchildren; and many nieces and nephews. His family celebrated his life in a memorial service on Wednesday, Oct. 21, at Eagan Hills Church in Eagan, Minn.


Glen Deadrick, 82, Paynesville


Glen C. Deadrick, 82, of Paynesville died on Wednesday, Oct. 14, 2020, at the Paynesville Area Hospital, surrounded by family. Services will be held at a later date. Arrangements are with the Johnson Funeral Home in Paynesville. Glen Carroll Deadrick was born on Oct. 2, 1938, on the family farm near Belgrade, the son of Carroll and Pearl (Larson) Deadrick. He attended country grade school and Belgrade High School. On June 18, 1960, Glen was united in marriage to Jean Heinen at St. Louis Catholic Church in Paynesville. This union was blessed with two daughters and a son. They made their home in Paynesville, where he was an owner and operator as an over-the-road truck driver. He retired in 2005. Glen was a member of St. Louis Catholic Church. He was an avid outdoorsman which included fishing, hunting, camping, and grilling. He enjoyed spending time with his family, especially watching his grandchildren grow. He is survived by his wife, Jean of 60 years; children, Pam Deadrick of Battle Creek, Mich., Scott (Vicki) Deadrick of Waconia, and Kim Regensburger of Maple Grove; grandchildren, Lauren and Sam Deadrick; Connor and Quinn Farley; Lily Regensburger; and Jayden and Reese Deadrick; and siblings, Bob (Mary) Deadrick and Marlene (Charles) Singsank. Glen was preceded in death by his parents and an infant sister, Darlene.


Bud Thompson, 88, Paynesville


Lloyd "Bud" Thompson, 88, of Paynesville died on Thursday, Oct. 1, 2020, at his home in Washburne Court. Funeral services will be held at 11 a.m. on Saturday, Oct. 10, 2020, at Nordland Lutheran Church in rural Paynesville. Visitation will be from 4-8 p.m. on Friday, Oct. 9, at the Johnson Funeral Home in Paynesville. Burial will be in Nordland Lutheran Cemetery. Lloyd "Bud" Seymour Thompson was born on Feb. 23, 1932, in Paynesville, the son of Seymour and Mabel (Schmidt) Thompson. He grew up on the Thompson family farm south of Paynesville. He attended country school in Meeker County, District #1090 and Paynesville High School, graduating in 1950. On March 25, 1952, Bud was united in marriage to Janet Robbins. This union was blessed with three sons and a daughter. They made their home and farmed on the Thompson family Century Farm. They were able to share in 40 years of marriage before Janet's death July 19, 2002. On June 24, 2004, Bud was united in marriage to Judy Brenner. They made their home on the Thompson farm where they enjoyed retirement, dancing, and wintering in Arizona. They later moved to Washburne Court. Bud was a lifelong member of Nordland Lutheran Church. He enjoyed farming, traveling, bingo, dancing, shaking dice for coffee, and basically anything involving family and friends. He is survived by his wife, Judy Brenner-Thompson; sons, Jeff (Becky) Thompson of Paynesville, Rick (Gail) Thompson of Paynesville, and John Thompson of Grove City; grandchildren, Michael (Leeanne) Thompson, Allison (Mike) Walton, Scott (Tara) Thompson, Sam Thompson, Peggy (Adam) Schaefer, Bill Thompson, and Haley Thompson; and great-grandchildren, Anna, Lukas, Kevin, Wesley, Harvey, Skylar, Ivy, Rheagan, Carter, Grant, Alivia, Kylin, and Briena. Bud was preceded in death by his first wife, Janet; infant daughter, Lee Ann Joy Thompson; his parents; and sisters, Delores Thompson and Lorraine Olean.


Barb Snegosky, 66, Paynesville


Barbara A. Snegosky, 66, of rural Paynesville died on Wednesday, Sept. 30, 2020, at her home surround by her family. A walk-through visitation will be held from 5 to 8 p.m. on Friday, Oct. 9, at the Johnson-Hagglund Funeral and Cremation Service in Litchfield. A Mass of Christian Burial will be held at 11 a.m. on Saturday, Oct. 10, 2020, at the Church of St. Philip in Litchfield. The service will be livestreamed on her obituary page on www.johnsonhagglund.com. Barb Snegosky, the daughter of Wally and Lauretta (Brummer) Hanson, was born on March 9, 1954, in Staples, Minn. At the age of five, her family moved to Lichfield to own and operate the Coast-to-Coast store. She attended school in Litchfield and graduated from Litchfield High School in 1972. She continued her education at Rochester Area Technical Institute. On Aug. 9, 1975, she married her high school sweetheart Don Snegosky at the Church of St. Philip in Litchfield. They made their home and raised their three children in New Hope. She spent many years volunteering at her children's elementary school, St. Raphael's. Barb worked for Douglas Dr. Family Physicians and later North Memorial Clinic of Golden Valley as a medical secretary. They moved to Maple Grove in 2006 and also bought her parent's lake home on Rice Lake near Paynesville. They became permanent residents of Rice Lake in 2019. Barb enjoyed boating, lake life, and playing cards with family and friends. They played "Black Queen" and other games while enjoying good conversations. In her earlier years, she enjoyed golfing and was in a bowling league. Barb loved her family, especially her grandchildren, who she really enjoyed watching play at the lake. She always looked forward to ice cream sundaes on Saturday and any other opportunity to spoil her grandkids. She is survived by her husband Don Snegosky of Paynesville; children Adam (Megan) Snegosky of Hammond, Wis., Kate (Brent) Hannan of Greenfield, Minn., and Jeff (Char) Snegosky of Chanhassen, Minn.; grandchildren Nolan Snegosky, Courtney Snegosky, Jadon Snegosky, Mason Hannan, Brody Snegosky, Parker Snegosky, Chloe Snegosky, and Liam Hannan. She is also survived by her siblings, Linda (Doug) Meyer of Springfield, Ill.; Kay (Tim) Hanson-Lane of Eden Valley; Dean (Bev) Hanson of Paynesville; Bob (Mary Lou) Hanson of Sartell; and Chris (Kevin) Hanson Ehlinger of Coronado, Calif. She was preceded in death by her parents Wally and Lauretta Hanson; and her sister-in-law/friend Gail Doering. In lieu of flowers, memorials are preferred to the Pitt Hopkins Research Foundation in honor of one of her granddaughters, Chloe, who has that rare condition. To donate go to www.pitthopkins.org/donate and click "Donate in memory of Barb Snegosky." Please sign her online guestbook at www.johnsonhagglund.com.