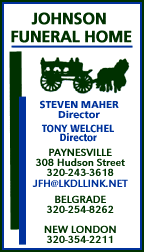 October 2020
September 2020
August 2020
July 2020
June 2020
May 2020
April 2020
March 2020
February 2020
January 2020
December 2019
November 2019
October 2019
September 2019
August 2019
July 2019
June 2019
May 2019
April 2019
March 2019
February 2019
January 2019
December 2018
November 2018
October 2018
September 2018
August 2018
July 2018
June 2018
May 2018
April 2018
March 2018
February 2018
January 2018
December 2017
November 2017
October 2017
September 2017
August 2017
July 2017
June 2017
May 2017
April 2017
March 2017
February 2017

Wilfred Kulzer, 93, Paynesville
Mass of Christian Burial will be held at a later date to honor the life of Wilfred M. Kulzer, 93, of Paynesville, Minn. Willie passed away on Sunday, Nov. 15, 2020, at Glen Oaks Senior Living in New London. Private burial will take place at the St. Louis Catholic Church Cemetery in Paynesville. Willie was born Oct. 16, 1927, in Greenwald, Minn., to William and Lillian (Wiener) Kulzer. He grew up the oldest of seven siblings on the family farm in Greenwald. Willie served in the U.S. Army from 1955-1957. On June 23, 1958, Willie married Lois Younkin in Paynesville, where they made a home, raised two sons, worked in the community, and lived together until 2020. Though a farmer at heart, Willie worked in Paynesville throughout his lifetime – many likely remember his work as operator of the Paynesville Roller Rink and as custodian at Paynesville Middle School. Willie enjoyed his retirement with wife Lois by going to flea markets and auctions, helping friends, admiring old tractors, and trying to steal dessert from his two young granddaughters. Willie was the friendliest person you've ever met and could always be counted on for a good laugh, a funny joke, a little ribbing, and a warm smile. Willie is survived by his loving wife of 62 years, Lois; sons Terry (Sharon) of Paynesville and Patrick (Christina) of Arden Hills; two granddaughters Molly and Katy of Arden Hills; siblings Sr. Linda Kulzer, OSB, Dorine Fuchs, Virgil (Jen) Kulzer, and Jan Barthle; as well as loyal granddog, Tank. Preceding Willie in death were his parents, and siblings Sr. Marilyn Kulzer, OSB, and Donald Kulzer. Willie's family would like to thank the staff at Glen Oaks for their exceptional care.


David Morris, 53, Sartell


David D. Morris, 53, of Sartell died suddenly on Friday, Nov. 20, 2020, at the St. Cloud Hospital from complications of colonic obstruction surgery. A private service for immediate family members this Friday, Nov. 27, will be followed by a public celebration of life at a later date. David was born May 5, 1967, in St. Cloud to Harold Dean and Mary Ellen Morris. He graduated from Paynesville High School in 1985 and from the University of Minnesota in 1991. Lessons learned in his earliest years – delivering the St. Cloud Times, de-tasseling corn, mowing lawns for widows, sending thoughtful cards – shaped the values of his life: work hard, show respect, and give back. As the son, grandson, and nephew of veterans, he was proud to have grown up with words like service and sacrifice. His role in Memorial Day ceremonies grew from Boy Scout leading the pledge, to trumpeter playing taps, to Boy Stater reading the Gettysburg Address. He loved to explore the world, from racing up the stairs of the Statue of Liberty when he was six to practicing his German and Russian on business trips. In 1989, he was traveling in Berlin when the wall came down, and in 1999 he married Catherine Bystritskaya, so proud that his parents flew from Minnesota to Moscow to attend. His 30-year career in hotel management began at the Radisson Plaza in downtown Minneapolis in 1991 and led to a dozen assignments in Russia, Kazakhstan, Latvia, China, Azerbaijan, Tatarstan, and Armenia. During his return visits to Minnesota he found that "Yes," was the easiest answer to the frequent question of "Are you the brother who works in Russia?" Since returning full time to the U.S. in summer 2019, he served as general manager of the Holiday Inn and Suites in St. Cloud and said he was honored to work with such a strong team. His family was excited to put down roots in Sartell, where he recently taught their older daughter how to drive and their younger daughter how to roast perfect marshmallows for backyard s'mores. He is survived by his wife Catherine; daughters Mary and Julia; mother Mary Ellen of Paynesville; brothers Jared (Jodi) of Portland, Ore., and Scott of Sacramento, Calif.; aunt Mary Ann Tourres of Waite Park; uncles Bill (Rose) of St. Cloud, Bob of Avon, and Dick (Carol Jean) of St. Thomas; and many cousins and friends. He was preceded in death by his father Harold "Dean"; uncles Al Tourres and Tom O'Connell; grandparents Harold and Marcella Morris of St. Cloud and James and Agatha O'Connell of St. Thomas; and step-grandmother Marge Esser-O'Connell of Shakopee. His family sends thanks to the neighbors for the pans of lasagna, to the medical teams who gave it their all, and to Father Frederick for asking God during last rites "to send angels and saints to greet David." Memorials are preferred for the education funds of daughters Mary and Julia.


Lee Bluhm, 88, Union City, Ga.


Mr. Leland (Lee) Kenneth Bluhm, 88, of Union City, Ga., transcended this earthly life and flew into the arms of Jesus on Sunday, Nov. 15, 2020. He was born on Feb. 25, 1932, in Paynesville, Minn., to Mr. and Mrs. Ed and Martha Bluhm, both now deceased. Mr. Bluhm went through school in Paynesville, Minn., and graduated from Paynes-ville High School in 1950. He was a Korean War veteran who loved the airline industry. He worked for Singapore Airlines for many years and traveled extensively for business and pleasure while employed. He was an active member of Skal International and served as its Atlanta president in 1978. He was preceded in death by his wife of 53 years, Mrs. Donna Mae Barrett Bluhm; and siblings Duane Bluhm and Richard Bluhm of Minnesota. He is survived by his daughter Kay Ledford (Wayne), of Tyrone, Ga., his son Kevin Bluhm of Tampa, Fla.; four grandchildren; 11 great-grandchildren; and five great-great-grandchildren. The viewing was held on Thursday, Nov. 19, 2020, at Carmichael-Hemperley in Peachtree City, Ga. A family graveside service was held on Friday, Nov. 20, 2020, at Forest Lawn in College Park, Ga. For those who prefer to do so, a memorial donation can be made to Southwest Christian Care Hospice (Union City, Ga.) in Mr. Lee Bluhm's honor.


Chuck Chesness, 87, Paynesville


Charles "Chuck" P. Chesness 87, of Paynesville died on Saturday, Nov. 7, at St. Benedict's Care Center in St. Cloud, from the COVID-19 virus.  A graveside service was held on Friday, Nov. 13, at Nordland Lutheran Church Cemetery in rural Paynesville. Charles Paul Chesness was born Aug. 6, 1933, on the family farm in Kandiyohi County, rural Paynesville, to Carl and Esther (Christianson) Chesness. He lived on the Century Farm most of his life.  Chuck was baptized, confirmed, and a lifelong member of Nordland Lutheran Church, rural Paynesville. Chuck attended Distict #52 country school and went on to graduate from Paynesville High School with the Class of 1951. While in high school, he was active in 4-H, FFA, and school plays. After high school, Chuck worked for First State Bank for a year before enlisting into the United States Air Force on Aug. 26, 1952. He served his country in the Korean War, earning an honorable discharge on Aug. 25, 1956, at the rank of staff sergeant.  After his military service, Chuck returned home and began working with his father as a carpenter. They worked for Nelson Construction of Willmar for many years.  Chuck then went on to work with Donald Nepsund Building and Remodeling.  Chuck followed the rule, "measure twice, cut once." Chuck enjoyed his morning coffee at Hilltop during the week and visiting with the guys. He loved playing softball and also taking trips to Colorado with his friends to go downhill skiing.  At around the age of 50, Chuck started golfing and fell in love with it.  He was a member of Koronis Hills Golf Club and enjoyed hitting three holes-in-one.  Chuck was also a lifetime member of the VFW and Paynesville American Legion Post #271, where he was a member of the honor guard for many years. He is survived by his brother, Jim (Toma) of Casa Grande, Ariz.; sister, Kathryn Chesness of Paynesville; sister-in-law, Gayle Chesness of Grand Rapids; nieces and nephews: Paula (Rick) Gunderson of Spring Lake, David (Kathleen) of Grand Rapids, Richard of Grand Rapids, Terry (Guy) St. Martin of Brooklyn Park, Thomas (Jessica) of Ramsey, and Curtis (Cyndy) of Cambridge; and many great-nieces and great-nephews.  Also surviving him is the Martinson family: RaNae, Luke (Laura), Mathew (JoAnn), Katey (Pete) Zeleny, and Sara; and their families. Chuck was preceded in death by his parents, brother, Robert; sister-in-law, Mary (Reamer); niece, Cindy Woods; great-niece, Hannah St. Martin; and his best friend, Dorothy Martinson. The family would like to especially thank the nurses, caregivers, and staff of Koronis Manor in Paynesville for their exceptional care and love they gave Chuck during his stay. He felt like it was home. Thank you also to Heartland Hospice for your care and compassion as well as St. Benedict's Care Center for the end-of-life care.  God bless you all! Services were entrusted to Johnson Funeral Home in Paynesville: www.hafh.org.


Robert Clark, 79, Monticello


Robert Clark went home to be with his Heavenly Father on Monday, Nov. 9, 2020. Bob was born in Anthon, Iowa, on Jan. 17, 1941. After graduating from St. Cloud Tech High School in 1959, he began his career with Northern States Power (NSP) as a lineman. In October 1963, he was drafted into service with the U.S. Army, where he served until October 1965. While stationed at Ft. Huachuca in Arizona, Bob met his lovely wife, Lorine East. Soon after he left the service, Bob and Lorine were married in Bisbee, Ariz. They moved to Paynesville, Minn., where he resumed his career with NSP as a lineman and eventually a supervisor. He retired in 1997. Bob is survived by his wife, Lorine; children, Deborah (Christopher) Penny of Gibsonville, N.C., Brian (Shelly) Clark of Albertville, Minn., and Jeremy (Heather) Clark of Mankato, Minn. Also surviving are grandchildren, Victoria, Isaac, McKenzie, Patrick, Nathan, and Tesla; and one great-grandson Aiden. Bob's relationship with Christ was very important to him and was evident in the way he lived his life. He also enjoyed woodworking, camping, traveling, birdwatching, reading, and spending time with family and friends. A memorial service for Bob was held at Becker Baptist Church in Becker, Minn., on Monday, Nov. 16. For those who cannot attend, go to beckerbaptist.org and select the link on the main page for Bob Clark's funeral livestream. Interment will be on Tuesday, Nov. 17, at Ft. Snelling, Minn. Arrangements are with the Peterson-Grimsmo Chapel of Monticello, Minn.: www.peterson-grimsmochapel.com.


Al Lieser, 88, St. Martin


Alvarius J. "Al" Lieser, 88, of St. Martin died peacefully on Sunday, Nov. 8, 2020 at the Carris Health Care Center and Therapy Suites in Willmar, Minn. A Memorial Mass of Christian Burial was held on Friday, Nov. 13, at St. Martin Catholic Church in St. Martin with Rev. Edward Vebelun, O.S.B., officiating. A family inurnment will be in the parish cemetery at a later date. Serving as honorary bearers were Crista Pauls, Kurt Lieser, Brooklyn Gottwald, Jessica Anderson, Austin Pauls, Kajae Lieser, and Tyler Anderson. Cross bearer was Kylie Pauls, and scripture bearers were Carrie and Hannah Blakesley. Alvarius John Lieser was born on June 21, 1932, in Lake Henry Township, Stearns County, Minn., to Aloys and Agatha (Fuchs) Lieser. On Sept. 20, 1955, he married Alma Rolfes at St. Catherine's Catholic Church in Farming. In 1967, the couple started farming in Lake Henry Township, Stearns County, for many years. In 2010, the couple moved to St. Martin. Al enjoyed bowling, playing cards, and either listening to or watching the Minnesota Twins. He was a member of St. Martin Catholic Church in St. Martin and was secretary for the St. Martin Co-Op board for many years. Survivors include his children, Sandra (Melvin Michels) Sheets of Hawick; Karen (Michael) Hecimovich of Belgrade; and Kevin (Jolene) Lieser of Lake Henry; five grandchildren and seven great-grandchildren; brother and sisters, Genevieve "Jenny" (Vernon) Welle of Spring Hill, Leona Spanier of Hemet, Calif., and Paul (Judy) Lieser of Spring Lake Park; sisters- and brothers-in-law, Martha Fasen of Sartell, Theresa Backes of St. Cloud, Andrew Rolfes of St. Anna, Leora (Jack) Burg of St. Martin, Gene Lesser of Wayzata, and Irene Schmidt of Hermantown. Al was preceded in death by his wife, Alma Lieser on June 24, 2013; parents; infant brothers, Cyril and Peter Lieser; brothers, Werner Lieser and Alvin Lieser; sister, Leora Lesser; brothers-in-law, Dave Schmidt, Ray Rolfes, Art Fasen, and Jim Spanier; and sister-in-law, Delores Rolfes. Arrangements were made with Patton-Schad Funeral and Cremation Services of Melrose.


Arthur Herzberg, 96, North Branch


Arthur A. Herzberg, 96, of North Branch, Minn., formerly of St. Paul, passed away peacefully on Sunday, Nov. 1, with daughter, Debbie at his side at Ecumen North Branch. He was born on June 28, 1924, to Otto and Alvina (Baumann) Herzberg on the family farm in Eden Lake Township. He was the last surviving child of 15. He was baptized and confirmed at the Ebenezer Evangelical Church. He attended the Brown Country School. He joined the CCC at 17 and was sent to Akeley, Minn., and worked at the Badoura State Forest. He was in the U.S. Navy during WWII serving on the U.S.S. Boston in the Pacific Theatre. He also had six brothers serving in WWII, one was injured in the Battle of Tarawa, but all made it home safely. There was a total of nine brothers who served their country. Art was always proud of that. Art moved to St. Paul after the war and met and married Angela Kerzich. They had six children and 57 years together. He worked many years for Admiral Merchants Trucking Co. He always liked to keep busy and had many part-time janitorial jobs after retiring, working for Visitation School, the Shalom Home, the City of New Brighton to name few. He also loved his yard and garden and would spend all day outside in the summer. He also canned a lot of his garden including tomatoes and also many fruits and vegetables. He was a Teamster Local 120, also a longtime member of the Paynesville American Legion Post #271. He was preceded in death by his wife, Angela (2008); daughter, Linda Ladoux (2015); son-in-law, Dick Evans (2019); parents, Otto and Alvina Herzberg; brothers, Elmer, Reinholdt, Gordon, Harold, Oliver, Nobel, Erwin, Norman, Edwin, and Clifford; sisters, Mabel Grochow, Adeline Peters, Marcella Frank, and Evelyn Smith. He is survived by daughters, Deborah Evans of Stacy, Minn., Pam of St. Paul; sons, Richard of Vadnais Heights, Jeffery of St. Anthony, and Thomas (Marilyn) of Germantown, Wis.; grandchildren, Geno and Chris Ladoux; Curtis, Carissa, Trevor, and Tyler Herzberg; and Anthony and Aaliyah Greer; Great Grandson, Cameron Ladoux; many nieces and nephews. He enjoyed many years of watching grandsons Curtis and Anthony play football and Trevor and Tyler play hockey. He will be laid to rest along with Angela at Ebenezer Cemetery at a later date. Many thanks to all the guys and gals at Ecumen North Branch, St. Croix Building, for their kind and compassionate care, especially Alicia, Lanae, and Sarah.


Mary Lou Lindeman, Paynesville


Mary Lou Lindeman, 84, passed away of Alzheimer's Disease on Saturday, Nov. 7, 2020, at the Koronis Manor in Paynesville, Minn. Mary Lou Strande was born on Sept. 24, 1936, to Coleman and Luella (Grindahl) Strande in Brooten, Minn. She graduated from Brooten High School and continued her education in Minneapolis, graduating as a medical laboratory technician. She was recruited by Dr. Clifford Myre's clinic in Paynesville in 1957. After working as a lab technician, she was promoted to receptionist and business office manager of the Paynesville Clinic. Later she became a nursing assistant to Dr. Ray Lindeman, a position she held until his retirement in 1994. The clinic relocated to the Paynesville Hospital, where Mary Lou worked as a secretary until her retirement in 1995. On Feb. 16, 2001, she married Dr. Ray at Paynesville Lutheran Church. She was an active member of the church, especially in the senior choir and the altar guild. Her hobbies included an incredible talent for knitting and needle work. Sharing her beautiful personality and quiet ways were special gifts to everyone she came in contact with. Alzheimer's affected her ability to communicate for the final three years of her life, but her peaceful composure continued until her death. Mary Lou was preceded in death by her parents, three brothers (Alworth, Earle, and Delano Strande); her sister (Norma Mueller); and her niece (Deborah Strande). Left to cherish her memory are her husband, Dr. Ray Lindeman; nephews Gene (Mary Jo), David (Kim), Duane, and Steve (Dawn) Strande and their families, as well as her husband's five children and families. The family wishes to thank the staff of the Koronis Manor for their kindness, compassion, and loving care of Mary Lou. Due to COVID-19, a private burial service will take place at Big Grove Lutheran Church Cemetary, Brooten, in the spring. Memorials are preferred to the Alzheimer's Association.


Martin Rothstein, 90, Richmond


A private family service and burial will be held for Martin N. Rothstein, 90, who died peacefully at home on Saturday, Nov. 7, 2020, surrounded by family. Due to the current COVID-19 circumstances, a memorial service will be held at a later date. Martin was born in Richmond to Jacob and Lucy (Weisman) Rothstein. He married Rita Nett on June 20, 1959, in St. Martin Catholic Church, St. Martin, Minn. He served in the United States Army during the Korean War from 1952-1954. Martin worked for Franklin Manufacturing, the St. Cloud VA Hospital, Cold Spring Granite Company, and was a Stearns County Highway supervisor for 23 years. He was a member of Knights of Columbus, Catholic United, and St. Joseph Society. Martin played baseball for Richmond for many years. He spent his retirement fishing, traveling with Rita, playing cards, cutting wood, and transporting friends to appointments. Martin enjoyed spending time with family, grandkids, and great grandkids, telling jokes and socializing with friends at different restaurants. His kindness and compassion will be forever admired and missed by many. He is survived by his wife of 61 years, Rita; children, Kevin (Ruth), Tom (Cathy), Tim (Shelly), David (Sharon), and Ed (Sharon); siblings, Sylvester (Rosemary), Ansgar (Joann), and Clara Heinz; nine grandchildren; and eight great grandchildren. He was preceded in death by his parents, Jacob and Lucy; children, Karla and Kurt; grandson, Curtis; siblings, Roman, Bill, Mark, Ambrose, Christ, Ben, Andrew, Victor, Martha, Louise, and Rosie. The family is deeply grateful to CentraCare Hospice and the Assumption Court staff for their gracious care during his illness. In lieu of flowers, memorials are preferred to Sts. Peter and Paul Catholic School in Richmond, Minn. Services are with the Wenner Funeral Home, Richmond, Minn.


LeRoy Sander, 82, Cold Spring


LeRoy W. Sander, 82, of Cold Spring, died on Monday, Nov. 2, 2020, at Assumption Home in Cold Spring. Graveside services were held on Friday, Nov. 6, 2020, at Grace West Lutheran Cemetery in Belgrade. LeRoy Wilfred Sander was born Nov. 9, 1937, in a log cabin near Detroit Lakes, the son of Wilfred and Amanda (Hill) Sander. At the age of four, his parents moved to Fergus Falls, where he attended and graduated from Fergus Falls High School. Lee enlisted in the United States Navy in 1956 and served his county until his honorable discharge on Jan. 4, 1960. In 1961, Lee was united in marriage to Mary Lou Krause. This union was blessed with a son, Scott. Lee worked for turkey farmers in Wadena and later at Belgrade, where he also worked for Cargil Feeds. In 1989, Lee was united in marriage to Tracy Andrusick. They lived near Richmond, where he worked at Famo Feeds in St. Joseph until his retirement. They moved to Cold Spring in 2000, and Lee became a resident of Assumption Homes in 2016. Lee went to be with the Lord on Monday, Nov. 2, 2020, at the age of 82. He is survived by his wife, Tracy of 30 years; son, Scott (Randi) Sander of Nevis; grandchildren, Chris (Jonelle) Sander and Shelly (Eric) Smedstad; great-grandchildren, Dominc, Taylon, and Garritt Sander and Nichole Skindelien, and Amy Smedstad; siblings, Delores (Morris) Lindholm, Gladys Koubek, Carol (Rod) Mitchell, and David (Pam) Sander; and Tracy's son, daughter, and grandchildren. Lee was preceded in death by his parents; first wife, Mary Lou in 1983; sister, Doris; brother-in-law, Don Koubek; and step-son, Henry Andrusick. Arrangements were with the Johnson Funeral Home in Paynesville: www.hafh.org.


Marcy Klassen, 76, Richmond


Marcella (Marcy) Elizabeth Klassen, 76, passed away at her home on Tuesday, Oct. 27, 2020, surrounded and cared for by her family. Marcy was born on Dec. 28, 1943, to Walter and Katherine Wiener in Elrosa, Minn. She grew up on the homestead with her three sisters and brother: Verena, Marion, Gerald, and Florence. She married Ralph Jacob Klassen on May 12, 1962, at Sts Peter and Paul in Elrosa. In 1962, Marcy and Ralph purchased the Klassen family farm where they raised their six children. Throughout her life, Marcy supported the family business by being active in many farming organizations and community events. She was an officer of the Christian Mothers of Spring Hill, and she was a member of St. Michael's Catholic Church in Spring Hill and Our Lady in Manannah, Minn. Marcy loved when her family gathered, and she adored watching her grandkids and great-grandkids. Grandma Marcy will always be remembered for her love of baking, especially her famous brownies. Reading was a love of Marcy's. She could be found enjoying a novel while waiting for family members to arrive for holidays or activities to begin. Marcy enjoyed spending time with family and friends, socializing, and trying new restaurants. She regularly gathered with her sisters and brother, where laughter could be heard throughout the entire establishment. They truly enjoyed their time together. In 2005, Ralph and Marcy semi-retired and moved to her beloved lake house on Rice Lake in Richmond. Marcy loved being on the lake and was always happy to see the beautiful view. She always looked forward to her and Ralph's annual snowbird trips to Hawaii. The cultural food of the island and the warm weather kept her happy while Ralph toured farming venues and fields. Marcy is survived by her husband of 58 years, Ralph; children, Patricia (Steve) Peters, Roger, Cheryl (Ken) Ley, Loren (Stacey), Jason (Dawn), and Ryan (Becca); sister, Florence Dingmann; 19 grandchildren, and five great-grandchildren, with another two on the way. She was preceded in death by her parents; siblings, Verena (Earl) Pauly, Marion (Chuck) Reynolds, and Gerald (Betty) Wiener; and brother-in -laws, Rodney Lieser, Ambrose Dingmann, and Eugene Schlotfeldt. Due to current circumstances, Marcy's family will mourn and celebrate her in a private mass at Our Lady in Manannah and then with burial at St. Michael's. The family is deeply grateful for the gracious care Marcy received from Centra Care Hospice and Comfort Keepers. In lieu of flowers, please consider a memorial in her name to St. Andrew's Catholic School in Greenwald or St. Phillips Catholic School in Litchfield. Arrangements were with Wenner Funeral Home, Richmond.


Mary Schulzetenberg, Melrose


Mary Ann Schulzetenberg, age 90, passed away on Tuesday, Oct. 27, 2020, at St. Benedict's Center in St. Cloud, Minn. A private Mass of Christian Burial will be held at St. Michael's Catholic Church in Spring Hill. Interment will be held in the parish cemetery. A video of the funeral mass will be placed on the Patton-Schad website after the service. Mary Ann Nietfeld was born Oct. 23, 1930, in Greenwald, Minn., the second of four children born to Conrad and Veronica (Blenker) Nietfeld. Her early years are remembered as playing on the farm with her many cousins and later being part of her father's de-tasseling corn crews for the family business, Nietfeld Seed. She attended country school at District 161 (Winter's School near Greenwald) grades 1-8 and then St. Francis High School in Little Falls for one year. She completed her GED later in life. Mary Ann married Melvin Schulzetenberg in Greenwald on Sept. 19, 1950. Together they farmed and raised seven children near Spring Hill. During those years as a World Book encyclopedia representative and armed with a plat book, Mary Ann put many miles on the family car selling educational books. A great enjoyment for Mary Ann was tending to her many flower gardens on the farm. After Melvin's death in 1985, she made her home in Melrose. She was fond of dancing and music, and was admired for her creative cards and letters often with original rhymes and poems. Memory loss developed during her final years, and Mary Ann received care and assistance at Pine Haven in Melrose. She is survived by her children, Mae (Stephen) Tinguely of Fargo, N.D., John (Sharon) Schulzetenberg of Spring Hill, Deacon James (Bonnie) Schulzetenberg of Greenwald, Ann (Gerald) Leukam of Maple Grove, Joe (Sue) Schulzetenberg of Rogers, Mark (Deb) Schulzetenberg of Avon, and Mike (Cyndi) Schulzetenberge of Sauk Centre; brother, Bernard Nietfeld of Greenwald; 24 grandchildren; and 43 great-grandchildren. Mary Ann was preceded in death by her husband, Melvin; parents, Conrad and Veronica Nietfeld; granddaughter, Sarah Schulzetenberg Harkins; great-granddaughter, Cecelia Harkins; sisters, Rose Meyer and Alice Engelmeyer; sisters-in-law, Leona Frieler, Delphine Nietfeld, and Celeste Schulzetenberg; brothers-in-law, Roman Meyer, Peter Engelmeyer, John Frieler, and Alphonse Schulzetenberg; and parents-in-law, Christine and Anton Schulzetenberg. In lieu of flowers, memorials are preferred to Catholic Charities of St. Cloud or to St. Mary's Church in Melrose. The family would like to thank the Pine Haven staff for their compassionate care and also the staff on the COVID unit at St. Benedict's Center during the last few weeks. Arrangements were made with Patton-Schad Funeral and Cremation Services of Melrose.


Mary Helen Torborg, Paynesville


The world lost a lot of kindness, compassion, humor, and optimism when Mary Helen Torborg left us to be with the Lord on Monday, Oct. 26, 2020. Due to Covid, a private, family-only Mass of Christian Burial was held on Saturday, Oct. 31, at St. Louis Catholic Church in Paynesville. The service was live streamed and can be watched on You Tube: https://youtu.be/EqFRkePepxE. Mary Helen was born on Nov. 3, 1929, to Nicholas and Mary Helen (Kieffer) Rollinger in St. Paul. Her parents both passed when she was very young, and she was raised by her two aunts, Mary and Ann Rollinger. She attended grade school at St. Bernard's Catholic School and high school at St. Joseph's Catholic Academy. She met her husband, Norbert Torborg, in Richmond, while attending the wedding of a friend. They were married on Dec. 27, 1952, and resided in Richmond. Mary Helen and Norb moved to Paynesville in 1954 when they purchased the International Harvester dealership. They renamed it Torborg Equipment and ran the business until Norb's passing in 1984, at which time their son, Roger, took over the business. Mary Helen also worked at Easterday's and the Corner Drug store. Mary Helen loved people, and she loved to be busy. She was an active member of St. Louis Catholic Church. She belonged to the choir and the Sodality Club i.e. Ladies Aid. If she wasn't sewing hats for cancer patients or driving the elderly to appointments with the R.O.S.E. Center, you could find her playing cards. She played in a Samba group, Cancerama, bridge, and 500. It was not unusual for her to have two card groups in one day! She was a member of the original Red Hat Society. In the evening she would also be embroidering, crocheting, quilting, or working a puzzle or on a craft project. She was an avid Minnesota Twins fan. Her home was always open to anyone that wanted to stop by. Visitors were always welcome. All holidays were special days for celebration because it meant family would be together. Mary Helen was the happiest spending time with her family. It didn't matter what they were doing or where they were going, she wanted to be a part of it. Family meant everything to her. She was a loving mother, grandmother and great-grandmother, teaching her family patience, to persevere, and to remain optimistic. Mary Helen is survived by her loving family, Roger (Sharon) Torborg of Paynesville, Jeanne (Reed) Bales of Orono, Mark (Deb) Torborg of Mt. Joy, Pa., Jim (Vicky) Torborg of Apple Valley, Dan (Rita) Torborg of White Bear Lake, and Jill (Paul) Neu of Plymouth; 16 grandchildren, Julie, Brenda, Christine, Rick, Andy, Brad, Jake, Josie, Ryan, Adam, Ali, Carli, Taryn, Andra, Erica, and Jessica; and seven great-grandchildren, Norah, Cooper, Carter, Gracen, Kenzie, Karter, and Remi. She was preceded in death by her husband, Norb; children, Carol, Tommy, and Todd; granddaughter, Kenzie; siblings, Aloysius Rollinger, Clarence Rollinger, Helen Curran, Agnes Lang, and Larry Rollinger, and an infant twin sister. The family would like to thank the staff at Asher Haus in Cold Spring, Minn., for the compassionate care that Mary Helen received during her short time as a resident. They would also like to thank St. Croix Hospice Center for their exceptional care. In lieu of flowers, the family asks for a memorial donation to St. Louis Catholic Church or to the R.O.S.E. Center in Paynesville.


Florian Burg, 78, Mesa, Ariz.


Florian Burg, 78, of Mesa, Ariz., passed away on Friday, Sept. 25, 2020. He farmed west of St. Martin for years. He is survived by his wife, Marjorie; sons, Kurt and Erik; and brothers and sisters, Duane Burg, Joan Wander, Marlene Thelen, Elaine Garding, Katie Mehr, Marion Thull, Steven Burg, Gerald Burg, and Sandra Roberson. He was preceded in death by his first wife, Patricia Johnson; and his parents, Hubert and Katherine Burg.