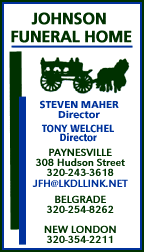 George Gabrielson, Paynesville
George A. Gabrielson, 93, of Paynesville, formerly Litchfield, Minn., passed away on Monday, Nov. 11, 2019, at his home in Paynesville. A memorial service was held on Saturday, Nov. 16, at Paynesville Lutheran Church. Interment will take place in the spring in the Ripley Cemetery in Litchfield. George Archibald Gabrielson was born on Feb. 22, 1926, in Litchfield. He was the son of Carl and Florence (Wilbur) Gabrielson. George was baptized in the Christian faith at Litchfield Church of Christ. He attended Carlson Country School and Litchfield High School, along with working on the farm. George entered active military service in the U.S. Naval Reserve on May 30, 1944, in Litchfield. He was sent to the South Pacific Ocean, where he served on the U.S.S. Birmingham as a fireman first class and also in New Guinea. He received an honorable discharge on May 18, 1946, and achieved the rank of fireman first class. Upon discharge from the military, he went to work for Johnson Brothers Construction Company. In the fall of 1946, he met his wife, Norma. On Jan. 11, 1948, George was united in marriage to Norma Mae Kohls at Immanuel Lutheran in Acoma Township, McLeod County, Minn. This marriage was blessed with four children: Michael, Julie, Lori, and James. In 1958, George and Norma moved to the farm near Green Leaf Township, where they raised their four children. George and Norma shared 71 years of marriage. In 1955, George worked on the Indiana Toll Road for several seasons. He also worked at Custom Products as a sales representative for the Minnesota area for ten years. George started Gabrielson Excavating in 1977; his son, Jim, joined him in 1994. In 1985, he also spent three years in Malibu, Calif., doing construction for a home. George never really retired, as he enjoyed his work. George enjoyed fishing, hunting, traveling in their motor home, spending time with his horses, and occasionally golfing with friends. He especially enjoyed spending time with his family, grandchildren, great-grandchildren, and friends. George was a friend to all; he was a fair, honest, and loving man. George is survived by his: wife, Norma Gabrielson of Paynesville; children, Julie Ledford and her husband, Bill, of Phoenix, Ariz., Lori Gabrielson of Minneapolis, and James Gabrielson of Paynesville; daughter-in-law, Juliana Gabrielson of Sauk Rapids, Minn.; grandchildren, Christopher Gabrielson and his wife, Sarah, Ryan Gabrielson, Holly Gabrielson, Jon Gabrielson, Marina Ledford, and Nicholas Gabrielson;great-grand-children, Hannah, Sophia, and Michael Gabrielson, Zachary and Tyler Gabrielson; Rhea and Rayna Abraham; brother, David Gabrielson and his wife, Judy, of Litchfield; and many other relatives and friends. George was preceded in death by his parents, Carl and Florence Gabrielson; son, Michael Gabrielson; siblings, Lillian Benson and her husband, Bernard; Arlene Alinder and her husband, Sig; Alice Peacock and her husband, Robert; Harland Gabrielson and his wife, Borghild; Rose Gabrielson; Virgil Gabrielson and his wife, Ruby; Merle Gabrielson and his wife, Louise; Kenneth Gabrielson and his wife, Phyllis; Donald Gabrielson and his wife, Elaine; and Galene Gabrielson. Arrangements by the Hantge Funeral Chapel in Darwin. Online obituaries and guest book available at www.hantge.com.


Jim Hartmann, 91, Paynesville


Mass of Christian Burial will be held at 10:30 a.m. on Wednesday, Nov. 20, 2019, at St. Louis Catholic Church in Paynesville for James R. "Jim" Hartmann, 91, of Paynesville, who passed away peacefully on Thursday, Nov. 14, at the Koronis Manor. Reverend Glenn Krystosek will officiate. Burial of his cremated remains will take place in the St. Louis Parish Cemetery. Visitation will be held from 4-7 p.m. on Tuesday, Nov. 19, at the Daniel-Anderson Funeral Home in Paynesville and will continue one hour prior to services at the church on Wednesday, Nov. 20. Jim was born on May 13, 1928, in Paynesville, Minn., to Raymond and Mathilda (Lenner) Hartmann. Jim married Louise Ferguson on June 2, 1949. To this union, six children were born. Louise passed away in 1966. Jim married Marge (Lorenz) Heitke on Dec. 28, 1976. Jim cut and delivered ice from Lake Koronis with his family. He did masonry work, farmed, and did road maintenance in the Paynesville area for over 50 years. He worked in partnership with his brother Bub for many years. He was a lifetime member of St. Louis Catholic Church. Jim was a dirt track race car driver in the late 1950s and early 1960s, driving the "8 Ball." He was also a volunteer fireman with the Paynesville Fire Department for 27 years. He enjoyed meeting friends for coffee and shaking dice for many years. He loved watching TV, hunting, and spending time with his wife, children, grandchildren, and great-grandchildren. He was known for his sense of humor and love of cookies. Jim is survived by his wife Marge; children Mary (Wally) Kollmann, Steve Hartmann, Larry (Rhonda Larson) Hartmann, Randy (Marla) Hartmann, Tami (Robert) Meeker, Gretchen (Jim) O'Fallon, Scott Hartmann, Paul (Laura) Heitke, Mark (Susana) Hartmann, and Dean (Dawn) Heitke; 30 grandchildren; 44 great-grandchildren; sister-in-law Vicky Hartmann; and brother-in-law Don (Ev) Lorenz. Jim was preceded in death by his parents; first wife Louise; daughter-in-law Cathy Hartmann; granddaughter Amy Kollmann; grandson Jake Meeker; and siblings Alvin "Bub," Lorraine, Bernadine, and Willard. Jim's family would like to thank the staff at the Koronis Manor for their compassionate care for Jim over the last six months.


Pete Robischon, 76, Paynesville


Peter (Pete) A. Robischon, 76, of Paynesville, passed away on Friday, Nov. 15, at his home after a long battle with cancer. He was surrounded by loved ones at the time of his passing. Mass of Christian Burial will be held at 10:30 a.m. on Saturday, Nov. 23, at St. Louis Catholic Church, 505 Burr Street, Paynesville, with visitation at church one hour before Mass. Private interment will be at Greenwood Cemetery, Sauk Centre, at a later date. Dad was a family man, a simple man. He loved the outdoors whether it was fishing, hunting, riding his Harley, boating, or just hanging out with family and friends. He was his family's biggest fan, attending as many sporting events as he possibly could. Dad worked for John Deere in East Moline, Ill., in his early career and when we moved back to Minnesota, he eventually started his career as a police officer. He served Eden Valley and then Stearns County for 20-plus years as a patrolman and sergeant. In his retirement, he was one of two retired officers to first serve the county courthouse as a security officer. He also drove school bus for Paynesville Motor and Transfer and saw his kindergartners graduate from high school, plus a few years. He loved to serve and help people. Mom and Dad spent many vacations travelling in the U.S. and Canada either by motorcycle or car; sometimes the kids got to tag along on their adventures, or we would bring them on ours. They put on many miles, discovering new treasures everywhere they went. Dad's presence will be missed greatly by each of us, but we look to the time when we will meet again. He is survived by his loving wife of 56 years, Sharon (Carter); their children, Reve' Robischon-Goranson (Kelly), and Alycia Savage (Brian); grandchildren, Teigan Hierlmaier, Resche' (Chase) Piepenberg, Shane (Hannah) Hierlmaier, Dustin (Brie) Goranson, Drew Goranson, Devon (Katie) Savage, and Bryce Savage; great-grandsons Masson and Haeden Hiltner, Gavin Goranson, and Parker Piepenberg; brothers, Dick (Mary) Robischon, Mike (Shirley), Jim (Ronnie), Pat (Deb), Paul (Jay), and sister Patti (Dave) Burns; and many nieces and nephews and extended family. He was preceded in death by his parents, Bernard and Alice Robischon; parents-in-law, Bill and Letha Troness and Marvin Carter, brother-in-law, Bob Strand, and nephew, Jonathan Burns. In lieu of flowers, the family requests memorials to St. Jude's Children Hospitals or the American Cancer Society.


Lois Stebbins, 70, Paynesville


Lois L. Stebbins, 70, of Paynesville died on Sunday, Nov. 10, at the St. Cloud Hospital. Lois passed away at the St. Cloud Hospital on Sunday, Nov. 10, 2019 at the age of 70 years. Her memorial service was held on Thursday, Nov. 21, at Paynesville Lutheran Church in Paynesville. Arrangements were with Johnson Funeral Home in Paynesville at www.hafh.org. Lois Louise Stebbins was born on Jan. 18, 1949, in Gettysburg, S.D., the daughter of Lavern and Alice (Nelson) Stebbins. She moved with her family to the New London area. She attended country school and graduated from Paynesville High School in the Class of 1967. She received accounting training in St. Cloud and later began working for the Paynesville Municipal Liquor Store where she bartended. Lois later began working with the American Milk Producers Inc. in Paynesville as a bookkeeper. She retired in 2010. Lois was baptized and confirmed in the Lutheran Church and was currently a member of Pay-nesville Lutheran Church. he enjoyed antiquing, going to garage sales, and watching her favorite soap operas on television. She loved her dogs, always having a pet Scottish Terrier. Along with her cookies that she shared at Christmas time, her family will miss her many funny stories about bartending, and the laugh that went with them. She is survived by her sister JoAnn Ellefson of Virqua, Wis., brother Ron (and Nancy) Stebbins of Spicer; nine nieces and nephews including her Godson, Aaron; 19 great-nieces and nephews; and five great-great nieces and nephews. She was preceded in death by her parents and her sister, Deloris Thompson.


Ora Olson, 94, Scottsdale, Ariz.


Ora Lucille Olson, 94, a longtime Paynesville, Minn., resident, passed away on Saturday Nov. 9, 2019, in Scottsdale, Ariz. She was born to Jacob Frederick Bauer and Martha (Van Rheeden) Bauer on Nov. 30, 1924, in Spring Valley, Minn. Ora graduated from Spring Valley High School in 1942, after which she began her banking career at the First National Bank in Spring Valley. On Nov. 23, 1945, at the United Methodist Church in Clarksville, Iowa, Ora married the love of her life, Delmer C. Olson. They made their home in St. Paul, Minn., and in 1949 moved to Kimball, Minn. In 1952, they moved to Paynesville, where Ora worked at the First State Bank (now Bank of The West) for 27 years, holding many positions including secretary, teller, bookkeeper, auditor, and cashier. She retired in 1984. She was a member of Grace United Methodist Church, Ruth Circle, Rebekah's, and the American Legion Auxiliary. She also served several terms as the treasurer for the City of Paynesville. Ora enjoyed knitting, needle work, reading, bowling, and golf. Her travels took her to many U.S. states, with Ora and Delmer being winter residents of Arizona for over 20 years, and Ora a full-time resident the past five years. She also enjoyed travels to Europe, Scandinavia, and Thailand. Ora is survived by two children - daughter Sharon Moore (Walter) Fisher of Mesa, Ariz.; and son Craig (Valerie) Olson of Mesa, Ariz.; five grandchildren - Sean (Arielle) Moore, Christopher (Erin) Olson, Adrienne (Matthew) Hurd, Matthew Olson, and Ashton Olson; nine great-grandchildren - Milo Lee-Moore, Keagann, Laynie, and Mackenna Olson, and Leelani, Carlie, Noah, Mylee, and Eli Hurd. Ora was preceded in death by her husband Delmer; her parents; brother Orville Bauer; and sisters Gaynol (Herbert) Meyer, Bernace (Lloyd) Drinkall, and Vera (Wesley) Kasten. Celebration of life arrangements are pending.


Robert Rud, 84, Aberdeen, S.D.


Funeral service for Robert A. Rud, 84, of Aberdeen, S.D., was held on Friday, Nov. 8, 2019, at Paynesville Evangelical Free Church in Paynesville, Minn. Rev. Brad Hopman officiated. Burial was in East Irving Mission Cemetery, rural Paynesville. Robert died on Monday, Nov. 4, 2019, at his home. Robert Allen Rud, the son of Clarence and Hazel (Kalkbrenner) Rud, was born on June 11, 1935, at Paynesville. He was educated in Paynesville, graduating from Paynesville High School with the Class of 1954. He then enlisted in the United States Army until being honorably discharged in October 1961. He was united in marriage to Elynor Brick on Dec. 7, 1957, at St. John's Lutheran Church in rural Aberdeen, S.D. Robert began trucking at an early age. He was an over-the-road trucker for his entire working career. In the late 1950s, he started his own company, Rud Trucking, and owned and operated it into the 1980s. During this time, Robert and Elynor lived in the Lino Lakes, Minn., area. He then became employed with Dart Transit Company, running their trailer repair shop until retirement in 2001. In 2003, Robert and Elynor relocated to Aberdeen, S.D. In Robert's free time, he enjoyed fishing and hunting. During retirement, he enjoyed raising potatoes and being a roadie for his wife's musical career with the "Our Memories" group. Robert was a member of Almelund Threshing Association in Almelund, Minn., and was a former stock car racer (#55) in Paynesville. Grateful for having shared Robert's life are his wife, Elynor; son, Charles (Judy) Rud of Woodbury, Minn., daughter, Betty (Merle) Cropp of Darwin, Minn; grandchildren, Benjamin Rud and Rachel Rud, both of Woodbury; and great-grandchild, Sophia Rud of Woodbury. He was preceded in death by his parents; brother, Paul; and sisters, Adeline Lang and Beverly Schultz. He will be greatly missed by all. Carlsen Funeral Home and Crematory of Aberdeen has been entrusted with arrangements: www.carlsenfh.com.


Jessica Leagjeld, 42, Sauk Centre


Jessica M. (Groetsch) Leagjeld, 42, of Sauk Centre, passed away peacefully on Friday, Nov. 8, 2019 at her home after a five year battle with cancer. A Mass of Christian Burial was held on Tuesday, Nov. 12, at St. Paul's Catholic Church in Sauk Centre with Rev. Greg Paffel officiating. Interment was in the parish cemetery. Jessica Mary Groetsch was born Jan. 18, 1977, in Sauk Centre, Minn., to Kenneth and Florence (Bertram) Groetsch. She graduated from Sauk Centre High School in 1995 and went on to Brainerd Community College where she received her associate degree as a dental assistant. Jessica worked at Main Street Dental for roughly 20 years. She married Brock Leagjeld on Sept. 21, 2002, at St. Paul's Catholic Church in Sauk Centre. Jessica was a member of St. Paul's Catholic Church in Sauk Centre. She enjoyed scrapbooking, baking, canning, gardening, antiquing, shopping, and decorating. Jessica loved to cook and entertain family and friends and to travel to learn about history and plantations. Survivors include her husband, Brock Leagjeld of Sauk Centre; children, Brooke and Landon Leagjeld of Sauk Centre; parents, Kenneth and Florence Groetsch of Sauk Centre; brothers, Jonathan (Michelle) Groetsch and their children, Justin, Katelyn, Bradley, Amber, and Hunter; Jamey (Shannon) Groetsch and their children, Clayton, Logan, and Jack; Joel (Crystal) Groetsch and their children, Blake and Hayden; and Joshua (Stacy) Groetsch and their children, Lexi and Ellijah, all of Sauk Centre; father- and mother-in-law, David and Carol Leagjeld of Sauk Centre; sister-in-law, Beth (Alexander) Oelkers and their children, Carina and Daria of Monticello; and brother-in-law, Neal (Rhonda) Leagjeld and their children, Garrett, Gavin, and Piper of Sauk Centre. Jessica was preceded in death by her grandparents, Leander and Erma Groetsch and Leo and Serah Bertram; uncle, Willy Bertram; and cousin, Roger Bertram. Serving as casket bearers were Kathy Marthaler, Stacey Otte, Tammy Douvier, Amy Winter, Brenda Nathe, and Mindy Schmitt. Cross bearer was Jack Groetsch, and scripture bearer was Logan Groetsch. Gift bearers were Hayden Groetsch, Devyn Triebenbach, and Blake Groetsch. Readers were Katelyn Groetsch and Bob Klick. Eucharistic Ministers were Mary Jo Klick, Betty Dockendorf, and Rosie Winter. Mass servers were Justin Groetsch, Bradly Groetsch, and Amber Groetsch. In lieu of flowers, memorials are preferred. Arrangements were made by Patton-Schad Funeral and Cremation Services of Sauk Centre.


Rhonda Williams, 64, Prior Lake


Rhonda Kathleen (Benson) Williams, 64, died unexpectedly on Friday, Nov. 1, 2019, at Fairview Southdale Hospital. A Celebration of Life service will be held at 2 p.m. on Friday, Nov. 8, at the Cremation Society of Minnesota at 7110 France Avenue South, Edina, Minn. Visitation will be held one hour prior, and fellowship from 3-5 p.m. Rhonda was born on Dec. 24, 1954, in Huron, S.D., to Russell and Annette Benson. They moved to Paynesville, Minn., in 1964. Growing up, she was a cheerleader and enjoyed working in her parents' dress shop, Annette's. She graduated from Paynesville High School and attended St. Cloud State University. Always a free spirit, she drove a red jeep and ventured to the mountains of Colorado, where she worked at a ski shop. Later on, she worked at JB Hudson Jewelers and also ran her own jewelry company. She met Ken Williams at the Minneapolis Apparel Market, and they married in August 1994, and made their home in Prior Lake. Here, they welcomed their daughter, Elizabeth. Rhonda knew everything about flowers, and her lush gardens showed it. She had a knack for aesthetics, from gardening and landscaping, to assembling chic outfits for Elle. She had an undeniably strong and beautiful connection with her daughter. Rhonda was the ultimate life coach and confidant. They enjoyed walks around Lake of the Isles, kayaking the Chain of Lakes, sharing Thai meals, watching Dancing with the Stars and The Voice (you get the picture), and travels to New York City and abroad. They even spent three adventurous weeks last year traveling Europe together. Rhonda's greatest gift was her selfless care for others. She dedicated her life as a caregiver - for her aging parents, for her family, and for her elderly ladies and private clients. She had a special gift of brightening everyone's day with her theatrics, grand sense of humor, and patience. She and Ken also brought much laughter and joy to their extended family through their witty banter and wonderful sense of humor. She was extraordinary and will be greatly missed. She is survived by her husband, Ken; her daughter, Elizabeth; brother, Douglas Benson; sister, Lorrie (Kevin) Torbenson; mother-in-law, Barbara Williams; sister-in-law, Melinda Nevins; nieces and nephews Kristi (Ryan) Freeman, Gina Benson, Rusdon Torbenson, Matthew Torbenson, Gabrielle Nevins, and Noah Nevins; and her grandnieces and grandnephews. She was preceded in death by her brother Richard; and her parents, Russell and Annette. Memorials may be made to St. Jude Children's Research Hospital or to the organization of the donor's choice.


Sandy Hemmesch, 73, Paynesville


Mass of Christian Burial celebrating the life of Sandra Ann "Sandy" Hemmesch, 73, of Paynesville will be held at 10:30 a.m. on Thursday, Nov. 7, 2019, at St. Louis Catholic Church in Paynesville. Sandy passed away unexpectedly at home on Sunday, Nov. 3, 2019. Burial will be in the parish cemetery. Visitation will be from 4 to 8 p.m. on Wednesday, Nov. 6, at the Daniel-Anderson Funeral Home in Paynesville and after 9:30 a.m. on Thursday, Nov. 7, at the church. Sandy was born on July 13, 1946, in Belgrade, Minn., to Joseph and Rose (Weimerskirch) Schoenberg. She married Robert B. Hemmesch on May 14, 1966, at St. Michael's Catholic Church in Spring Hill. Together they farmed and raised six children north of Paynesville. Sandy was a member of St. Louis Parish, Christian Women, and the Daughters of Isabella. Sandy loved playing with her grandchildren, spending time with family, playing cards, and making you laugh until you cried. She will be remembered for her strong faith, love of family, and infectious giggle. Sandy is survived by her husband of 53 years, Bob; children, Steve (Robin) of Rogers, Roger (Lisa) of Paynesville, Rita (Kent) Kopp of Alexandria, Lois (Rod) Gertken of Richmond, Linda (Scott) Hoeft of Paynesville, and Scot (Stephanie) of Delano; 21 grandchildren; three great-grandchildren; and siblings, Joan (Al) Patton, Chuck (Sharon) Schoenberg, Tom (Patty) Schoenberg, Dick (Marilyn) Schoenberg, Bill (Jan) Schoenberg, Mary (Pete) Budner, Mona (Doug) Ritter, and Nick Schoenberg; in-laws, Jeanette (Bob) Lieser, Ron Hemmesch, Henrietta Hemmesch, and Jarrett (Mary) Hemmesch; and many nieces, nephews, and friends. She was preceded in death by her parents; parents-in-law; and four grandchildren. Memorials are preferred in lieu of flowers.


Bobby Jean Anderson, 29, Kimball


Funeral services will be held at 1 p.m. on Thursday, Nov. 7, 2019, at the Church of God in Eden Valley for Bobby Jean Anderson, 29, of Kimball, who passed away on Thursday, Oct. 31, at Loesch Supported Living in Kimball, surrounded by her loving family. Pastor Anne Fischhaber will officiate, and burial will be at Paynesville Cemetery in Paynesville. Friends and relatives may visit from 4 to 8 p.m. on Wednesday, Nov. 6, 2019, at Williams Dingmann Family Funeral Home in Eden Valley and also one hour prior to services at the Church of God in Eden Valley on Thursday. There will be a prayer service on Wednesday evening, Nov. 6, at 8 p.m. at the funeral home. Bobby Jean was born on Oct. 13, 1990, in St. Cloud to James and Cindy (Lehnen) Anderson. She has lived in Kimball for the past 14 years, prior to that Paynesville for 12 years, and in St. Cloud for two years. She attended Paynesville schools and St. Cloud Apollo High School. Bobby Jean worked at Independent Center, Inc., in Waite Park. Throughout her lifetime, she acquired strength, perseverance, and the ability to overcome many obstacles and challenges. With that strength and ability, she surprised many doctors and proved the expected outcomes wrong. She truly touched many lives and left a lasting impression on everyone she met. Bobby Jean loved fishing, hunting, camping, the cabin up north, watching movies, and visiting with family and friends. When she spent time in the hospital, her most cherished memory was her cousin Susan visiting her. Left behind to remember Bobby Jean are her parents, James of Paynesville, Cindy (Paul Coulter) Lehnen of Hawick; caregivers, Dan (Barb) Waldorf of Watkins and Mike (Vickie) Loesch of Kimball; several aunts and uncles, great aunts and uncles, and cousins and extended family members. Bobby Jean is soaring now with her grandparents; great-grandparents; and many extended relatives. Thank you for all of the condolences and well wishes together. We are very blessed to have so much love and support. Thank you, family, friends, and caregivers. Obituary and guestbook available online at: www.williamsdingmann.com.


Dale Borchard, 88, Paynesville


Dale W. Borchard, 88, of Paynesville passed peacefully to the Lord on Sunday, Oct. 20, 2019, surrounded by his family at Paynesville Hospital, after losing a battle with pneumonia. A memorial service will be held at 2 p.m. on Sunday, Nov. 3, 2019, at Paynesville Lutheran Church in Paynesville.  A visitation will be held one hour prior to the service at the church. Services are entrusted to Johnson Funeral Home in Paynesville: www.hafh.org. Dale William Borchard was born on April 1, 1931, to Eva and Charles Borchard in Aberdeen, S.D. After attending country school for a couple of years, the family moved to Redfield, S.D., where Dale graduated high school. His college days at SDSU were interrupted by the Korean War, where he served two years. He finished his degree at SDSU and met his wife, Evelyn Addy, to whom he was married for 62 years. Dale served as church treasurer and on the board of the Lutheran Church Missouri Synod for many years. He started and ran Dakota Hatchery and Mill with his father in Redfield, S.D., and after retiring moved to Paynesville, Minn. Dale was an avid fan of sports and loved golfing, fishing, and playing cards with friends and family. He was a devoted husband and father who cherished the time he spent with his family, especially his grandchildren.  Dale is survived by his wife, Evy; children:  Greg (Kathy) Borchard, Connie (Paul) Osborne, and Dave (Sue) Borchard; eight grandchildren; and eight great-grandchildren. His last words were: "I'm ready to meet Jesus and be with mom and dad."  He will be missed.