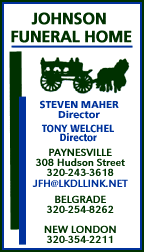 October 2016
September 2016
August 2016
July 2016
June 2016
May 2016
April 2016
March 2016
February 2016
January 2016
December 2015
November 2015
October 2015
September 2015
August 2015
July 2015
June 2015
May 2015
April 2015
March 2015
February 2015
January 2015
December 2014
November 2014
October 2014

LaVern Pickle, 86, Paynesville
LaVern M. "Curly" Pickle, 86, of Paynesville and formerly of Atwater, died Monday, Nov. 21, at CentraCare Hospital in Paynesville. Funeral services were held at 10 a.m. on Saturday, Nov. 26, at Bethlehem Lutheran Church in Atwater. Interment was at the church cemetery. Military honors were provided by the Willmar American Legion Post #545. LaVern was born Aug. 5, 1930 in Spicer. He was the son of Joseph and Ruby (Holmgren) Pickle. He grew up in the Atwater area. He was baptized and confirmed in the Lutheran faith and graduated from Atwater High School in 1948. He enlisted in the United States Air Force on Dec. 29, 1948, and served in the Philippines and Korea. On Dec. 30, 1951 LaVern was united in marriage to Estella Anna Duis. They made their home in the Atwater community. LaVern worked for DeRuyter Brothers Construction as a heavy equipment operator and mechanic. He went on to work for Johnson Brothers Construction as a mechanic, and then for Holm Brothers of Atwater. After retirement, LaVern worked part time at the Koronis Hills Golf Course in Paynesville. LaVern enjoyed fishing, gardening, and working at the Paynesville senior dining where he ran the dish washer. He was an active member of Bethlehem Lutheran Church in Atwater. He is survived by his wife, Estelle of Paynesville; five children: Steven (Brenda) Pickle of Pelican Rapids, Jean (Ron) Redig of Waterloo, Iowa, Robert (Kathy) Pickle of Atwater, Jane Pickle of Willmar, and Joani (Todd) McNamara of Cedar Falls, Iowa; 23 grandchildren, and 23 great-grandchildren. Also surviving are three sisters: Dorothy (Ed) Bremer of Eden Prairie, Alice Alseth of Atwater, and Leone Holmes of Plymouth, besides other relatives and friends. He was preceded in death by his parents, Joe and Ruby Pickle, and two brothers-in-law, Robert Holmes and Les Alseth.

Genevieve (Larson) Hemmesch, 92, Litchfield
Genevieve (Larson) Hemmesch passed away peacefully, with family at her side, on Tuesday, Nov. 15, 2016 at Bethany Memory Care in Litchfield. Mass of Christian Burial was held on Tuesday, Nov. 22 at the Church of St. Philip in Litchfield. Burial took place in the St. Philip Parish Cemetery in Litchfield. Genevieve was born Oct. 5, 1924 in Waite Park to John J. and Elizabeth (Ertl) Wimmer. She married Lewis H. Larson on Oct. 11, 1945 at the Church of St. Philip. They farmed west of Litchfield where they raised their six children. Lewis died in 1967. She married Joseph Hemmesch in 1968, and they farmed near Lake Henry. She enjoyed traveling to warm states and baking, but she will be most remembered for her hard work ethic. She was a member of the Lake Henry American Legion 612 Auxiliary. Genevieve is survived by her children Earl (Patricia) Larson of Cold Spring, George J. Larson of Atwater, Ron (Penny) Larson of Litchfield, Dianne (Mike) Halterman of Grove City, Doreen (DeWayne) Horn of St. Cloud, and Wayne (Dianna Ertl) Larson of Watkins; 22 grandchildren, 41 great-grandchildren, and one great-great-grandson. She is also survived by her siblings Hildegarde Ornberg, John Wimmer Jr., and Val Schmidt. Preceding Genevieve in death were her parents; husbands Lewis and Joe; grandson Jerry Larson; and siblings Isabel Anglin, Donald Wimmer, Clem Wimmer, Delores Asfeld, infant brother Ralph Wimmer, and daughters-in-law Rose (Kidrowski) Larson and Joyce (Bauer) Larson. The family would like to thank the staff at Bethany Memory Care in Litchfield.

Betty Lou Johnson, 90, Darwin
Betty Lou Johnson, 90, of Darwin passed away Monday, Nov. 14, 2016 at her home in Darwin. Funeral services were held Monday, Nov. 21 at Zion Lutheran Church in Litchfield with interment in All Saints Lutheran Cemetery in Darwin. Pastor Joe Midthun officiated. Honorary bearers were Rachael Larson, Krysta Roemeling, and Abbey Voecks. Casket bearers were Richard Johnson, Bob Johnson, Josh Johnson, Chad Johnson, Jeb Johnson, Max Johnson, Zac Johnson, and Bryce Johnson. Betty Lou Johnson was born on April 5, 1926 in Rothsay, Minn. She was the daughter of Leonard and Gladys (Lunder) Olson. Betty was baptized as an infant on May 16, 1926, and she was later confirmed in her faith as a youth on May 5, 1940, both at Grace Lutheran Church in Ada, Minn. She received her education in Ada, and was a graduate of the Ada High School, class of 1944. Betty furthered her education by attending Concordia College in Moorhead, where she received a Bachelor's Degree in Education in 1948. Betty taught school for one year. On June 12, 1949 Betty was united in marriage to Neil Johnson at Grace Lutheran Church in Ada. This marriage was blessed with four children: Thomas, Mark, Michael, and Michele. Betty and Neil resided in Darwin most of their married life. They shared 43 years of marriage, until Neil passed away in 1992. Betty was a loving homemaker and mother. She was a charter member (one of the original founders) of All Saints Lutheran Church in Darwin, where she was very active and volunteered for many committees over the years. She was also a member of the Order of the Eastern Star, the PEO Sisterhood, the Hospital Auxiliary in Dassel and Darwin, Darwin Community Club, and the Darwin Town and Country Club. Betty enjoyed golfing with Neil and their friends. She loved working in her yard and spending time at the family cottage on Lake Stella. Betty was very proud of Darwin and loved the Darwin Community. Through the decades, Neil and Betty were very instrumental in the development of Darwin. She very much enjoyed attending the various community events. She was an avid sports fan of all the Minnesota teams, plus she loved UND hockey. She cherished the time she spent with her children, grandchildren, and great-grandchildren. Blessed be her memory. Betty is survived by her children: Thomas (Sue) Johnson of Winthrop, Mark (Cynthia) Johnson of Darwin, Michael (Mitzi) Johnson of Litchfield, Michele Voecks of Paynesville; 11 grandchildren, 12 great -grandchildren; sister, Arlene Lundblad and her husband, Jerry of Roseville, Calif.; brother-in-law, Harold Childs of Alaska; nieces and nephews, many other relatives, and friends. Betty is preceded in death by her parents, Leonard and Gladys Olson; husband, Neil Johnson; and sister-in-law, Levia Childs.

Archie Magnuson, 85, Atwater
Archie V. Magnuson, 85, of Atwater, died Monday, Oct. 31, 2016 at the Belgrade Nursing Home. A memorial service was held on Saturday, Nov. 5, 2016 at Johnson Funeral Home in New London. Archie Virgil Magnuson was born on Jan. 7, 1931 in Litchfield. He was the son of Oscar and Jenny (Christ) Magnuson. He grew up in rural Atwater and received his education in Atwater. After his schooling, Archie served in the United States Military On Feb. 16, 1956, Archie was united in marriage to Joyce Nehring. This union was blessed with two sons. The family made their home in rural Atwater, where Archie owned a dairy farm. Archie was a member of the New London American Legion Post #537. He enjoyed fishing, gardening, cooking, and dancing. He is survived by his wife, Joyce; sons: Randy of Atwater and James of New London; his sister, Fern Fredrick of Arkansas, and nieces and nephews. Archie was preceded in death by his parents and siblings: Richard Magnuson, Irene Anfinson, and Jane Magnuson.


Lester Fuchs, 97, Paynesville
Lester W. Fuchs, 97, of Paynesville, passed away peacefully on Saturday Nov. 12, 2016 at the St. Cloud Hospital. A Mass of Christian Burial will be held at 10:30 a.m. on Wednesday, Nov. 16, 2016 at St. Louis Catholic Church in Paynesville. Reverend Glenn Krystosek will officiate. Entombment will take place in the St. Louis Parish Mausoleum. Relatives and friends may call one hour prior to services on Wednesday at St. Louis Catholic Church in Paynesville. Lester was born Sept. 1, 1919 in Lake Henry to John B. and Barbara (Wuertz) Fuchs. He married Irene Wessel on Sept. 2, 1946 at St. Mary's Catholic Church in Melrose. They farmed in the Lake Henry area until 1977 when they retired to Paynesville. He enjoyed Lake Henry Baseball, fishing, and helping his son on the farm. He was a member of St. Louis Catholic Church, St. Louis Knights of Columbus Council 3820, and St. Joseph's Men's Society in Lake Henry. Lester is survived by his children; Beverly (Patrick) Athmann of Hanover, Barbara (Ken E.) Lieser of Spring Hill, John (special friend Janell Watkins) of Lake Henry, and Mary Ann Spanier of Lake Henry; 15 grandchildren, 31 great-grandchildren; and sister-in-law Alvina Woeste of Melrose. Preceding Lester in death were his parents; wife Irene (2001); granddaughter Amy Lieser; daughter-in-law Darlene Fuchs; son-in-law Dan Spanier; brother Leander; sister Lauretta Gully; and infant brother Jerome.


Cyril DeMars, 65, Greer, S.C.
Cyril DeMars passed away at his home in the arms of his loving wife on Nov. 9, 2016, after a long battle against cancer. Cyril Gary DeMars was born on March 10, 1951 in Elk River, MN, to Gerald and Florence (Zachman) DeMars. He grew up in Montrose and graduated from Buffalo High School with the class of 1969. Cyril always enjoyed working with his hands and spent most of his life working in machine shops. He also enjoyed landscaping and creating beautiful gardens. Cyril spent his younger years with his family and raised four amazing children. He lived in Delano for many years. On Aug. 19, 2006, he was united in marriage to Sheri Friedrich McCorquodale in Paynesville. They moved to Taylors, S.C. in 2010. Cyril retired in 2012 and was able to spend time focusing on his favorite passions; gardening, hiking, and spending time with his family and friends. Sheri and Cyril relocated to Greer, S.C. in 2013. A memorial service will be planned for next spring in Paynesville.


Return to Top • Return to Paynesville Area