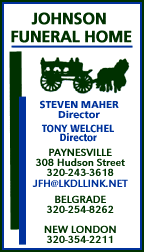 April 2018 March 2018 February 2018 January 2018 December 2017
November 2017
October 2017
September 2017
August 2017
July 2017
June 2017
May 2017
April 2017
March 2017
February 2017

Ruth Hoskins, 91, Paynesville
A memorial service will be held at 11 a.m. on Saturday, June 2, 2018, at the Eden Valley Church of God for Ruth I. Hoskins, 91, of Paynesville, formerly of Eden Valley. Ruth passed away on Monday, April 15, 2018, at the Koronis Manor in Paynesville. Burial will take place in the Eden Lake Cemetery in Eden Valley. Visitation will be one hour prior to services at the church on Saturday, June 2. A luncheon will follow immediately after services. Ruth was born Nov. 11, 1926, in Lawrence, Kan., to Howard and Eva (Lamb) Hallmark. Early in her life she moved to Minnesota. She married Richard L. Hoskins on May 20, 1948, at the Little Brown Church of Nashua, Iowa. She was baptized at the Eden Valley Church of God by Reverend Walter Wiggins on June 12, 1949, and she has been active member of the church ever since. She will be remembered for her strong faith and love of her church. She loved music, both listening and singing, even while working. She also loved to garden both vegetable and flowers. She enjoyed playing cards with friends and being around her family. She was especially proud of her children and grandchildren. Ruth is survived by her children Samuel (Cathy Ann) Collins of Mims, Fla., Alan Hoskins of Hopkins, Kathy (Harlan) Schoenherr of Paynesville; six grandchildren Kathy Lynn Reusch, Kevin (Holly) Schoenherr, Rhonda (Jim) Ford, Wesley (Laura) Schoenherr, Melissa (Stefan) Hamilton, and Mike (Jenny) Hoskins; 16 great grandchildren; and one great great grandson. Preceding her in death were her parents, husband Richard, grandson Jeffery Hoskins, sister Janet Hallmark, and brother Daniel Hallmark.


Pat Saulsbury, 76, Spicer


Byron "Pat" Saulsbury, 76, of Spicer died unexpectedly on Friday, May 18, 2018, at his home. His memorial service will be held at 11 a.m. on Friday, May 25, at Hope Presbyterian Church in Spicer. Visitation will be 5-8 p.m. on Thursday at the church and for one hour prior to the service. Burial will be in the Spicer City Cemetery. Arrangements are with the Johnson Funeral Home in New London. Byron Patrick Saulsbury was born on Sept. 10, 1941, in Willmar, the son of Guy and Gladys (Sluka) Saulsbury. He grew up in Spicer, where he attended elementary, and Willmar High School, graduating in 1959. He continued his education at St. Cloud State University. On Dec. 28, 1961, he entered the United States Air Force, where he served his country during the Vietnam era. He was honorably discharged on Dec. 27, 1965, and returned home. On June 12, 1966, Pat was united in marriage to Janet Schroeder in Miller, S.D. They made their home in Spicer, where he worked with his dad, buying and selling antiques throughout the United States, Canada, and Europe until 1981. He then worked as regional agriculture fertilizer sales rep until his retirement in 2005. Pat was an active member of Hope Presbyterian Church. where he served as an elder and on numerous committees. He was a member of the Masons and Shriners. He enjoyed dancing, hunting, fishing, golfing, playing cards, boating, reading, and spending time with family. He is survived by his wife of 51 years, Jan; daughter, Kristine (Paul) Danielson; grandchildren, Alyssa, Heidi and Drew; and sister-in-law, Sandy Saulsbury Pat was preceded in death by his son, Guy; parents; and brother, James.


Gloria Ringstad, 94, Paynesville


Gloria W. Ringstad, 94, of Paynesville died on Thursday, May 10, 2018, at Koronis Manor in Paynesville. Her funeral service was held on Monday, May 14, at Paynesville Lutheran Church. Burial was in the Paynesville Cemetery. A visitation was held on Sunday, May 13. Gloria Winogene Ringstad was born on April 5, 1924, in Willmar, Minn., the daughter of Carl and Alma (Nelson) Young. She received her elementary school education in Chokio, Minn. Her family later moved to Paynesville where she attended high school and graduated from Paynesville High School with the Class of 1941. After high school, Gloria attended the Minnesota School of Business in Minneapolis and earned her degree as an executive secretary. She then went to work for the Northwestern Insurance company before becoming a secretary for the Sister Kenny Institute. On Oct. 28, 1950, Gloria was united in marriage to Donald Ringstad at Grace Methodist Church in Paynesville. A daughter and a son were born to this union, and the family made their home in Brooklyn Center. In 1967, they moved to Paynesville where Gloria began working as the secretary for Paynesville Lutheran Church. She later began working for the Paynesville Middle School as an executive secretary. In 1979, Don passed away. They shared in 28 years of marriage before his death. Gloria continued to work at the middle school until her retirement in 1988. Gloria was a very active member of Paynesville Lutheran Church. She started many new traditions there including the "Cookie Corner" at the annual bazar, starting the Senior Shepherds fellowship group, and as a charter member of the Befrienders. She also was a member of the WELCA and choir. Gloria was also a volunteer at the R.O.S.E. Center in Paynesville, where she was a former board member, and a 50-year member of the Order of the Easter Star. Gloria loved music, was an avid card player, and enjoyed traveling with friends. Her family was central in her life, and she cherished all the time she spent with her granddaughter, Sara. She is survived by her son, Reed (Jane) Ringstad of Paynesville; and granddaughter, Sara (Zach) Zschernitz of Columbia Heights. She was preceded in death by her parents; husband, Don; and infant daughter, Kristen. In lieu of flowers, memorials are preferred.


Elizabeth Olson, 83, Cannon Falls


F. Elizabeth "Liz" Olson, 83, of Cannon Falls, died on Tuesday morning, May 8, 2018 at Cox South Medical Center in Spring-field, Mo. Visitation was from 5 to 8 p.m. on Tuesday, May 15, at Celebration Church (16655 Kenyon Avenue in Lakeville, Minn). The funeral service will be held at 1:30 pm on Thursday, May 17, at Celebration Church, with a visitation from 12:30 p.m. until the time of the service. Following lunch, interment will be in Lakeside Cemetery in Randolph Township. Liz was born on Sept. 26, 1934, in Forest City, Iowa, the daughter of Walter and Frances (Jacobson) Carson. She grew up there and graduated from Forest City High School in 1952. She then attended Waldorf College and entered nursing school at Lutheran Deaconess Hospital in Minneapolis, graduating as a registered nurse (RN) in 1956. Liz worked for Lutheran Deaconess and the hospitals in Litchfield and Paynesville during her career. In March 1957, Liz met James "Jim" Olson and the two began dating later that year. On June 21, 1958, Liz and Jim were united in marriage in Forest City, Iowa, at Immanuel Lutheran Church. She and Jim volunteered for the last 20 years, working on church camps and helping build churches. She would paint, or do other odd jobs, alongside of her husband. Liz loved to travel, to read, enjoyed attending concerts, taking long daily walks, and most especially treasured time spent with her family. Christmas was a very special holiday for her. Survivors include her husband Jim; daughter Susan (Aaron) Topp; son Thomas (Debbie) Olson; grandchildren Alexys Topp and Dylan Olson; and her brother Philip (Darlene) Carson. Liz was preceded in death by her parents Frances and Walter Carson; and by her sister Ruth Perry. Condolences are welcome at www.lundbergfuneral.com.


Jerry Wegener, 82, Richmond


Jairus (Jerry) H. Wegener, 82, of North Port, Fla., and Richmond, Minn., (summer home) passed away unexpectedly on Tuesday, April 17, 2018. A celebration of life will be held on Saturday, May 12, 2018, at 11 a.m. at Grace United Methodist Church (500 Business 23 West, Paynesville). Jerry was born on July 13, 1935, in Claire City, S.D. to Harry and Hazel (Skjelstad) Wegener. He graduated high school in Sisseton, S.D., on May 29, 1953. He served in the United States Army from 1958 and was honorably discharged in 1964. He worked for the Soo Line Railroad and lived in Coon Rapids, Minn., until he retired in 1997. Jerry was an amazing husband, father, grandfather, and friend. He especially loved dancing with LuAnn, and of course we all know his favorite dance was the "Chicken Dance." Jerry had a joyful and energetic spirit, a zest for life like no other. He is survived by his wife of 55 years, LuAnn (Liestman); sister, Ardamae Loberg; brother-in-law, Butch (Carol) Liestman; children, Dara and Lee Wegener; son-in-law, Pat Sprague and daughter-in-law, Jill Wegener (Schwinghammer); grandchildren, Emilee Velander, Madilyne, Gunder, and Leighton Wegener. He is preceded in death by his daughter Jo Marie (Sprague) and his parents Harry and Hazel. Jerry's absence will be deeply felt by all his family and friends. "Do not strive to make your presence noticed; just make your absence felt." ~ Anonymous


Jerry Blonigen, 81, St. Stephen


Gerald  P.  "Jerry" Blonigen, 81, of St. Stephen, Minn., died on Saturday, April 28, after a long illness in Mother of Mercy nursing home, Albany.   A Mass of Christian Burial was held on Friday, May 4. Jerry was born Oct. 17, 1936, in Zion Township to Herman and Lena (Fuchs) Blonigen.   He married Dianne Brix on Sept. 4, 1965, in the St. Joseph Catholic Church, in St. Joseph, Minn. The couple farmed northeast of Paynesville, before moving to the family farm in St. Martin, where he was a cash crop farmer for over 26 years. In 1995, they moved to St. Stephen. He worked in the collections department at Fingerhut until 2003.   Jerry was active in the National Farmers Organization (NFO), which he served in several positions from county president to the national board of directors. He served for ten years on the Advisory Council of the Institute of Agriculture, Forestry, and Home Economics at the University of Minnesota.  He wrote opinion articles for the St. Cloud Times and was a frequent guest on a WCCO radio program.   In the 1980s, he appeared on "Country Day," an agricultural television program. Jerry played in the Harmony Knights family band, the St. Martin Band, and the Merry Makers polka band. He sang in the St. Martin Parish Choir and briefly in the Cold Spring Area Maennerchor.   In 2015, he wrote the book, The Demise of the Family Farm and Its Consequences.   Jerry was a member of the St. Stephen Catholic Church. Jerry is survived by his wife, Dianne Blonigen, St. Stephen; his son, Darrin (Nicole) Blonigen, St. Martin; his grandchildren, Aaron, Mercedes, Riley and Indy; great-grandchildren, Logan and Noah; siblings Victor (Delores) Blonigen, Waite Park; Celia (Keith) Bentler, Eagan; Jeanette Clancy, Avon; Evie Guggisberg, Morris, sister-in-law, Viola Blonigen, St. Cloud; and brother-in-law, LeRoy Loehlein, Roseville. He is preceded in death by his parents; brothers, Adelbert Blonigen and Father Al Blonigen, CMM; sister, Alverna Loehlein; and brother-in-law, Steve Guggisberg.


'Wally' Emerson, 86, Mesa, Ariz.


Waldo 'Wally' Emerson, 86, of Mesa, Ariz. formerly of New Brighton, Minn., passed away on Monday, Jan. 1, 2018. A Celebration of Life will be held on Thursday, May 10, at 10 a.m., at Fort Snelling Chapel in Minneapolis. Visitation will be held for a half hour prior. A luncheon will follow at Atonement Lutheran Church of Bloomington. A private interment will also take place. Wally was born in St. Paul, Minn., but spent most of his childhood on a farm in Paynesville, Minn. He was a Navy Veteran, and worked at Unisys. Wally is survived by his brother, Douglas Emerson (Linda); children, Judy (Tom) Unstad, and Steve Emerson; step-children: Bryan (Tracy) Hanson, Karen (Bruce) Schiemo, and Susan (Todd) Bol; 10 grandchildren; and four great-grandchildren. He was preceded in death by his beloved wife, Myrna; parents, Ed and Jean Emerson; and brother, Wendell (Corky) Emerson. In lieu of flowers, memorials preferred.


Frank Gruber, 97, Lake Henry


Frank J. Gruber, 97, of Lake Henry passed away on Friday, April 27, 2018, at the Koronis Manor in Paynesville surrounded by his family. Mass of Christian Burial will be held at 11 a.m. on Wednesday, May 2, at St. Margaret's Catholic Church in Lake Henry. Reverend Glenn Krystosek will officiate. Burial will take place at the parish cemetery. Visitation will be from 4 until 8 p.m. on Tuesday, May 1, at the Daniel-Anderson Funeral Home in Paynesville and after 9 a.m. on Wednesday at the church. Knights of Columbus Council #3820 and St. Joseph Men's Society will pray a rosary at 4 p.m. on Tuesday at the funeral home. Frank was born on Oct. 26, 1920, in Lake Henry, Minn., to John and Marie (Meyer) Gruber. He married Helen R. Weigel on Sept. 21, 1954, at St. John the Baptist Catholic Church in Marshfield, Wis. The couple farmed near Lake Henry from 1954 until they retired and moved to town in 1982. Frank served on the Lake Henry City Council for ten years. He was a member of St. Margaret's Parish, Knights of Columbus Council #3820, St. Joseph Men's Society, and a life member of the Stearns County Pioneer Club. Frank is survived by his children, Ken (Renee) of Sauk Centre, Theresa (Mark) Herding of Paynesville, Judy (Andrew) Heinen of Melrose and Susan (James) Schueler of Raymond; 16 grandchildren; and 19 great grandchildren. He was preceded in death by his parents; wife, Helen (on Dec. 22, 2012), grandson, Aaron Schueler; brothers, Michael, Leonard, and James "Jake"; sisters, Marie Leyendecker, Lauretta Gruber, and Celestine "Sally" Rousslang.


Daryl Larson, 65, Paynesville


Daryl Dwight Larson, 65, of Paynesville, died on Tuesday, April 24, 2018, at his home in Paynesville. A memorial service was held on Monday, April 30, at Paynesville Lutheran Church. Daryl was born on Sept. 29, 1952, in Willmar, Minn. He was the son of Raymond and Darlene (Pigman) Larson. He grew up on his family's farm in rural Belgrade, where he was baptized and confirmed at Grace Lutheran Church. Daryl attended Belgrade Elementary School and graduated from Belgrade High School with the Class of 1970. After high school, Daryl went on to the University of Minnesota where he earned his doctorate degree in veterinary science. After Daryl's graduation from college, he moved to Canada where he worked as a veterinarian in the poultry and swine industry. He later moved to Iowa where he owned multiple hog confinements. In 2000 he moved back to the farm in rural Belgrade, and then into Paynesville in 2001. Daryl was active in FFA and 4H in high school, and was a member of the Farmhouse Fraternity and student government in college. He enjoyed gardening and working on small engines. He is survived by his mother, Darlene of Paynesville; brothers, Larry (Ann) Larson of St. Cloud and Steven (Susan) Larson of Madison, Wis.; and nieces and nephews: Hallie, Joanna, Trent, and Nathan Larson. Daryl was preceded in death by his father, Raymond in 2010. Services are entrusted to Johnson Funeral Home in Paynesville.

Obituary Archives

Return to Top • Return to Paynesville Area