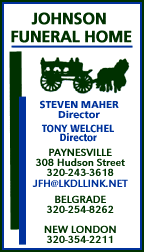 April 2017
March 2017
February 2017
January 2017
December 2016
November 2016
October 2016
September 2016
August 2016
July 2016
June 2016
May 2016
April 2016
March 2016
February 2016
January 2016
December 2015
November 2015
October 2015
September 2015
August 2015
July 2015
June 2015
May 2015
April 2015
March 2015
February 2015
January 2015
December 2014
November 2014
October 2014

font size=4 COLOR="BLACK" face="helvetica, arial, sans serif">Donald Bjork, 77, Spicer
Donald Eugene Bjork, 77, of Spicer, died on Thursday, May 25, 2017, at GlenOaks Care Center. Funeral services will be held at 1 p.m. on Wednesday, May 31, at Peace Lutheran Church in New London. Burial will be in Roseville Cemetery in Hawick. Donald Bjork was born on Dec. 2, 1939, in Renville, to Vernon and Esther (Reek) Bjork. He grew up in the Renville and Olivia area and attended school in Olivia. After his schooling, he worked odd jobs throughout the area. On June 4, 1964, Don was united in marriage to Deloris Westphal in Watertown, S.D. They made their home in the Hawick area, where they managed turkey farms. They retired in 2003 and moved to Grove City. Don and Deloris were able to share 40 years of marriage before her death on Dec. 22, 2004. Don enjoyed auctions, junk yards, spending time with his friends at Rohner's Auto Parts, working on old vehicles, and joking around with family and friends. He is survived by his children: Mike (Renee) Bjork of Brooten, Lana Bjork of Hawick, Lee Bjork of Willmar, Jerry (Tracy) Bjork of New London, and D'Lynn (Mike) Pickle of Atwater; Deloris' son, Robert Westphal of Paynesville; step-mother, Elda Bjork of Redwood Falls; 21 grandchildren; 17 great-grandchildren; siblings, Shirley (Larry) Lofgren and Bill Bjork; and step-sisters, Margaret Taylor and Mavis (Gary) Hardenburgh. He was preceded in death by his wife, Deloris; parents; and brother, Bob.


font size=4 COLOR="BLACK" face="helvetica, arial, sans serif">Kathryn Frandson, 70, Paynesville


Kathryn Ann Frandson, 70, of Paynesville, died on Saturday, May 20, 2017, at the Paynesville Area Hospital. Mass of Christian Burial was on Tuesday, May 23, at St. Louis Catholic Church in Paynesville. Burial was in Fairview Cemetery in Kelliher. Kathryn was born to the late Francis and Elrene Mullan on March 3, 1947. She graduated from Elbow Lake High School. She earned her bachelor's degree in English from Bemidji State University and later went on to earn her master's degree in English from St. Cloud State. Great teachers are great awakeners, and teaching English to junior high students at Rocori, Kathryn awakened in many not just an appreciation for literature, but she led students to see the value in themselves, and what was worth celebrating of their own character, ever encouraging and ever supporting them. In this way, Henry Adams believed that a teacher affects eternity, and you can never tell where their influence stops. She would employ that same compassion and affection for people later in life, while working with customers at the drugstore she owned with her husband John. What brought Kathryn immense joy was spending time with friends and family. Whether at the farm, at the cabin, or around the kitchen island, you'd find her quick to smile and laugh. Those who spent time in her company undoubtedly enjoyed how easy she was to talk to and to tease, though she had no trouble serving the sass right back or serving up the most comforting meal you've ever had (often in thanks to Paula Dean-sized amounts of butter or heavy whipping cream – which infamously led to her creation of signature peach creme). Inspiring of her character, was the way she never let her paralysis of 37 years keep her from doing the things she loved, whether that be spending time on the golf course with Mary and John, playing with the kids, or hours in her garden making Mary do the heavy weeding. She had a weakness for Dooneys, cashmere sweater sets, and Knowing perfume. Her nieces and nephews remember fondly sitting on her lap and getting free rides in the wheelchair, much like her bombay cat Penny would enjoy, as she'd balance her body on the back headrest. A woman of diversified tastes, you could walk into the house and be met with the TV blaring either an old black and white on TMC, Keeping up with the Kardashians, or Fox News. Later in her life it became routine for her to wake up and celebrate the mass on EWTN and find some time throughout the day to pray the rosary and take comfort and delight in listening to Mother Angelica who once said, "Sometimes my worst day – one filled with pain and suffering – in the eyes of God is my best day, if I've born it cheerfully and I've borne it with love." While she will be deeply missed, those who knew her will always be inspired by and able to celebrate her life as a living testimony to Mother's message of great hope, resilience, and love. Kathryn will long be remembered for her strength and unwavering faith. Kathryn is survived by daughter Mary Elizabeth Elrene (Megan McTeague) of St. Paul; brother and sister in-laws, Bob and Barb Mullan of Bagley, and Mike and Wanna Mullan of Coalinga, Calif.; sister Mary (Jim) Lundin of Kelliher, Minn.; brother-in-law Jim Frandson of Fargo, N.D.; nieces and nephews, Kara (Trevor) Schneeberger, Justin (Christine) Lundin, Kelly Mullan (Tyler Scouton), Erin (Josh) Lowe, Luke (Ashley) Lundin, Mark (Sam) Lundin, Curt (Aliza) Lundin, Marisa (Matt) Hemstad, Patrick Mullan, Tim (Alissa) Mullan, Jeremy (Marni) Frandson, JJ (Sara) Frandson, and Mike (Malinda) Frandson; and her many beloved great nieces and great nephews.


font size=4 COLOR="BLACK" face="helvetica, arial, sans serif">Jerome Nohner, 86, Watkins


Jerome "Jerry" Leo Nohner, 86, of Watkins, passed away on Saturday, May 20, 2017, at the St. Cloud Hospital. Mass of Christian Burial will be at 11 a.m. on Wednesday, May 24, at St. Anthony Catholic Church in Watkins. Fr. Aaron Nett will officiate. Visitation will be from 9 to 11 a.m. on Wednesday at the church. Casket bearers will be Dylan Nohner, Jake Cox, Amanda Lindseth, Corey Winter, Brent Theis, Natan Nohner, Caleb Sieben, and Brent Nohner. Interment will be in the St. Anthony Catholic Cemetery in Watkins. Jerome was born on Jan. 24, 1931, in Forest Prairie Township in Meeker County. He was the son of Ludwig Louis and Mary (Bauer) Nohner. On April 19, 1952, he was united in marriage to Kathleen Quast at St. Anthony Catholic Church in Watkins. Jerry was employed at the Watkins Creamery and Cold Spring Granite. He was a member of St. Anthony Catholic Church, and his hobbies included woodworking. Jerry is survived by his wife, Kathleen Nohner of Watkins; children and their spouses: Richard (Kim) Nohner of Rochester, Michael (Denise) Nohner of Eden Valley, Linda (Steve) Cox of Osceola, Wis., Joanne (Layne) Karg of Litchfield, Margie (Jack) Winter of Paynesville, Mary (Terry) Theis of Hutchinson, John (Carol) Nohner of Becker, and Shelly (Randy) Sieben of Ramsey; 20 grandchildren; 13 great-grandchildren; and sisters, Mary Christopher of Eden Valley and Adeline Fink of St. Cloud. He was preceded in death by his parents; great-granddaughter, Mirabelle Philippi; and siblings: Elmer, Catherine, Esther, Genevieve, Lawrence, and Adrian. Arrangements are entrusted to Ertl Funeral in Watkins.


font size=4 COLOR="BLACK" face="helvetica, arial, sans serif">Daniel Eblen, 80, Belgrade


Daniel Ronald Eblen, 80, of Belgrade, died after a lengthy battle with cancer on Thursday, May 11, 2017, surrounded by his family at his home in rural Belgrade. A memorial service was held on Monday, May 15, at Johnson Funeral Home in Paynesville. Burial will be at Summit Cemetery in Morris at a later date. Daniel Eblen was born on Feb. 27, 1937, in Hoffman Township, near Hancock, Minn., to Leo and Mary (Rasmussen) Eblen. He grew up on the family farm, where he attended a small country school. After graduating from the eighth-grade, Daniel stayed at home and helped his family with the farm. On Aug. 24, 1960, Daniel was united in marriage to Rhea Rasmussen, in Hoffman, Minn. This union was blessed with two daughters and three sons. Daniel worked at various dairies until 1968, when the family moved to their current farm. Daniel retired from milking at the age of 71; however, he continued to farm the land and raise horses. Daniel loved farming. He especially loved raising horses and going to farm and horse auctions. Daniel looked forward to his family coming for visits, which was every weekend. His pride and joy was his grandchildren and great-grandchildren. He glowed every time he was around them. He is survived by his wife of 56 years, Rhea; children: David (Cathy) of Hutchinson, Alan (Cheryl) of Belgrade, Peggy (Mark) Meacham of Goodhue, Deb (Kevin) Johnson of Minneota, and Jim of Cold Spring; 14 grandchildren; and six great-grandchildren. He is also survived by his siblings: John (Marie) Eblen of Morris, Margaret Eblen of Hoffman, Dorothy (Marvin) Pillish of Roselle, Ill., Gene (Eunice) Eblen of Barret, and Gracie Lewis of Alexandria. Daniel was preceded in death by his parents, three brothers, and one sister.


Lorraine Doris Olean, 83, a longtime resident of Rochester, Minn., died on Monday May 8, 2017, at Samaritan Bethany Home. She lived at Samaritan for 16 years and developed very dear relationships with many in the Samaritan family. She was a talented lady who loved to craft. She spent many hours of her days crafting until her hands wouldn't allow it anymore. Lorraine was born in Paynesville on Nov. 10, 1933, to Seymour and Mabel Thompson. She married Harold Olean on Sept. 22, 1956, in Paynesville. They eventually moved to Rochester to raise their three children. She is survived by her son David (Joann) Olean of Rochester, daughter Mary (Steve) Roensch of Grafton, Wis., granddaughter Annelle Roensch, grandson Nicolai Roensch, brother Lloyd "Bud" (Judy) Thompson, and many dear nieces and nephews. She was preceded in death by her husband Harold Olean, son Timothy Olean, parents Seymour and Mabel, and sister Dolores Thompson. Services were held on Saturday, May 13, at Samaritan Bethany on Eighth. Burial was at Grandview Memorial Gardens. To share a special memory or condolence, please visit www.ranfranzandvinefh.com.


Lindsay Keith Hull passed away peacefully in Paynesville on Sunday, Jan. 22, 2017, at the age of 78. Lindsay was born on July 5, 1938, in Jamestown, N.D. He was the third son of Lawrence and Myrtle Hull. As a toddler, Lindsay (nicknamed Tip) and his family moved to Valley City, N.D. In Valley City, he attended public schools and joined the Epworth Methodist Church. In high school, he became active in choir and drama. As a senior, he was selected for the National Honor Society. He graduated from Valley City Teacher's College in 1960. Throughout Lindsay's life, he enjoyed an appreciation and love for organ and choir music. It was through music that Lindsay learned to express himself. After teaching in several small towns in North Dakota, Lindsay came to Paynesville in 1969 when the new high school opened. During that time, he served as the high school librarian. He directed several musicals, such as South Pacific and Brigadoon and assisted with others. He also taught a few classes. He retired from the high school in 1999. His love of music continued, and he was active in the Minnesota Center Chorale and the Directors, two well-known choral groups in West Central Minnesota. He was also the choir director of Grace United Methodist Choir for many years. During his retirement, Lindsay continued to serve the community. He became active with the R.O.S.E. Center and was the board chairman for 11 years. Lindsay also delivered 'Meals on Wheels,' was a volunteer driver, and was a recipient of the outstanding volunteer award in 2005. Lindsay was witty, humorous, and kind. He will be remembered by those who loved him and missed by those whose lives he touched throughout his career and volunteer work. A celebration of life will be held at Grace United Methodist Church on Saturday, May 20, at 11 a.m., with refreshments to follow. A private burial will be in Valley City, N.D.


font size=4 COLOR="BLACK" face="helvetica, arial, sans serif">Danny Doan, 70, Grove City


Danny Doan, 70, of Grove City, died on Thursday, May 4, 2017, at Bethesda Grand in Willmar. Funeral services were held on Sunday, May 7, at the Johnson Funeral Home in Paynesville. Danny Ray Doan was born on July 10, 1946, in El Dorado, Kan., to Melvin and Maxine (Miller) Doan. He grew up in El Dorado. He attended grade school in Silverton and went to Augusta High School. After his schooling, he served his country in the U.S. Navy. On Feb. 16, 1991, Danny was united in marriage to Ruby Miller in Hutchinson, Kan. They made their home in Kansas, Arizona, and Missouri, where he worked mainly in tire sales before moving to rural Grove City in 2007. Danny enjoyed camping, spending time with family, fishing, animals, and Elvis. He is survived by his wife of 26 years, Ruby; sister, Susie Doan of Huston, Texas; brother, Wayne (Cindy) Doan of Charlotte, N.C., and a niece, Alexa. He was preceded in death by his parents and brother, Craig.



Return to Top • Return to Paynesville Area