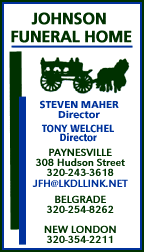 March 2020
February 2020
January 2020
December 2019
November 2019
October 2019
September 2019
August 2019
July 2019
June 2019
May 2019
April 2019
March 2019
February 2019
January 2019
December 2018
November 2018
October 2018
September 2018
August 2018
July 2018
June 2018
May 2018
April 2018
March 2018
February 2018
January 2018
December 2017
November 2017
October 2017
September 2017
August 2017
July 2017
June 2017
May 2017
April 2017
March 2017
February 2017

Ralph Fuchs, 87, Paynesville
A Mass of Christian Burial was held on Tuesday, March 17, 2020, at St. Louis Catholic Church in Paynesville for Ralph John Fuchs, 87, of Paynesville. He died on Friday, March 13, 2020, at the CentraCare Health - Paynesville Care Center Reverend Glenn Kyrstosek was the celebrant. Burial was in St. Louis Parish Cemetery, Paynesville. Due to the current public health concerns with the worldwide outbreak of the coronavirus COVID-19, the family understands if you felt uneasy attending Ralph's service. Ralph was born on Oct. 15, 1932, on a farm near Regal, Minn., the son of Leander and Margaret (Lieser) Fuchs. He grew up on the family farm and attended country school at Regal. He enlisted into the U.S. Army in 1954. While in the military he served overseas in Germany with the 265th Gunnery Battalion. After his honorable discharge in 1956, he returned to Minnesota, living in Minneapolis and working as a driver for metro bus. On May 10, 1958, he was united in marriage to Rosalie Koger at Holy Rosary Catholic Church in Minneapolis, Minn. After their marriage they moved to their farm near Roscoe. They lived and farmed there for 35 years. In 1993, they moved into Paynesville, and this has been their home since that time. Ralph enjoyed farming, hunting, fishing, playing cards, and most importantly spending time with family and friends. He was known for his sense of humor and overall love of life. He was a member of St. Louis Catholic Church, Paynesville American Legion Post #271, and the St. Joseph's Society of Roscoe. In addition to his parents, and son Mike, he was preceded in death by his brothers Harold and Kenneth, and one sister Margie. He is survived by his wife of 61 years, Rosalie of Paynesville; two daughters, Nancy (Steven) Hoppe of Hackensack, Minn., and Diane (James) Buckentine of Clear Lake, Minn., and one son John (Tanyele) Fuchs of St. Cloud, Minn.; eight grandchildren and five great-grandchildren; two brothers, Alvin (Vonnie) Fuchs and Jim (Kathy) Fuchs, both of Spring Hill, Minn.; one sister Jeanette (Orville) Spanier of Farming, Minn.; and other relatives and many friends.


Doris Miller, 95, Annandale


Doris E. Miller, 95, of Annandale died on Friday, Feb. 28, 2020 at the St. Cloud Hospital. A Mass of Christian Burial will held at 10:30 a.m. on Monday, March 9, 2020, at St. Ignatius Catholic Church in Annandale with Father Andrew Stueve as the celebrant. Burial will follow at Woodlawn Cemetery in Annandale. Visitation will be held from 3-6 p.m. on Sunday, March 8, at Dingmann Funeral Care Chapel in Annandale with a prayer service at 6 p.m. Visitation will continue at 9:30 a.m. on Monday, March 9, at the church. The casket bearers will be Gary, Mark, David, Bradley, Jonathan, Mason, and Nathan Miller. The St. Ignatius Music Ministry will provide the music for the service. Doris Eleanor Miller was born Dec. 21, 1924, in Regal, Minn., to Herbert "Harry" and Marie (Causin) Weidner. She grew up in Regal and graduated from Paynesville High School at the age of 16. She moved to Minneapolis to attend business college. On Sept. 26, 1942, Doris was united in marriage to Leo Bernard Miller at St. Olaf Catholic Church in Minneapolis. Lee lost his leg in World War II, and Doris moved to Ogden, Utah, to assist in his recovery. They lived in Elgin, Ill., where Doris worked for Nabisco in order to support them while Lee went to Watch Maker's College. They moved to St. Cloud for a short time before moving to Annandale in 1950. They purchased Miller's Jewelry in Annandale; Doris was the company bookkeeper, in addition to assisting customers and Lee. Doris was a member of St. Ignatius Catholic Church. She was active in the church as a CCD teacher, CCW member, and as a leader of the Devine Mercy Chapel and the Holy Rosary. She was also active with the Annandale Improvement Club and the Annandale art scene. She was an artist who loved to paint in oils and in later years in watercolor. Doris was an avid reader, often finishing two or three books a week. She enjoyed gardening and holding babies. There are few people in this world that have recorded more "bleacher time" than Doris, as she was not one to miss one of her family member's sporting events. She cherished her family, and she will be greatly missed. Doris is survived by her children, Sharon of Annandale; Linda (Jeff) Schultz of Shawville, Quebec; Gary (Kim) of Annandale; Mark (Laurel) of Annandale; David (Karla Lanie) of Annandale; Bradley (Lisa) of Annandale; and Jonathan (Laura) of Big Lake; daughter-in-law, Mary Jane; 27 grandchildren; 8 great-grandchildren; sister, Alyce (James) Drimel of Sun City, Ariz.; and sisters-in-law, Edna and Donna Weidner. She was preceded in death by her husband, Lee; son, Jeffrey; two grandsons; sisters, Lorraine "Toody" Graziano and Lucille "Celie" Yunker; and brothers, Larry "Bud" Weidner and James "Bim" Weidner; and infant brother, Arlan Weidner. Arrangements are entrusted to Dingmann Funeral Care, Burial, and Cremation Services of Annandale.Obituary, guestbook, and video tribute online at www.dingmannfuneral.com.