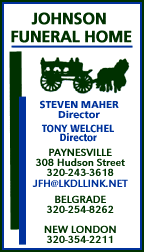 Vance Simonson, 90, Spicer
A funeral service celebrating the life of Vance B. Simonson, 90, of Spicer will be held at 1 p.m. on Friday, March 22, 2019, at Nordland Lutheran Church in rural Paynesville. Vance passed away peacefully on Sunday, March 17, at the Koronis Manor in Paynesville. Burial will be in Nordland Cemetery. Visitation will begin at 12 noon on Friday, March 22, at the church. Vance was born on April 2, 1928, in Irving Township, Kandiyohi County, to Olaf and Mabel (Sjolie) Simonson. He attended country school less than a mile away through eighth grade and then Atwater High School. In his early years, Vance worked for a farmer in Redwood Falls and also drove milk truck for the New London Creamery. Together with his brother, Lowell, Vance farmed in Spicer until his retirement in 2007. He married Carol Lundebrek on Sept. 10, 1982, in Watertown, S.D., and together they raised their son, Randall. Vance was a member of Nord-land Lutheran Church, where he was baptized and confirmed in 1941. He was also a member of National Farmers Organization and later the Farmers Union. Vance enjoyed tinkering with his tractors and machinery, fishing at Calhoun Lake during his youth, dancing, watching the Three Stooges and the singing cowboys during the 1930s and 1940s. He will be remembered as a proud "John Deere Man." loving husband, caring father, and for his love of "peppy" music. He is survived by his wife of 36 years, Carol; son, Randall, of Spicer; brother-in-law, Curtis Johnson of Sunburg; six nieces; six nephews; and many friends. He was preceded in death by his parents; brother, Lowell; and three sisters, Viola Gertgen, Julie Johnson, and Delores Johnson. Arrangements are with the Daniel-Anderson Funeral Home, Paynesville. Memorials are preferred.


Lisa Hiltner, 46, Paynesville


Lisa Marie Finn Douglas Hiltner, 46, of Paynesville, passed away on Thursday, March 7, 2019 at her home in Paynesville. Her celebration of life will be held at 2 p.m. on Saturday, March 23, followed by a gathering of friends and family until 4 p.m. at the Johnson Funeral Home in Paynesville. Lisa Marie was born to George Finn and Kathryn Johnson on July 15, 1972, in Fosston, Minn. At the age of three, she moved to Larimore, N.D., and resided there until 2012. During this time, she raised her five children and worked as a CNA in rural Larimore. In 2012, she met Gene Hiltner and moved to Paynesville. On May 21, 2016, Lisa was united in marriage to Gene Hiltner in New London, Minn. They shared almost three years of marriage before her passing. Lisa was a happy and bubbly woman. She loved spending time with her children and especially her grandchildren. Her family was her world, and she definitely made sure the world knew that. She also took pride in her gardening; it was her work of art. Lisa was a very selfless woman; she always made sure everyone else's needs came before her needs. She is survived by her parents, George Finn of Grand Forks, N.D., and Kathy Johnson (Perry Bjerke) of McVille, N.D.; and her five children: Trent Douglas (Danielle) of Larimore, N.D., Scott (Megan) Douglas of Mandan, N.D., Michael Finn (Julia) of Paynesville, Arica Schroder (Colt) of Mekinock, N.D., and Brandon Douglas of Paynesville. She is also survived by her grandchildren: Logan Douglas, Liam Douglas, Byron Douglas, Daisy, Carson, and Rylee; and by her husband, Gene Hiltner. Lisa was preceded in death by her grandparents and several aunts and uncles.


Florence Thompson, 90, Paynesville


Florence L. Thompson, 90, of Paynesville died on Saturday, March 2, 2019, at the St. Cloud Hospital in St. Cloud. Her memorial service will be held at 11 a.m. on Saturday, March 9, at Paynes-ville Lutheran Church. Burial will be at a later date. A visitation will be held on Friday, March 8, from 5-8 p.m. at Johnson Funeral Home in Paynesville and continue one hour prior to the service on Saturday at the church. Florence Luella Thompson was born Oct. 13, 1928, in Irving Township, the daughter of Casper and Louise (Mickelson) Olson. She grew up on the family farm where she attended District #66 Country School. Florence then went on to graduate from New London High School. In 1947, Florence was united in marriage to Alton (Tip) Thompson. This union was blessed with a daughter and two sons. The family made their home in New London, Paynesville, and Portland, Ore., before settling back down in Paynesville in 1975. Florence was one of the first employees hired at Fleet Supply in Paynesville. She worked there until her retirement in 1993. After Florence retired, she did daycare for her grandchildren, whom she adored. In 1988, Tip died, they shared 41 years together. Florence was a member of Paynesville Lutheran Church and the Paynesville American Legion Auxiliary. She enjoyed playing cards and board games, embroidering, counted cross-stich, traveling, watching sports, especially the Twins, and family holidays and get-togethers. Florence is survived by her children: Marlene (Allen) Theel of Paynesville, Ronald (Marcy Dingmann) Thompson of Paynesville, and Gary (Karen Mumm) Thompson of Paynesville; grandchildren: Julie, Pamela, Roger, Jeffery, Kayte, Trista, Dustin, Abby, and Lucas; 10 great grandchildren; and one great-great grandchild; brother, Harlow Olson of Hawick; and many nieces and nephews. Florence was preceded in death by her parents; husband, Tip; and siblings: Lucille, Violet, Arnie, Orlean, and Pearl.


--
Obituary Archives

Return to Top &#149 Return to Paynesville Area