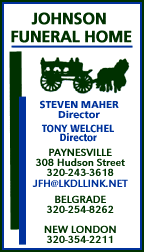 May 2018 April 2018 March 2018 February 2018 January 2018 December 2017
November 2017
October 2017
September 2017
August 2017
July 2017
June 2017
May 2017
April 2017
March 2017
February 2017

Alice Younkin, 90, Paynesville
Alice Caroline Younkin, 90, of Paynesville, died on Thursday, June 14, 2018, at Koronis Manor Care Center, Paynesville. Mass of Christian Burial celebrating the life of Alice, will be at 11 a.m. on Wednesday, June 20, at St. Louis Catholic Church in Paynesville. Private interment will be at St. Louis Catholic Church Cemetery in Paynesville at a later date.Visitation will be at the church for two hours prior to the service on Wednesday. Alice Caroline, the daughter of Claude and Rose (Lenz) Hess, was born on Oct. 6, 1927, in Lake Henry. She married Herbert Younkin on Feb. 9, 1948, at St. Louis Catholic Church in Paynesville He preceded her in death on June 21, 2012. She was formerly employed by Paynesville schools (food service), Koronis Hills Golf Course, and Frank's Cafe (waitress). Alice loved to play golf and played until she was 88 years old. She also loved to play cards – especially bridge. She loved to travel and see the country with her sisters and friends. Alice quilted, embroidered, and crocheted anything and everything. She enjoyed being around people, loved music, and dancing. Alice could cook, bake, and can most anything. She was very proud of her grandkids and treasured spending time with them and watching them grow up. She is survived by five children: Sharon (Michael) Mackedanz of Paynesville, Bruce (Kathy) Younkin of Paynesville, Jef (Melinda) Younkin of Paynesville, Tim (Deb) of Paynesville, and Leah (Chuck) Budde of Faribault; 11 grandchildren; 17 great-grandchildren; siblings: Delores (Herman) Kampsen of Elrosa, Allan (Lucy) Hess of Cold Spring, Joan Johnson of Pequot Lakes, and Dan (Joyce) Hess of St. Anna; sister-in-law, Micki Hess of Plymouth; nieces; nephews; and other relatives and friends. She was preceded in death by husband, Herbert; son and daughter-in-law, Scott and Jeanne (Beutz) Younkin; infant grandson, baby boy Younkin; parents; siblings: Jeanette (Vic) Ramler, Floyd (Elaine), Luverne, and infant brother, LeRoy Hess; and one brother-in-law, Ron Johnson. Arrangements are being completed by the Boldt Funeral Home in Faribault.


Michael Gabrielson, 69


Michael George Gabrielson, 69, of Sauk Rapids, died on Friday, June 15, 2018, at his home surrounded by his loving family. A funeral service will be held at 11 a.m. on Thursday, June 21, at Newman Center in St. Cloud, Minn. Visitation will be one hour before the service at Newman Center. Mike chose to donate his body to the University of Minnesota, continuing to teach future students. Michael was born on Sept. 29, 1948, in Litchfield, Minn. to George and Norma (Kohls) Gabrielson. He graduated from Litchfield High School in 1966. He then attended St. Cloud State University. While in school, Mike was drafted and served during the Vietnam War, where he was stationed in Germany and worked in Intelligence. He returned after two years and graduated from St. Cloud State University with a bachelor of science degree in biology and chemistry. He later went back to receive a master of science in biology. Mike taught various science courses in the St. Cloud area for over 32 years, retiring in 2007. He was known by his students as "Gabe" and had an ability to connect with students and foster a love of learning that inspired generations. In addition to teaching, he had a passion for music and the outdoors. He played in the band "Ten Penny" for many years with some of his best friends. His passion for the outdoors was contagious. He brought family, friends, and many groups of students up to the Boundary Waters on countless trips, where he was able to share his appreciation of nature. Another passion for Mike was automobiles– many friends and relatives will miss calling him for car advice. After retirement, Mike worked with St. Cloud State University and the Science Express, where he continued to share his love of science with children and engaged students in innovative hands-on science labs all over the area. The most important thing in Mike's life was his family. Throughout his battle with cancer, his number one concern was making sure his family would be okay upon his departure. Mike was a caretaker to all. Mike is survived by his wife, Julie; children: Chris (Sarah), Ryan, Holly, and Jon; grandchildren: Hannah, Sophia, Michael, Zack, and Tyler; brother, Jim; sisters, Julie (Bill) Ledford, and Lori; parents, George and Norma; sister-in-laws: Pam (Terry) Elfering, Patti (Michael) George, Paula (Roland) Karjahlati, Mary Kosak, Meg Underwood (Linda Lowery), and Jenni (Joe) Armitage; brother-in-laws: Bob (Becky) Underwood, and Bill (Chris Everett) Underwood; and many nieces, nephews, great-nieces and great-nephews. He is preceded in death by his maternal grandparents, Emil and Ester Kohls; paternal grandparents, Carl and Florence Gabrielson; and brother-in-law, Jim Kosak. The family wishes to extend their deepest gratitude to the staff at the VA oncology department and CentraCare hospice team for their professional and personal service extended to Mike in his time of need. Memorials are preferred. Arrangements have been entrusted to Williams Dingmann Funeral Home in St. Cloud.


LaDonna Tollakson, 76


LaDonna Joyce Tollakson, 76, of Norwood Young America, passed away on Thursday June 14, 2018, at her residence surrounded by her family. A memorial service will be held at 11 a.m. on Friday, June 22, at Church Of Peace (424 Franklin Street North) in Norwood Young America. Reverend Robert Haskins and Reverend Dale Inman will officiate. Serving as urn bearers are the grandchildren. A gathering of family and friends will take place at the church from 4 to 7 p.m. on Thursday, June 21, and on Friday one hour prior to the service. Interment will be in Mau Memorial Cemetery in Norwood Young America. LaDonna (Pries) Tollakson was born on March 28, 1942, in Canby. She was the daughter of John and Lyda (Larson) Pries. She was baptized and confirmed at Our Saviors Lutheran Church in Canby. LaDonna was a graduate of Canby High School. On September 2, 1961, LaDonna was united in marriage with Allen Tollakson at Our Saviors Lutheran Church in Canby. This union was blessed with two children. LaDonna and Allen lived in Madison and Canby prior to moving to Norwood in 1962. LaDonna had worked at Ridgeview Medical Center in Waconia, the White Elephant, and Citizens State Bank in Norwood, prior to her two children being born. She loved the opportunity to be able to stay at home with her children. LaDonna had a passion for animals and began a dog grooming business in her home which she operated for nearly 30 years. She was known to spoil her clients with ribbons, painted nails, special treats, and lots of love. LaDonna enjoyed plants and flowers, traveling, yearly vacations, and spending time at the lake with family and friends. The Tollaksons had a lake home in Paynesville which they made their home from 2004 to 2016. LaDonna always looked forward to cruising the lake on the pontoon, especially with Allen as captain, and friends and family as guests. For many years LaDonna and Allen spent their winters in Mission, Texas. LaDonna will be remembered for her meticulous house, always having jewelry on and her nails done, and her loving caring way with everyone. LaDonna is preceded in death by her parents, John and Lyda Pries; brothers and sister-in-law, Harlan and Anni Pries, and Wendell Pries; father-in-law and mother-in-law, Gerald and Bertha Tollakson; brothers-in-law and sister-in-law: Dale Tollakson, Gary Tollakson, Stan and Penny Tollakson, Sonny Tollakson, Gayland Tollakson, and Dennis Tollakson. LaDonna is survived by her loving family: husband, Allen Tollakson of Norwood Young America; daughter and son-in-law, Sherry and Darwin Quaas of Norwood Young America; son, Steven Tollakson of Hastings; grandchildren: Laura (Dennis) Clark, Ashley (Joseph) Casey, Cassie Tollakson, Kayla Tollakson, and Nick Tollakson; great-grandchildren, Braydyn Clark and Kynley Clark; brother, Donald Pries; brothers-in-law and sisters-in-law: Marlene and Stan Larson, Gerry and Barb Tollakson, Carole and Chuck Fernholz, LaRayne and Paul Roisum, Donna and Gordy Koepp, Dorothy Tollakson, and Sharon Tollakson; nieces; nephews; and other relatives and many friends. In lieu of flowers memorials are preferred. Arrangements with the Johnson Funeral Home in Waconia.


Cheryl Colbert, 69, Paynesville


Cheryl L. Colbert, 69, died peacefully surrounded by her family on Sunday, June 10, 2018, after a courageous battle with cancer, at the St. Cloud Hospital. Her funeral service was held on Friday, June 15, at Paynesville Lutheran Church. Cheryl was born on Jan. 15, 1949, in Bismarck, North Dakota, to Archie and June Gamble. Early in her childhood they moved to Saint Louis Park, Minn. Post-college, she began her teaching career in Paynesville. She subsequently had a teaching assignment in Mainz, Germany, where she met her husband, Roy. They married on July 26, 1976, in Oklahoma City, Okla., and began their lifelong journey together in Paynesville. Cheryl retired after 42 years of teaching in 2012. It was no secret that Cheryl and Roy loved each other deeply and shared their love with others throughout their lifetime. They were blessed with three daughters: Crystal, Kimberlee, and Courtney. Cheryl applied her gifts of music and love of education as a teacher in the Paynesville Area School System, and as a choir director, pianist, and organist at Paynesville Lutheran Church. Cheryl did all things through unconditional love, solid character, and her strong presence. She was a faith-filled example, encouraging people to thrive and live the lives they were meant to live. She was passionate about national and international travel and food, and was enthusiastic when sharing her adventures with others. The joy of children was reflected throughout her life in her years of teaching and directing children's choir and Christmas plays at church. Her most recent enjoyment of children was spending precious time with her grandchildren, who loved her laughter, cooking, acceptance, and encouragement. She is preceded in death by her parents, Archie and June Gamble. She is survived by her loving husband, Roy of Paynesville; three daughters: Crystal (Ron) Brown of Minneapolis, Kimberlee (Sonkarlay) Vaye of Lathrop, Calif., and Courtney Colbert of Sauk Rapids ; seven grandchildren – the loves of her life: Ronnie Brown, Lynnea Brown, Georgia Brown, Kora Brown, Yocarra Brown, Amani Vaye and Adrian Vaye; brothers, Dane (Margaret) Gamble and Gregg (Susan) Gamble; sisters, Marla Gamble and Gail Dix; nieces; nephews; grandnephews; and many more loving relatives and friends. "What a beautiful difference one life can make."


Evelyn Berscheid, 90, Cold Spring


Evelyn O. Berscheid, 90, of Cold Spring and formerly of Paynesville, passed away peacefully on Saturday, June 9, 2018, at Quiet Oaks Hospice House in St. Augusta. Mass of Christian Burial will be held at 11 a.m. on Wednesday, June 13, at St. Louis Catholic Church in Paynesville. Reverend Glenn Krystosek will officiate. Burial will take place in St. Louis Parish Cemetery. Visitation will be from 4 to 8 p.m. on Tuesday, June 12, and after 10 a.m. on Wednesday, June 13, at St. Louis Catholic Church in Paynesville. Evelyn was born on Sept. 18, 1927, in Sauk Rapids, Minn., to Joseph Jr. and Ottilia (Loidolt) Vouk. She graduated from Cathedral High School in St. Cloud and furthered her education in the cadet nursing program at St. Cloud Hospital School of Nursing, earning her registered nurse degree. Evelyn was very proud of her RN degree. She worked as an RN at several medical facilities throughout her career, with the St. Cloud VA being her favorite place of employment. She married Herbert Berscheid on Oct. 4, 1950, at Sacred Heart Catholic Church in Sauk Rapids. They lived in St. Cloud for four years and then moved to the farm which they purchased west of Paynesville. They remained on the farm until Herbert's death in 2011. Evelyn then moved to Assumption Court in Cold Spring and lived there the remainder of her life. She was a devout Catholic and was a member of St. Louis Parish for over 60 years. She was also active with the Daughters of Isabella, St. Louis Christian Women, and the church choir. Evelyn loved to read, garden, play the organ, sing in the church choir, shop for bargains, and participate in the many activities at Assumption Court. She is survived by her children: Gary (Jan) of St. Louis Park, Rick (Kathy) of Delano, Mary Berscheid of San Antonio, Texas, Linda Carr of Clearwater, Deby (Lee) Chapin of Litchfield, Dave (Sue) of Denver, Colo., Joe (Sue) of Fergus Falls, Herb Jr. (Kim) of Maple Grove, and Ron (Kim) of Arden Hills; 14 grandchildren; 15 great-grandchildren; sister, Shirley (Jim) Waibel of Kimball; and close friend, Eugene Stauber. Evelyn was preceded in death by her parents; husband, Herbert (2011); and two sisters, Angie Neil and Laverne Smith. A special thank you to Quiet Oaks Hospice House for their loving and professional care.


Arthur Liestman, 91, Paynesville


Arthur J. "Skinny" Liestman, 91, of Paynesville, passed away peacefully on Wednesday, May 30, 2018, at Washburne Court with his family at his side. A Mass of Christian Burial was held at 11 a.m. on Monday, June 4, at St. Louis Catholic Church in Paynesville. Reverend Glenn Krystosek officiated. Burial was in the Ebenezer Cemetery near Paynesville with full military honors. Skinny was born Feb. 8, 1927, in Paynesville to Ben and Hattie (Zirbus) Liestman. He served in the U.S. Navy during World War II for "two years, three months, and 11 days." He married Patricia Fuecker on June 16, 1956, at St. Boniface Catholic Church in Cold Spring. He worked at the Louis Blacksmith Shop in Paynesville for many years. He went on to work for MnDOT for 25 years and retired in 1988. He was a member of Knights of Columbus Council 3820, Paynesville American Legion Post #271, and St. Louis Catholic Church. Skinny will be remembered for his enjoyment of the outdoors – hunting, fishing, and trapping most of his life. He also enjoyed gardening. His flower beds were his pride and joy, and they would often lead to "a nap." He loved to spend time with his grandchildren and would come up with a nickname to tease them. Skinny is survived by his wife Patricia of Paynesville; children Ann (Jeff) Miller of Paynesville, Kathy (Gary) Monnens of China, Arlene (Scott) Peterson of Beaverton, Ore., Carol (Doug) Scheierl of Sauk Centre, Bob (Sabrina) Liestman of Paynesville, and Mary Kay Liestman of Waite Park; 10 grandchildren; 15 great-grandchildren; and sisters Donna Warner of Paynesville and Joanne Wicklund of Spicer. Preceding Skinny in death were his parents; son Jim; twin brother Arnie; brothers David and Bernie; and sisters Evangeline Gunderson, Virginia Cossairt, and Lila Westman. A special thank you to Heartland Hospice and the staff at Washburne Court for the care Skinny received.


Stella Boldt, 85, Bloomington


Stella Mae Boldt, 85, of Bloomington, Minn., died peacefully on Friday, March 30, 2018. She was a PHS Class of 1950 graduated. She is survived by husband, LeRoy Boldt; children, Judy (Mark) Stieber, Mike (Julie) Boldt, Dennis (Denise) Boldt, Alan (Twin) Boldt, and Robert (Peggy) Boldt; 11 grandchildren; 7 great-grandchildren; sister, Marlys Ayotte; and other relatives and friends.


--
Obituary Archives

Return to Top • Return to Paynesville Area