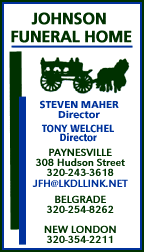 May 2009
April 2009
March 2009
February 2009
January 2009
December 2008
November 2008
October 2008
September 2008
August 2008
July 2008
June 2008
Marius Paulson, 93, Paynesville
Marius Paulson, 93, of Paynesville died on Friday, June 19, at the Koronis Manor in Paynesville.

Funeral services were held on Wednesday, June 24, at Zion Irving Lutheran Church in rural Paynesville. A private burial was in the Eleanor Foster Cemetery near Isle, Minn.

Marius was born on March 21, 1916, in Madelia, Minn., to Paul and Edith (Grochow) Paulson.

He married Betty Anderson. Their union lasted until her death in 1962.

He married Mildred Nelson on June 4, 1966. She died on March 30, 1999.

He farmed in the Paynesville area most of his life. He retired from farming in 1973 and went on to work at Willmar Poultry until 1996.

Marius is survived by his daughter, Marlys (Harvey) Lindeman of Blaine; step children, Roger Nelson of Clearwater, DeWayne (Karen) Nelson of Wyoming, Minn., and Darlene (Math) Miller of Paynesville; one granddaughter; 10 step-grandchildren; 15 step-great-grandchildren; sister, Doris Lammers of Redwood Falls, Minn.; and several nieces and nephews.

He was preceded in death by his parents; spouses; sister, Gladys Quisberg; and brothers, Guy, Harold, and Raymond Paulson.

Return to Top • Return to Paynesville Area