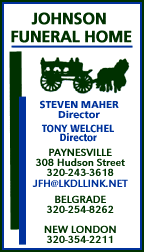 June 2018 May 2018 April 2018 March 2018 February 2018 January 2018 December 2017
November 2017
October 2017
September 2017
August 2017
July 2017
June 2017
May 2017
April 2017
March 2017
February 2017

Dorothy Kandels, 84, Minneapolis
Dorothy Ann Kandels, 84, of Minneapolis, passed away on Thursday, July 19, 2018. A funeral service will be held at 11 a.m. on Monday, July 30, at Dare's Funeral Home (805 Main Street, Elk River). Visitation will be held one hour before the service. Interment will be at Minnesota State Veterans Cemetery in Little Falls. She was a Christ-centered mother who loved her family, her church, and cooking and entertaining for those she loved. She is preceded in death by her husband, Alois; brother, Teunis; and her parents. Dorothy is survived by her children, Sheryl Kandels, and Reverend Robert (Kelly); grandson, John; sister, Martha Fatland; and other family and friends. In lieu of flowers, memorials in Dorothy's name may be directed to Heartland Hospice (320-654-1136).


Maxwell O'Neil, 5, Roscoe


Maxwell Patrick O'Neil, 5, of Roscoe, died on Wednesday, July 18, 2018, due to complications with his heart transplant at the University of Minnesota Masonic Children's Hospital. Amemorial service will be held at 1 p.m. on Saturday, July 28, at the Roscoe Community Park Baseball Field. Everyone is encouraged to wear baseball game attire. In lieu of flowers, memorials are preferred. Maxwell was born a heart warrior on Feb. 21, 2013, in Minneapolis, Minn. He was the son of Timothy O'Neil Jr. and Lori Rohrbeck. The family made their home in Roscoe, where Max attended preschool at ROCORI. Max enjoyed watching bull riding and eating doughnuts, but he loved baseball. He was the Minnesota Twins' biggest fan, and extremely proud to be the bat boy for his home town Roscoe Rangers. He is survived by his parents, Tim O'Neil Jr. and Lori Rohrbeck, of Roscoe; siblings, Zack and Ellie; grandparents: Tim Sr. and Laurie O'Neil, Gwen Tacheny, and Dan Rohrbeck; and many aunts, uncles, cousins and best friends.


Susan Jensen, 60, Dassel


Susan Mary Jensen, 60, of Dassel, died on Friday, July 13, 2018, at her home in Dassel. A funeral service will be held on Thursday, July 19, at 11 a.m., at Cornerstone Church in Litchfield. Pastor Paul Jorgensen will officiate. There will be a time to gather with the family on Wednesday evening from 5 to 7 p.m. at the Johnson Funeral Home in Dassel and one hour prior to the service on Thursday, at Cornerstone Church. Susan was the daughter of Henry and Minnie (Rushford) Lockwood. She was born on Aug. 29, 1957, in Buffalo, Minn. Susan was baptized in Loretto, Minn., in 1957 and again at Cornerstone Church in 2016. Susan had been a member of Crystal Hills Assembly of God Church in Paynesville, the Church of Christ in Dassel, and Cornerstone Church in Litchfield, where she had enjoyed 'Mugs and Muffins' and other women's events. Susan grew up in Rockford where she attended elementary school until the family moved to Paynesville. She graduated from Paynesville High School in 1975. In July 1976, Susan was united in marriage to Terry Coughlin. Together they made their home in Dassel until 1986. To this union, two children were born. On Feb. 23, 1996, Susan was united in marriage to Alvin Jensen in Willmar, Minn. Together they made their home in Paynesville for several years before they moved to Belgrade. To this union, one child was born and she gained a step-son. In 1997, Susan and Alvin moved to Dassel where they have since resided. Susan had been employed at Spectralytics in Dassel for the past 16 years, where she had been employed as a laser and scope inspector of medical devices. She enjoyed spending time listening, laughing, and swimming with her grandchildren. She loved to take spontaneous surprise pictures of her family and friends. She could often be found crocheting, doing crafts, and taking road trips around Minnesota – visiting state parks and enjoying the wonder of the many waterfalls around the state. She was a hard worker and never gave up. She had a contagious laugh and enjoyed spending time with her family for holidays and special events. She enjoyed talking to family and friends on the phone. Her family was always on her mind – she would often take time out of her day to sit and pray for their health and safety. She is survived by her husband, Alvin Jensen of Dassel; children: Timothy (Kate) Coughlin of Cokato, Sherri (Adam) Wichmann of Buffalo, and Jennifer Jensen of Dassel; step-son, Corey Jensen of Willmar; and eight grandchildren: Gabe Coughlin, Ryder Coughlin, Jasmine Nothnagel, Jeremy Nothnagel Jr., Justin Nothnagel, Patrick Bratten, Elenora Wichmann, and Evelynn Wichmann. She is also survived by her siblings: Melvin (Mary) Lockwood of Andover, Don (Jan) Lockwood of Duluth, and Dianna (Dennis) Jussila of Clearwater; and sister-in-law, Shirley Lockwood of Cedar, Minn. She was preceded in death by her parents; two sisters, Mildred Peterson and Sandy Lockwood; two brothers, Richard Lockwood and Bill Lockwood; one nephew, Dade Jussila; and a niece, Chris Swartzer.


Mary Weis, 90, St. Cloud


Mary Adele Weis, 90, of St. Cloud and formerly of Paynesville, passed away on Saturday, July 14, 2018, at Quiet Oaks Hospice House in St. Augusta. Mass of Christian Burial will be held at 10 a.m. on Saturday, July 21, at St. Anthony's Catholic Church in St. Cloud. Reverend Thomas Knoblach will officiate. Burial will take place in St. Agnes Parish Cemetery in Roscoe. Family and friends may call between 4 and 8 p.m. on Friday, July 20, at the Daniel Funeral Home in St. Cloud and one hour prior to services on Saturday at the Church. Parish prayers will be held at 5 p.m. on Friday at the funeral home. Mary was born on May 9, 1928, in Minneapolis, to Stuart and Florence (Lutzer) Clarke. During high school, she worked at Dayton's in Minneapolis to assist her family. Following high school, Mary attended classes at the University of Minnesota. She was particularly interested in art. She later worked at Graybar Electric in Minneapolis for several years. Mary enjoyed golfing and would golf before work in the mornings. On one of these golf mornings, a friend introduced her to Rainer Weis, who she married on April 7, 1956, in Minneapolis. Following her marriage to Rainer, Mary ceased working outside the home to focus on her family. Mary's priorities were her faith, her family, and her country. She was a long-time parishioner at St. Louis Catholic Church in Paynesville. Later, she became a parishioner at St. Anthony's in St. Cloud. She participated actively in politics on behalf of her country. She served as a delegate to the DFL Party for many years. She canvassed the state with Walter Mondale on behalf of the DFL Party. Due to her strong pro-life beliefs, Mary later switched party allegiance and became involved in Republican causes. Mary assisted in going door-to door to take the census. Mary was also a member of the Daughters of the American Revolution. Well into her 80's, Mary assisted at the VA in St. Cloud on behalf of the veterans who she loved and cherished. During this time, Mary also remained a devoted and loving mother to her growing family. Mary was always there for her family, even assisting with her young grandchildren well into her later years. Mary is survived by her children: Dr. John R. Weis (Dr. Holly Carveth) of Salt Lake City, Utah, Dr. Ann (Thomas) Rolfs of Boston, Mass., Paul Weis of San Jose, Calif., Susan Weis of Chicago, Ill., Mark (Michelle) Weis of Inver Grove Heights, Minn., Peter (Carol) Weis of St. Cloud, Minn., Dr. Julia (Daniel) Jacobson of St. Cloud, Minn., and Dr. Jeffrey (Anna) Weis of Saginaw, Minn.; and grandchildren: Emily and Eric Rolfs, John (Jack) Weis, Frank Gigler, Isaac Weis, Joseph and Rachel Weis, Augustine and Rainer Jacobson, and Heidi and Luke Weis. She was preceded in death by her husband, Rainer in 2003; grandson, Benjamin Rolfs; infant daughter, Jeanne; sisters, Corrine Whitman and Nancy Bielinski of Minneapolis; and brother, Charles Clarke of Parker, Colo.


Roger Nelson, 77, Clearwater


A celebration of life was held on Monday, July 16, at Rejoice Lutheran Church in Clearwater, for Roger J. Nelson, 77, of Clearwater. Roger died Monday, July 9, at the St. Cloud Hospital due to injuries received in an automobile accident. Burial will take place in Zion Irving Lutheran Cemetery near Hawick, Minn., at a later date. Roger was born March 11, 1941, near Hawick, to Einar and Mildred (Wall) Nelson. He graduated from Paynesville High School in 1959. Roger was united in marriage to Diane Hegg on Oct. 18, 1958. He worked at Nelson Buick, Holsom Bread, and drove truck for Van Waters and Rogers. He was also a member of the Litchfield Fire Department for 17 years. After retirement, he moved to Clearwater where he enjoyed golfing and spending time with neighbors on Eagle Trace Golf Course. In his spare time, he enjoyed transporting cars for St. Cloud Toyota and volunteering at the local food shelf. He also enjoyed hunting with his sons, snowmobiling, cars shows, and riding his ATV. Roger is survived by his children: Tim Nelson of Champlin, Terry Nelson of Litchfield, Tori (Joe) Rogers of Litchfield, and Trudy (Stacy) Heining of Atwater; grandchildren: Emily Rogers, Nick Rogers, Kayla (Eric) Hulterstrum, Adam Johnson, Aria Nelson, Graham Nelson and Lara Nelson; sister, Darlene (Math) Miller of Paynesville; and sister-in-law, Karen Nelson of Wyoming, Minn. Preceding Roger in death were his parents and brother, DeWayne Nelson. Arrangements are with the Daniel Funeral Home in Clearwater.


Larry Invie, 76, Cold Spring


Larry Lee Invie, 76, of Cold Spring, Minn., passed away on Thursday, May 24, 2018. A gathering of family and friends will be held on Saturday, July 21, from 10 a.m. until a closing prayer service at 12 noon, at the Daniel-Anderson Funeral Home in Paynesville. Larry was born on Jan. 20, 1942, in Minneapolis. He was the son of Lawrence and Sidonia Invie. Larry was the youngest of two children (sister, Sandra "Sandy").  He graduated from Robbinsdale High School in 1960 and studied art and education at St. Cloud State University, where he met the "love of his love," Patricia Halstead.  Larry and Pat wedded on Aug. 22, 1964, after both graduated from St. Cloud State University with teaching degrees.  Shortly after, they moved to Eagle River, Wis., where they started their teaching careers. Larry was an art teacher. They were both involved in and loved camp counseling at Towering Pines Camp. After becoming pregnant with their first child, Chad Thomas, Larry and Pat moved to Paynesville, Minn., to start their family and continue their teaching careers. A few years later, they welcomed their second child, Heather Noelle. Larry followed his heart and changed careers in 1975 when the family purchased Cold Spring Floral, where he became a florist. Larry was a very talented artist and became a staple in the community, sharing beautiful flowers with the city of Cold Spring and the surrounding area. He found great hobbies in the care and keeping of Bonsai trees, working in his wood shed, landscaping, the occasional watercolor painting, lake activities with his family, and attending concerts. When Larry heartbreakingly lost his wife, Pat, to cancer in 1993, he moved to the lake house in northern Minnesota, and then followed his heart to Hawaii where he lived for 10 years. Following health issues, Larry returned to Cold Spring in 2013, where he found joy in garage saling, caring for his dog, and gardening. Larry is survived by his children, Chad (Kristie) of Moorhead, and daughter, Heather of Enumclaw, Wash.; grandchildren: Griffin, Grant, Kenzie, and Kylee; and sister, Sandra Fernandez of Maple Grove. He is preceded in death by his beautiful wife, Patricia; and his parents.


Verena Schaefer, 101, St. Martin


Verena Schaefer, 101, died on Wednesday, July 4, 2018, at Assumption Home in Cold Spring. Mass of Christian Burial was held on Monday, July 9, at the St. Martin Catholic Church in St. Martin. Burial was in the parish cemetery. Verena was born in Farming, Minn. to Bernard and Theresa (Rolfes) Dingmann. She married Frank Schaefer on Sept. 25, 1940, in the St. Martin Catholic Church. Frank died on May 17, 1969. Verena then married Norbert Schaefer on April 4, 1970. Verena was a homemaker who enjoyed baking, crocheting, embroidering, quilting, playing cards and bingo, bowling, gardening, and enjoying time with her children, grandchildren and great-grandchildren. She was a member of the St. Martin Parish, Catholic United Financial, St. Anne's Christian Women, and the Rosary Sodality. Survivors include her children: Melvin (Doreen) Schaefer, Donnie (Janet) Schaefer, Louise (Art) Mohs, Jim (Mary) Schaefer, Richard (Betty) Schaefer, and Charles (Cheryl) Schaefer; step-daughters, Mary (Don) Wenning and Alice Schaefer; sister, Rita Silvers; in-laws: Alice Schaefer, Mary Ann Lauer, Math Schaefer, and Marcella Dingmann; 20 grandchildren; nine step-grandchildren; 36 great-grandchildren; and three great-great-grandchildren. She was preceded in death by her husbands, Frank Schaefer and Norbert Schaefer; daughter, Mary Ann Schaefer; grandsons: Jason, Tim, and John Schaefer; great-granddaughter, McKenzie Horn; and siblings: Stella Brinkmann, Tony Dingmann, Edgar Dingmann, and Jerome Dingmann. Arrangements are with Wenner Funeral Home in Richmond.


Kenneth Rolfhus, 75, Annandale


Kenneth Marlin Rolfhus, 75, was born in New London, Minn. to Oliver and Ida (Anderson) Rolfhus, on Feb. 26, 1943. He passed away on Sunday, July 1, 2018, of a sudden heart attack. Kenny and his siblings grew up on a rural farm near Hawick, Minn., and attended a one-room country school where their mother was the teacher. He was baptized and confirmed at Nordland Lutheran Church. Kenny graduated high school in New London in 1961. He went on to graduate with a bachelor's degree in chemistry at St. Cloud State College in 1966. He was a high school science and chemistry teacher until 1981, when he joined the carpenters and joiners union local 322, where he worked until he retired in 2001. Kenny married the love of his life, Brenda Joyce Naumann on June 16, 1962, at the Paynesville Methodist Church. They were blessed with three children. Kenny enjoyed gardening, fishing, hunting with his kids and grandkids on the family farm, and spending time at the lake with family and friends. He devoted much of his spare time to helping and caring for his parents, aunts, and uncles. He had the best sense of humor, often interjecting his quirky one-liners. Kenny followed the Vikings, Twins, and Gophers. He always had WCCO on every radio he owned. Kenny was also a long-time member of the Paynesville sportsman's club. Kenny is survived by his loving wife, Brenda, of 56 years; his children: Robin Ruprecht of Annandale, Ryan (Carrie) Rolfhus of Paynesville, and Reed (Jodie) Rolfhus of Monticello; grandchildren: Nikki (Eric) Allbee, Shane Ruprecht, Shelby (Mitchell) Nordmann, Sadie Rolfhus, Courtney Rolfhus, Chloie Rolfhus, Allison Rolfhus, Angela Rotter, and Wyatt Rotter; and great-grandchildren: Eli, Ezra, and baby Allbee. He is also survived by brothers, Robert (Kathy) Rolfhus of Stoddard, Wis. and Delroy Rolfhus of St. Cloud; brother-in-law, Donald Stanger of St. Cloud; along with numerous nieces and nephews. He was preceded in death by his parents and sister Joyce Stanger. Services will be held at Nordland Lutheran Church in rural Paynesville on Friday, July 20, at 2 p.m. Visitation will be held one hour prior to service at the church, and a private burial will be at a later date. Memorials preferred to the family in lieu of flowers.


Deborah Duty, 58


The Duty family announces with great sadness, the passing of Deborah Duty (Mesna) on Saturday, June 23, 2018. Debbie passed away peacefully after a courageous battle with cancer. Funeral services were held on Friday, June 29, at Christ's Church of the Valley in Peoria, Ariz. Debbie was the youngest daughter born to Veronica and Richard Mesna in Oceanside, Calif., on Feb. 13, 1960. The family was so excited to have the gift of a beautiful, curly headed baby girl born almost on Valentine's Day. Debbie was known by all for her amazing sense of humor, her beautiful smile, her loyalty to friends and family, and the sunshine she brought to all who knew her. She was a fiercely devoted mother, who gave unending time and heart to her two beloved sons, Bradley and Jeffrey. For many years, Debbie enjoyed her time volunteering and cheering her sons on during countless soccer games, and she supported them throughout all of their childhood adventures and their young adult lives. Debbie loved team sports, traveling, art festivals, and listening to music, and above all, she loved the people she met while doing these favorite activities. Debbie felt best when she was with people and she treasured her friendships. Her love and energy for life brought many smiles and laughs to all those lucky enough to have known her. Debbie is survived by Randy, her loving husband of 25 years; children, Bradley and Jeffrey; siblings: Sandy Darling, Terri McStocker (Robert), Linda Hiltner (Sylvester), Rick Mesna, Steven Mesna, Dick Mesna (Sandy), Colleen Hendricks, and Penny Barrera-deceased.Debbie is also survived by many nieces, nephews, friends, and family too numerous to list, but not forgotten. We know Debbie has reunited with both her mother and father, and she is now bringing sunshine and laughter to both those above and to those she has left behind. Although she will be missed beyond words, we find comfort in knowing she is no longer suffering, and she has finally found peace and is with God.; 7 great-grandchildren; sister, Marlys Ayotte; and other relatives and friends.


--
Obituary Archives

Return to Top • Return to Paynesville Area