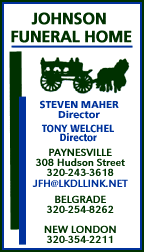 December 2020
November 2020
October 2020
September 2020
August 2020
July 2020
June 2020
May 2020
April 2020
March 2020
February 2020
January 2020
December 2019
November 2019
October 2019
September 2019
August 2019
July 2019
June 2019
May 2019
April 2019
March 2019
February 2019
January 2019
December 2018
November 2018
October 2018
September 2018
August 2018
July 2018
June 2018
May 2018
April 2018
March 2018
February 2018
January 2018
December 2017
November 2017
October 2017
September 2017
August 2017
July 2017
June 2017
May 2017
April 2017
March 2017
February 2017

Ralph Fleischhacker, Paynesville
Mass of Christian Burial will be held at 12 noon on Wednesday, Jan. 27, 2021, at St. Louis Catholic Church in Paynesville, Minn., for Ralph M. Fleischhacker, 95, who died on Friday, Jan. 22, 2021, at Assumption Home in Cold Spring, Minn. Burial will be in the parish cemetery. Those attending the services must maintain social distancing and wear a mask. The service will be live-streamed at https://youtu.be/mnH0FHHDeew. There will be a two-hour visitation prior to the service at the church on Wednesday, Jan. 27, 2021. Ralph was born on Dec. 16, 1925, in Zion Township, Minn., to Joseph and Anna (Gully) Fleischhacker. He married Anna Mae Utsch on June 22, 1948, at St. Agnes Catholic Church in Roscoe, Minn. Ralph was a farmer, worked in insurance sales, and volunteered as a Tri-Cap driver. He could fix anything. He was a patient man, had the best sense of humor, and loved to visit with everyone. Ralph was a member of the Knights of Columbus, Catholic United Financial, and St. Nicholas MenŐs Society. He is survived by his wife, Annie; children, Laura (Gary) Reiter, Grace (Allan) Gertken, Betty (Roger) Theis, Bonnie (Lewis) Wesenberg, Kevin (Cindy), Nancy (Mike) Theis, Jean (Di Johnson), and Alan; siblings, Art, Merve (Rita), and Father John, OSC; 32 grandchildren; 58 great-grandchildren; and three great-great-grandchildren. He was preceded in death by his infant daughter, Linda; son, Leroy (Lee); siblings, Sister Emerentia, OSB; Brother Roman, OSC; and Richard; granddaughter, Gina; and great-grandson, Jaron. Services were with the Wenner Funeral Home, Cold Spring and Richmond, Minn.


Marvin Miller, 90, Paynesville


Marvin Miller, 90, of Paynesville died Saturday, Jan. 9, 2021, at his home from dementia under the care of Ecumen Hospice of Litchfield. A Mass of Christian Burial was held on Saturday, Jan. 16, at St. Louis Catholic Church in Paynesville with military honors. Interment will be in the Assumption Cemetery in St. Cloud. Funeral arrangements were with Harvey Anderson and Johnson Funeral Home of Paynesville: www.hafh.org. A recording of the Mass will be posted to the funeral home website following the Mass. You may also go to: www.youtube.com/channel/UCukVz2 qi83DCpJnr6HOmvdw/featured and search for the funeral liturgy/Mass for Marvin. Marvin was born May 31, 1930, the youngest of eight children of Anton and Margaret (Hofmann) Miller at Abercrombie, N.D. After his graduation, he enlisted in the U.S. Army and served with the 25th Infantry in South Korea from 1952-1954. On June 2, 1956, he was united in marriage to Marlen Lutgen in St. Cloud. They lived in the St. Cloud area and in Brooklyn Park while Marvin worked for JCPenney's in the automotive division first at Ridgedale and later at their Plymouth distribution center. He retired in 1993 after 28 years. After retirement, Marvin and Marlene enjoyed living at Big Fish Lake near Cold Spring/St. Joseph. Although he retired, Marvin couldn't sit idly. He worked various jobs, including catering for Taco Bill in St. Cloud and for the Blue Heron in Cold Spring, working until his 80th birthday. After raising two daughters, Sue and Sandi, they enjoyed traveling and volunteering at their church. They celebrated 54 years of marriage before Marlene died on March 19, 2009. He was attending a Catholic Charities support group when he met Julie Moorhead of Paynesville. On May 28, 2011, they were married. They enjoyed nine years of married bliss, spending five winters in south Texas, near Mission, summers at the lake home and camping. They also enjoyed traveling, having made numerous trips to Europe, Canada, a mission trip to Guatemala, and road trips to several states, including Florida, Nevada, Montana, Wyoming, Michigan, and New Mexico. In his early years, he enjoyed the lake, especially ice fishing with his many friends and sons-in-law. He was a supportive volunteer by assisting Julie with various activities such as music at Koronis Manor, square dancing, and Garden Club. Marvin also enjoyed his plot of produce at the community garden. He was a fourth-degree Knight with the Knights of Columbus and a member of American Legion Post #271 of Paynesville. Spending time with his family was by far the most important however. Surviving are his wife, Julie; daughters, Sue (Brian) Lemke of Avon and Sandi (Scott) Andreasen of St. Joseph; Ellen Moorhead Hansen (Eric Larsen), Kirk Moorhead (Jessica Maynard), and John (Clare) Moorhead; nine grandchildren: Ross (Kelly Corona) Lemke, Scott (Brittany Schwegel) Lemke, Kyle (Justice Callahan) Lemke, and Marie (Kaden Stoeckel) Andreasen, Sam Andreasen, Serena Andreasen, Grant Andreasen, Joy (Jason) Goray, and Renae (Kelly) Imholte; and 10 great-grandchildren.


Richard Schwartz, 75, New London


Richard E. Schwartz, 75, of New London died on Friday, Jan. 15, 2021, at Carris Health-Rice Memorial Hospital in Willmar. A visitation will be held Thursday, Jan. 21, 2021, from 11 a.m. to 1 p.m. at the Johnson Funeral Home in Paynesville. A private memorial service will be held. Burial will be at the Paynesville Cemetery. Richard Eugene Schwartz was born on April 18, 1945, in Paynesville, the son of Eugene and Margie (Flanders) Schwartz. Richard grew up in Paynesville, where he attended elementary school and graduated from Paynesville High School with the Class of 1963. Richard excelled at football and earned a scholarship to play football at the University of Minnesota. After college, he returned home, where he was married. Richard then began farming and also worked making custom cabinets. He later divorced. On June 28, 2002, Richard was united in marriage to Beverly DeGeest. They made their home in New London, where Richard worked for Halvorson Construction and drove truck. He retired in 2007. After his retirement Richard enjoyed building a cabin, woodworking, collector cars, riding and driving horses, tractor auctions, listening to country music, dancing, Bev's cooking, and a good joke. He is survived by his wife of 17 years, Beverly; children: Ryan (Ilah) Schwartz of New London, Kimberly Schwartz of Maple Grove, Shawn Schwarz of St. Cloud, Jenny (Ben) Jones of Northfield, and Michael Schwartz of Lakeville; stepdaughters, Michele Anderson of Spicer and Tricia (Bruce) O'Neill of Spicer; sister, Bonnie Schwartz of Paynesville; and his grandchildren and other relatives. Richard was preceded in death by his parents; and his son, Greg Schwartz.


Butch Liestman, 75, Clearwater


Luverne "Butch" Milton Liestman, 75, of Clearwater, Minn., was called home by the Lord on Wednesday, Dec. 16, 2020, following his second courageous fight with cancer. Butch was born in Paynesville, Minn., on June 3, 1945, the son of Milton and Myrtle Liestman. He was raised in Paynesville where he was a four-sport star athlete in football, basketball, baseball, and track. He received the honor of being inducted into the Paynesville Bulldog Hall of Fame in 2011. In September 1965, Butch married his high school sweetheart, Carol Revier. The couple lived in LeMars, Iowa, where Butch played baseball and eventually graduated from Westmar College with his bachelor's degree, despite watching too many episodes of "The Andy Griffith Show." He would spend 35 years in education, including 21 years as a principal. In the fall of 1967, the couple moved to Fairfax where Butch would teach, coach, and eventually become the junior/senior high school principal. He taught physical education, health, and psychology prior to earning his master's degree and his administrative license from Mankato State University in 1981. He then served as the junior/senior high school principal in Fairfax from 1981-1986. During his time in Fairfax, he spent 13 years as the head football coach, where his teams were known for running the wishbone, three years as the head track coach, and one year as the head basketball coach. Butch spent three years as the Holdingford High School principal from 1986-1989 and then spent the last 13 years of his career in education as the Becker High School principal from 1989-2002 before his retirement. He was named the Central Division Principal of the Year in 1993. Following his retirement, Butch and Carol moved to their current residence in Clearwater, Minn. The family would like to thank everyone who played an important role in Butch's life - students, faculty members, administrators, fellow coaches, teammates, and friends. Some of his fondest memories were created while playing fast-pitch softball, playing baseball for the Fairfax Cardinals, sitting by a campfire on the river bottom with friends, and coaching the Fairfax Eagles and Fairfax-Gibbon Cavaliers football teams. After his retirement, he volunteered as an assistant golf coach with his dear friend, Bill Gallipo, and had the honor of coaching his granddaughter, Mari, and her teammates on the Becker High School girls' state tournament golf team. He was also blessed to have watched his grandson, Jake, and his Becker Bulldogs football teammates win back-to-back state championships in his junior and senior seasons. Butch enjoyed playing golf nearly every day possible in Minnesota, singing in the church choir, taking trips on their Honda Gold Wing motorcycle, and attending Minnesota Golden Gophers football games. He was a devoted grandpa and faithfully attended every concert, sporting event, or other important family gatherings that involved his granddaughter Mari and his grandson Jake. He loved playing golf with his grandchildren. In recent years, Butch enjoyed several weekend trips to the cabin in Ely, where he found it very relaxing to just sit and watch the deer. Aside from competing with his fellow Cardinals teammates, a few of Butch's favorite memories from his 23-year amateur baseball career were winning the Great Soo batting title in 1964 for the Paynesville Lakers, while batting .538, playing an entire season without striking out in 1970, and catching a 21-inning state tournament game for the Fairfax Cardinals. Butch is survived by his wife, Carol; his son Jason; daughter-in-law Pam; granddaughter Mari of Milwaukee; grandson Jacob of Blaine; and sister LuAnn Wegener of Florida. Although he had many personal accomplishments throughout his lifetime, the thing that was always most important to Butch was his family. Butch's family is forever grateful for those of you who were a special part of his life.