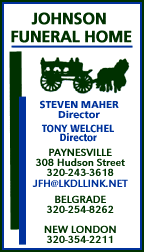 January 2021
December 2020
November 2020
October 2020
September 2020
August 2020
July 2020
June 2020
May 2020
April 2020
March 2020
February 2020
January 2020
December 2019
November 2019
October 2019
September 2019
August 2019
July 2019
June 2019
May 2019
April 2019
March 2019
February 2019
January 2019
December 2018
November 2018
October 2018
September 2018
August 2018
July 2018
June 2018
May 2018
April 2018
March 2018
February 2018
January 2018

Jan Nistler, 85, Paynesville
Janelda (Jan) Evelyn Nistler passed away on Thursday, Feb. 18, 2021 at home. A private service will be held at St. Louis Catholic Church. Jan was born on June 11, 1935, the daughter of Mary and Theodore Verhey. She grew up on the family farm near Browerville, Minn. After graduating high school, she traveled the United States and taught rural school districts #36 and #1104. She was united in marriage with Linus Nistler on May 28, 1960. They made their home near Paynesville, Minn., where they raised their family. Jan enjoyed gardening and their shop Sleepy Hollow/Country Porch Antiques. She is survived by her husband of 61 years, Linus; her children, Christopher (Deb) Nistler, Pamela Nistler, Kelly (Nancy) Nistler, Victor Nistler, and Becky Nistler; 12 grandchildren; three great-grandchildren; siblings Ardella Vacarro of Chicago, Ill., Marcella (Milt) Sadd of Willmar, Minn., Loretta Moewes of North Glenn, Colo., Ted (Nita) Verhey of Cokato, Minn., Myron Verhey of Westminster, Colo., Patricia Reed of West Union, W.V., Richard (Jan) Verhey of Denver, Colo., and Joann Verhey of Westminster, Colo. In addition to her parents, she was preceded in death by son Patrick Nistler; and siblings Raymond Verhey and Irene Brock.


Allen "Ringo" Blomker, 75, Fridley, Minn.


It is with much sadness that we announce the passing of our wonderful Dad, Allen (Ringo) Dewayne Blomker, who lost his fight to COVID-19 on Sunday, Feb. 14, 2021. Dad was born on July 16, 1945, in Litchfield, Minn. He grew up in the wonderful small town of Eden Valley, Minn. As a child, he loved sports and also had a very mischievous side to him. Of course, none of these stories were revealed to us until we grew older and were not able to use them against him. When hanging with his friends or siblings, there were always good stories to be shared. We just loved watching the grin on his face as he shook his head, with nothing to say. Dad graduated from Eden Valley High School with a class of 40 in 1963. During Al's high school years, he was a four-star athlete. In his senior year, he made the West Lake All Conference basketball team after scoring 255 points that season. He played football, basketball, baseball and track. Rumor has it...Dad has a town record or two. He was also a part of the Letterman's Club and held various roles on the student council and was in a school play his junior year (who would have thought!). After high school, he made his way to Minneapolis. The way Dad always told the story was "I had enough money in gas and a week's worth of rent to stay at the YMCA, and would figure it out from there." Which is exactly what he did. In January 1964, he started his 49-year career with Boyer Ford Trucks. During his early years at Boyer, he was given his nickname "Ringo" because he resembled a young Ringo Starr with his long hair and mustache. The nickname stuck for life. In fact, there are many people who only know Dad as Ringo. Shortly after starting at Boyer's he attended Minnesota School of Business for two years. In July 1966, he enlisted in the Army Reserve and served for six years. Dad's love for sports carried on throughout his adult life. In his early 20s, he continued playing league baseball and bowling. Dad held season tickets to Gopher and North Stars hockey and Vikings football, in which he took his kids and friends to at every opportunity. He loved being a spectator, whether in person or watching it on TV. There was nothing Dad did not know about sports. In our eyes he was a mini-Sid Hartman, who he idolized dearly. Later in life, Dad rediscovered his love for golf with some of his best buddies Steve Ross, Ted Stacy, Scott Forsythe, "Tug," Mark Spease, Brian Svendahl, and many more. In 1973, he purchased a home in Fridley, Minn., where he raised his four kids: Susanne, Allen Jr., Angie, and Stephen and lived there until his death. Dad loved being a father. He raised us with an iron fist and a gentle heart, for which all of us are forever in debt to him for. Dad spent countless hours running his kids to hockey, baseball, softball, figure skating, school events, etc. Never once did he complain between work and us kids. Most of his days were 16 hours long. He loved watching and teaching his kids in any capacity, whether it was in sports, a school event, or a project. He was always our biggest cheerleader. When we were young, we spent lots of weekends up north at the family cabin in Eden Valley that dad basically built himself along with other family members and friends. He taught us to fish, swim, and the meaning of family. The weekends included visiting with our grandma, uncles, aunts, and many cousins; hanging at the Corner Bar; going to the town baseball games; and playing in the lake. Whenever we went back to Eden Valley, there was not a soul who did not know him. They knew us as "Al Blomker's kids." No matter how the conversation started, it always ended with...your dad is a great guy. Once we had grown up and finally moved out, he continued his countless hours of being there for us. Dad enjoyed nothing more than being there for his sons when they both were building their houses. He was always ready with his tools to do any project he was assigned to do at any moment. Dad was also his daughters' on-call handyman. Whatever the house project or simple errand was, we knew we could always depend on Dad. Dad loved attending his grandkids' events. Whether it was hockey, tennis, basketball, softball, bowling, gymnastics, dance, theater performances, or school events, he was there. Many times, it included running from Bloomington to Ham Lake, from Ham Lake to Apple Valley, and back again (all uphill too!!). If he couldn't make it in person, he would find another way to attend by either streaming it online, checking in afterwards, or looking up the stats in the newspaper. He earned the title of BEST babysitter and dog-sitter. He never turned down the chance to spend time with them (even if it wasn't his favorite thing to do: aka dog sitting big, crazy dogs). If he had a conflict, he would rearrange his schedule so he could be there to help. Dad was always up for an adventure to anywhere. Some of his favorite trips included going to Canada fishing for muskies with his sons Al Jr. and Steve, his grandkids Jaidan, Shaina, and Broten, and the Canada Wolf Pack. Traveling to Hawaii for spring break with Susanne and Craig, his grandkids Katelynne, Ellie, William and their extended family, and taking many golf trips with his friends and son-in-law Paul. He truly enjoyed sailing the open seas with his friend Jim Fulford, sailing from Panama to Hawaii and then later to the Aleutian Islands. He also enjoyed other Alaska fishing trips with Jim that included his son-in-law Craig, his sons Al Jr. and Steve, his grandkids Katelynne, Ellie, and William, along with their cousins. He always looked forward to the winter getaways to Arizona to visit and golf with his brother Wally and sister-in-law Jean. He was a trooper and tagged along on college visits with his granddaughter Katelynne to Boston, which included a trip to Fenway. He also packed up to go on the ultimate Disney vacation with grandkids and traveled through Glacier National park with his daughter Angie and other family members to attend his nephew's wedding. He also had the honor of walking his daughter Angie down the aisle in Playa del Carmen, Mexico. However, going back home to visit family in Eden Valley was always at the top of his list. Dad was a loving father to all of us, his six grandkids, and six grand-pups. Family was the most important thing to him. Not only did he have the love for his own immediate family, but his love also extended out to his nieces and nephews, their children, and to all of our friends. He treated all of them as if they were his own kids or grandkids. If Dad was invited to any sort of family celebration or sporting event to watch someone play, he rarely missed the opportunity to attend. For those of you who did not have the honor of knowing our dad, he was the most loving, caring, selfless, hardworking man, who always put his family first, and never said no to helping a friend, neighbor, or stranger who needed a helping hand. The memories of his travels are endless. His stories were classic and will be deeply missed, especially the ones about Elvis. Dad also had many great one-liners that would make us belly laugh. One our favorite phrases being "What Not All." We still don't know what that means, but will forever keep it close to our hearts. A Celebration of Life will be scheduled at a later date, likely in July. Look for further information to be communicated. In preparation for the Celebration of Life, the family would like to create memory boards to have on display showcasing our Dad. Over the next few weeks or months, anyone who has a memory, story, or photo they'd like to share, please send them to be.like.ringo@gmail.com. We would love to include it. He leaves behind a legacy of love, kindness, hard work, and loyalty. In the chaos and turbulence of today's world, we ask you to take a moment in your day to embrace these qualities with those around you: #belikeringo. In closing we'd like to end with our Dad's voicemail message which simply said: "Ringo...thank you." He was proceeded in death by parents Lorraine (Haag) and Bernard Blomker; his two sisters Nellie Danielson and Myra Arnold; and brother Conrad Blomker. He is survived by his children Susanne (Craig) Fulford, Allen Jr. (Katie) Blomker, Angie (Paul) Burns, and Stephen Blomker; his six grandkids Katelynne, Jaidan, Shaina, Ellie, Broten and William; his brother Wally (Jean) Blomker and sister Joan (Sonny) Thielen; and several nieces and nephews.


Remington Harder, 22, Sedan


Remington J. Harder, 22, of Sedan, formally of Hutchinson, died on Friday, Jan. 29, 2021, near Hay Springs, Neb., from injuries sustained in automobile accident. Funeral services were held on Sunday, Feb. 7, 2021, at the Willmar Assembly of God Church in Willmar. In lieu of flowers, memorials are preferred. Remington "Remi Jo" Josephine Harder was born on June 12, 1998, in Hutchinson to Mark and Rochelle (Fernkes) Harder. She was baptized Dec. 13, 1998, at Calvary Lutheran Church in Willmar and confirmed on Oct. 27, 2013, at Paynesville Lutheran Church in Paynesville. She grew up in Bird Island, until fourth grade, when they moved to Paynesville. She continued her education at the Paynesville Schools until her move to Hutchinson. She completed 11th and 12th grades at Hutchinson High School, graduating in 2016. During school, she was active in volleyball, softball, FFA, choir, and wrestling as a manager, cheerleader, and statistician. She had recently completed her degree in drug and alcohol counseling and was a consultant for SeneGence. At the time of her death, Remi was living with her boyfriend, Josey Tensen. Remington enjoyed running, snowmobiling, off-road mudding, hunting, fishing, going to concerts, and traveling especially with her snocross family as an FXR promoter. Her family, friends, and faith were the center of her world. She was the best daughter, sister, cousin, aunt, and friend to anyone lucky enough to know her. Remington is survived by her mother, Rochelle Finken (significant other Troy Alstead Nelson) of Hutchinson; step-father, Cory Finken of Cold Spring; father, Mark (Michell) Harder of Renville; siblings Tanner Harder (significant other Merisa Whitcomb) of Paynesville, Brittney (Ryan) Krueger of Renville, Brooke Harder (fiancé Bailey Damlow) of Hutchinson, Kylee Harder of Renville, Jaden Harder of Hutchinson, and Lucus and Felicia Garcia and Autumn Harder, all of Renville; nephews, Hayden (Remi's Godson) and Camden Krueger and Beau Damlow; grandparents, Thomas and Wynn Harder of Willmar, Gary Wells of Texas, and Alto Finken of Cold Spring ; great-grandmother, Evie Henrich-sen of Willmar; and many aunts, uncles and cousins. She was preceded in death by grandparents, Thomas Fernkes, Wanda Wells, Diann Finken, and Sandra Baumgartner; stepbrother, Jaime Garcia III; and boyfriend, Josey Tensen.


TJ Heinricy, 58, Webster, Minn.


TJ Heinricy, 58, of Webster, Minn., passed away at the University of Minnesota Hospital with his family by his side on Tuesday, Feb. 9, 2021, following an emergent health condition. Terry James Heinricy was born June 16, 1962, in Paynesville, Minn., to Lawrence "Hop" and Doris (Iverson) Heinricy. He was raised on the family turkey farm and graduated from Paynesville High School in 1980. Following his education, he continued to work with his father in the turkey farm industry. During his senior year in high school, TJ met a freshman student who became the love of his life – Robin Renee Bachman. Several years later, they began dating, and they married on June 25, 1983, at Paynesville Lutheran Church. In 1985, they moved to Northfield, and TJ began working for Holden Farms. In 1996, TJ began working for the City of Northfield and eventually became the streets and parks supervisor. He remained with the City of Northfield until 2018, when he became parks and streets manager for the City of Le Sueur. TJ was a 21-year member of the Northfield Area Fire and Rescue Squad and served as rescue captain. His strong sense of community led him to volunteer and serve as general chairman for the DJJD's Committee, as a member of the Beyond the Yellow Ribbon Committee, with the Rice County Sheriff's Department Motorcycle Posse, as a member of the first aid team for the Minnesota Vikings and Minnesota Twins. He enjoyed riding his motorcycle, vegetable gardening, woodworking, and metal sculpting, and he could fix or build almost anything. He was honest, hardworking, generous with his time and efforts, and always willing to put others first. He loved his family dearly, and they will miss him greatly. Robin will always be his "Sweetie Pie," and he will always be her "Honey Buns," and the song "You Are My Sunshine" will forever embody the love between TJ and Robin. Survivors include his wife of 37 years, Robin; three daughters, Kandra of Faribault; Nicole of Webster, and Noelle (Jake Markgraf) of St. Paul; his sister, Randie Campbell of Tucson; his nephew, Calum Campbell; and other relatives and friends. He was preceded in death by his parents and his mother-in-law Frieda Bachman. Visitation was on Sunday, Feb. 14, at the Bierman Funeral Home in Northfield. Masks were required, and the funeral home assisted with social distancing. Due to COVID-19, funeral services were private. Interment will be in Paynesville Cemetery at a later date. Honorary pallbearers were Mike Peterson, Shane Peterson, Jake Krejce, Lucas Krejce, Brian Smith, Bryan Drentlaw, Jon Feldman, Hayes Scriven, and Josh Hall. Arrangements were with the Bierman Funeral Home: www.northfieldfuneral.com.


Reid Kopitzke, 21, Duluth


Beloved son, brother, grandson, and friend, Reid Daniel Kopitzke, 21, has left us unexpectedly on Thursday, Jan. 28, 2021. A memorial service for Reid will be held at 1 p.m. on Monday, Feb. 8, 2021, at the Williams Dingmann Funeral Home in Sauk Rapids, with visitation following the memorial from 2 to 4 p.m. at the funeral home. Burial will take place at a later date. Reid was born in St. Cloud, Minn., on Feb. 16, 1999, to his mother Karen Heath and father Dan (Lisa) Kopitzke. He attended grade school at Kimball Elementary and then moved to Zimmerman to finish middle school and graduated from Zimmerman High School. Reid was studying to become a German teacher at the University of Minnesota – Duluth. Reid was an old soul. He cared deeply for family, loved playing cards, Western movies, and listening to classic rock. He had a fantastic sense of humor. Reid loved to fish and hunt ducks. He also enjoyed his great friends and stayed connected with them, playing games online. Those who knew him will remember his great big hugs and witty humor that was sure to make you laugh. Reid is survived by his parents, Karen Heath of Paynesville and Dan (Lisa) Kopitzke of Zimmerman; siblings, Grace, Tessa, Austin, and Kyle; grandparents, Curt and Beverly Kopitzke of Paynesville, Dennis and Martha Heath of Arizona, Greg and Carol Kastenbauer of Milaca, and Greg and Kim Sjodin of Ogilvie. He was preceded in death by his grandmother, Sandra Kopitzke; and aunt, Natascha Keller.