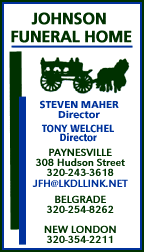 February 2020
January 2020
December 2019
November 2019
October 2019
September 2019
August 2019
July 2019
June 2019
May 2019
April 2019
March 2019
February 2019
January 2019
December 2018
November 2018
October 2018
September 2018
August 2018
July 2018
June 2018
May 2018
April 2018
March 2018
February 2018
January 2018
December 2017
November 2017
October 2017
September 2017
August 2017
July 2017
June 2017
May 2017
April 2017
March 2017
February 2017

Jenny Doll, 86, St. Martin
Mass of Christian Burial will was held on Friday, Feb. 14, 2020, at St. Martin Catholic Church in St. Martin for Genevieve "Jenny" C. Doll, 86, who died on Tuesday, Feb. 11, at Mother of Mercy Home in Albany. Burial was in the parish cemetery. Jenny was born on Aug. 3, 1933, in Farming, Minn., to Joseph and Rose "Rolfes" Evens. She married Peter Doll on Sept. 22, 1953, in St. Francis Catholic Church in St. Francis. Jenny enjoyed baking, especially Jenny buns, singing, yodeling, playing cards, sewing, and doing crafts. She loved spending time with her children, grandchildren, and great-grandchildren. Jenny was a member of St. Martin Church and Christian Women. Survivors include her husband, Peter; children, Randy Doll (Lori Hansen), Mark and Mary Doll; Steve Doll; Pat and Kevin Frieler; Ken and Melany Doll; and Brenda and Eugene Rothstein; siblings, Mildred, Bernadett, and Elmer; 21 grandchildren, and 19 great-grandchildren. She was preceded in death by her infant daughter; granddaughter, Kayla Doll; and siblings, Beno, Buddy, Joey, and Hilaria. Jenny's family would like to thank the ladies at Mother of Mercy Assisted Living and the staff of CentraCare Health - Albany Hospice for the wonderful care they gave her. Arrangements were with Wenner Funeral Home, Richmond.


Death Notice - Brandon Schaefer, 35, St. Martin


A Mass of Christian Burial was held on Friday, Jan. 31, 2020, at St. Martin Catholic Church for Brandon T. Schaefer, 35, who died Tuesday, Jan. 28, at the CentraCare - Paynesville Hospital surrounded by his family. Brandon was born on June 13, 1984, in Albany to Gerald and Debra (Tomsche) Schaefer. He was proud to be the sixth generation to farm on the family farm alongside his father. He was very creative and loved woodworking, riding his Harley in the summer, and spear fishing in his grandpa's spear house. He was happiest being with his friends. Survivors include his parents, Jerry and Deb Schaefer; grandparents, Alice Schaefer and Tom and Marilyn Tomsche; brother, Dave (Danelle); niece Kaylee; nephew and godson, Jaxson; his close friend, Kim Gertken and her children, Kyle, Cloey, Colton; many aunts and uncles; and his many friends. He was preceded in death by his grandfather, Herman Schaefer; and by his uncle, Steve Schaefer.


Janine Stevenson, 46, Cold Spring


A memorial service will be held at 2 p.m. on Sunday, Feb. 9, 2020, at the Wenner Funeral Home in Cold Spring, Minn., for Janine K. Stevenson, 46, who died on Saturday, Feb. 1, at her Cold Spring home. A gathering of relatives and friends will be from 12 noon to 1:45 p.m. on Sunday afternoon at the Wenner Funeral Home in Cold Spring. Janine was born on March 29, 1973, in Paynesville, Minn., to John and Janet (LaBlanc) Stanger. She married Daniel Stevenson on June 24, 1993. Janine enjoyed going to the cabin, spending time with children and grandchildren, and doing crafts. Survivors include her husband, Daniel; father, John Stanger; children, Jadine, Lachlan, Conall, Mackenna, and Josalynne; father-in-law, Roger Stevenson; and grandchildren, Isaac and Darian. She was preceded in death by her mother, Janet Stanger; brother, John Stanger, and mother-in-law, Patricia Stevenson.


Bernadette Fyle, 91, Paynesville


Mass of Christian Burial was held on Saturday, Feb. 1, 2020, at St. Louis Catholic Church in Paynesville for Bernadette "Bernie" A. Fyle, 91, of Paynesville. Bernie passed away on Monday, Jan. 27, 2020, at Hilltop Care Center in Watkins. Reverend Glenn Krystosek officiated. Entombment took place in the St. Louis Parish Cemetery Mausoleum in Paynesville. Bernie was born on Sept. 19, 1928, in Elrosa, Minn., to Henry and Elizabeth (Tschida) Zenzen. She married Walter Fyle on Sept. 17, 1956, at Sts. Peter and Paul Catholic Church in Elrosa. The couple moved to Paynesville in 1959. There she owned her own cleaning business, cleaning at the Paynesville Clinic, BugBee Hive Resort, and private homes. She volunteered at Assumption Nursing Home in Cold Spring, helping the residents with crafts and quilting. Besides quilting, she enjoyed dancing, playing cards, cooking, and baking. Bernie is survived by her sons Roger Fyle of Eden Valley and Ron (Denise) Fyle of South Haven; and six grandsons Jared, Charlie, Zach, Nick, Justin, and Andrew Fyle. Bernie was preceded in death by her parents; husband Walter (1999); sister Regina Caspers; and brother Sylvester Zenzen.


Laura Slayton-Kuperus, 66


Laura Ellen Slayton-Kuperus, 66, died at her home in Paynesville, Minn., on Friday, Jan. 31, 2020. A celebration of life service will be held at the Green Roof Area Center in Paynesville (1105 Main Street West) on Thursday, Feb. 6, from 4 to 8 p.m. with a formal presentation at 6 p.m. She was born in San Jose, Calif., on July 7, 1953, and moved to Belgrade, Minn., in the early 1980s. Over the course of time, she made it to Paynesville, where she had resided for the past 20 years. Laura worked as a farmhand for Jennie-O for almost 25 years. Laura had a laugh that could fill a room, loved music, and made up songs for just about anything. She had a heart full of love, kindness, and compassion for all, but especially for those who didn't necessarily blend in within the community. Laura is survived by her husband Dale Kuperus (married in September 2014); children, Stephanie (Liz) Russell, Carly (Mike) Brockner, Daniel Samuelson, and Matthew (Laurie) Samuelson; grandchildren, Blake Ryan and Lillian May; sister Diane Torres; brother Matthew Slayton; step-children, Jeremy, Brittany, Jackie, and Harely; as well as numerous step-grandchildren. She was preceded in death by her father Gene; mother Marilyn; and sister Nancy.