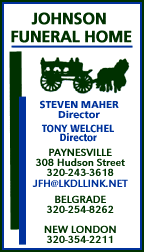 January 2018 December 2017
November 2017
October 2017
September 2017
August 2017
July 2017
June 2017
May 2017
April 2017
March 2017
February 2017

Obituary Archives

Mary Jean Hahn, 78
Mary Jean Hahn, 78, passed away on Saturday, Feb. 17, 2018, in Hayward, Calif. She was born on March 7, 1939, in Willmar, and grew up on a farm in Paynesville. Mary Jean was an amazing woman who gave selflessly to her family, the Oak Park neighborhood, the Paynesville community, and anyone in need of compassion. Mary Jean's wish was to have her service at the Oak Park United Methodist Church, and to have a party in McClatchy Park. The memorial service is planned for Friday, March 9, at 1 p.m., at the Oak Park United Methodist Church (3600 Broadway, Sacramento, Calif.), and a party will immediately follow at McClatchy Park. Mary Jean is survived by her brother, Michael Behr; three children: Timothy Hahn, Martha Hahn, and Daniel Hahn; step-son, Rene Castle; grandchildren: Francesca Hahn, Faith Hahn, Meghan Goveia, and Julie Castle; as well as a nephew; nieces; and great-grandchildren. She was preceded in death by her father, Philip Behr; mother, Dorothy Behr; husband, Kenneth Hahn; husband, Glenn Castle, Jr.; and step-son, Chris Castle. In lieu of flowers, please donate to www.cityofrefugesac.com in honor of Mary Jean Hahn.


Don Haines, 73, Roseville


Don E. Haines passed away on Thursday, Feb. 22, 2018. A funeral service will be held at 4 p.m. on Thursday, March 1, at Mueller-Bies Funeral Home-Roseville (2130 North Dale Street, Roseville, Minn.). Visitation will be from 2 to 4 p.m. on Thursday at the funeral home. A 1963 PHS grad, he was a retired treasury agent and United States Army sergeant. Don was an avid golfer, reader, lover of history, dogs, and hunting. He is survived by his loving wife, Kathy; son, Eric (Kristin); daughter, Shannon (Sonny) Piekarz; grandchildren: Tyler (Doug) Stanek, Breana Piekarz, Danielle Haines, and Mack Haines; great-granddaughter, Reese Stanek; brother, Bill (Deb); and many other relatives and friends. Don was preceded in death by his parents, Mack and Pearl. In lieu of flowers, memorials preferred.


Viola Nelson-Driste, 94


Viola Nelson-Driste, 94, of Paynesville, died on Monday, Feb. 19, 2018, at her home in Paynesville. A funeral service was held on Friday, Feb. 23, at Nordland Lutheran Church in rural Paynesville. Burial was at the church cemetery. Services were entrusted to Johnson Funeral Home in Paynesville. Viola was born on March 11, 1923, at the family farm near Regal, to Ed and Amanda (Biermann) Beier. She was baptized at the Rural Grove Church and confirmed at the E.U.B. Church in Paynesville. Viola grew up on the family farm, where she attended District 30 country school and later attended Belgrade High School. After high school, she worked at Lakeland Hotel in Willmar for two years, and then for many summers at the Koronis Assembly Grounds. On Nov. 7, 1945, Viola was united in marriage to Rudolph Nelson. This union was blessed with a daughter and a son. The family made their home on the Nelson Farm near Lake Koronis. They were married for 30 years before Rudolph died in 1975. On Feb. 17, 1996, Viola was united in marriage to Harry Driste. They made their home on Rice Lake. In 2001, they moved to their retirement home in Paynesville. Together they enjoyed traveling the United States, including Alaska and Hawaii. Harry died on June 3, 2012. They shared in 16 years of marriage before his death. Viola currently enjoyed living at Stearns Place in Paynesville. She was a faithful member of Nordland Lutheran Church in rural Paynesville. She was active there as a Sunday school teacher, superintendent, and in the NLCW. Viola was also a lifetime member of the VFW Auxiliary, member of the Koronis Homemakers Club, Senior Citizens Club, and a 4-H leader. She enjoyed traveling, doing crafts and puzzles, and flower gardening. Viola's family was the center of her life and she cherished every moment she spent with them – especially her grandchildren and great-grandchildren. She is survived by her children, James (Rayanne) of Minneapolis, and Judith (Mike) Deadrick of Paynesville; three grandchildren: Mindy (Don) Douglas, Jeremy Deadrick, and Dorsey (Patrick) Gast; five great-grandchildren: Jillian Douglas, Olivia, Murren, Elias, and Catherine Viola Gast; and many nieces and nephews. Viola was preceded in death by her parents; husbands; and brothers: Embert, Alvin, Victor, Ormand, and Everett Beier.


Norma Mathison, 81, Menagha


Norma J. Mathison, 81, of Menagha, Minn., passed away on Thursday, Feb. 8, 2018, at Green Pine Acres Nursing Home in Menagha. Norma was born on Aug. 19, 1936, to Lewis and Olga Larson. She attended school in New London. On Oct. 17, 1953, she was united in marriage to Harold Mathison, at the Baptist Church in Paynesville. They lived in Paynesville and Park Rapids through out their life together, and enjoyed winters in Texas. She waitressed for 52 years at various local restaurants. She is survived by her husband Harold; children, Larry (Jan) Mathison of Paynesville and Todd Mathison of Belle Plain; grandson, Chad (Janelle) Mathison of Menagha; daughter-in-law, Kathy Mauer of Menagha; sister, Pat Sorenson of Paynesville; three great-grandchildren: Jocelyn, Eleanor, and Oliver of Menagha; three nieces; and nine nephews. She is preceded in death by her parents; brother, Harvey Larson; sisters: Genore Bork, Lenore Kiether, and Arlys Person; and son, Danny Mathison. A memorial service will be held at a later date.


Rose Kortan, 90, Paynesville


Rose Mary Kortan, 90 of Pzzzzaynesville, died on Tuesday, Feb. 13, 2018, at Koronis Manor in Paynesville. Mass of Christian Burial will be on Wednesday, February 21, at 11 a.m., at St. Louis Catholic Church in Paynesville. Rev Glenn Krystosek and Rev. Richard Leisen will concelebrate. Burial will be in St. Louis Parish Cemetery. Friends may call on Wednesday morning after 10 a.m. at the church. Funeral arrangements have been entrusted to Daniel Anderson Funeral Home in Paynesville. Rose was born on Sept. 27, 1927, in Sauk Centre, to Frank and Rose (Haskamp) Wiener. She married Elmer Eveslage in 1950 at the age of 22. The couple lived in many places and finally settled down and built a new house in Paynesville. Elmer died unexpectedly on June 6, 1987. Rose became the housekeeper for Rev. Richard Leisen for over 23 years. On July 18, 1993, she married George Kortan. They were married for 21 years before he passed away. Rose was a member of St. Louis Catholic Church, Daughters of Isabella, Christian Women, American Legion Auxiliary, and was a St. Louis choir member for 56 years. Rose kept busy making baptismal gowns for St. Louis Parish. Survivors include her children, Tom Eveslage (Linda) of New London, and Cindy Blank (Tom) of Casa Grande, Ariz.; four grandchildren; five step-grandchildren; six great-grandchildren; four step-great-grandchildren; brothers, Paul Wiener (Fran) of Georgetown, Texas, and Jim Wiener; and sister, Alverna Meyer (Kenny) of Sauk Centre; and many nieces and nephews. She was preceded in death by her parents; two husbands; brothers: Tony, Herb, Jack, Reuben, and Alphonse Wiener; and sisters, Theresa Froseth and Irene Gritzmacher.


Arlene Danielson, 95, Watkins


Arlene "Shyne" Danielson, 95, of Watkins passed away on Jan. 22, 2018, at the Hilltop Care Center in Watkins. Arlene was born on March 31, 1922, to Ed and Ruby (Topp) Mortenson, at their farm, south of Manannah. Arlene was raised in the Manannah area and graduated from Litchfield High School. Arlene married Burton Danielson on July 23, 1942, in California. They were married for 62 years and were blessed with three sons. Arlene and Burton owned and operated the Hilltop Tavern in Manannah for 36 years until retiring in 1985. Arlene loved to get her fingers in the dirt and grow beautiful flowers. She sewed quilts for all the grandchildren, crocheted lovely doilies, and especially enjoyed painting pictures and the wooden crafts created by Burton. Arlene always cheered on her Minnesota Twins, enjoyed dancing to country music, and taking an occasional trip to Morton. She was a 59-year member of the Eden Valley Legion Auxiliary. She also loved to travel and was a fantastic cook and baker. Arlene shared an encouraging and optimistic spirit with everyone she encountered. Arlene is survived by her sons: William (Sandi) of Atwater, Richard (Phyllis) of Hutchinson, and David (Barb) of Paynesville; eight grandchildren; 14 great-grandchildren; five great-great-grandchildren; two nieces; and three nephews. Arlene was preceded in death by her husband, Burton in 2004; parents and step-father, Clarence Arbogast; brother, Everett Mortenson; half-brother, Vernon Arbogast; and half-sisters, Lorraine Berg and Shirley Warren. God Bless her memory. The family would like to thank Hilltop Care Center and staff for their loving care of Arlene. A celebration of life is being planned for spring.


Marilyn Moser, 81, Cold Spring


Marilyn I. Moser, 81, of Cold Spring (formerly of Eden Valley), passed away on Monday, Jan. 29, 2018, at the St. Cloud Hospital. Mass of Christian Burial was held on Friday, Feb. 2, at Assumption Catholic Church in Eden Valley. Rev. Aaron Nett officiated, and burial was in the parish cemetery. Marilyn was born on April 8, 1936, in Jacobs Prairie, to Alex and Emily (Neutgens) Phillipp. She married Robert J. Moser on June 6, 1956, at Assumption Catholic Church in Eden Valley. Marilyn worked as a home health care aid for Meeker County for many years. She was a member of Assumption Catholic Church, Assumption Christian Women, and Eden Valley American Legion Post #381 Auxiliary. Marilyn enjoyed gardening, cutting wood, knitting, crocheting, and fishing. She was a caring, loving, compassionate, and kind woman who walked strongly in her faith and prayed the rosary daily. She was patriotic, and was especially proud of her family that served in the military. Marilyn loved driving the tractor and combine on the farm, as well as taking care of her grandchildren and great-grandchildren. She will be dearly missed by all who knew her. Survivors include her children: Ann (Deron) Callis of Memphis, Ind., Wanda (Dan) Reiter of Eden Valley, Sue (Tim) Weiss of Litchfield, Sandy (Dan) Jost of Richmond, Connie Moser (Roger Holthaus) of Richmond, and Mike (Sara) Moser of Cold Spring; daughter-in-law, Julie Moser of Mattoon, Ill.; brother and sisters: Eldred Phillipp of Paynesville, Henrietta Phillipp of Eden Valley, and Jeanette (Lynn) Seaton of St. Stephen; fourteen grandchildren; and nine great-grandchildren. Marilyn was preceded in death by her parents; husband, Robert on Aug. 16, 2010; and sons: John, Tom, and Steve.