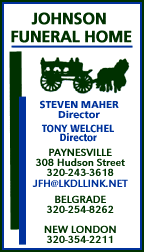 January 2010
December 2010
November 2010
October 2010
September 2010
August 2010
July 2010
June 2010
May 2010
April 2010
March 2010
February 2010
Theresa Miller, 82, Spring Hill
Theresa A. Miller, 82, of Spring Hill died on Saturday, Feb. 12, at Pine Villa Care Center in Melrose.

Funeral services were held on Tuesday, Feb. 15, at St. MichaelÕs Catholic Church in Spring Hill. Burial was in the parish cemetery.

Theresa Miller was born on May 16, 1928, to Mathias and Elizabeth (Meyer) Hemmesch in Lake Henry.

She married Mathias J. Miller on Feb. 3, 1953, at St. MichaelÕs Catholic Church in Spring Hill. They farmed all of their lives in Spring Hill and raised eight children. Their union lasted until MathÕs death in 1998.

Theresa is survived by her children, Julianna (Roger) Bast of Hawick, Joseph (Jane) of Eagan, Mathias (Darlene) of Paynesville, Mary Ann of Burnsville, Katie (Bill) Fogarty of Thief River Falls, Betty (Jeff) Monson of Hawick, and Henry (Mary) of Spring Hill; 21 grandchildren; 26 great-grandchildren; and sisters, Helen Schleper of St. Joseph and Frances Kollmann of Waite Park.

She was preceded in death by her parents; husband, Math; daughter, Rose; a grandson; and five brothers and one sister.


Return to Top • Return to Paynesville Area