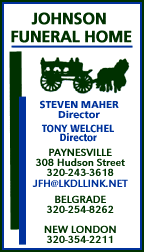 Peter Daniels, 32, Nashville
Peter A. Daniels, 32, of Nashville, Tenn., formerly of Belgrade, died peacefully on Friday, Dec. 14, 2018, in Nashville after battling a long illness. His funeral service will be held at 10 a.m. on Friday, Dec. 28, 2018, at Big Grove Lutheran Church in rural Belgrade. A visitation will be held one hour prior to the service at the church. Services are entrusted to Johnson Funeral Home in Belgrade. Peter Adam Daniels was born on June 24, 1986, to Sandy Joiner and Bryan Schreifels (Glory Schreifels). Peter grew up on the farm and competed in rodeos with his five loving siblings Ð Michael, Jessica, Josh, Cory, and Clay. After graduating from Paynesville High School in 2004, he earned a degree from the University of Minnesota-Duluth in 2008 and enjoyed many years working in higher education and coaching high school speech. He married Adam Daniels on Sept. 24, 2016. They lived in North Hollywood, Calif., and in Nashville, Tenn. Peter's indelible grace and kind smile touched countless lives and will never be forgotten. He is survived by his husband, Adam, and his many family members.


Geraldine Ludwig, 82, Cold Spring


Mass of Christian Burial was held at 11 a.m. on Tuesday, Dec. 18, 2018, at St. Agnes Catholic Church in Roscoefor Geraldine H. Ludwig, 82, who died peacefully on Friday, Dec. 14, at Assump-tion Home in Cold Spring. Burial will be in the St. Agnes Parish cemetery. Geraldine was born on Sept. 28, 1936, in Cold Spring, Minn., to Leo and Rose (Stephanie) Moser. She married Bernard Ludwig on Oct. 20, 1954, in St. Boniface Catholic Church, Cold Spring. Gerry was a cook and significant part of the success of Jerry's Supper Club in Richmond. She also worked at Assumption Home for 20 years. Gerry loved to spend time with her family and friends, play bingo, embroider, quilt, and play cards. Survivors include her children, Diann (Bob) Bellmont, Darleen (Roger) Utsch, Doris (Tom) Wendlandt, Donna (Dale) Mackedanz, Dennis (Kathy) Ludwig, Daniel (Connie) Ludwig, Duane (Cherlyn) Ludwig, Della (Royce Solberg), Darren (Jessica) Ludwig; siblings, LeRoy (Ruth) Moser, Duane (Joan) Moser, Lenora (Ray) Hennen, and Mary Jane (Gabriel) Hennen; 35 grandchildren, 41 great-grandchildren and one great-great-grandchild. She was preceded in death by her parents; her husband of 56 years, Bernard (2011); children, David Ludwig, Denae Ludwig, and Denise Vogt; and siblings Jerome Moser, Wilbert Moser, and Genevieve Schmitz. Arrangements were with the Wenner Funeral Home, Richmond.


Norm Tigner, 89, Mahtomedi


Norm Tigner, 89, passed to eternity with God on Friday, Dec. 7, and will be missed by all. His traits and love will live through his family and all he touched forever. A memorial service will be held at 11 a.m. on Wednesday, Dec. 19, with visitation one hour prior at St. Andrew's Lutheran Church; 900 Stillwater Rd.Mahtomedi, Minn. Memorials to the St. Andrew's Foundation are preferred. Norman Tigner lived an incredible life of love, learning and faith. He was born in Faulkton, S.D., on April 8, 1929, to Nellie Wakefield Tigner and William Ira Tigner. Nellie, Ira, and sister Helen preceded him in passing. Norm was born into the Great Depression in a humble boxcar. Norm and his family lived all over South Dakota, because his father was a railroad man with CNW Railroad. He graduated Faulkton High School, after which he attended Northern State University of Aberdeen, S.D., where he met the love of his life, Eula. He then enlisted in Army Officer Candidate School. He was an associate professor at Huron College, but he found his vocation in teaching high school math and science in Lemon, S.D., Watertown, S.D., and Paynesville, Minn. He was a national director from Minnesota to the National Education Association. Along with his teaching, he was able to coach so many in his favorite sport of basketball, as well as winning the South Dakota state tournament in 1959. He came out of retirement to coach women's basketball because he couldn't stay away from the hardwood. Norm was a remarkable man who lived a remarkable life. He is so immensely proud of his family and how they continue to grow. Norm was a leader. He joined the Army Officer Candidate School and obtained the rank of second lieutenant. While stationed at Fort McClellan in Alabama, he stood with his men through the segregation of the south, refusing to enter any establishment that would not serve all soldiers that are willing, like Norm, to give their lives in service to God and country. Norm was a teacher. He valued learning and seizing the day. He taught his family and everyone he touched how to take risks and learn from them. He never stopped asking questions. He taught all to think critically and trust your instincts. But, most of all, he lived a life of faith and service to all. Norm made every person feel like they are valued and important to the world. Norm was a coach. He knew how to bring out the best in people. His fighting spirit and positive attitude made a lasting impression on others whether it was at a basketball gym with one of his bright-eyed students, at the kitchen table with joyous family and friends, in his care with comforting nurses, doctors, and support staff, or where he will always be, in our hearts. Norm always believes in us and pushes us to be the best we can be. Norm was a servant of God. A president of countless church councils, teacher of Sunday school classes and confirmation classes, he was always willing to help share God's love. He also believed in the church and its mission, serving on capital campaigns, call committees, and service projects. He found such joy and comfort in his faith, and he worked hard to instill that faith in others. God's love still shines brightly through Norm, and he wants that light to shine through all of us. Norm leaves the love of his life Eula, a wonderful marriage of 66 years, daughter Susan (Kurt), sons David (Patty), Douglas (Diane), and Stephen (Jill) and eight wonderful grandchildren: Spencer, Samantha, Allison, Elizabeth, Caitlyn, Isaac, Ryan, and Austin.


Richard Bergstrom, 69, Grove City


Richard A. Bergstrom, 69, of Grove City, died on Saturday, Dec. 1, 2018 at the St. Cloud Hospital. Funeral services were held on Friday, Dec. 7, at Grace United Methodist Church in Paynesville. Richard Alan Bergstrom was born on June 28, 1949, in Litchfield, the son of Theodore and Audrey (Broberg) Bergstrom. He grew up on the family farm north of Atwater. He attended Atwater High School, graduating in 1967. He continued his education at Willmar Vo-tech and Community College by taking classes throughout his life, because of his love of learning. On April 3, 1971, Richard was united in marriage to Roxann Halberg at the Breckenridge United Methodist Church. They made their home north of Grove City, where he farmed. Richard was an active member of Grace United Methodist Church in Paynesville, where he served on numerous committees. He was also very involved as a member of the Masonic Lodge and Zuhrah Shrine Temple, serving as the 2017 Willmar Area Shrine Club president. He was an active member of the Paynesville Cenex Board of Directors. Richard loved farming, despite the fact he was regularly heard saying he was retiring. He enjoyed going on trips with Roxann, whether it be an actual planned trip or a spur-of-the-moment trip. He was not one to sit and relax; there had to be somewhere to go or something to do, even if it meant taking Roxann shopping and sleeping in the pickup. He loved spending time with his four grandchildren. They went to the Fleet store for one thing but got toys, took trips in the pickup to see if the Dairy Queen or Cold Spring movie theater were open, sang them any of the random songs he made up, or thought of new nicknames for them (he had a nickname for everyone). The cabin was a place he enjoyed as well, there was a lot of "peace and tranquility" at the cabin, as he liked to say. Spending time with his daughters and helping them in any way was something he loved, from answering questions about good cars to buy (Fords, of course) to dropping by because it looked like someone was home and he happened to be at Cenex and got you four bags of softener salt. He was always there for Roxann, his daughters, and grandchildren whenever they needed him. Richard had a large personality, a million stories, and a big heart; he will be sorely missed. He is survived by his wife of 47 years, Roxann; daughters, Molly Berg and Greta Bergstrom; grandchildren, Hayley, Ruby, Ian and Annika; siblings, Ted Bergstrom, Shirley (Dave) Olson, Kathy (Bill) Oleson, Bill (Deb) Bergstrom, and ten nieces and nephews. He was preceded in death by his parents; father and mother-in-law, Jim and Ruth Boll; and sister-in-law, Luanne Bergstrom.


Leone Herding, 83, Paynesville


Mass of Christian Burial was held on Monday, Dec. 3, at St. Louis Catholic Church in Paynesville for Leone G. Herding, 83, of Paynesville. Leone passed away peacefully on Tuesday, Nov. 27, 2018, at Washburne Court in Paynesville. Reverend Glenn Krystosek officiated. Burial was in the St. Anthony Parish Cemetery in Regal. Leone was born Aug. 30, 1935, in Paynesville, to Arlie and Ernestine "Tina" (Pankratz) Manz. She married Jerome Herding on June 30, 1956, at St. Anthony's Catholic Church in Regal. They farmed on the Manz family farm, where she appreciated the connection to the legacy land. She will be remembered for her love of sewing, gardening, cooking, and crocheting. She loved to spend time with her family, especially relating to them the history through geneology, the importance of family, and teaching them resourcefulness and determination. Leone is survived by her children: Mark (Theresa) Herding of Paynesville, Steve Herding of Belgrade, Helen (Dhiya) Shaya of Marion, S.D., Susan (Mike) Nienaber of Osakis, and John (Theresa) Herding of Belgrade; 15 grandchildren; two great-grandchildren; brother, Arlie "Billy" (Joan) Manz of Buffalo; and sister Helen (Russ) Jones of Eyota. Preceding her in death are her parents Arlie and Tina; husband, Jerome; and son, Mitchell.


Kathy Burg, 77, Lake Henry


A Mass of Christian burial will be held at 11 a.m. on Wednesday, Dec. 5, 2018, at St. Margaret's Catholic Church in Lake Henry for Kathleen E. "Kathy" Burg, 77, of Lake Henry, who passed away on Saturday, Dec. 1, at her home. Rev. Glenn Krystosek will officiate. Burial will be in the parish cemetery. Visitation will be held from 4 until 8 p.m. on Tuesday, Dec. 4, and from 10 a.m. until the time of the service on Wednesday, all at St. Margaret's Catholic Church in Lake Henry. Recitation of the Most Holy Rosary will be held by the St. Margaret's Christian Women and Catholic United Financial on Tuesday, Dec. 4, at 4 p.m. Kathy was born on Dec. 23, 1940, to Leo and Estella (Hess) Meyer in Lake Henry. Kathy was united in marriage to Linus H. Burg on Sept. 7, 1959, at St. Margaret's Catholic Church in Lake Henry. Together, they moved to their family farm where they lived for over 53 years. Along with being a farmer's wife and homemaker, Kathy also casually worked for Koronis Sports Apparel. She was a member of St. Margaret's Catholic Church, Catholic United Financial, and Christian Women, as well as the Lake Henry American Legion Post #612 Auxiliary. Kathy was a loving mother, grandmother, and great-grandmother. She loved spending time with her family and friends. She relished any opportunity to spend time with her grandchildren, whether it was attending their sporting events or being a baby sitter at the drop of a hat. Kathy could never sit still and loved to work on her crafts especially, sewing, embroidery work, quilting, ceramics, crocheting, and working on puzzles. She was also an avid gardener and enjoyed canning her vegetables. Occasionally, Kathy liked to let loose and go to the casino with her husband, Linus. She is survived by her children, Dale of St. Cloud, Rick (Marian) of Lake Henry, Lori (Mark) Lieser of Paynesville, Sherry (Randy) Bertram of Spring Hill, and Tami (Jeff) Funk of New Munich; grandchildren, Cody (Megan) Lieser, Grant Lieser, Amanda (Aaron) Thesing, Ashley (Chris) Meyer, Tyler Bertram, Travis Bertram, Logan Funk, Taylor Funk, Eric Sand, and Sam (Tara) Sand; four great-grandchildren; sister, Mary (Frank) Bauer, of Richmond; sister-in-law, Mary Ann Meyer; and many nieces, nephews, relatives, and friends. She is preceded in death by her parents; husband, Linus, on Oct. 7, 2017; two unborn grandchildren; one unborn great-grandchild; brother, Alvin Meyer; sister and brother-in-law, Joanne (Cyril) Spanier; an infant siste; and godson, Dean Meyer. A special thank you to Kathy's neighbors, Jeff and Jackie Dahl, for their loving and compassionate help and friendship to Kathy and Linus.


--
Obituary Archives

Return to Top &#149 Return to Paynesville Area