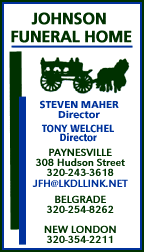 July 2020
June 2020
May 2020
April 2020
March 2020
February 2020
January 2020
December 2019
November 2019
October 2019
September 2019
August 2019
July 2019
June 2019
May 2019
April 2019
March 2019
February 2019
January 2019
December 2018
November 2018
October 2018
September 2018
August 2018
July 2018
June 2018
May 2018
April 2018
March 2018
February 2018
January 2018
December 2017
November 2017
October 2017
September 2017
August 2017
July 2017
June 2017
May 2017
April 2017
March 2017
February 2017

Betty Zollner, 84, Paynesville
A Memorial Mass of Christian Burial will be held at 12 noon on Saturday, Aug. 22, 2020, at St. Louis Catholic Church in Paynesville for Betty Ann Zollner, age 84, of Paynesville. Reverend Glenn Krystosek will officiate. Betty passed away on Wednesday, Aug. 12, 2020, at the Assumption Community in Cold Spring after a long battle with cancer. Entombment will take place in the St. Louis Parish Mausoleum in Paynesville. Visitation will be held after 11 a.m. on Saturday, Aug. 22, at the church. Masks will be required. Betty was born Feb. 20, 1936, in New Ulm, Minn., to Arnold and Marie (Micke) Freyholtz of Fairfax, Minn. She was baptized and confirmed in St. Paul's Lutheran Church in Hector. She later converted to Catholicism. She graduated from Fairfax High School in 1954. She married Fred Zollner on May 10, 1955, at St. Andrews Catholic Church in Fairfax. In 1956, they moved to Wabasso where she often helped out at the creamery with bookwork. They operated an Oak Grove Dairy milk route, delivering to the local homes and businesses. Some affectionately called her the "Milk Lady." In 1964, she was instrumental in organizing the eye and ear screening of pre-school children. She was involved in the Redwood County Extension program and served on its advisory board. She also served as leader of a 4-H club, of which her children were members. She also taught sewing to the girls in their group. She served on the District #640 school board until moving to St. Martin in 1975. In St. Martin, they owned and operated Fred's Bar until 1980. Betty began working at the College of St. Benedict and at St. John's University in the bookstore at first and then in the registrar's office as degree auditor for both colleges. During this time, she took college courses, which included five weeks in London, England. She completed her bachelor of arts degree in 2001, which she felt was one of her biggest accomplishments. She retired in 2004 after 24 years at the colleges. Betty was an active member of St. Louis Catholic Church in Paynesville where she was organist from 1996-2009. She loved "old time" music and frequented many dances and polka festivals in several states with her husband. She loved traveling, managing to visit Europe five times and taking "mystery bus" trips. Her bags were always packed and ready for another adventure. Other interests included sewing, knitting, reading, doing puzzles, and in her early years bowling. She loved to decorate at Christmas. She also was an avid antique and Hallmark collector. Due to health issues, she had to move from her home to 700 Stearns Place, but her spirit never wavered. She was so proud of all her children's and grandchildren's achievements Betty is survived by her children Cindy (Doug) Kiehne of Tucson, Ariz., Jeff (Cindy) of St. Cloud, Greg (Angel) of Prior Lake, Mark (Gail) of Owatonna, Rick (Kristin) of Pipestone, and Jason (Willow) of Naples, Fla.; 12 grandchildren; 5 great-grandchildren; sisters-in-law Ordella Freyholtz of Tripoli, Iowa, Bernice (Dan) Dietz and Rose Zollner of New Ulm, and Cleophas Grosam and Marian Zollner of Fairfax; and several nieces and nephews. Preceding Betty in death were her parents; husband Fred (2011); sister Florentine "Tina" (Vincent) Olson; brothers Waldemar (Marilyn) and Kenneth Freyholtz; brothers-in-law Albin and Glen Zollner; and mother- and father-in-law Lucille and Joseph Zollner.


Donald Johnson, 83, Paynesville


Funeral services were held on Monday, Aug. 10, 2020, at Grace United Methodist Church in Paynesville for Donald J. Johnson, 83, of Paynesville. Don passed away peacefully on Sunday, Aug. 2, 2020, at Arlington Place Assisted Living in St. Joseph, Minn. Burial was in the Paynesville Cemetery with full military honors. Don was born Sept. 19, 1936, in Paynesville, Minn., to William and Anna (Van Heuveln) Johnson. After high school, he served in the U.S. Army during Korea from 1954-1957. He worked at Honeywell in the Twin Cities for over 30 years and retired soon after back to Paynesville. He was a member of Local Union #1145 in St. Paul and Paynesville American Legion Post #271. Don is survived by his brother William "Bud" Johnson of Jamestown, N.D.; and nieces Kim Dunn, Betsy Milbach, Darbie Johnson, and Cindy Johnson; other relatives Corlene Rose and Susan Sides; as well as many friends. Don was preceded in death by his parents; and sister Ruth Dietz. Memorials are preferred to the Paynesville American Legion.


Angela Hopfer, 37, Greenwald


Angela M. "Angie" Hopfer, 37, of Greenwald passed away peacefully surrounded by her family on Thursday, Aug. 6, 2020, at her home in Greenwald, Minn. Per Angie's request, no public service will be held. Angie was born March 7, 1983 in Melrose, Minn., to Dave and Linda (Thelen) Klaphake. She married Rob Hopfer on Jan. 28, 2014, in Las Vegas, Nev. She worked at CentraCare in St. Cloud for many years. Angie enjoyed reading, spending time with friends, and watching movies with her family. Survivors include her husband, Rob Hopfer; and their children, Terry Clinton and Malia Hopfer of Greenwald; parents, Dave and Linda Klaphake of Melrose; father and mother-in-law, Dan and Mary Hopfer of Melrose; sister, Katie (Jon) Gonzalez of Kingston; sister-in-law, Amy (Isaac) Stumler of Melrose; brother-in-law, Tim (Shanna) Hopfer of Spring Hill; nieces and nephews, Destiny Hopfer, Aiden Hopfer, Niley Hopfer, Sullivan Stumler, Roman Stumler, and Leo Gonzalez; grandparents, Alice Klaphake of Melrose and Mark and Evelyn Thelen of Melrose; and uncles, aunts, and cousins. Angie was preceded in death by her grandfather, Tony Klaphake. Arrangements were made with Patton-Schad Funeral and Cremation Services of Melrose.


Lorraine Johnson, 92, New London


Lorraine M. Johnson, 92, of New London died on Saturday, July 25, 2020, at GlenOaks Care Center in New London.  A private memorial service will be held.  A visitation was held on Friday, July 31, at Crow River Lutheran Church in rural Belgrade.  Lorraine Mary Johnson was born on July 12, 1928, in Lake Henry, Minn., the daughter of Peter and Josephine (Lehnen) Zirbes. She grew up in Lake Henry, where she attended St. Margaret's Catholic School. On Aug. 11, 1948, Lorraine was united in marriage to Norman Johnson at Crow River Lutheran Church near Belgrade. This union was blessed with two sons and a daughter. The family made their home in New London where Lorraine was a homemaker and helped Norman run the family business. Lorraine was a member of Crow River Lutheran Church, where she was active in the quilting circle and WELCA. Lorraine was also a member of the New London American Legion Post #537 Auxiliary. She loved baking, knitting mittens for the family, crocheting afghans and hand towels, growing African violets, and going out to eat with Norman. In her younger years, she traveled locally with Norman and his band and still loved listening to old-time music. She is survived by her husband of 71 years, Norman; children: Michael (Geraldine) of San Tan Valley, Ariz., Tammy (Wayne) Hendrickson of New London, and Robbie (Shannon) of New London; six grandchildren; and 11 great-grandchildren. She is also survived by her siblings, Norman (Mary) Zirbes of St. Cloud and Mary Ann (Dale) Parkhurst of Mound; brother-in-law, Richard Johnson of Spicer, and sister-in-law, Gervaise Peterson of Wayzata. Lorraine was preceded in death by her parents and by four brothers. In lieu of flowers, memorials are suggested to GlenOaks Memory Care Unit or the Crow River Lutheran Church.  Services were entrusted to Johnson Funeral Home in New London: www.hafh.org.


Mark Hagman, 69, Paynesville


Mark Andrew Hagman, 69, of Paynesville, formerly of Winsted and Lester Prairie, passed away on Wednesday, July 29, 2020, at the St. Cloud Hospital. A memorial service will be held on Friday, Aug. 7, at 1 pm. at the Chilson Funeral Home in Winsted, Minn. Father Matthew Wiering will officiate. Interment will be in the Fort Snelling National Cemetery. A visitation will be held on Friday, Aug. 7, one hour prior to services at the funeral home. He was born in Minneapolis on Dec. 6, 1950, the son of Leslie and Virginia (Kellington) Hagman. On April 10, 1976, Mark Hagman was joined in holy marriage to Charlene Bedel in St. Cloud, Minn. God blessed their marriage with three daughters. Mark honorably served his country in the United States Marine Corps. He retired in 1992 following 30 years of military service. He loved spending time with his family! He enjoyed woodworking, bowling, camping, coloring, and listening to big band music. He is survived by his loving wife: Charlene C. Hagman; daughters: Stacy (Russell Feltmann) Hagman of Lester Prairie, Minn.; Tammy (Frank Bayerl) Hagman of Winsted, Minn., and Carrie Hagman of Mayer, Minn., and fiance Don Olson; six grandchildren: Kayla Hagman (Brett Anderson), Tyler (Chelsea) Bayerl, Joseph Bayerl (Emma Friauf), Bethany Hagman, Reagan Wiemiller, and Ben Hagman – Hecksel (Cammy Vollmer); seven great grandchildren: Autumn, Aubrey, Sawyer, Kennedy, Olivia, Addilynn, and Jaxon; sisters: Kris Hagman (LaVerne Feld) of Waite Park and Leslie Hagman (Jerry Gill) of Cold Spring; beloved nieces and nephews; other relatives; and friends. He was preceded in death by his parents and brothers, David Hagman and Steven Hagman. The Chilson Funeral Home in Winsted is serving the family. Online condolences may be made to www.chilsonfuneralhome.com.


Luella Schmidt, 91, Paynesville


Private graveside services were held at the Paynesville Cemetery for Luella P. Schmidt, 91, of Paynesville. Luella passed away on Friday, July 31, 2020, at the Hilltop Care Center in Watkins. Pastor Bob Kandels officiated. Luella was born on Aug. 11, 1928, in Union Grove Township, Meeker County, Minn., to Peter and Lola (Spaulding) Anderson. She married Verlyn J. Schmidt on March 28, 1953, at the Paynesville Methodist Church. They farmed in Eden Lake Township and retired to Paynesville in 1982. She worked as a cook at the Good Samaritan and Hilltop Restaurant in Paynesville. She was a member of Mary's Circle at Grace United Methodist Church in Paynesville and was over a 50-year member of the American Legion Post #381 Auxiliary in Eden Valley. Luella is survived by her children Debra Schmidt of Paynesville, Mary (John) Raskie of Litchfield, and Peter of Litchfield; grandchildren Melissa (Corey) Baron, Michael Raskie, and Zachary (Kassidee) Schmidt; great-grandchildren Austin, Faith, and Hope Baron; great-great-grandchildren Lilly and Damon Baron; and siblings Beverly (Jerry) Haagenson, Peter Anderson, and Sharon (Willis) Greeley. Preceding Luella in death were her parents, husband Verlyn (2016), and sisters Faye Schultz and Ruby Emerson.


Allen Guenther, 82, Paynesville


Allen D. Guenther, 82, of Paynesville died on Monday, July 27, 2020, at the St. Cloud Hospital. A private family memorial service will be held at a later date. Allen Donald Guenther was born on Aug. 13, 1937, in Millerville, Minn., the son of Frank and Evangeline (Boesen) Guenther. The family moved to the Georgeville area where Allen received his education. On July 1, 1967, Allen was united in marriage to Marilyn Mager near Pleasant Lake. This union was blessed with two daughters and a son. The family made their home in Paynesville where Allen worked for Cold Spring Granite for 26 years before his retirement in September 1999. Allen enjoyed deer hunting, fishing, and helping his mother-in-law on her farm. He is survived by his wife of 53 years, Marilyn; children: Donald (Angela) of Richmond; Jeannine Guenther of St. Cloud; and Cheryl (Joseph) Woodruff of St. Cloud; grandchildren, Tony Guenther, Tyler Guenther, and Devon Woodruff; and brothers, Jim (Ellen) of Paynesville and John (Lynda) of Paynesville. He was preceded in death by his parents; brother, Jerry; and step-father, Martin Vigdahl.


Thomas Kotten, 80, Paynesville


Thomas L. Kotten, 80, of Paynesville died on Sunday, Aug. 2, 2020, at the Koronis Manor in Paynesville. A visitation will be held from 5 to 8 p.m. on Thursday, Aug. 6, at the Johnson Funeral Home in Paynesville. A celebration of life will be held at 11 a.m. on Friday, Aug. 7, at Crystal Hills Assembly in rural Paynesville. Social distancing and masks are required at both services. Burial will be held at a later date. In lieu of flowers, memorials are preferred. Thomas Linus Kotten was born to Joseph and Leona (Krzmarzick) Kotten on July 19, 1940, in Sleepy Eye, Minn. Tom attended Georgeville Country School for his elementary years and graduated from Belgrade High School. He enlisted in the U.S. Army, and while standing in line to go to Korea he was pulled aside to be stationed in Oahu, Hawaii, where he chauffeured for officers and dignitaries. Tom had a great sense of humor. He always had a twinkle in his eye when he told people that he "fought the Battle of Waikiki." In 1963, he was united in marriage to Roberta (Egesdal) of Buffalo Center, Iowa, and the couple moved to Minneapolis where Tom worked at Honeywell. In 1972, the couple moved to Paynesville, Minn., and purchased an existing business and started Kotten Refrigeration, where they worked for 39 years until retirement in 2011. Tom enjoyed family, coffee time with the boys, fishing, delivering good one-liners, jokes, Bible studies, and helping anyone in need. He was a quiet soul with a big heart and will be greatly missed. Thomas is survived by his wife, Roberta of 56 years; son, Greg Kotten of Paynesville, Minn.; daughters, Susan (William) Ritchie of Grand Forks, N.D., and Renata Kotten of Sartell, Minn.; grandchildren: Brittany Kotten, Morgan Kotten, Faith Ritchie, and Autumn Ritchie; great-grandchildren, Aspen and Ava; brothers: Jack (Erna) of Regal, Ronald (Loretta) of Brainerd, and Steven (Barb) of Hawick; sisters, Donna Liebl of Paynesville, Joan (Paul) Yenter of St. Peter, Minn., and Elizabeth Kotten of New Richmond, Wis.; brother-in-law, Lee Feneis; sisters-in-law, Mary Kaye Kotten of Thorp, Wis., Janet Kotten of Paynesville, and Marge Kotten of Brainerd. He was preceded in death by his parents; brothers, Jerome, Dennis, Robert, and Mark; and sisters, Mary Feneis and Anne Kotten; and his brother-in-law, John Liebl.