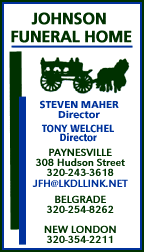 Gary Johnson, 71, Paynesville
A memorial service was held on Monday, Aug. 12, at Grace United Methodist Church for Gary Lee Johnson, 71, of Paynesville who passed away on Tuesday, Aug. 6, 2019, at the St Cloud Hospital surrounded by his family. Gary Lee Johnson was born in Evart, Mich., on Aug. 9, 1947, and raised in Clotho, Minn., by his parents, the late Harold and Florence (Scott) Johnson. He attended school in Long Prairie, Minn. He married Linda Curtis on Jan. 2, 1965. They enjoyed 54 years of marriage and raised two daughters. Gary's vocational life included working for General Motors, Whirlpool, Control Data Institute, and managing at the Crystal Hills Ski Area and Restaurant until he began his earth-moving excavation business, J&S Contracting, where he spent 40 years building roads, wastewater treatment ponds, building sites, airports, and covering landfills. The past two summers he enjoyed harvesting invasive species weeds in his beloved Lake Koronis. Gary's hobbies included going to Hill Top Restaurant to have coffee with his friends while sharing tales of his grandchildren's fishing and hunting. He was an avid NASCAR and NBA fan, he loved going to his grandchildren's sporting events, and spending time on his pontoon with his family. He was passionate about lake life, his family, hard work, and helping others. His welcoming presence, big hugs, warm smile, and generous heart will be missed. He is survived by his wife, Linda; daughters, Rebecca (Cary) Peterson and Rev. Mindy (Brian) Czycalla; grandchildren, Colby Peterson, Ryan (Halie) Peterson (and coming soon a great-grandson), Hunter (Chelsea Wiese) Czycalla, Chase Lee Czycalla, and Lucas Gary Peterson; brothers, Philip H. Johnson and Robert Johnson; sister, Debby (Lynn) Pesta; many nieces and nephews; and his dog Mitzy, his golf cart companion.


Steven Row, 50, Paynesville


Steven Dale Row, 50, of Paynesville, died on Thursday, May 23, 2019, near Grove City. His memorial service will be held 10:30 a.m., on Saturday, Aug. 17, at Cross Roads Community United Methodist Church in Spicer. Visitation will be one hour prior to his service at the church. Arrangements are with Harvey Anderson Funeral Home in Willmar. Steven Dale Row was born on Jan. 18, 1969, in Abilene, Kan. He was raised by his mother, Judith (Sterling) Row. Steve, his mother, and three siblings lived in Abilene until Steve was six years old, then they moved to Pierre, S.D. He was baptized and later confirmed at the Methodist church in Pierre. He also attended school in Pierre. Following his schooling, Steve worked construction, started his own lawn care business, and worked several other jobs before going to work for CocaCola. He later moved to Spicer, Minn., and eventually moved to Paynesville. During this time, he worked for Duininck's, Affordable Pumping, and West Central Sanitation. On Oct. 14, 2017, Steve was married to Stacy DeVries at Cross Roads Community Methodist Church in Spicer. Steve enjoyed spending as much time as he could outside. He enjoyed hunting, fishing, and gardening. He also enjoyed riding his motorcycle and going to concerts with Stacy. His favorite concert was AC/DC, where he proposed to Stacy. Steve is survived by his wife, Stacy of Paynesville; children: Tiffany, Melanie, and Matthew Row; mother, Judith Row, step-children: AJ (Kasandra) DeVries of Paynesville, Nick (Mandi) DeVries of Sioux Falls, S.D., and Anne DeVries of Paynesville; and siblings: Tammy (Jose) Magana, Lisa (Lou) Row, and Michael (Genevieve) Row; and numerous uncles, aunts, cousins, nephews, and nieces. He was preceded in death by his father, grandparents, and uncles Paul and Stan Sterling.


Luanne Tschann, 71, Paynesville


Memorial services were held on Saturday, Aug. 3, 2019, at Grace United Methodist Church in Paynesville, Minn., for Luanne (Hautala) Tschann, 71, of Paynesville. Luanne passed away on Monday, July 29, at the Paynesville Hospital. Burial will take place in the Evergreen Cemetery in Brainerd, Minn. Luanne was born on April 29, 1948, in Brainerd to Arthur and Ruth Hautala. She graduated from Brainerd Area High School and St. Cloud State University. On July 24, 1971, she married Bob Tschann, and together they raised two sons, Matthew and Anthony. Luanne worked professionally in the computer industry with Opticfacts in Sartell, Minn. Luanne is survived by her sons Matthew (fiance Tina) and Anthony; granddaughter Charlie; sisters Karen Lake and Linda Anderson; and their families. She is preceded in death by her parents and husband, Bob. Arrangements are with the Daniel-Anderson Funeral Home in Paynesville. In lieu of flowers, memorials to the donor's choice are preferred.