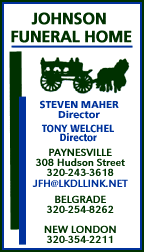 July 2017
June 2017
May 2017
April 2017
March 2017
February 2017
January 2017
December 2016
November 2016
October 2016
September 2016
August 2016
July 2016
June 2016
May 2016
April 2016
March 2016
February 2016
January 2016
December 2015
November 2015
October 2015
September 2015
August 2015
July 2015
June 2015
May 2015
April 2015
March 2015
February 2015
January 2015
December 2014
November 2014
October 2014

David Brown, 82, Paynesville
David Brown, 82, of Paynesville, died on Saturday, Aug. 19, 2017, at the St. Cloud Hospital. Mass of Christian Burial was on Wednesday, Aug. 23, at St. Louis Catholic Church in Paynesville. Burial will be at a later date. David Eugene Brown was born on the family farm on Jan. 18, 1935. Due to a blinding snowstorm, the doctor was forced to travel by horse drawn sleigh for the delivery. David helped his dad and brothers on the farm and attended country school through his grade school years. He later graduated from Franklin High School in 1953. David joined the Army in 1955, where he was stationed at both Fort Chaffee and Fort Hood, before reporting for duty in Baumholder, Germany, where he drove M47 and M48 Patton tanks. Upon his return to the states in 1957, David met and married the love of his life, Judy Weinzetl of Fairfax, on Nov. 22, 1958. David and Judy farmed and began raising their family in the Franklin area before moving to New Ulm. They later relocated to Fairfax, then onto Phoenix, Ariz., where they worked and retired from the Ping golf company, Karsten Manufacturing. After many family vacations to Paynesville, a home on Lake Koronis was chosen as their place of retirement in 2000. Here, David enjoyed fishing with Lori, golfing with his friends at the Koronis Hills Golf Course, and spending lots of time just watching the lake, weather, and wildlife from his deck or easy chair. Most of all, he loved spending time with his wife and family to whom he dedicated a life of hard work to support and nurture. David was a man of faith and though the Lord gave us only Ten Commandments, he held a strong belief in an Eleventh Commandment, "Thou shall not waste." This philosophy guided him in turning almost anything into 'something else' that he needed around the house or garage. From his early years on the farm, David developed a life-long love of the land and everything that went into caring for it. He was one of the kindest, most patriotic, and devout family men to have ever graced this earth, and will be forever missed by all those that had the honor to know him. David is survived by his loving wife of 58 years, Judy; children, Lori Brown (Blair Hagen) of Paynesville and Gregory (Wendy) Brown of Phoenix, Ariz. David was blessed with four wonderful grandchildren: Katie Pederson of Paynesville, Jackie (Jesse) Yarmon of Paynesville, Mackenzie (Mark) McLaughlin of Killeen, Texas, and Logan (Kelli) Brown of Phoenix, Ariz. David also enjoyed every moment spent with his great-grandson, Ryder Pederson of Paynesville. He is also survived by his brothers, George (Donna) Brown of Marana, Ariz., and Bill (Mary) Brown of New Ulm. David was preceded in death by his father, Alby; mother, Clella; and brother, Robert (lost in action in the Korean War), all of Franklin; and his brother, Frederick of Dassel. Services are entrusted to Johnson Funeral Home in Paynesville.


Marcella 'Marcy' Lang, 79, Roscoe


Marcella J. 'Marcy' Lang, 79, of Roscoe passed away peacefully at her home on Sunday, Aug. 6, 2017. Mass of Christian Burial will be held at 10:30 a.m. on Saturday, Aug. 12, at St. Agnes Catholic Church. Reverend Glenn Krystosek will officiate. Burial will take place in the St. Agnes Parish Cemetery in Roscoe. Relatives and friends may call from 4 to 8 p.m. on Friday , Aug. 11 and after 9:30 a.m. on Saturday, Aug. 12, both at the St. Agnes Catholic Church in Roscoe. A rosary will be led by Catholic United Financial and St. Agnes Christian Women at 4 p.m. on Friday, Aug. 11, at the church. Marcy was born on Jan. 22, 1938, in Eden Valley to William and Anna (Lehnen) Driver. She married Benny Lang on May 27, 1957, at St. Agnes Catholic Church in Roscoe. They began farming in the Roscoe area and they retired in 1994. She will be remembered for her love of cooking and was locally famous for her potato salad. She enjoyed playing cards and bingo. She also enjoyed fishing, but only from shore (no boats). She was generous with her time, always helping others. Marcy is survived by her sons: Craig of Roscoe, Donald (Bonnie) of Paynesville, and Leroy (Kris) of Spicer; five grandchildren; eight great-grandchildren; and her sister, Clara (Norby) Schueller of Richmond. Marcy is preceded in death by her parents; husband, Benny (2012); grandson, Christopher Liestman; brother, Melvin Driver; and sisters: Lucille Mackedanz, Marie Loch, and Elaine Weber.


Jerome Illies, 84, Paynesville


Jerome H. Illies, 84, of Paynesville, passed away peacefully on Saturday, Aug. 5, 2017, at the St. Cloud VA Medical Center. Mass of Christian Burial will be held at 10:30 a.m. on Wednesday, Aug. 9, at St. Louis Catholic Church in Paynesville. Reverend Glenn Krystosek will officiate. Entombment with military honors will be in St. Louis Parish Mausoleum. Jerome was born on Sept. 2, 1932, in Greenwald to Edward and Anna (Faber) Illies. He proudly served in the United States Army from 1953 to 1955. Jerome returned home and ran the family farm. After farming, he began working as a custodian for St. Louis Church where he was an active member for many years. Jerome was a lifetime member of the Melrose VFW Post #7050, the Paynesville American Legion Post #271, and the Knights of Columbus Council #3820. Jerome is survived by his brother, Alcuin Illies (Carol Murray) of St. Cloud; sister, Ione (Wally) Meemken of Richmond; nephews, Leon and Terry (Tyna) Meemken; and niece, Shelly Meemken (John Zimmerman). He was preceded in death by his parents; sister, Marian Illies; and sister-in-law, Dorine Illies.


Donna Reinke, 74, Richmond


Donna Mae Reinke, 74, passed away peacefully at her home in Richmond, surrounded by her family, on Sunday, Aug. 6, 2017, following a courageous battle with colon cancer. A memorial service will be held at 2 p.m. on Friday, Aug. 11, at Paynesville Lutheran Church. A visitation will held from 4 to 8 p.m. on Thursday, Aug. 10, at Paynesville Lutheran Church and continue one hour prior to the service. Donna was born on Nov. 7, 1942, in Odessa, Minn. to Ben and Clara Hein. Donna attended school in Odessa, where she was an avid participant in the band and acrobatics programs there at the school. She married her husband, Gary Reinke, on Feb. 6, 1960. The two went on to raise two sons, Brett and Craig. Donna enjoyed music, traveling, and her annual trips to Deadwood, S.D. and Florida. She also adored her biweekly aqua-fitness class in Paynesville, along with the weekly aerobics class. But Donna's principal joy in life came from her family, for whom she devoted her life. Donna is survived by her husband of 57 years, Gary; sons, Brett (Karen) and Craig (Michelle); five grandchildren: Shawn, Kelsey, Mary, Josh, and Maxwell; four siblings: Gloria, Judy, Debbie, and Rick; and many nieces, nephews, and in-laws. She is preceded in death and met in heaven by her mother, father, and brother David. Services are entrusted to Johnson Funeral Home in Paynesville.


Ruth Wunderlich, 91, Austin


Ruth Ellen Wunderlich, 91, of Austin, died on Thursday, Aug. 3, 2017, at the Cedars of Austin. Ruth was born on Oct. 4, 1925, in Austin, Minn., to Herman and Gweneth (Green) Wunderlich, the youngest of three daughters. She graduated from Austin High School with the class of 1944, then from Austin Junior College in 1946, and St. Cloud Teachers College in 1948. Her first teaching assignment was in Mabel, Minn., then Spring Valley, Wis., and ended after 40 years in Paynesville in 1992. For the past three plus years, Ruth has resided at the Cedars of Austin. For Ruth, this was a great place to be. She was able to meet new friends and reconnect with others. The staff treated her with dignity, respect, and much kindness. At Ruth's request, she did not want to have a funeral service. Private interment will be at Oakwood Cemetery in Austin. Any memorials can be directed to any of her favorite charities: JC Hormel Nature Center, Mower County Humane Society, Mower County Historical Society, or Austin Area Commission for the Arts/Paramount. Ruth was preceded in death by her parents and sisters and brother-in-law, Marguerite (Chester) Ullman and H. Jeanne Wunderlich. Arrangements are entrusted to Mayer Funeral Home.Condolences may be left online at www.mayerfh.com.


font size=4 COLOR="BLACK" face="helvetica, arial, sans serif"> Mildred 'Millie' Adolph, 97, Paynesville


Mildred A. 'Millie' Adolph, 97, of Paynesville (formerly of Delano and Grove City), died on July 6, 2017, at Koronis Manor in Paynesville. Her memorial visitation will be held from 2 to 3 p.m. on Wednesday, Aug. 2, at the Johnson Funeral Home in Paynesville. Mildred was born on Feb. 28, 1920, in rural Darwin, to John and Mary (Becker) Hennen. She was baptized at St. Gertrude Catholic Church in Forest City. She grew up in the Watkins and Kimball area and attended country school in Kimball. Millie married Donald William Adolph on May 22, 1946, at St. Anne's Catholic Church in Kimball. After their marriage, they were engaged in farming in the Kimball-South Haven area. In 1961, they moved to Grove City where Don and Millie were owner-managers of the Union 76 station. In 1969, they took over management of Leiter's 76 station in Delano and moved to Delano in 1970. After Don's death on Sept.1, 1974, she operated the station for six more months before selling it. She then worked at Tonka Toys in Mound until they closed. She moved to Paynesville in 1991. Millie enjoyed working with crafts, knitting, crocheting, and sewing. She also enjoyed taking care of her lawn and gardening. She was a past member of the Paynesville V.F.W. Auxiliary and lifetime member of Willmar V.F.W. Auxiliary. Mille is survived by her daughter, Patricia (David) Neuman of Paynesville; grandson, Steven (Kimberly) Neuman of Gibbon; great-grandchildren: Brooke and Hannah Neuman of Gibbon, Katryna Servin of Hutchinson, and Cody Servin of New Ulm; great-great-granddaughter, Harley Bosma of Hutchinson; great-great-grandson, Jasper Bosma of Hutchinson; other relatives and many good friends. Millie was preceded in death by her husband, Don; son, Mark; parents; siblings: Katherine Becker, Marcella "Sally" Kraemer, and Raymond Hennen; and brothers-in-law, Richard Becker and Donald Kraemer.


Return to Top • Return to Paynesville Area