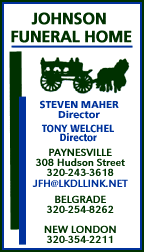 March 2006
February 2006
January 2006
Dec. 2005
Nov. 2005
Oct. 2005
Sept. 2005
August 2005
July 2005
June 2005
May 2005
April 2005
Lorraine Fiscus, 85, Minneapolis
Lorraine E. Fiscus, 85, of Minneapolis, died on Tuesday, April 25.

Funeral services were held on Friday, April 28, at 10:30 a.m. at Hennepin Avenue United Methodist Church in Minneapolis. Interment was at Fort Snelling National Cemetery.

Lorraine was born on March 30, 1921, in Paynesville to Edwin and Elsie Manz. She attended the University of Minnesota and St. Cloud Business College.

In the fall of 1941, she was involved in creating one of two Stearns County Selective Service draft boards in advance of WWII and was appointed chief clerk.

In 1944, she moved to Minneapolis and married Raymond Fiscus in 1945.

Lorraine is survived by her children, Steve (Pat), Rod (Lynn), Donna, Ken (Kris), and Sharon; a brother, Harold Manz of Paynesville; grandchildren and great-grandchildren; and nieces, nephews, and other relatives.

She was preceded in death by her husband; a son, Rodney; and her parents.

Evangeline Everson, 63, Hawick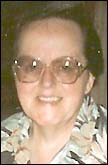 Evangeline Mavis Everson, 63, of Hawick, died on Monday April 24, at her home.
Funeral services were at 11 a.m. on Thursday, April 27, at Zion Irving Lutheran Church. Rev. Terry Olthoff officiated. Burial was in Zion Irving Lutheran Cemetery.
Evangeline was born on June 12, 1942, in New London, the daughter of John and Laura (Thorson) Everson. She was baptized and confirmed in the Christian faith at Zion Irving Lutheran Church.
She grew up, lived, and passed away at the family home in Hawick. She attended grade school in Hawick for six years, before it closed, when she transferred to Paynesville, where she went on to graduate from high school.
Evangeline was a lifelong member of Zion Irving Lutheran Church. There she taught Sunday school, was a sponsor for the youth group, and enjoyed singing.
Evangeline is survived by her siblings, Laverne (George) Blair of Lowry, Kathryn Ryks of Paynesville, Palmer (Alice) Everson of New London, and Beatrice Visser of Willmar; 19 nieces and nephews; 43 great-nieces and nephews; and 18 great-great-nieces and nephews.
She was preceded in death by her parents, sisters, Anna Webber and Mildred Gunderson; one nephew; and one great-nephew.

Elayne Miller, 86, Hawick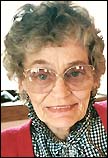 Elayne Florence Miller, 86, of Hawick and formerly of Grove City, died on Sunday morning, April 9, at the Koronis Manor in Paynesville.
A memorial service were held at 2:30 p.m. on Sunday, April 30, at the First Baptist Church of Grove City.
Elayne was born in Cleghorn, Iowa, on Dec. 1, 1919, the daughter of Amil and Mabel (Newberg) Wilson. At a young age, the family moved to the Litchfield area where she attended elementary country school and Litchfield High School, graduating in 1938.
On July 27, 1940, she was united in marriage to Robert A. Miller in Swanville, Minn. To this union one son and one daughter were born.
Elayne worked as a secretary for 20 years at Grove City Public School, before retiring in 1978. After her retirement she enjoyed fishing, braiding rugs, nature walks, feeding the birds, and reading current events.
She attended the First Baptist Church in Grove City.
Elayne is survived by her son, Steven (Amy) Miller of Hawick; daughter, Christine (Robert) Sogge of Spicer; four grandchildren; sister, Marguerite Hufford of Hawick; and many nieces, nephews, relatives and friends.
She was preceded in death by her parents, husband on June 9, 1977, and brother, William Wilson of Spicer.

Leander Rothstein, 87, St. Cloud


Leander Rothstein, 87, of St. Cloud, died on Friday, April 21, at St. Benedict's Center in St. Cloud.
Mass of Christian Burial was at 1 p.m. on Monday, April 24, at St. Augustine's Catholic Church in St. Cloud. Reverend Luke Steiner, OSB officiated. Entombment was in Assumption Cemetery Mausoleum in St. Cloud.
Leander was born on July 17, 1918, in Richmond, Minn., to Nicholas and Theresa (Braege-lmann) Rothstein.
He married Genevieve Orbeck on Oct. 4, 1943, in Spring Hill, Minn. They raised 12 children on a farm near Pearl Lake.
Leander was active with many organizations throughout the community and was a member of St. Augustine's Parish.
Leander is survived by his wife, Genevieve of St. Cloud; children, Dorothy (Harry) Molumby of South San Francisco, Calif., John (Sandy) of New Hope, Luella (Leo) Louis of Paynesville, Marvin (Connie) of Staples, Robert of Kimball, David (Yvonne) of Sauk Rapids, Susan (Larry) Linne-meyer of Cambridge, Arthur (Donna) of Clearwater, Lawrence (Vicki) of Moundsview, Jane (Millard) Hickman of Litchfield, Teresa (Joe) Borgstrom of Buffalo, and MaryAnn (Steve) Edwards of Kimball; 32 grandchildren; 10 great- grandchildren; brothers, Gregor, Marcellus, Alfred, Clarence, Ralph, and Nick; and sister, Agnes Rausch.
He was preceded in death by his parents; two infant children; a great-granddaughter; brothers, Norbert, Paul, Edmund, Leo, and Richard; and sisters, Aegidia, Leona, and Lucille.

John Kollmann, 88, Lake Henry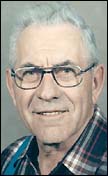 John M. Kollmann, 88, of Lake Henry, died on Saturday, April 15, at the Good Shepherd Lutheran Home in Sauk Rapids, Minn.
Mass of Christian Burial were held at 11 a.m. on Thursday, April 20, at St. Margaret's Catholic Church in Lake Henry. Reverend Leo Leisen officiated. Burial was in St. Margaret's Parish Cemetery.
John was born on Sept. 23, 1917, in St. Martin, to Ben and Anna (Olm-scheid) Kollmann. He grew up in St. Martin and attended country school there as well.
He married Loretta Meyer on June 10, 1940, at Sacred Heart Catholic Church in Freeport.
John was a farmer and carpenter for most of his life.
He enjoyed woodworking, country music, birds, 4-wheeling, and a love for dogs.
He was a member of St. Margaret's Catholic Church.
John is survived by his children, Marjorie (Stephen) Molstad of Hayward, Wis., Raymond (Mary Lou) Kollmann of Baltimore, Md., Hubert "Hub" Kollmann of St. Cloud, Mark (Anne Marie) Kollmann of Ham Lake, Fred Kollmann of Altoona, Wis., Inez (Bill) Lintz of Anusa, Calif., Wally (Mary Lou) Kollmann of Paynesville, Tom (Nancy) Kollmann of Richmond, Alice Kollmann (Dennis St. Peter) of Santa Cruz, Calif., and Connie (Bob) Dolan of Winter Springs, Fla.; 26 grandchildren; 16+ great-grandchildren; sisters, Anna Hoppe of Blaine and Elizabeth Hemmesch of Paynesville; and brother Bernard of Waite Park.
He was preceded in death by parents, son Ervin, one granddaughter; one grandson; brothers, Matt and Nick; and sister, Clara Klaphake.
Pallbearers will be his grandchildren.

Andrew Brutger, 44, Paynesville
Andrew "Andy" R. Brutger, 44 of Paynesville, formerly of Watkins, passed away on Wednesday, April 12.
Mass of Christian Burial was on held on Monday, April 17, at St. Anthony Catholic Church in Watkins. Interment was in St. Nicholas Catholic Cemetery. Rev. John Brunner officiated.
Andy was born on April 7, 1962, in Watkins. He was the son of August and Loretta (Theis) Brutger.
Andy had been employed as a welder and he enjoyed tinkering on old cars. He also enjoyed reading and walking.
Andy is survived by his mother, Loretta Brutger of Watkins; brothers and sisters, Esther (Harold) Hickman of Watkins, Mary Kay (John) Magoon of Royalton, Doris (Nick) Thielen of Eden Valley, Donald (Linda) Brutger of Cold Spring, Elmer (Lona) Brutger Eden Valley, Al (Dorothy) Brutger of Eden Valley, Vernon (Lucy) Brutger of Watkins, Mark (Pam) Brutger of Watkins, and Leon (Becky) Brutger of Cokato; 29 nieces and nephews; 32 great-nieces and nephews.
He was preceded in death by his father, August Brutger and infant twin brothers.
Casket bearers were Calvin Press, Corey Press, Troy Huschle, Warren Hickman, Jeremy Brutger and Scott Brossard.

Myron Lind, 65, Hawick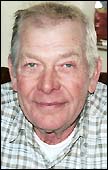 Myron J. Lind, 65, of rural Hawick, died on Friday, April 7, at his home.
A visitation was held on Tuesday, April 11, from 10 a.m. to 12 noon at Johnson Funeral Home in New London. A private family internment followed.
Myron was born to John and Thea (Everson) Lind on April 18, 1940, in Litchfield, Minn. He was a lifetime farmer in the Irving Township in Kandiyohi County.
Myron was a member of Nordland Lutheran Church.
He is survived by sisters, Evangeline (E.D. "Ron") Rowell of Paynes-ville and Susan (Mark A.) Theisen of St. Cloud; brother, James of Alexandria; and 16 nieces and nephews.

Rev. Aloysius Blonigen, 70, Michigan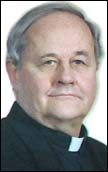 Father Aloysius (Arnold) Blonigen, C.M.M., 70, a Mariannhill missionary, died on Monday, March 27, in Garden City Hospital near Dearborn Heights, Michigan, from acute respiratory distress syndrome.
A memorial Mass was held at 2 p.m. on Sunday, April 23, in St. Louis Catholic Church in Paynesville, followed by tributes, sharing of memories, fellowship, and viewing of memorabilia.
Father Al was born at St. Martin, Minn., on April 6, 1935, to Herman and Magdalena (Fuchs) Blonigen. At the age of 16, he formed a family band that played in many dance halls in Minnesota. At 20, he entered St. Bernard's Seminary in Dearborn Heights, after which he completed studies at St. Meinrad Seminary in Indiana and in Wurzburg, Germany.
He was ordained on June 5, 1965, in St. Cloud. After receiving a degree in music from St. Pius X School in New York, he taught music and languages at St. Bernard's and at Divine Word Seminary in Perrysburg, Ohio. On weekends he ministered in parishes and led their choirs, for which he composed music. During this time, he began marriage counseling, charismatic prayer groups, and youth retreats.
In 1977, Father Al began giving Marriage Encounter weekends and in 1979 he became vocation director for Mariannhill. He converted the seminary building into a youth retreat center. In 1984 he left for Africa, where he continued Marriage Encounter, inner healing retreats, and pastoring, for which he learned two African languages. He returned to the United States, directed the youth retreat center, and became ecclesial chaplain for Worldwide Marriage Encounter of Metro-Detroit.
In 1991 he began to present Retrouvaille weekends, while continuing inner healing work. To help people encounter their deep inner selves, he published his autobiography, Discovering My Inner Child. He became provincial superior of U.S./Canada province and served two terms, during which he visited Mariannhill missionaries in South Africa, Zimbabwe, and Papua New Guinea.
From 2000 to the present day, he has served Retrouvaille around the country and as chaplain for cruise ships. He celebrated his 40th anniversary of ordination in June 2005.
Father Al is survived by brothers, Jerry (Dianne) and Vic (Delores); sisters Alverna (Leroy) Loehlein, Cecilia (Keith) Bentler, Jeanette Clancy, and Evelyn (Steve) Guggisberg; an uncle, Adam Van Beck; an aunt, Agnes Fuchs; 23 nieces and nephews; and 25 grand- nieces and nephews.
He was preceded in death by his parents, 22 aunts and uncles, and brothers, Florian, LeRoy, and Adelbert.

Mildred Spanier, 74, Spring Hill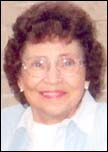 Mildred A. "Millie" Spanier, 74, of Spring Hill, died on Wednesday, March 29, at the Paynesville Area Hospital.
Mass of Christian Burial was held at 11 a.m. on Saturday, April 1, at St. Michael's Catholic Church in Spring Hill, Rev. Marvin Enneking and Rev. Leo Leisen concelebrated. Burial was in the parish cemetery.
Mildred was born on April 12, 1931, in Lake George Township, Stearns County, to Math and Elizabeth (Haider) Stalberger.
She married Andrew A. Spanier on May 20, 1952, at St. Michael's Catholic Church in Spring Hill. They farmed on the family farm west of Spring Hill.
She was a member of St. Michael's Catholic Church, Christian Women of Spring Hill, and St. Michael's Catholic Aid.
Mildred is survived by her children, Kathy (Jim) Fuchs of Spring Hill, Dan (Mary Ann) Spanier of Spring Hill, Mary Jo (Kevin) McKenzie of Avon, Brien (Kristine) Spanier of Minneapolis, and Bruce Spanier of St. Louis Park; sisters and brother, Gennie Lieser of Spring Hill, Joan Winter of Glenwood City, Wis., Betty (Don) Barten of Cedar, Minn., Bernice Welle of Spring Hill, and Math (Carol) Stalberger, Jr. of Princeton; 11 grandchildren; and four great-grandchildren.
She was preceded in death by her parents; husband, Andrew A. Spanier on Dec. 6, 1967; sister and brothers, Lucille Utsch, Cyril, Bob and Ray Stalberger; and one infant granddaughter.
Casket bearers were grandchildren, Chad, Chris, Curt Spanier, Nicholas and Kristy Hemmesch, Carleen and Jodi Fuchs, and Cindy Roberg. Cross bearer was Kayla Hemmesch. Scripture bearer was Kelli Fuchs. Flower bearer was Josie Spanier. Honorary bearers were Christian Women of Spring Hill.

Return to Top • Return to News