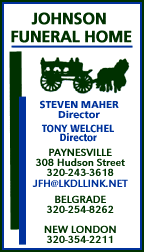 August 2022
July 2022
June 2022
May 2022
April 2022
March 2022
February 2022
January 2022
December 2021
November 2021
October 2021
September 2021
August 2021
July 2021
June 2021
May 2021
April 2021
March 2021
February 2021
January 2021
December 2020
November 2020
October 2020
September 2020
August 2020
July 2020
June 2020
May 2020
April 2020
March 2020
February 2020
January 2020
December 2019
November 2019
October 2019
September 2019
August 2019
July 2019
June 2019
May 2019
April 2019
March 2019
February 2019
January 2019
December 2018
November 2018
October 2018
September 2018
August 2018
July 2018
June 2018
May 2018
April 2018
March 2018
February 2018
January 2018

Eleen Denton, 96, Paynesville
Eileen J. Denton, 96, of Paynesville, and formerly of Atwater, passed away Friday afternoon, Sept. 23, at the Paynesville Health Care Center surrounded by her family. Funeral services will be held at 2 p.m. on Wednesday, Sept. 28, at Bethlehem Lutheran Church in Atwater. Interment will be at Union Cemetery. Visitation will be one hour prior to the service at the church. Arrangements are entrusted to the Peterson Brothers Atwater Funeral Home: www.petersonbrothers.com. Eileen June Denton was born on June 30, 1926, in Allison, Iowa, the daughter of Henry and Nettie (Janssen) Weiland. At a young age her family moved to the Raymond area. She went to school in Raymond, Kerkhoven and Clara City, graduating from Clara City High School in 1944. After high school, Eileen moved to St. Paul and began working at the civil defense plant repairing gliders. On July 21, 1945, she was married to Eugene Wayne Denton. They lived in Atwater and Clara City, returning to the Atwater community in 1956. Gene and Eileen owned and operated the Sinclair Service Station and Cafe in Atwater. She was a member of Bethlehem Lutheran Church, enjoyed bowling, crocheting afghans, fishing, working on her flower garden, and adult coloring in her later years. She was active in the auxiliary for the Atwater Fire Department. Most of all she enjoyed time with her family. She was a believer in our Lord Jesus Christ, and prayer was a priority to her. She is survived by one daughter, Nancy Alstead of Paynesville; three grandchildren, Jason (and Melissa) Denton of Atwater, Jennifer (and Paul) Gjerde of Sunburg, and Megan (and Ed) Hoekstra of Grove City; and ten great-grandchildren, Madison, Jeana and Brock Denton; Samantha, Weston, Maret, Josie, and Elsa Gjerde; and Logan and Taylor Hoekstra, including other relatives and friends. She was preceded in death by her parents; her husband, Eugene in 2001; one son and daughter-in-law, Wayne and Judy Denton; two brothers and sisters-in-law, Harold and Franny and Lester and Evelyn; and special friend, Andy Andresen.


Eula Tigner, 90, Minneapolis


Eula was born on Sept. 15, 1931. She lived on a farm 20 miles east of Britton, S.D., with her two older brothers Herluf and Vernon and her parents Tom and Bertha Schultz. She met the love of her life, Norman Tigner at Northern Normal Teachers College in Aberdeen, S.D. In many ways, you cannot tell the story of Eula without Norm, because a greater love story was never told. They married on Oct. 18, 1952. They moved to Lemmon, S.D., and then Watertown, S.D., for teaching positions and Norm's basketball coaching. Eula excelled as a kindergarten teacher. Norm and Eula had three biological children and one adopted son, Susan (Kurt), David (Patty), Douglas (Diane), and Stephen (Jill). After various moves in South Dakota, they landed in Paynesville, Minn. Eula returned to college at the age of 50 to complete her bachelor's degree in education. Eventually eight grandchildren blessed their family within seven years Ð Spencer (Maddy), Samantha, Allison (Paul), Elle, Caitlyn, Isaac, Ryan, and Austin. They were the joy of grandma and grandpa's lives. Eula was a loving grandma, mother, sister, and daughter. She always befriended the people or animals that needed help. Her past and current kitties Ð Scooter, Rubio, and Charlie Ð were a treasure in her life. Eula has always been a woman ahead of her time. Her independent spirit helped her see the world as it could be, not just as it was. She was a rule breaker, questioned authority, and always found new and different ways to do things. But most importantly, she believed in the radical idea of limitless love for her beloved family, friends, and all of the children of the Earth. A memorial service in honor of Eula's life will be at 11 a.m. on Saturday, Oct. 1, at St. Andrews Lutheran Church (900 Stillwater Road, Stillwater, Minn.) with visitation one hour prior. In lieu of flowers memorials preferred to the Animal Humane Society.


Kellene Schoenherr, Richmond


Memorial services will be held at a later date for Kellene L. "Kelly" Schoenherr, 58, of Richmond, who passed away, surrounded by family, on Saturday, Sept. 17, 2022, at the St. Cloud Hospital, after a short illness. Kelly was born on Feb. 17, 1964, to Bill Bigwood and Jean Fulton in Athol, Mass. Her mother remarried, and the family moved to Minnesota in 1973. She lived in Cold Spring until ninth Grade, when she moved to St. Cloud with her mother, two sisters, and brother. She graduated from St. Cloud Apollo High School in 1982. Kelly was united in marriage to Raymond Schoenherr on Oct. 15, 1983, in St. Cloud. Together, they raised their daughter and son in Chaska, where Kelly worked at the Carver County Jail as the head cook. After their children graduated from high school, Kelly and Ray moved to their lake home in Richmond. Here, Kelly worked for the Stearns County Jail as the food service director until her sudden passing from non-alcoholic liver failure. Kelly was an extremely hard worker, great cook, caring boss, honest and generous friend, loving loyal wife, and devoted mother and grandmother. She always had a story to share and was quick to laugh and forgive. She had a remarkable common sense and cared deeply for her friends, family, and co-workers. She will be greatly missed. She is survived by her childhood sweetheart and husband of 38 years, Ray of Richmond; children, Lynnette (John) Zerwas of Fridley and Bradley of Minneapolis; grandsons, Mason and Parker; half siblings, Diana Kostreba and Doug Dodge; best friend, Toni Scheper; and many nieces, nephews, relatives, and friends. Kelly was preceded in death by her parents; and sister, Darlene "Dee-Dee." A special thank you to the staff of the St. Cloud Hospital for their loving and compassionate care of Kelly.


Bob Haagenson, 88, Paynesville


Robert "Bob" Allen Haagenson, 88, born April 17, 1934, went to be with the Lord on Wednes-day, Sept. 7, 2022, following an illness and six-month stay at the Paynesville Health Care Center. He is survived by his wife Nita (Nepsund), daughter Deborah, son Lowell (Cindy), many grandchildren, great-grandchildren, nieces and nephews. He was preceded in death by his parents Oluf and Deloris Haagenson, his brother Cope (Bette); and nephews Kevin Haagenson and Gary Nepsund. Bob had many fond memories growing up in Minneapolis and spending time with extended family in the Paynesville area. He graduated in 1952 from North High School in Minneapolis. He was a Korean War vet, who served honorably in the United States Air Force. He worked many years in radio, sales, and as a tax preparer. Bob loved music! He played several instruments when he was young and listening to music remained one of his favorite pastimes. He also enjoyed spending time with family and friends. He and his family moved several times due to new job opportunities. Bob and Nita made lifelong friends wherever they lived. He was a no-nonsense person, with a dry, witty sense of humor. As his illness progressed, we could still see glimpses of his personality, which was nice. The memorial service will be held at Paynesville Lutheran Church on Thursday, Sept. 29, at 2 p.m. Visitation will be prior to the memorial service at 1 p.m. Cake and coffee will follow the memorial service. The burial will follow at the Nordland Lutheran Church cemetery. The memorial service will be streamed live, starting five minutes before the service and recorded for later viewing on the website www.PaynesvilleLutheran.org.


Dolores Phillipp, 81, Eden Valley


Mass of Christian Burial will be held at 11 a.m. on Wednesday Sept. 14, 2022, at Assumption Catholic Church in Eden Valley for Dolores F. Phillipp, 81, of Eden Valley, who died Friday, Sept. 9, at Paynesville Care Center. Rev. Aaron Nett will officiate, and burial will be in the parish cemetery. Visitation will be from 4-8 p.m. on Tuesday, Sept. 13, at Williams Dingmann Family Funeral Home in Eden Valley and one hour prior to the service on Wednesday at the church. Parish prayers will be held at 4 p.m. Tuesday evening at the funeral home. Dolores was born June 1, 1941, in Luxemburg to Lawrence and Catherine (Harren) Kiffmeyer. She married James Phillipp on June 14, 1960, at St. Wendelin's Catholic Church in Luxemburg. Dolores farmed and lived in rural Eden Valley most of her life. She was a member of Assumption Catholic Church, Christian Mothers and St. Joseph and St. Mary's Catholic Aid Society. Dolores enjoyed cards, woodworking, mowing the lawn, bingo, crocheting, crafts, quilting, and most of all spending time with her grandchildren. She was a faithful, loving, caring woman with a strong will. Survivors include her children, Debbie (Dean) Stoppelman of Litchfield, David of Watkins, Joyce (Dale) Hislop of Paynesville, Peter (Lisa) of Paynesville, and Judy (Thomas) Blonigen of Paynesville; daughter-in-law, Lois (Dean) Demarais of Cold Spring; brothers and sisters, Margaret (Billy) Notsch of St. Joseph, Bernard (Joey) of Luxemburg, Jerome of St. Cloud, Sylvester of Long Island, N.Y., Clarence (Judy) of Sauk Rapids, Loretta (Martin) Wieneke of Marty, and Sally (Ralph) Schleper of Elmdale; sisters-in-law, Rosie and Donna of Luxemburg and Elaine of St. Augusta; grandchildren, Adam, Amanda, Andrea, Andrew, Aaron, Nicole, Carter, Jodi, Grace, Rose, James, Katie, Zach, and Dillon and eight great-grandchildren. She was preceded in death by her parents; husband, James on Feb. 7, 1993; daughter, Kimberly on May 1, 1982; son, Kevin on March 6, 2020; brothers, Joseph, Wendelin, Andrew, and Arthur; sister, Rose Mary Hoefer; and grandson, James Hislop. Obituary, guest book, and video tribute available online: www.williamsdingmann.com.


Ronald Ziemer, 77, Lester Prairie


Ronald "Ron" Lee Ziemer was born on April 28, 1945, in Glencoe, Minn. He was the son of Clarence and Rosie (Rannow) Ziemer. Ron was baptized, confirmed, and ordained into the Christian ministry at the St. John's United Church of Christ in Biscay, Minn. Ron received his education in Glencoe and graduated with the Glencoe High School Class of 1963. Ron served in the U.S. Navy from 1963-1967. After completing boot camp, he was stationed aboard the U.S.S. Pritchett DD561 out of Long Beach, Calif. Ron also attended the University of Minnesota and earned a bachelor of science in business and graduated in 1974. He attended the United Theological Seminary of the Twin Cities and graduated in 1989. He completed his clinical pastoral education from 1988-1990. After the navy, Ron worked as comptroller at Chromalloy (Schwartz) Manufacturing from 1970-1984. He was then a chaplain for the Veteran's Administration from 2009-2022. Ron served UCC Churches in Delano, Minn., Washington state, Dickinson, N.D., and Tilton, Ill., from 1990-2000. He also worked as a chaplain in these four locations, as well as in Champaign, Ill., Grand Forks, N.D., and Danville, Ill., from 1990-2021. On Dec. 19, 1964, Ron was united in marriage to Rosalind "Lin" Rennells at the United Church of Christ in Lester Prairie, Minn. The couple resided in California while Ron was enlisted in the navy. Ron and Lin moved around the country following that, for Ron's career as a chaplain, residing in Minnesota, Washington state, North Dakota, Illinois, and back to Minnesota most recently. Their marriage was blessed with four children: Faith, Chad, Paige, and Dana. Ron and Lin shared 57 years of marriage. Ron was a member of the Association of Professional Chaplains from 2001-2022; was a board-certified chaplain; was active in the Jaycees in Lester Prairie from 1971-1985; and was in the business association in St. Peter, Minn., for years. Ron was very active in his home church at Lester Prairie, remodeled his first home, and enjoyed rebuilding a 1945 Ford. Ron will especially be remembered for his love of veterans, working with hospice patients, and generally helping people. Ron is survived by his wife, Lin Ziemer; children, Chad Ziemer of Fridley, Minn., and Dana Haas of Detroit Lakes, Minn.; three adorable granddaughters, Tahlia, Grace, and Gabrielle; brother, Gary Ziemer and his wife, Carmen, of Glencoe, Minn.; sister, Laurie Shoberg of Rockford, Minn.; brothers-in-law, Bernie Bullert and his wife, Gloria, of Grove City, Ohio, and Port Charlotte, Fla., and Eugene Rennells of Minneapolis; nieces and nephews, Christopher Ziemer and his wife, Elizabeth, Jason Ziemer and his wife, Sara, Heather Lee and her husband, Chris, Caitlyn Bullert, and Kurt Bullert; and many other relatives and many friends. Ron was preceded in death by his infant daughters, Faith and Paige Ziemer; parents, Clarence and Rosie Ziemer; brother, Robert Ziemer; parents-in-law, Marvin and Lydia Kruschke; brother-in-law, Jim Shoberg; and sister-in-law, Rosalie (Lee) Rennells Bullert. Arrangements were by the Paul-McBride Funeral Chapel of Lester Prairie. Online obituaries and guest book are available at www.mcbridechapel.com.