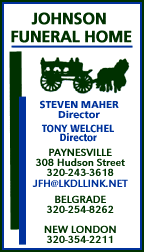 August 2021
July 2021
June 2021
May 2021
April 2021
March 2021
February 2021
January 2021
December 2020
November 2020
October 2020
September 2020
August 2020
July 2020
June 2020
May 2020
April 2020
March 2020
February 2020
January 2020
December 2019
November 2019
October 2019
September 2019
August 2019
July 2019
June 2019
May 2019
April 2019
March 2019
February 2019
January 2019
December 2018
November 2018
October 2018
September 2018
August 2018
July 2018
June 2018
May 2018
April 2018
March 2018
February 2018
January 2018

Shirley Jaszczak, 87, Paynesville
Shirley J. Jaszczak, 87, of Paynesville died on Wednesday, Sept. 1, 2021, at the Paynesville Care Center in Paynesville. Her funeral service will be held at 11 a.m. on Friday, Sept. 10, at Paynesville Lutheran Church in Paynesville. Burial will be in the Paynesville Cemetery. A visitation will be held on Thursday, Sept. 9, from 5 to 8 p.m. at the Johnson Funeral Home in Paynesville and will continue one hour prior to the service at the church. Shirley Jane Jaszczak was born on July 28, 1934, in Minneapolis, Minn., the daughter of Clarence and Vesta (Henderson) Carlston. She grew up in Minneapolis where she received her education. In 1951, Shirley was united in marriage to Ted Jaszczak. This union was blessed with four daughters and two sons. The family made their home in Bloomington, New London, then Paynesville, before moving to Oklahoma in 1982. After moving to Oklahoma, Shirley went back to school and became a respiratory therapist. She worked as respiratory therapist until she became the director of respiratory therapy in Clinton, Okla. In 2002, Ted passed away. They shared in 51 years of marriage before his death. In 2008, Shirley moved back to Paynesville to be closer to her family. Shirley was a member of Paynesville Lutheran Church. She was active there in the bible studies and in the WELCA. While living in Oklahoma Shirley was a member at Cordell Presbyterian Church, where she was very active. Throughout her life Shirley was also an active volunteer for AA and Al-Anon. Shirley enjoyed sewing, reading, and completing crossword puzzles. Above all else Shirley loved her family. She cherished the time she spent with them especially her grandchildren and great-grandchildren. She is survived by her children: Jean Soine of Paynesville; Judy (Mark) Kulzer of Paynesville; Jo (Tim) Schackman of North Pole, Alasaka; James (Patty) Jaszczak of Lawton, Okla.; and Ted Jaszczak of Lawton, Okla.; son-in-law, Steve Jensen; 12 grandchildren, 13 great-grandchildren; brother, Charles Carlston of San Rafael, Calif.; and many nieces, nephews, and cousins. Shirley was preceded in death by her parents; husband, Ted; daughter, Cris Jensen; grandson, Jeff Soine; son-in-law, Paul Soine; three brothers; and a sister.


Doris Briese, 86, Watkins


Doris Briese, 86, of Watkins died peacefully on Friday, Aug. 27, 2021, at Hilltop Care Center. We welcome you to celebrate her life with us on Saturday, Sept. 4, from 11 a.m. to 3 p.m. at her home on the lake (37126 654th Avenue Watkins). Doris Ann Briese was born on July 28, 1935, in Dawson, N.D., to Theodore and Marie (Jensen) Mahin. She married the love of her life, Joe Briese, on April 24, 1959. After their marriage, they farmed the Briese family farm in Dawson, N.D. In 1969, they moved their family to Golden Valley, Minn., and later Bloomington, Minn. In 1978, Doris and Joe built their home on Clear Lake outside of Watkins, where they lived out the rest of their lives. Doris graduated with a degree in nursing in 1958. Her career comprised of working in labor and delivery, clinical settings, director of nursing, and beyond. Once retired from nursing, she worked in the special education department at the Eden Valley-Watkins Elementary School and as part-time school nurse. Doris enjoyed fishing, basketball, bowling, gardening, canning, making lefsa, going to concerts, crocheting, and playing card games and cribbage. She enjoyed an ice cold Coors, a dirty martini, and an unsalted bloody mary or margarita. What brought her the most joy was snuggling her grandkids and great-grandkids and being surrounded by her loved ones. Doris loved her family fiercely and constantly, and yet with a gentle spirit. She had five children, six grandchildren, three great-grandchildren, and countless extended family and friends. Doris is survived by her sons David, Mike (Jone) and Neal (Leigh); daughter Reneen (Jeff); grandchildren Danielle (Colton), Scott (Annie), Malia (Trent), Erin (Tony), and Lance (Hannah); great-grandchildren Finnegan, Daphne, and Phoebe; brother Duane; special loved ones Tracy, Tyree, Kobee, Luisa; Katrina, Naomi, Erin (Josh); Vanessa, and Neveah; and many nieces, nephews, cousins, and longtime friends. She was preceded in death by her husband Joe; daughter Wendy; grandson Ryan; beloved brothers and sisters-in-law; adored dog Dakota; and her parents. Please sign the online guestbook at www.ertlfuneral.com.