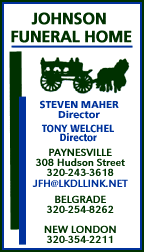 September 2022
August 2022
July 2022
June 2022
May 2022
April 2022
March 2022
February 2022
January 2022
December 2021
November 2021
October 2021
September 2021
August 2021
July 2021
June 2021
May 2021
April 2021
March 2021
February 2021
January 2021
December 2020
November 2020
October 2020
September 2020
August 2020
July 2020
June 2020
May 2020
April 2020
March 2020
February 2020
January 2020

Norma Gabrielson, 92, Paynesville
Norma M. Gabrielson, 92, of Paynesville, Minn., passed away on Sunday, Oct. 23, 2022, at her home in Paynesville. A memorial service will be held on Tuesday, Nov. 1, at 11 a.m. at Paynesville Lutheran Church in Paynesville, with interment in Ripley Cemetery in Litchfield, Minn. A gathering of family and friends will be held one hour prior to the service at the church on Tuesday, Nov. 1. Memorials are preferred. The memorial service will be livestreamed via the Paynesville Lutheran Church's website. Arrangements are by the Hantge Funeral Chapel in Darwin, Minn. Online guest book is available at www.hantge.com.


Ronald Mages, 71, Paynesville


A memorial service will be held at 11 a.m. on Wednes-day, Oct. 26, 2022, at the Paynesville Evangelical Free Church for Ronald O. Mages, 71, of Paynesville. Ronald passed away on Sunday, Oct. 16, at his home with family at his side. Pastor Brad Hopman will preside. Burial will take place in the St. Louis Parish Cemetery in Paynesville. Visitation will begin after 9 a.m. on Wednesday, Oct. 26, at the church. Ronald was born May 18, 1951, in Redwood Falls, Minn., to Albin and Adella (Kodet) Mages. He married Diane Ebbers on Sept. 5, 1970, at St. John's Catholic Church in Hector. They lived in Olivia for five years and then, in 1976, moved to the Paynesville area where he began dairy and crop farming. They enjoyed wintering in Arizona, where they would explore the desert with his Jeep. He was a member of Paynesville Evangelical Free Church and a devoted follower of Jesus Christ. If you knew Ron, you knew his passion was farming. When doctors gave him a few weeks to live, he battled to hang on to see the harvest. Throughout his struggle, he continued to give his boys advice as best he could. The last time he was out of bed, he declared "that is a damn good crop." As the boys finished working the ground, Ron breathed his last. Ronald is survived by his wife Diane of Paynesville; son Jason (Angie) Mages and their children Jacob (fiance Brianna), Alex, Brett, and Aaron of Paynesville; and daughter Sara (Shannon) Motzko and their children Gavin and Katelin of Eden Prairie. He is also survived by his mother Adella and his siblings Gary (Sharon), Lowell (Sue Ann), Julie (Rodney) Johnson, Carol (Stanley) Feldman, Roxanne (Eugene) Voss, Mark (Carrie), and Susan Holt (Jason Niccum); sister-in-law Nancy Mages; as well as many nieces and nephews. Preceding Ronald in death were his father Albin; son Wayne; infant granddaughter Taylor Jo; and brother Bruce Mages.


LaDonna Burr, 92, Virginia


Born on Jan. 28, 1930, in Bismark, N.D. to Harold E. Cofer and Madeline Gilmer Cofer, LaDonna Burr passed away on Saturday, Oct. 8, 2022, in Alexandria, Va. LaDonna came from humble beginnings and worked hard to make her way in the world. As a child, she was always joyful even when fighting serious illness. Her family and friends started calling her Happy and it stuck, later shortened to Hap. Most of her family only knew her as Hap. For LaDonna anything could be achieved through belief and hard work. She grew up in Waite Park, Minn., and graduated from Saint Cloud Tech High School in 1948. One of her most cherished memories was seeing her favorite singer, Nat King Cole, in concert in 1948. After graduating from high school, LaDonna moved to Paynesville, Minn., to work at the Nehring Locker Plant. She met Eugene "Crab" Burr in Paynesville, and they married on Sept. 16, 1950, in Waite Park. LaDonna and Eugene had a strong desire to be parents, and so they decided to bring foster children into their lives, Donald Shultz and Susan Shultz Vanort. On Sept. 21, 1968, LaDonna gave birth to Mara Martha Burr in Paynesville. LaDonna and Eugene were thrilled to have a child after 18 years of trying and doted on their daughter. LaDonna worked at Northern States Power until she was offered a position at the Paynesville School District, working for the principal and superintendent of schools. She was responsible for the payroll for the school district and was passionate about making sure each payroll was correct - to the penny. She took her responsibility very seriously because everyone needed to be paid on time and the right amount. LaDonna retired in 1986 after 33 years of service. LaDonna was passionate about many things, her Christian faith and commitment to the United Methodist Church, her love of her country, Veterans of Foreign Wars, the American Legion Auxiliary (where she held leadership positions), her community, and dogs of every shape and size. She loved sports and cheered for all the Minnesota sports teams, but she absolutely adored the Minnesota Vikings, a passion she shared with her family. Not only did she cheer for the Vikings she was a proud supporter of the Vikings Children's Fund and charities. LaDonna loved the Washington Mystics of the Women's National Basketball Association (WNBA) and was so thrilled when they won the WNBA Championship in 2019. LaDonna was close to her many friends and loved ones. She often wrote cards and letters and called to stay in touch. She never forgot a birthday or a special anniversary and made sure everyone knew how much she cared about them. In 1996, LaDonna moved to Arlington, Va., to be with her daughter Mara as she embarked on a career in international law. She lived in Arlington, McLean, and Alexandria, Va., during her later years. In 2017, LaDonna had a fall and broke her pelvis. Her recovery was a tough struggle, but she worked her way back to a strong and independent life. After breaking her hip in April 2022, she faced another tough recovery and was able to return home after two and a half months in a skilled nursing facility. She passed away peacefully at home with her family and her two puppies, Sadie and Oliver. LaDonna was a trailblazer, role model, and mentor for so many people. She will be missed dearly by her family, especially her daughter Mara. LaDonna is at peace and looking down on us with that special smile that just lets you know that she loves you and wants you to be happy. LaDonna Burr is survived by her daughter Mara Martha Burr, Marta Maria Prado, her foster children Donald Shultz and Susan Shultz Vanort, and her canine grandchildren, Sadie and Oliver; her sister-in-law Janet Cofer, her nieces Jeryl "Babe" Merten Michaels, Julie Ledeboer, and Jeanne Knake; nephew Jim Cofer; and many, many cousins. She was preceded in death by her husband Eugene Denis Burr; her parents, Harold E. Cofer and Madeline Gilmer Cofer; her aunts and uncles; her sister Betty Merten; her brother Neil Cofer; and her nephew Joel Cofer. Her celebration of life and resurrection service was held on Friday, Oct. 14, at 11 a.m. at the Del Ray United Methodist Church. Another celebration of LaDonna's life will be held at the Grace United Methodist Church in Paynesville on Saturday, Oct. 29, from 1-3 p.m. in the Fireside Room. Burial at the Paynesville Ceremony twil follow. In lieu of flowers, LaDonna would like any memorials to be given to Homeward Trails Animal Rescue or the American Heart Association.


Mary Sieben, 93, Paynesville


Mass of Christian Burial was held on Wednesday, Oct. 5, 2022, at Assumption Catholic Church in Eden Valley for Mary Sieben, 93, who passed away Thursday, Sept. 29, at the Paynesville Care Center. Rev. Aaron Nett officiated, and burial was in the parish cemetery. Visitation was held on Tuesday, Oct. 4, from 4-8 p.m. and on Wednesday, Oct. 5, from 9:30-10:45 a.m. at the Assumption Church in Eden Valley. Arrangements were entrusted to Williams Dingmann Family Funeral Home, Eden Valley. Mary Theckla (Pfeffer) Sieben was born Sept. 18, 1929, on a farm near Belle River to Henry and Mary (Schalko) Pfeffer. She married James R. Sieben on Feb. 7, 1948, at Padua Catholic Church. Mary was a homemaker. She also worked as a seamstress at Animal Fair Inc. She was a member of Assumption Catholic Church. Jim and Mary farmed on numerous farms, first in Regal, then Roscoe, and finally Eden Valley. They farmed until 1979 when they moved to a retirement farm in the country by Eden Valley. They lived there until Jim's death in 2000. Mary is survived by 11 daughters and five sons, Rosie Emslander of Oak Park, Ralph (Shirley) Sieben of Cold Spring, June Berg of St. Paul, Donna (Gene) Bischof of Eden Valley, Sharon (Dave) Weber of Menahga, Bev (Kevin) Lang of Paynesville, Ruth (Chuck) Utsch of Paynesville, Jim (LuAnn) Sieben of Spicer, Vicky (Jim) Torborg of Apple Valley, Gloria (Tom) Connor of Mapleton, N.D., Leila (Jerry) Utsch of Paynesville, Eileen Young of Upsala, Laura (Brent) Miller of Andover, Ron (Julie) Sieben of Eagan, Ken (Julie) Sieben of Eagan, and Randy (Shelly) Sieben of Ramsey; brother, George Pfeffer of Watkins; 54 grandchildren; and over 100 great grandchildren. Mary was preceded in death by her parents; husband, Jim on Aug. 14, 2000; sons-in-law, Jim Berg and David Emslander; grandchildren, Raquelle Young and Kenzie Torborg; sisters, Katherine Westerberg and Ann Uderman; and brothers, John, Steve, Nick, Connie, and Ludwig Pfeffer. Mother wrote her own obituary, as she lived her life with a focus on her children more than her own life's accomplishments. We, her children, would like for her to be remembered for the person she was, her strength of character, and presence of faith. Mother never longed for material things of this world as they were insignificant to her. She was immersed in her faith and her interactions with her family. She raised 16 children with endless hours of work: cleaning, gardening, canning, baking, laundering, sewing, and countless other jobs without complaint. Mother always thought of others' needs before her own and upon the graduation of her youngest child, for over a decade, Mother cared for special needs adults through the adult foster care program. Mother served her church through the women's groups at Assumption Church, including serving as vice president and president of the Christian Mothers and the Assumption Church Guild. She served on the Mother Theresa Mission Group and quilted with the group until she could no longer hold a needle due to her arthritic hands. After dad's passing, mother moved to Eden Valley, where she attended daily mass and served for nearly every funeral service until she moved to Paynesville, Minn. She was selfless and gave her time generously to so many! She has been an inspiration to all of us throughout her life. We are honored and proud to have had her as our mother and the strength of our family we wish to emulate.


Kevin Mattheisen, 46, Roscoe


A celebration of life/benefit will be held from 4 p.m. until close on Saturday, Oct. 15, 2022, at MD's Downtown Bar and Grill in Roscoe for Kevin J. Mattheisen, 46, of Roscoe. Kevin passed away unexpectedly on Tuesday, Sept. 27. A silent auction will run from 5-7 p.m. on Saturday at MD's. Kevin was born Nov. 1, 1975, in St. Cloud, Minn., to Michael "Sarge" and Theresa (Ellingson) Mattheisen. After graduating from Eden Valley High School in 1995, he worked as a welder at Custom Products in Litchfield for many years. He also worked a Legacy Building Solutions and C.S. Dubois also as a welder/fabricator. He enjoyed small engine repair, being a Vikings fan, and four wheeling. He was an avid bowler at Aqua Lanes in Kimball, until they closed. He will always be remembered for his gorgeous eyes, smile, and generosity. Left to cherish his memory is his daughter Kasey; Kasey's mother Amanda (Vanderbeek) Mattheisen; brother Michael; sisters Heidi Moser, Anita Mattheisen, and Jodi Garding; nieces and nephews Bobbi Jo, Kimberly, Crystal, Michael, Marrisa, James, Kayla, Erica, and Shania; several great nieces and nephews, as well as many close friends. Kevin was preceded in death by his parents Michael and Theresa; and his cousin Ann Schultz. Memorials are preferred to the Kasey Mattheisen Benefit Fund at Magnifi Financial, 1025 West Main Street, in Paynesville.


Clayton Daniels, 53, Hawick


Clayton R. Daniels, 53, of Hawick died on Wednesday, Sept. 28, 2022, at the St. Cloud Hospital. A memorial service will be held at 2 p.m. on Friday, Oct. 21, 2022, at the Hawick United Methodist Church in Hawick. Visitation will be held one hour prior to the service at the church. Arrangements are with the Johnson Funeral Home in Paynesville: www.hafh.org. Clayton Ross Daniels was born on March 5, 1969, in Remer and was adopted as an infant by Ernie and Dorothy (Barslou) Daniels. He grew up in Remer and graduated from Remer High School in 1987. He lived in the Walker area, where he worked for Northern Lights Casino and building log homes. He moved to Hawick in 2008 where he lived with his partner, Beth, and managed the grounds for TPI in Willmar. He loved to help out a friend in need, listen to music, mow lawns, fish, hunt ,and spend time with his family, especially his nieces, nephews, and grandchildren. Clayton died on Wednesday, Sept. 28, 2022, at the St. Cloud Hospital at the age of 53. He is survived by his partner, Beth Tersteeg of 13 years; nephew, Shayne Werner; niece, Sheyenne Michaud; great-niece, Abbi Werner; Beth's children, Bridget (Stan) Hasbrook, Chris (Hilsida) Tersteeg, Robert Tersteeg, and Traci Tersteeg (Jason Schmoll); eight grandchildren; and close family friends, Evie Campbell, Gina Tanner, and Val Tanner. Clayton was preceded in death by his parents; special mom, Jan Tanner; best friend, Rich Tanner; niece, Shayla; and sister- and brother-in-law, Kathy and Kim Michaud.


LeRoy Sandgren, 84, Fairfax


LeRoy Sandgren, 84, of Fairfax, formerly Paynesville, passed away on Sunday, Sept. 25, 2022, at South View Living Center in Gibbon. A memorial service was held on Friday, Sept. 30, 2022, at Swedlanda Lutheran Church, Palmyra Township, Renville County, Minn., with interment in the church cemetery. LeRoy Oscar Sandgren was born on May 2, 1938, in Bandon Township, Renville County, . He was the son of Ernest and Gladys (Hable) Sandgren. LeRoy was baptized as an infant on June 12, 1938, and was later confirmed in his faith as a youth on Oct. 5, 1952, both at Swedlanda Lutheran Church. He received his education at country school in Bandon Township for five years and then went to Fairfax Public School. He was a graduate of the Fairfax High School Class of 1956. On May 28, 1960, LeRoy was united in marriage to Diane Kvam at Central Lutheran Church in Camp Township, Renville County. To this union four children were born: Julie, Cindy, Mike and Tim. LeRoy lived in the Fairfax area until 1989. He then moved to Waterville and then Beards Resort on Long Lake by Hawick. He was employed at ADC Telecommunications in engineering for 24.5 years until Jan. 24, 1992. On Jan. 26, 1991, LeRoy was united in marriage to Judy Dover at Green Lake Lutheran Church. They purchased Beards Resort on Long Lake near New London, Minn., on Aug. 1, 1992. LeRoy retired on Oct. 1, 2015. They shared 28 years of marriage when Judy passed away on April 20, 2019. LeRoy enjoyed the lake, especially putting the dock in in the spring and taking it out in the fall as it was a family event. LeRoy was a poor swimmer - but still enjoyed giving boat rides. He was very proud of the resort. He enjoyed watching the birds, fixing and repairing clocks, horses, unique vehicles, making Swedish pancakes for his family, mowing road ditches, vacationing, especially to Pikes Peak, Luther League trips, visits from family, and having Christmas with family. He cherished the time he spent with his children, especially his grandchildren and great-grandchildren. When he needed assistance with his care, LeRoy became a resident of the Countryside Retirement Community in Sleepy Eye, Minn., and on Friday, Sept. 2, 2022, he moved to South View Living Center in Gibbon and passed away there on Sunday, Sept. 25, 2022, at the age 84 years. Blessed be his memory. LeRoy is survived by his children, Cindy Thorp and her husband Rick of Brooklyn Park, Minn.; Mike Sandgren and his wife Kari of Franklin, Minn., and Tim Sandgren and his wife Angela of Franklin, Minn.; step-son, Jason Dover and his wife Tiffani of Rochester, Minn.; grandchildren, Becky Eisenbraun, Travis (Tracy) Eisenbraun, Ricky Thorp, Kevin (Danielle) Thorp, Kristine Thorp (Justin Wolff), Luke, Tyler, and Dylan Sandgren, and Megan, Nathan and Zachary Sandgren; step-grandchildren, Courtney Eisenbraun and Creed Dover; great-grandchildren, Lyric Engen, Dirk Thorp, Killian Thorp, Lauralee Thorp, Jep Thorp, Jackson Thorp, Maci Thorp, and Madison Eisenbraun; siblings, Floyd Sandgren and his wife Martha of Redwood Falls, Minn., Doug Sandgren and his wife, Darlene of Hector, Minn., and Harold Sandgren of Hutchinson, Minn.; sister-in-law, Joyce Sandgren of Belle Plaine, Minn; and nieces, nephews, other relatives, and friends. LeRoy was preceded in death by his wife, Judy Sandgren; parents, Ernest and Gladys Sandgren; daughter, Julie Eisenbraun; son-in-law, Pat Eisenbraun; sister-in-law, Karen Sandgren; and brother, Robert Sandgren. Arrangements were by Hauser-Hantge Funeral Chapel in Fairfax, Minn. Online obituaries and guest book available at www.hantge.com.


Kaitlyn Husted, 24, Eden Valley


A celebration of life will be at a later date for Kaitlyn M. Husted, 24, of Eden Valley who passed away on Wednesday, Sept. 28, 2022, in Cold Spring. Kaitlyn was born on July 7, 1998, in Cadillac, Mich., to Scott Leeuw and Nicole Husted. She graduated from Eden Valley-Watkins High School. She loved all types of music, especially rock. She also enjoyed Japanese culture, cats, and doing make-up, hair, and nails, just like her mom. Kaitlyn was very artistic, and her friends and family meant the world to her. Her mom was her best friend, and her family finds peace in knowing that they are together in heaven. Survivors include her father, Scott (Holli) Leeuw; step-father, Pat McCarney; sons, Joseph and Jameson; brother, Christopher Martin Jr; half-brother, Brandon Leeuw; grandmother, Sue Hopkins; aunts, Jessica (Cory) Vadner, Heather Husted, Linda Varner, and Tracy Duske; uncles, Lance Husted, and Scott (Alicia) Varner; and cousins, Madison, Mackenzie, Bridgit, Autumn, Deric, and Brett. She was preceded in death by her mom, Nicole McCarney; and her grandparents. Obituary, guest book, and video tribute available online: www.williamsdingmann.com.


Sharon Lunz, 77, Paynesville


Sharon K. Lunz, 77, of Paynesville died on Saturday, Oct. 1, 2022, at the Paynesville Care Center in Paynesville. Her funeral service will be held at 11 a.m. on Thursday, Oct. 6, at Paynesville Lutheran Church in Paynesville. Visitation will be for one hour prior to the service at church. Arrangements are with the Johnson Funeral Home in Paynesville: www.hafh.org. Sharon Kay Lunz was born on May 21, 1945, in St. Paul, the daughter of Carl and Myra (Laabs) Borgwardt. She grew up in Bertha and later North Mankato, where she attended Mankato High School, graduating in 1963. On Aug. 28, 1965, Sharon was united in marriage to Ronald Lunz. This union was blessed with one son. They made their home in LeHillier, Minn., until 1977, when they moved to Paynesville. They later divorced. Sharon worked in bookkeeping and accounting for numerous businesses in the area. She returned to school and received a degree in accounting from Ridgewater College in 2000. She retired in 2020. Sharon was an active member of Paynesville Lutheran Church. She enjoyed golfing, fishing, gardening, sewing, reading, spending time in her sunroom, visiting with friends, and spending time with her family, especially her grandchildren. Sharon is survived by son, Richard (Kim) Lunz of Farmington; two grandchildren, Erin and Zachary Lunz; brother, Carl (Yolanda) Borgwardt; special cat, Dixie; and numerous loving friends and family. She was preceded in death by her parents.


Kathrine Gruber, 93, Melrose


Kathrine I. "Kitty" Gruber of Melrose passed away after a wonderful life of 93 years on Sunday, Oct. 2, 2022, at the CentraCare Care Center in Melrose, Minn. A Memorial Mass of Christian Burial will be held at 11 a.m. on Friday, Oct. 7, 2022, at St. Mary's Catholic Church in Melrose with Rev. Marvin Enneking officiating. Inurnment will be in the parish cemetery. Visitation will be held from 10 to 11 a.m. on Friday at the church. Kathrine Isabelle Van Beck was born Jan. 23, 1929, near Greenwald, Minn., to Albert and Mary (Kolb) Van Beck. Kathrine attended school in Greenwald and graduated from Melrose High School. She would help her brothers do chores on the farm after school. On June 26, 1950, Kathrine was united in marriage to Reinold J. Gruber at St. Mary's Catholic Church. The couple lived near Spring Hill, where they farmed until 1960. They owned and operated Reinie's Bar and Grocery for eight years. They then resided at Birch Lake, Millwood Township, Stearns County, until moving to Melrose in 1986. Kathrine worked as a nurse at the Melrose Hospital and was a Shaklee distributor for many years. She felt strongly about saving the environment and staying healthy. She had a beautiful voice and loved to sing and dance. She sang in the choir and was a soloist at church. She also joined many choral groups around town. Kathrine always gave to others, volunteered at the local hospital in her later years, and loved her children, grandchildren, and great-grandchildren with all her heart. She was a member of St. Mary's Catholic Church, Christian Mothers, Daughters of Isabella, and Elrosa Senior Citizens. Survivors include her children, Thomas Gruber of Freeport, Gail (Duane) Olmscheid of Melrose, Sister Mary Katherine Gruber of Footville, Wis., Richard (Irene) Gruber of Melrose, Margaret (Barton) Knutson of Belgrade, Peter (Diane) Gruber of Melrose, Albert (Mona) Gruber of Sartell, Amy (Larry) Lamusga of Grey Eagle, Wanda (Michael) of Freeport, Reinold R. (Brenda) Gruber of Clear Lake, and Chad (Kelly) Gruber of Bartlett, Ill.; and many grandchildren and great-grandchildren. Kathrine was preceded in death by her parents, Albert and Mary Van Beck; husband, Reinold J. Gruber; infant children, Mary Gruber and Baby Boy Gruber; brothers, Adam, Edwin, and Reuben Van Beck; and sisters, Monica Ehlert, Ermalinda Walz, and Beata Brang. Arrangements were made with Patton-Schad Funeral and Cremation Services of Melrose.

Home | Community | Marketplace