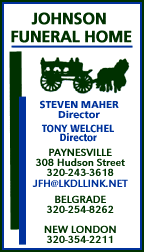 September 2021
August 2021
July 2021
June 2021
May 2021
April 2021
March 2021
February 2021
January 2021
December 2020
November 2020
October 2020
September 2020
August 2020
July 2020
June 2020
May 2020
April 2020
March 2020
February 2020
January 2020
December 2019
November 2019
October 2019
September 2019
August 2019
July 2019
June 2019
May 2019
April 2019
March 2019
February 2019
January 2019
December 2018
November 2018
October 2018
September 2018
August 2018
July 2018
June 2018
May 2018
April 2018
March 2018
February 2018
January 2018

Dorothy Lembeck, 88, Spring Hill
Dorothy W. Lembeck, 88, of Spring Hill, Minn., passed away peacefully, surrounded by her family on Sunday, Oct. 24, 2021 at her home in Spring Hill. A private graveside service will be held at St. Michael's Cemetery in Spring Hill. Dorothy Wilhelmina Marthaler was born July 22, 1933, in Grove Township, Stearns County, Minn., to Alphonse and Dorothy (Imdieke) Marthaler. She was united in marriage to Allen Lembeck on Nov. 22, 1956, at St. John the Baptist Catholic Church in Meire Grove. The couple farmed all their lives near Spring Hill. Dorothy was a member of St. Michael's Catholic Church in Spring Hill and the Christian Women. She enjoyed baking, crocheting, reading, doing crossword and jigsaw puzzels, and taking an occasional trip to the casino. Survivors include her children, Kathy Flanders of Foley, Ala., Gary (Lori) Lembeck of St. Cloud, Steve Lembeck of Spring Hill, Mary (Greg) Braun of Cold Spring, Jackie Dahl of Spring Hill, and Lisa (Gary) Bertram of Greenwald; 13 grandchildren; 25 great-grandchildren with one on the way; brother, Melvin Marthaler of Cold Spring; and sisters, Clarine Stalboerger of Meire Grove and Janice (Will) Kalstrom of St. Cloud. Dorothy was preceded in death by her husband, Allen Lembeck on Nov. 25, 2004; her parents; brother, Denis Marthaler; and sister, Lavina Walz. Dorothy's family would like to thank CentraCare Hospice for their great care of their mother. In lieu of flowers, please make a donation to your local hospice facility. Arrangements were made with Patton-Schad Funeral and Cremation Services of Melrose.


Anita (Lieser) Knese, 94


Anita Maria (Lieser) Knese passed away peacefully on Friday, Oct.15, 2021, at Quiet Oaks Hospice House, St. Augusta, Minn., surrounded by her family. Renita (Anita) was born Sept. 20, 1927, to Charles and Margaret (Fuchs) Lieser, in Spring Hill, Minn. She was united in marriage to Robert John Knese on May 1, 1950, and they were blessed with eight children. She was a kind, caring, and loving woman who walked with great faith in Jesus. She was a loving wife, mother, grandmother, great-grandmother, and great-great-grandmother. When not caring for others, you could find her in the fishing boat with her beloved husband, Bob; one of their favorite pastimes was fish fries with family and friends. She retired at the age of 84 after managing Yorktown Continental Apartments in Edina, Minn. She is survived by children Lynne DiStefano, Charles (Laurie) Knese, David (Christine) Knese, Mary (Kent) Bishop, Karen (Tom) Mills, Margaret Link (Russ Peil), Douglas (Elizabeth) Knese, and Michael (Patricia) Knese; many grandchildren; many nieces and nephews; siblings Bernadette Haines and Duane and Wallace Lieser; and her sister-in-law Mary Zirbes. Anita was preceded in death by her beloved husband Robert; her parents; brothers Laverne and Harold Lieser; sister Mary Jane Hubred; and son-in-law Dr. John DiStefano. Anita will be remembered for her deep Catholic faith and positive outlook on life. She was a very social and adventurous person who was always ready to visit and play cards and who loved to travel and see new places. Her Mass of Christian Burial was held on Thursday, Oct. 21, 2021, at the Church of St. Henry in Monticello, Minn. Interment will take place at the St. Francis Cemetery in Buffalo, Minn., in the spring of 2022. In the lieu of flowers, please consider a donation to Quiet Oaks Hospice House.


Doreen Schaefer, 77, Paynesville


Mass of Christian Burial was held at 11 a.m. on Monday, Oct. 18, 2021, at St. Louis Catholic Church in Paynesville for Doreen C. Schaefer, 77, of Paynesville. God brought her home to the eternal life in his heavenly kingdom on Tuesday, Oct. 12, 2021, due to multiple medical conditions (non-COVID related). Reverend Glenn Krystosek will officiate. Entombment will take place at the parish cemetery mausoleum in Paynesville. Visitation was held from 4 to 7 p.m. on Sunday, Oct. 17, at the Daniel-Anderson Funeral Home in Paynesville and one hour prior to services on Monday at the church. Doreen was born on Oct. 10, 1944, in Richmond to Joseph and Alice (Terres) Heinen. She lived on the family farm with her parents and four siblings. On May 22, 1965, she married Melvin Peter Schaefer in St. Martin. They raised their family in Paynesville. Doreen was a beloved wife, mother of four, and grandmother of seven. She was a nurse and compassionate caregiver for many at the Paynesville Hospital and Paynesville Good Samaritan Center during her 37 years serving in her community. She was strong in her faith and active in the St. Louis Catholic Church community as a member of the Christian Women. Doreen was also a member of the American Legion Auxiliary. Her passions were gardening, baking, cooking, playing bingo, and playing cards with her family and friends. She spent countless hours volunteering for others, whom she always put first. Surviving Doreen is her husband Melvin of Paynesville; children, Randy Schaefer (Susan) of Plymouth; Maria Wight (David) of Sunfish Lake; Russell Schaefer (Becky) of Champlin; and Amy Horn (Dean) of St. Cloud; grandchildren, Ruth, Aaron, Madison, Luke, Mckenna, Kendra, and Kylie; siblings, Kathy Nett (John), Mary Jane (Dr. Lee) Heinen-Beecher, and Leon Heinen (Doris); sister-in-law, Jean Heinen-Felling (Don); and many nieces and nephews. She is proceeded in death by her parents, Joseph and Alice Heinen; brother, Richard Heinen; and granddaughter, McKenzie Horn. We thank our extended family, friends, and the many members of her care team for all the support they have provided.


Hubert Kollmann, 76, St. Cloud


Hubert "Herb" "Hub" Kollmann, 76, of St. Cloud died on Friday, Oct. 8, 2021, at his home in St. Cloud. Mass of Christian Burial will be held at 12:30 p.m. on Friday, Oct. 22, 2021, at St. Anthony's Catholic Church in St. Cloud. Reverend Bob Harren will officiate. Burial will take place in St. Margaret's Parish Cemetery in Lake Henry with full military honors. Visitation will begin after 10:30 a.m. on Friday, Oct. 22, at St. Anthony's Catholic Church. Hubert was born on Nov. 13, 1944, in St. Martin, Minn., to John and Loretta (Meyer) Kollmann. He was the fourth child out of 11 and grew up on a dairy farm in St. Martin. Herb attended country school and Paynesville High School. Herb enjoyed a variety of activities. Early on in his life he found a love for music, played guitar, and sang in a band. He participated in many jamming sessions with his friends throughout the years. Hubert also enjoyed the world of aviation. He was honorably discharged from the Air Force in 1962, but his love for aviation continued. He built scale airplanes and often flew over the Kollmann family farm in his home-built airplane checking out Mother Nature's work of art. He was a loyal member of the St. Cloud Radio Controlled Flying Club for many, many years. Hubert took the time to teach many new club members the skill of building and flying radio control airplanes. He entered many RC flying competitions and often was a first-place winner. One of his favorite vacation areas was the Oshkosh flying shows in Wisconsin. If you didn't find Hubert at home mowing his immaculate lawn or shining his car, you could find him with a cup of coffee and reading a good book at Barnes and Noble. Hubert loved doing his own research and learning of various topics: health, religion, economics, world history, and current events. He also had a love for the great outdoors, where you would find him riding his bicycle all around St. Cloud and on the bike trails. Hubert also enjoyed his church family at St. Anthony's Parish where he was an usher on Saturdays. Hubert is survived by his many brothers and sisters: Marjorie (Stephen) Molstad of Hayward, Wis., Raymond (Mary Lou) Kollmann of Baltimore, Md., Mark (Anne Marie) Kollmann of Ham Lake, Minn., Fred (Connie Burns) Kollmann of Alexandria, Minn., Wally (Mary Lou) Kollmann of Paynesville, Tom (Nancy) Kollmann of Richmond, Alice Kollmann (Dennis St. Peter) of Santa Cruz, Calif,, and Connie (Bob) Dolan of Winter Springs, Fla.; son Randy; and numerous nieces and nephews. Hubert is preceded in death by his parents; brother Ervin; sister Inez; niece Amy; and nephew Ray Jr. Pallbearers will be: Chad, Jeremy, Jim, John, Bryanna, and Michelle Kollmann.


Gary Nepsund, 53, Paynesville


Gary Paul Nepsund, 53, of Paynesville died on Friday, Oct. 8, 2021, at CentraCare Hospital in Paynesville. His funeral service will be held at 11 a.m. on Thursday, Oct. 14, 2021, at Paynesville Lutheran Church in Paynesville. Burial will be at Burr Oak Cemetery in rural Paynesville. A visitation will be held from 5 to 8 p.m. on Wednesday, Oct. 13, at the Johnson Funeral Home in Paynesville and continue one hour prior to the service at the church on Thursday, Oct. 14. Gary Paul Nepsund was born Aug. 8, 1968, in Paynesville, the son of Wyman and Doris (Bengtson) Nepsund. Gary was 53 years, 2 months when cancer took his earthly life and brought him to his everlasting home with God. Gary graduated from Paynesville High School and went on to graduate from Willmar Community Technical College with a degree in auto body. He continued his education with classes/certifications from the Minnesota Department of Health that he needed for his work in the restaurant business. Gary worked at Hilltop Restaurant in Paynesville from the age of 15 until age 52, when he gave up the job he loved and went to work full time going through treatment for cancer. Gary enjoyed spending time with family and friends. With Gary's diagnosis of cancer in September 2019, he especially enjoyed time with family and friends with pontoon rides, hayrides, campfires, and camping trips. Throughout his life, Gary enjoyed woodworking, farming, gardening, flowers, and working in the yard. Gary will be greatly missed,but he will be remembered as a loving, caring, patient, gentle, strong man. Gary was always willing to help family and friends with remodeling projects, building furniture, gardening, and many other projects. A special thank you to Ken Evans and his wife the late Marlys Evans, Jeff Evans, Shawn Evans, and James Evans for believing in Gary from a young age and supporting him through his 37 years of work at Hilltop Family Restaurant. Gary is survived by his parents: Wyman and Doris Nepsund of Paynesville; sister, Laurie Nepsund of Paynesville; brother, Brad (Rose) Nepsund and their children Aubrey and Grayson of Hawick; sister LeAnn (Josh) Hellermann and their children Dia, Paisley, and Rowyn of Paynesville; and many aunts, uncles, and cousins. Gary was preceded in death by his grandparents, Richard and Laurenza Nepsund, and Troy and Delores Bengtson; uncles, Delvin Nepsund, Harlan Nepsund, Jon Warta, and Raynold (Doloris) Nepsund; and aunt, Diane Bengtson. Arrangements were with the Johnson Funeral Home in Paynesville: www.hafh.org.


Donald Wiese, 83, Paynesville


Donald D. Wiese, 83, of Paynesville, Minn., died on Thursday, Sept. 16, 2021, at the Paynesville Hospital. A memorial service will be held at 10 a.m. on Wednes-day, Oct. 27, 2021, at the Paynesville Evangelical Free Church. Burial will take place at a later date in Worthington, Minn., in the family plot, where he will be laid to rest with his beloved wife, infant daughter, son, and parents. Visitation will be held following the service at the church. Donald "Don" Dean Wiese was born on Feb. 20, 1938, in Worthington, Minn. Don was the son of Walter Wiese and Hazel (Schroeder) Wiese. He grew up in Round Lake, Minn., and graduated from Round Lake High School in 1956. On April 10, 1960, Don was united in marriage to Gloria Jo Smith. In July 1974, Don moved his growing family to Paynesville, Minn., where he would begin his storied career and life of service in the small lake town community. First and foremost, Don was known as the owner and proprietor of Stone Gate Lodge, the first lake resort on Lake Koronis established in 1905. Don and Gloria hosted generations of families at the seasonal fishing resort from 1974 to 2005. Don concurrently owned his own tax business in town, H&R Block for over 35 years. Finally, Don served as the clerk of Paynesville Township for almost 40 years, where he contributed to the maintenance, direction, and growth of the Paynesville Township. Don and Gloria celebrated their 50th wedding anniversary on April 10, 2010. Through the years, Don and Gloria traveled to the Twin Cities, Worthington, Florida, Washington, Texas and California to visit their children, grandchildren and extended family. Don cared for Gloria through her long illness with Parkinson's Disease and remained a stalwart leader of his family. Don enjoyed hunting and was an avid fisherman. He enjoyed fishing trips to Canada and loved catching up with his buddies at Hilltop. Don is survived by: his children, Allyson (John) Holland of Mabank, Texas, Ron (Krista) Wiese of Excelsior, Minn., Kent (Wendy) Wiese of Worthington, Minn., and Jason (Arlene) Wiese of Frisco, Texas; 10 grandchildren, Ashley, John B (Jennifer), Chris, Emily, and Abigail Holland; Ry and Greta Wiese; Avery and Hannah Wiese; and Ian Wiese; his sister Phyllis Poppen; and brothers- and sisters-in-law and nieces and nephews. Don was preceded in death by his wife Gloria; son Kurt; infant daughter Kathy; father, mother, and grandparents.


John Buermann, 61, Paynesville


John L. Buermann, 61, of Paynesville, died unexpectedly on Thursday, Sept. 30, 2021, at North Memorial Hospital in Robbinsdale. Visitation was held on Monday, Oct. 4, at Paynesville Lutheran Church. The funeral service was held on Tuesday, Oct. 5, at Paynesville Lutheran Church. John Louis Buermann was born on March 6, 1960, in St. Cloud, the son of John N. and Lorraine (Hageman) Buermann. He grew up in Paynesville, where he attended Paynesville High School, graduating in 1978. On Sept. 17, 1988, John was united in marriage to Edith Martinson. This union was blessed with three sons and a daughter. They made their home in Paynesville, where he worked as a machinist for many years before starting his own business, Magic Metals Machine Shop Inc. in 1998. Music was always a big part of John's life. He started in the family band at three years old, playing a trumpet featuring polka and old-time music. From there, he was involved with multiple groups and bands through the years, including the TNT's, Contraband, The Buck Band/Buck 40 Band, and Beats Working. It was always a treat when he broke out the 12-string guitar. He also enjoyed assisting in church with sound and music services. John is remembered as the guy that could fix anything, "except the crack of dawn and a broken heart." You could generally find him in his shop ready to welcome in any visitor. He was always providing great care and advice for his children in a spirited fun-loving nature. John is survived by his wife, Edith of 33 years; children, John Jr. (Lindsay) Buermann of Daleville, Ind., Josh (Kristine) Buermann of Paynesville, Jodee (Cullan) Gray of Paynesville, and Jordan Buermann of Henning; grandchildren, Eden, Rylie, Dove, Alexandra, Glory, and Benjamin; siblings, Leanne (Brad) Beck of Dillsburg, Pa., Janelle (Landi) Bregu of Batesville, Ga., Alan (Lynn) Buermann of Paynesville, and Charlene (Jim) Provost of Andover; and numerous nieces, nephews, cousins, and many great friends. Waiting to greet him in heaven are his parents; John and Lorraine Buermann; step-mother, Betty Wolf Buermann; brother, William "Bill" Buermann; and infant sister, Mary Buermann. Arrangements were with the Johnson Funeral Home in Paynesville: www.hafh.org.